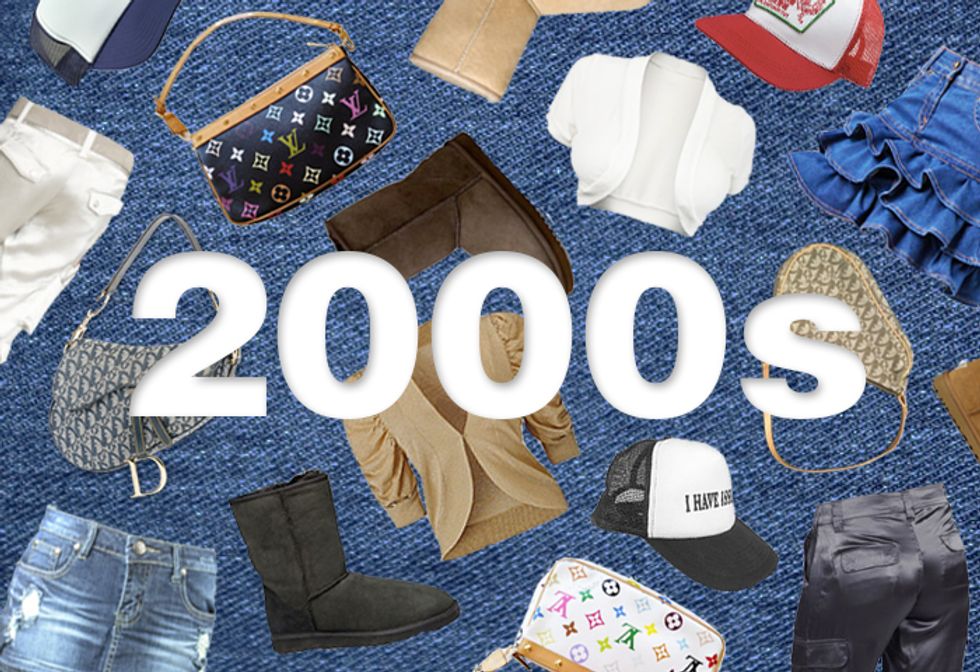 Collage by Jacqueline Lin
Thanks to the Internet and, more specifically, social media (we're looking at you, Tumblr), the nostalgia cycle is moving at warp speed. Gone are the days when it took twenty years for trends to come back and so while it seems like only a few years ago that everyone was dressing like they stepped out of a Hole video, early-90s nostalgia is quickly getting displaced by an obsession for the later part of that decade and even the early-2000s. As we prepare to dust off our Rocket Dogs and dry clean our velour tracksuits, we ask some of our favorite stylists to tell us about which late '90s/early '00s trends they think will be making a comeback -- for better or (much) worse.
Logan Horne:
"I'm all about bringing back multicolor Louis Vuitton bags, and Dior Saddle bags. It's been long enough and I'm ready to see some cool chicks rocking these around fashion week."
Adele Cany:
"I remember the '00s being a big fusion of trends and being very influenced by the music industry. Pop, hip-hop, rap, rock...Missy Elliott, Madonna, Xtina Aguilera, Britney. There were a few trends they did for the worse that are or might be coming back (Buffalo platform shoes, those tiny plastic collars that I've seen on models lately, metal geometric tops, Ed Hardy, fanny packs...) and also some basics that we see every few seasons (camo, flare trousers, Manolo pointy high heels). And if we could avoid the Spice Girls looks coming back outside of theme parties I'd be grateful!"
Saskia Vaye
"I saw the return of the mid-length denim skirt -- thank you Bey and Kim K -- and while I loved this return trend, I worry the natural length progression will retreat and the next trend will be the mini denim skirt. Let's leave the mini denim skirt back in 2002 ladies, after all, Britney did it better than anyone ever could."
Jessica Zamora-Turner
"Having recently moved from rural Devon to East London in the early 2000s, my world was consumed with images from Wolfgang Tillmans, Juergen Teller and Corinne Day.  I wanted to wear anything that would have me belonging in one of their photographs -- mostly vintage, flowery dresses over jeans, Adidas sneakers, no bra, oversized military jackets...This Corinne Day and Carmen Kass shoot for
Vogue Paris
summarizes all that was good for me: skimpy dresses, summer skin, strappy shoes/wedges and simple beauty...and a hat of course! But the '00s trends I hated most were anything asymmetrical, straightened hair -- I felt like everyone looked the same for years -- and whale tails!
My predictions for which early '00s trends will come back are satin and elevated cargo pants. I love the idea of pastel and muted satin -- we saw a bit of it already in the New York shows at Maiyet, Givenchy, Alexander Wang, Dion Lee and Victoria Beckham. This was a huge trend in the early 2000s from brands like Vuitton, Stella McCartney, Yves Saint Laurent and even McQueen. Cargo pants are a tough one but it reminds me of Balenciaga and Dries Van Noten 2002/2003 shows with traveler/Ibiza vibes or alternately British girl band All Saints. I'm not sure if it'll stick but I think we'll see it none the less.
The trends I'd rather not see again are those pirate-inspired collections from the Brits, namely McQueen and Vivienne Westwood! Off the runway I think straightened hair on everyone can stay in the past, I much prefer the lively natural hair trends right now."
Heidi Bivens
"The decade 2000 is full of embarrassing trends, but one that I think is still relevant is Premium streetwear. Not that it's disappeared since the 2000s, but I think there is more room in the market (especially for women) for brands that have big ideas and make comfortable, affordable clothing inspired by street fashion."
Ilaria Urbanati
"The only '00s trend I can think of that I'm really seeing making a comeback are mules -- I'm seeing some pretty modern chic versions around and I could def get into those (at least it's more comfortable than a heel) and the new versions are so much cooler than the old ones. And then remember the jeans with the
cut-off waistband
? I feel like that's something that (unfortunately) could make a comeback -- I can see someone like Miley or Rihanna doing that and really picking up from there. Shrugs scare me 'cause I feel like those could make a comeback and I really hate them -- I hated them then and I hate them now but maybe someone will come out with a cooler version. Just please no low-rise jeans and/or trucker hats.
On a side note -- the one person whom to me had the best style in the '00s was Kirsten Dunst -- all that Phoebe Philo-era Chloé was perfection. So there are some '00s trends I would LOVE to see like Phoebe Philo's Chloé, which was 2002 to mid 2000s, had the amazing scalloped edges on everything, the sheer peasant blouses, and those perfect braided waist bell bottom jeans. How has no one brought those back?"
Eli Wasserman
"I've been seeing ruched, stretched jersey and, first of all, anything jersey makes me want to throw up. There's been a comeback of stretched jersey halter tops that are all ruched around the mid-section, which makes no sense. What is ruching? You want to look thinner but add all these layers and bundle up this fabric around your mid-section? But honestly, as for 2000s trends, I wouldn't want to see anything make a comeback. Actually, you know what was kind of hot? Britney Spears wearing the bikini bottoms over her leather pants in "I'm A Slave 4 U." That video was so hot. I love that.
But the other trends I hope won't come back include the short denim skirt with Uggs -- it was greatest catastrophe. It makes no sense. If you go out to the Midwest, like in Chicago, you'd see girls freezing but their feet and ankles would be warm in these atrocious Uggs. And I don't want to see those aforementioned jersey dresses with the ruching -- I think it's so cheap.
But as for what I think will most definitely come back? The Playboy Bunny. We're seeing Jeremy Scott and Moschino and the
Looney Tunes
and all the animated cartoon characters coming back and I think the next thing that makes sense is the Playboy bunny logo on things (which The Blonds kind of already did). I can definitely see designers exaggerate that and doing the mules and the slides with the furry toes. It can totally work if it's done right."
You May Also Like