What a night! The 2017 Academy Awards are officially over and will forever be known to us as "The Night When the Wrong Movie Was Awarded Best Picture." That egregious error, which signaled the end of the close-to-four-hour ceremony, was, at once, both the most bizarre and most exciting mixup in Oscars history. The frontrunner wins and then finds out that they actually lost to the movie that would have always been the frontrunner in a just world? Doesn't get too much better than that.
But even with that headline-dominating moment, there's still plenty more to be discussed about the night. There was the disappointment of controversial actor Casey Affleck winning the Best Actor award over Denzel Washington (who gave the performance of his life), and the pleasure of seeing Chrissy Teigen sleep through his acceptance speech. There was Asghar Farhadi, the Iranian director of The Salesman, who sent a proxy to accept his award and then had her deliver a speech about Trump's horrible Muslim Ban. And, of course, all through the night, there was Jimmy Kimmel doing what Jimmy Kimmel does. All in all, the night was an emotional rollercoaster. Read on to see our highlights.
High: Moonlight Wins Best Picture
STILL SPEECHLESS pic.twitter.com/qe3NUDWAHM
— Barry Jenkins (@BandryBarry) February 27, 2017
This is what we all wanted. Moonlight, the beautiful Miami story of a young Black man struggling with his sexuality, has been the dark horse of the awards season—sweeping up at many of the pre-Oscar ceremonies. But still, most people figured that the movie would lose to Damien Chazelle-directed La La Land when it came to the top honor. Though there was a slight snafu that usurped the moment, the Oscar ultimately went to the right movie, marking the first time in Oscar history that a movie featuring an all-Black cast won the Best Picture award.
High: La La Land Doesn't…or Kind of Doesn't
[rebelmouse-proxy-image https://media.rbl.ms/image?u=%2F9613407%2F980x.gif&ho=https%3A%2F%2Fassets.rbl.ms&s=686&h=ab43e19c684aec4652c70478f00e0a57d78d6cbeb2c3a4d1e07975706dd1c7a6&size=980x&c=2207399113 photo_credit="" caption="" image-library="0" expand="1" pin_description=""]
So, about that snafu. Film industry legends Faye Dunaway and Warren Beatty (celebrating the 50 th anniversary of their classic Bonnie and Clyde) took to the stage to present the award for Best Picture—except, wait for it, someone had "accidentally" given them the wrong ballot. As the story goes, La La Land temporarily won the Best Picture award until someone pointed out that Moonlight was the movie printed on the ballot. After cringing through La La Land's producer Jordan Horowitz's questionable remarks about his "blue-eyed wife," it was great to see them have to hand the award over.
Low: Emma Stone Wins for Best Actress in a Lead Role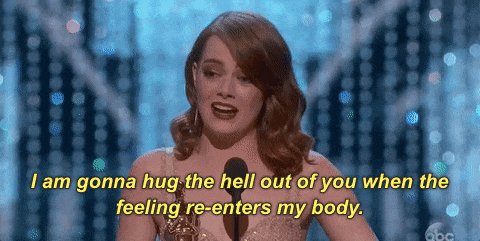 Since we're already dragging La La Land, let's go ahead and admit the truth. Emma Stone did not deserve her Best Actress award. Though the actress is amazingly talented—and, in my opinion, did an amazing job in the film—she was in a category surrounded by actresses with much more compelling roles. Natalie Portman's rendition of Jackie Onassis in Jackie was the kind of nuanced historical figure portrayal that should all but guarantee any actor a golden statue; Ruth Negga was a true visionary in Loving; and French actress Isabelle Huppert was able to navigate controversial issues with poise and grace.
High: Viola Davis Pulls On Our Heartstrings with Beautiful Speech

. @violadavis #Oscars acceptance speech: Artists "the only profession that celebrate what it means to live a life" https://t.co/aH5xJog6r7 pic.twitter.com/rI72PIIYNS
— ABC News (@ABC) February 27, 2017
At least the right woman won in the Supporting Actress category. Viola Davis, who has been nominated twice before, finally took home her first Oscar last night—establishing her as the first Black Woman to win an acting Oscar, Emmy, and Tony. But, even better than her win was the speech she gave on stage—which, luckily, The Academy did not try to cut short. "[I want to tell] the stories of the people who dreamed big and never saw those dreams to fruition, people who fell in love and lost," the Fences star said before paying homage to the playwright who made her monumental win a possibility. "Here's to August Wilson, who exhumed and exalted the ordinary people."
High: A Series of Politically-Charged Speeches That Didn't Go Over the Top

#Oscars: Ezra Edelman dedicates his award to the "victims of police violence and police brutalities." pic.twitter.com/C8J3SUhVUK
— Hollywood Reporter (@THR) February 27, 2017
Of course we had to give Viola her own section, but speeches were actually one of the strong highlights of the night—particularly those that took aim at our political climate without getting overly preachy or too performative. In addition to Asghar Farhidi's proxy moment, we were also treated to Barry Jenkins and Tarrell Alvin McCraney's shoutout to inner-city kids and gender-nonconforming "black and brown boys and girls," Mexican actor Gael Garcia Bernal's comments about all actors being migrant workers and taking a stance "against any form of wall that wants to separate us," Ezra Edelman's dedication of his award (Best Documentary for O.J.: Made in America) to "victims of police violence and police brutality," and the White Helmets winners' mentioning of the ongoing need for help "to stop the bloodshed in Syria and around the world."
Low: The Continued Normalization of Problematic White Men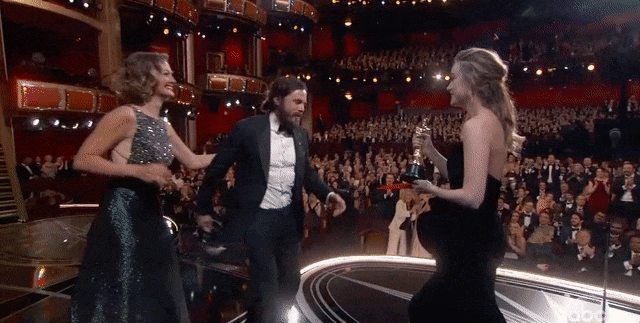 Remember when Mel Gibson went on a crazy anti-semitic rant in 2006—only one year after his film The Passion of the Christ was nominated for three Oscars? Well, I certainly haven't forgotten. And, judging by the "redemption" narrative that surrounded the actor and director leading up to this year's ceremony, it would appear that other people haven't forgotten either. So why are we excusing this behavior? In the same vein, Casey Affleck won the most prestigious acting award last night, and it was like nobody cared that he was once accused of sexually harassing women on set.
Low: Justin Timberlake Takes a Visit Back to His Boyband Days
[youtube https://www.youtube.com/watch?v=-7zMnfPdXXg&sns=tw expand=1]
Dear Academy, of all the things to make me sit through at the BEGINNING of your show, why make it be Justin Timberlake? The singer kicked the night off with a performance of his Best Original Song-nominated "Can't Stop the Feeling" (from Trolls), and it soon became clear that this was a feeling I couldn't stop…no matter how hard I tried. Blending lip sync and choreographed dance moves, JT tried to take us back to his former *NSYNC glory days—and, sure, it did its job and got the audience dancing and moving on their feet—but it just didn't seem to be the right time or place.
High: John Legend Sings the House Down for La La Land
John Legend's legendary performance of 'City of Stars' from La La Land movie at the #Oscars! 🔥pic.twitter.com/Axk9zNZcuZ
— Teen Network (@iaam) February 27, 2017
In happier news, John Legend took the stage later in the night to perform La La Land songs "City of Stars" and "Audition (The Fools Who Dream)." With his amazing voice, beautiful piano-playing capabilities, and the studio's dreamlike on-stage rendering of some the film's most iconic scenes, the performance was truly a showstopper. I still couldn't help but wonder why he was chosen to perform the nominated songs though. John Legend was in La La Land, sure, but it was Emma Stone and Ryan Gosling that sang both "City of Stars" and "Audition" in the film. Interesting move.
Low: The 'In Memoriam' Section Mix-Up

This came up in the In Memoriam section at #Oscars2017. But isn't this (living) Australian film producer Jan Chapman? pic.twitter.com/YKIMGBUv5E
— David Berthold (@DavidBerthold) February 27, 2017
Imagine watching the Academy Awards and seeing your face pop up during the 'In Memoriam' section? Sounds weird since, in order to be included in the section, one has to be dead. Unfortunately, while attempting to honor the late Australian costume designer Janet Patterson, the Academy made the mistake of using the picture of the very-much-alive producer Jan Chapman. Jesus.
High: Jimmy Kimmel Dragged Matt Damon the Entire Night
"Please welcome Ben Affleck and GUEST." #Oscars pic.twitter.com/gk74TpIJ42
— Good Morning America (@GMA) February 27, 2017
Jimmy Kimmel's job as host was a fumble overall, but that's not to say that it was completely bad. Keeping true to the "beef" the late-show host has with actor Matt Damon, Kimmel made sure to lay the shade on thick as the night progressed. Kimmel's best gag of the night? Introducing Matt Damon as a "guest" of Ben Affleck when they both took the stage to present the award for Best Original Screenplay.
Low: Jimmy Kimmel Gives Out Candy to Audience Members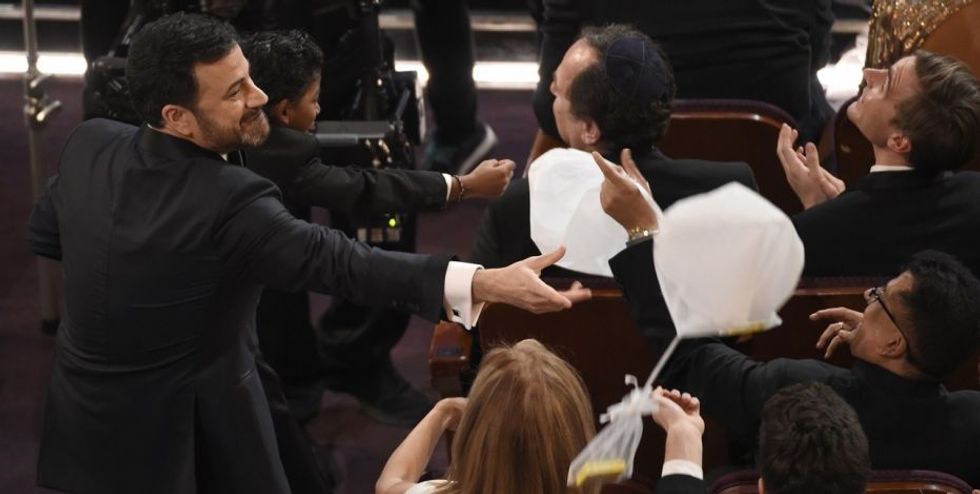 Lastly, candy? C'mon now, Jimmy. Ellen gave out pizza. Everyone loves pizza.

Splash photo via screenshot

Sign Up For The Morning PAPER