So you've filled out the usual predictions for your Oscar pool for Best Picture and Director, for which amazing actors will be snubbed to serve the hungry maw of La La Land's statue haul. But, perhaps you want something a little more exciting. Perhaps you're jonesing to place a bunch prop bets on the more interesting action around Hollywood's most self-congratulatory night. We at PAPER are here to help, offering our predictions and odds on the probability of some fascinating side-events, as determined by the finest bookies in the land (nope).

The red carpet talking heads will inadvertently offend at least one woman by inappropriately discussing her hair/make-up/clothes/accessories. Odds: 7-2
Lin-Manuel Miranda will NOT get the "O" in his EGOT; Hamilton nerds across the country rage. Odds: 6-1
A Chrissy Teigen reaction face will be the most-GIF'd image on Twitter immediately after. Odds: 5-3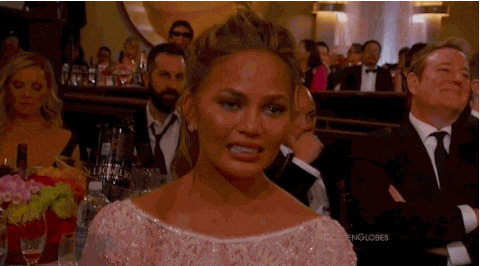 A winner will give a woke speech addressing either Donald Trump (2-1), the Muslim ban (3-2), misogyny/women's rights (5-3), transgender rights (5-2), or the Dakota Access Pipeline (7-1).
A winner (2-1 odds it's a man) will botch their attempt at an inspiring, woke speech and end up making it all about them. Odds: 5-2
Emma Stone will do something charming and human, and you will forget how annoyed you are that La La Land beat Moonlight. Odds: 2-1

Jennifer Lawrence will trip on her way to the stage even though she is not nominated and potentially not even attending. Odds: 3-1

One losing nominee will both "forget" to clap for the winner as well as express real human emotion, like furrowing their brow in disappointment. This will make for many gifs and perhaps even a think piece or two. Odds: 6-1

All attendees will look hungry and miserable, while at least half of the front row's teeth will be too bright. Odds: 9-4

Someone uses a minority to accept their award because they're all about the cause. Odds: 14-1

A relative "newcomer" will cry hysterically during their speech, and yell thank yous into the mic as the play-off music comes on in a desperate effort to disregard with the time limit. Odds: 9-1
John Legend's performance of "Audition" and "City of Stars" will be the only La La Land success story that Twitter users will also agree with. Odds 3-1

Jimmy Kimmel will open the night with a full-on roast of Matt Damon. Odds 9-2
Meryl Streep will actually show up on the red carpet wearing head-to-toe Chanel, revealing that her recent "beef" with Karl Lagerfeld was all an elaborate hoax. Odds 12-1
The Stranger Things kids will present an award together and everyone at home will promptly start bawling uncontrollably. Odds 8-1
There will be at least one attempt to recreate the social media splash of Ellen's Oscars selfie, salvaged only by the adorable kids from Moonlight and Lion. Odds: 7-4
Splash photo via Oscars.org.

Sign Up For The Morning PAPER