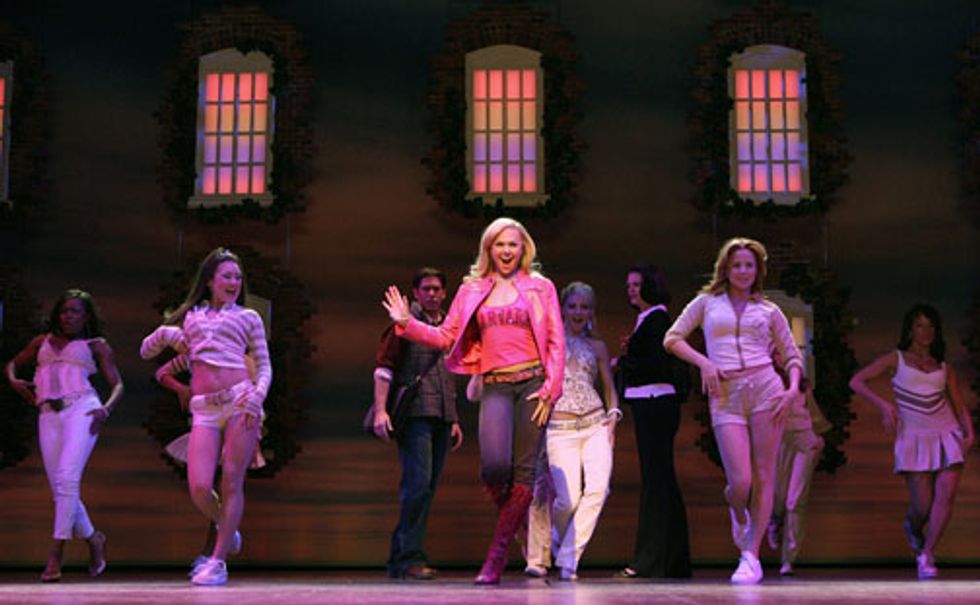 Sunday night was the opening of the new Broadway musical Legally Blonde, based on the movie and the novel (news to me) of the same name. The buzz at the after-party (held at Cipriani 42nd Street) was that it was very entertaining, and for the most part, the reviews that came out yesterday echoed the same sentiment. Ben Brantley of The New York Times said: "But unlike such deadweight musicals as "Footloose," "Saturday Night Fever" and "Lestat," "Legally Blonde" never threatens to put you to sleep. On the contrary, its cast members emanate a wired, attention-fixing tirelessness that suggests they have all been subsisting on Red Bull (Elle's favorite drink, given a jokey product-placement moment in the show)."

But back to the party. My favorite part was when an overexcited woman ran up to the beautiful and blonde Jane Krakowski (star of Ally McBeal, numerous Broadway musicals and most currently 30 Rock) thinking she was the star of the musical. Jane curtly replied (and rightly so!) that she was not in the show and wryly joked that she is about 20 years older than Laura Bell Bundy, who plays Elle Woods (the Reese Witherspoon character). Anyone that clueless should not be invited to the opening night party in my opinion!
Bundy arrived late, looking like a trendsetting prom queen in a punchy but elegant pink Nanette Lepore dress made especially for her. She said her experiences as an under-appreciated blonde helped her understand Elle's character. One of the producers, Hal Luftig, agreed, saying that quality in Bundy made her a clear choice. "As I came to know her as a person," he said, "I saw that she's always been underestimated. She's a beautiful blonde woman who no one's ever taken that seriously. They always expect her to be the dumb blonde and when she succeeds at something there are people that are taken aback."
Director Jerry Mitchell declared that he loves PAPER and told me he used to work with Ann Magnuson (L.A. Woman) which I did not know! Legally Blonde is his first directing gig, but he's been around as a choreographer for ages and is responsible for such successes as Hairspray, Gypsy, La Cage aux Folles and The Full Monty. He said a break-up he went through when he was very young inspired him to take on Legally Blonde. "I knew what Elle was going through, but fortunately it made me a better person, it made me understand more about who I was. Elle gets dumped and in the journey of going after that guy she really finds out who she is and I think that's a great story too. I think that was sort of my inner spin on it," Mitchell said. We bet that guy is kicking himself now, Jerry!!
Pictured is a scene from Legally Blonde with Elle (Laura Bell Bundy) in the center, and Bundy hamming it up at the opening night party.