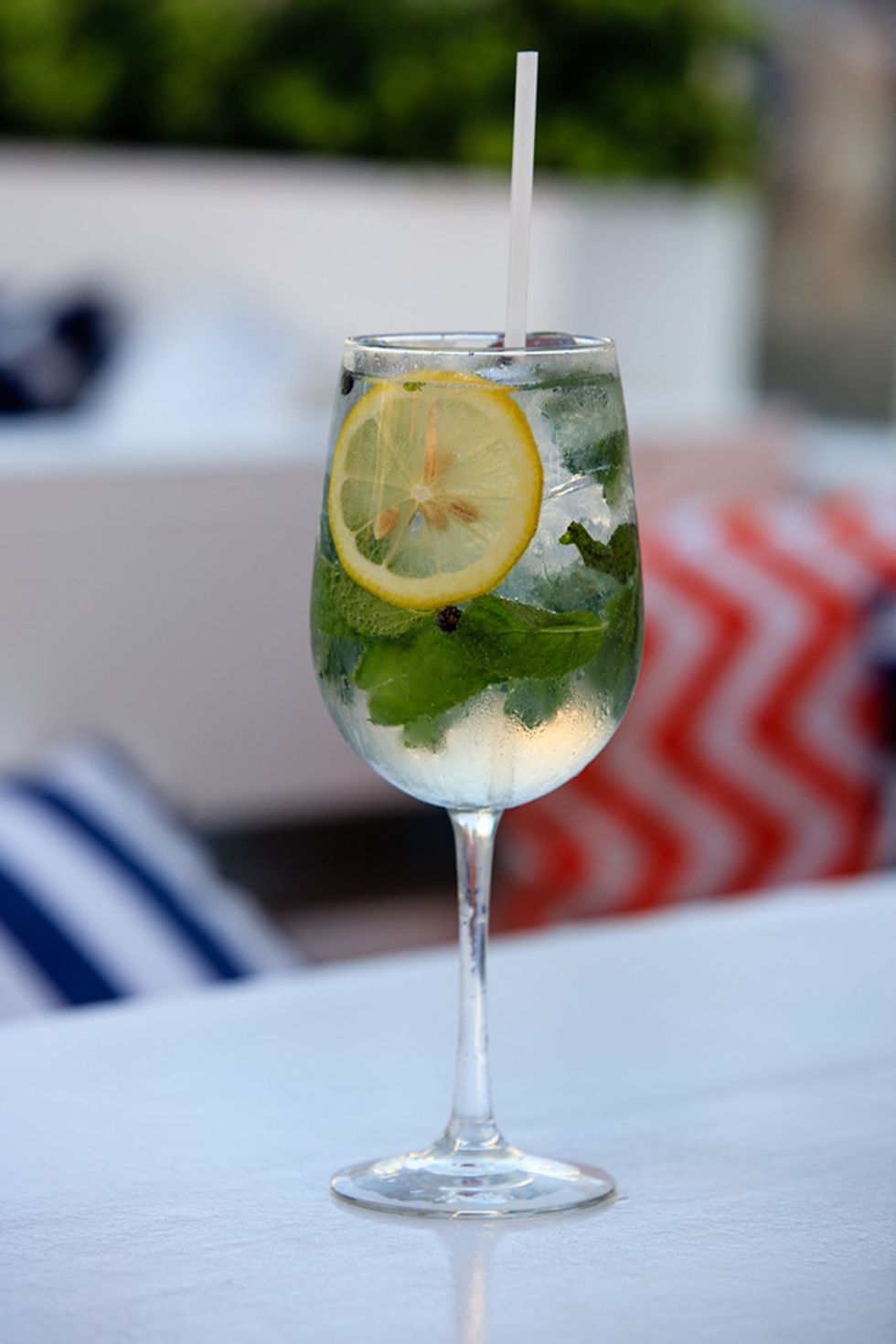 Photo of the Gin & Tonic from Patio.
Patio American Cocktail Bar and Grill looks straight out of a Nancy Meyers flick -- it has white cushions lining clean, roomy booths, and a white picket fence corrals the attractive wait staff. It feels like a backyard party at your richest friend's home, both friendly and luxurious (they'll even give you a blanket if there's a rare chill). While Nancy may get drunk off the décor, others flock for their excellent cocktail menu. While they highlight their mojitos (there's even a separate menu), their specialty cocktails illustrate the diversity of their alcoholic offerings. Ingredients like chili flakes, passion fruit essence, and ginger puree prove they can handle the complicated and avant-garde, but there's something appealing about a classic Gin & Tonic after a sun-baked day. At Patio, they've gone a step further by declaring their variety the Perfect Gin & Tonic, and after two, or five, or (inaudible mumbling) we've yet to find a fault. Owner and general manager Joachim Sandbichler reveals to us the secrets to elevating a summer staple.
THE PERFET GIN & TONIC
Ingredients:
3 Mint Leaves
Lemon (both fresh juice and for garnish)
5 Juniper Berries
2.5-3 oz Gin (Hendrick's Gin recommended)
Tonic
Directions:
Bang three mint leaves and put into a mixing glass together with ice, add a few drops of freshly squeezed lemon, and five juniper berries, then combine with 2.5 - 3 ounces of Hendricks Gin.
Stir a few times and pour over fresh ice into large wine goblet. Top off with tonic. Place a very finely sliced lemon round inside the goblet and garnish with a spring of mint.
Patio American Cocktail Bar and Grill, 328 Commercial Street Provincetown, MA 02657, (508) 487-4003