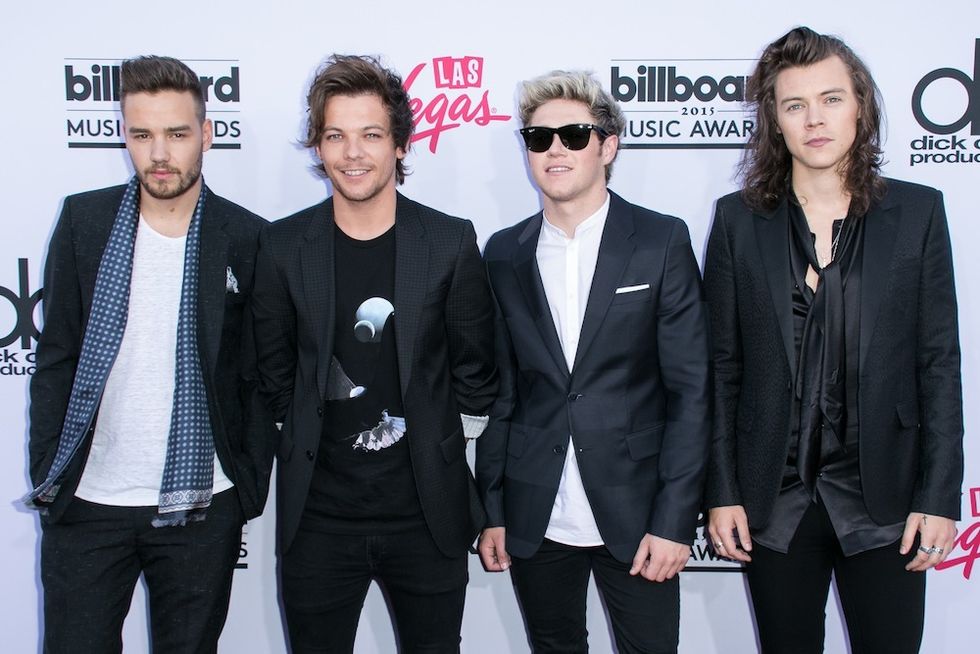 Photo by John Salangsang/BFA.com
Today is the release of One Direction's fifth studio album, Made in the A.M. The band has been pretty vocal about not touring the record, which is unusual for them -- they're on a one-album, one-world tour a year cycle. It has led many to believe the end of 1D is nigh: They call it a break, but some fans claim to know better.
To truly find out what's in the hearts and minds of Directioners, you have to ask them. As a boy band obsessive and frequent author of think pieces on the subject (I might have more than one secret Twitter list dedicated to fan update info) I asked Fatima, the mastermind behind one of these genius One Direction Twitter accounts to detail just what's going on in the 1D universe. Meet @I_See_You_Larry! (Larry, for those unfamiliar, is the "ship" name of Harry Styles and Louis Tomlinson. "Ship" is short for "relationship." To "ship" someone means to wish them into a couple. Got it? Good. Carry on.)
Hey Fatima! I'm curious about your history as a Directioner. When did you get into the band?
I got into the band around when they were on the X-Factor. Later on after the Up All Night tour, that's when I think I created my Twitter.
You've been a fan for a while. Who are your favorite members?
My faves in the band are Harry and Liam.
But your twitter is @I_See_You_Larry. Do you ship Louis and Harry? When did you become interested in their relationship?
Some people get confused because of my Twitter handle. I've shipped Larry since the beginning but Harry and Liam are my faves. I know how divided this fandom is about the topic of "Larry" so I try to be one of those accounts that doesn't create any drama and keeps everything leveled.
You do a good job of staying positive. Let's talk about Louis' position in the band. He seems to be at the forefront of One Direction talk these days -- "No Control" was obviously his song, and even now he seems to be a bit more vocal than he used to be. Do you agree? It feels like there are more Louis girls out there this year than there have been in the past.
"No Control" was mainly Louis and I feel that he has gained so much more confidence since the beginning. People are finally seeing his talent, [the same] who overlooked it before. I do feel that there are more Louis girls than before either because existing fans fell in love with him more or newer fans who have [just] joined the fandom have become Louis girls. That's because he's been so prominent in media coverage lately and he's just genuinely so lovable.
I've found myself more interested in him, too. Do you think because Louis -- and, I'd argue, Liam and Niall -- are stepping more into their own that Harry has been able to take it easy? I think for a lot of people (non-fans) 1D were seen as, like, Harry Styles and others. Now it really feels like everyone brings something to the table, something I've noticed more and more after Zayn left the band.
It's been Harry at the front for many years and it has to do with promo and things of that nature. Harry was the one that was made to be at the front and people knew him more than anyone. As the years have gone on, each of them have fit in more with each other and their confidence has grown. Fans noticed it was always Harry being pushed forward and we wanted the others to have an equal opportunity. The band isn't "Harry and the other guys." It's One Direction. Harry is a wonderful person and I feel that he deserves this break from constantly being in the spotlight. I'm glad that the others are getting the same respect and acknowledgement. After Zayn left, the fandom and the boys had to reflect on what happened, why it happened and had to see if their hearts were still in it. I don't blame Zayn for leaving because everyone has a choice in life and he chose to do something that would make him happy. I am proud that he's strong enough to do what will make him happy. The boys want to make it still work and their hearts are still in this so they've only gotten stronger.
Do you think the others will pursue solo careers like Zayn did?
For now I think they'll stick with being a band. No one knows what the future holds. Maybe during their break they'll work on things on their own but once the break is over it'll be them in the band.
I'm happy you brought up the break because I wanted to talk about that next. Did you anticipate it at all? I was shocked by it. Historically, boy bands break up when a member leaves. One Direction stayed together, recorded an album and then decided to take a break.
I'm surprised that they haven't taken a break sooner. Artists always take breaks. They've been working non-stop for years, only having a few months off but never a proper break. They aren't going anywhere; they're just doing what other artists usually do.
How long do you think the break will last? You're not scared they'll enjoy their time apart too much and go on an "indefinite hiatus" like some bands do? What if it's the end?
I think the break will last about a year, maybe more, depending on how things are going behind the scenes. Everyone has that little fear of "What if?" because we're not used to them having such a long break. There is always an end to something but I feel that's a long way away.
Do you fear fans will leave them during the break? A year plus is a long time! And Louis is going to be a dad soon...
Some fans may leave because they aren't interested in the band anymore but I'm sure many of us will stay. They are releasing new music before their break…once we hear that I'm sure everyone will be anticipating when they come back. They may gain new fans because of this album.
What do you think about the new album? I remember people guessing that "Drag Me Down" was about Zayn.
People create a lot of theories. I feel "Drag Me Down" was more of a song saying [that] no matter what struggles and hardships they have gone through or will go through, nobody will be able to drag them down. I like that they're changing their sound as they grow older because we're growing older with them as well.
What about the other songs? I think with "Perfect," the guys are finally able to write about being, well, young adults. There are a handful of sexy references in there. That allusion to hotel room rendezvous…
They have been writing more mature songs as they are older and most of us have grown up with the boys through the years. It's great to see how in each album the content gets older.
I like to think they're different than other acts out there in how they behave -- their lack of choreography, the fact that they feel a bit naughtier and a bit more dangerous than other boy bands. In a recent interview with Rolling Stone, 1D songwriter Julian Bunetta said they feel more like a rock band.
They've changed over the years. They've evolved into something that suits them and they feel comfortable with. I don't know if I would say they're like a rock band but there some elements that can apply to that. Music is music no matter what genre. One direction isn't just a band for some people. They've given people hope and courage to do the things they want to. They strive to make people happy and have helped so many fans with different problems in their lives. They're a band that people can really connect with as they started out young and have gone through many things that young people do. None of us know them on a personal level but they've become a part of our lives and through that so many people have made friends with other fans. They aren't just a few guys making music and looking pretty. They're much more than that.
You May Also Like