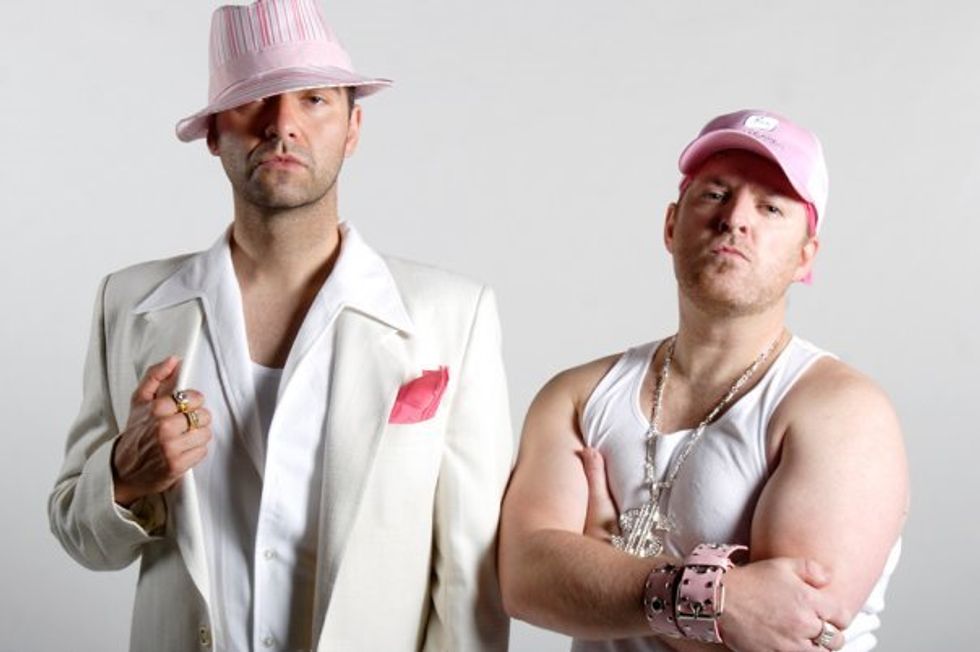 The New York Fringe Festival is in full-swing at over 20 downtown venues this week and next. I recently went to a press preview and saw a sampling of the following shows:
BASH'd: A "gay rap opera" written and performed by Chris Craddock and Nathan Cuckow that tells the story of a young man who comes out to his parents and promptly moves from his po-dunk hometown to the big city where he is struck with tragedy. Think Eminem meets Cazwell. Last chance to see it at the Village Theater Friday the 24th at 2:45 p.m.
Joan of Arppo: I love anything to do with the circus so I was excited to see this clown show created and performed by Swiss native Gardi Hutter in the preview. Hutter dons a fat suit, and of course a red nose to play a cartoonish laundrywoman who dreams of being Jeanne d'Arc. Joan of Arppo plays at the Cherry Lane Theatre tonight at 9:30 p.m., Thursday the 23rd at 2:30 p.m. and Saturday the 25th at noon.
Miriam: Written and performed by Diane Allison, this play is a look back on why Moses's sister Miriam (portrayed using a life-size marionette) was cursed by God. It's beautiful to watch Allison gracefully dance along with the puppet as if they are one. Playing at the Brooklyn Center for Architecture Saturday the 18th at 3:30 p.m., Monday the 20th at 4 p.m. and Saturday the 25th at 7:45 p.m.
Piaf: Love Conquers All: Famous French chanteuse Edith Piaf is reincarnated by Naomi Emmerson who sings in thick velvety voice 13 songs including "La Vie en Rose" and "Padam Padam" throughout the bio drama. Kind of like the movie La Vie en Rose -- but in play form.
Paper Son: Comic and Chinese immigrant Byron Yee performs a one man show about growing up in Oklahoma, moving to California and selling his soul in the entertainment industry. Catch his last two performances at the Soho Playhouse on Wednesday the 22nd at 7:15 p.m. and Thursday the 23rd at 10 p.m.
This is just a small sample of over 200 shows playing this year at the festival. If you can't make it out to see one of these visit www.fringenyc.org for a full list of shows and schedule of performances.
Pictured are Chris Craddock and Nathan Cuckow from BASH'd.