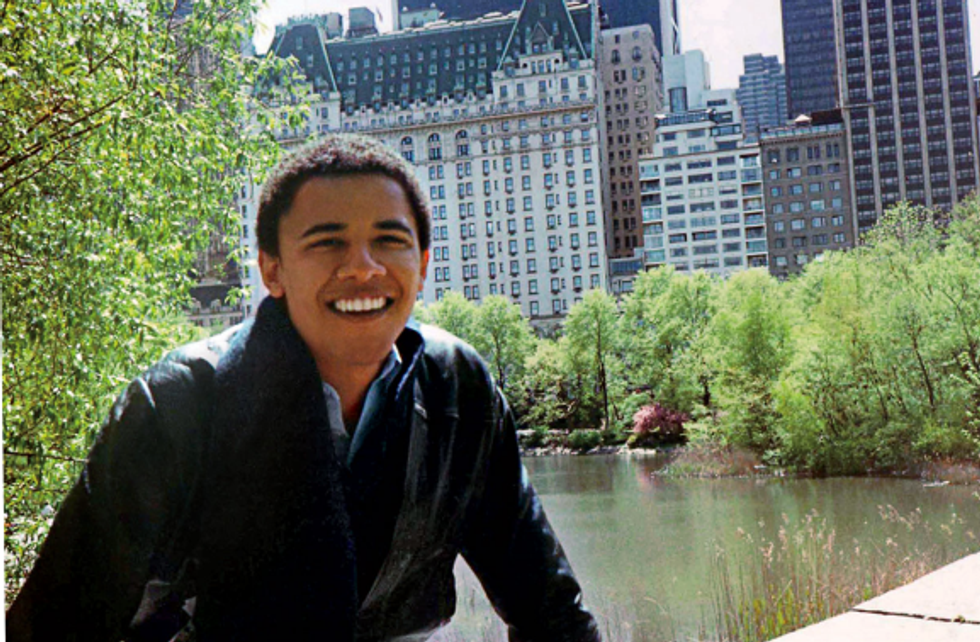 In a recent
Vanity Fair
excerpt from author David Maraniss' new biography of
President Obama
, one section has caught everyone's attention: the chapters about Obama's time in New York City and the former girlfriend he had there when he was in his early twenties.  Obama had alluded to his relationship in
Dreams From My Father
but admitted the descriptions of the unnamed paramour were really a compression of many women.  Now, the new book gives a name and face to the president's New York love: Genevieve Cook.  Maraniss' book also includes heretofore unseen passages from Cook's diary describing their relationship and addsing new insight into the post-college psyche of the POTUS -- though aside from a few chaste descriptions of spending nights together followed by languid Sunday mornings working on the
Times
crossword, don't expect any dirt (at least not from this excerpt). 
Perhaps more interesting, however, was that Cook foresaw in the 22-year-old some of the traits that would follow Obama to his presidency.
Of Obama's signature aloofness or "coolness" (not to be confused with this type of
"coolness"
), Cook wrote on March 9th, 1984:
It's not a question of my wanting to probe ancient pools of emotional trauma ... but more a sense of you [Barack] biding your time and drawing others' cards out of their hands for careful inspection--without giving too much of your own away--played with a good poker face. And as you say, it's not a question of intent on your part--or deliberate withholding--you feel accessible, and you are, in disarming ways. But I feel that you carefully filter everything in your mind and heart--legitimate, admirable, really--a strength, a necessity in terms of some kind of integrity. But there's something also there of smoothed veneer, of guardedness ... but I'm still left with this feeling of ... a bit of a wall--the veil.


She also, in a way, predicted Obama's marriage to Michelle.

After a conversation she and Obama had in which the president revealed "his adolescent image of the perfect ideal woman," Cook (who happens to be white) wrote:


I can't help thinking that what he would really want, be powerfully drawn to, was a woman, very strong, very upright, a fighter, a laugher, well-­experienced -- a black woman I keep seeing her as.


After their eventual break-up, Cook muses that there must be a "lithe, bubbly, strong black lady" waiting for him somewhere.  And while it's always juicy fun to read about a public figure's exes, there's something nice about the idea of Obama proverbially waiting for Michelle -- whose humor, strength and experience fit Cook's description to a T.  The first couple have always seemed to have a loving, healthy relationship and maybe, in some small way, Cook's thirty year old insight explains why.     

Maraniss' book, Barack Obama: The Story, comes out this month.

[via Vanity Fair]