Over the weekend a horrific fire ripped through a concert happening at Oakland's Ghost Ship work/live space, thus far killing over 30 people while many more remain missing. One of the deadliest structure fires in recent Californian history, it's been a painful, stomach-churning few days for the underground music community.
The American underground music scene is an incredibly tight-knit one -- everyone knows of each other and has had some sort of meaningful interaction with the confirmed dead, even if they resided on the other end of the country. For many of us, these DIY places like Ghost Ship are the only places we really feel safe -- our carefully-curated world of friends who en masse have the ability to transport us far away from the nastiness of a world that openly declares its distaste for us.
Right now is a time of deep mourning and confusion for us all, especially as Oakland authorities continue to search the space. But what makes it even more ugly and unfathomable is all the external victim-blaming and minimization of tragedy that's happened in the days since.
It's baffling to see the active demonization of the Oakland fire victims. It's heartbreaking to see this integral portion of our existence become the scourge of morally-panicked rubberneckers calling them irresponsible millennials seeking to create a "hipster paradise with no rules" on Twitter and Facebook. It's maddening to see these events -- which tend to be gatherings for a close-knit circle of, more often than not, marginalized people -- sensationalized as drug-fueled, EDM ragers in the media. After all, this kind of occurrence, while mind-numbingly tragic, is not necessarily isolated to underground events -- accidents happen in permitted, inspected venues as well. Take the 2003 fire at The Station nightclub in Rhode Island, or any other number of tragic fires, as examples.
But it's this external attitude toward independent artists -- one that in the past 48 hours has become laden with condescension and misinformation -- that continues to throw salt in a deep-set and still very fresh wound.
#oaklandfire they are pulling minors out of the warehouse party,
Why were they at a rave party with artists drugs and alcohol probability
— 0hour1 (@Brian_Was_Here_) December 3, 2016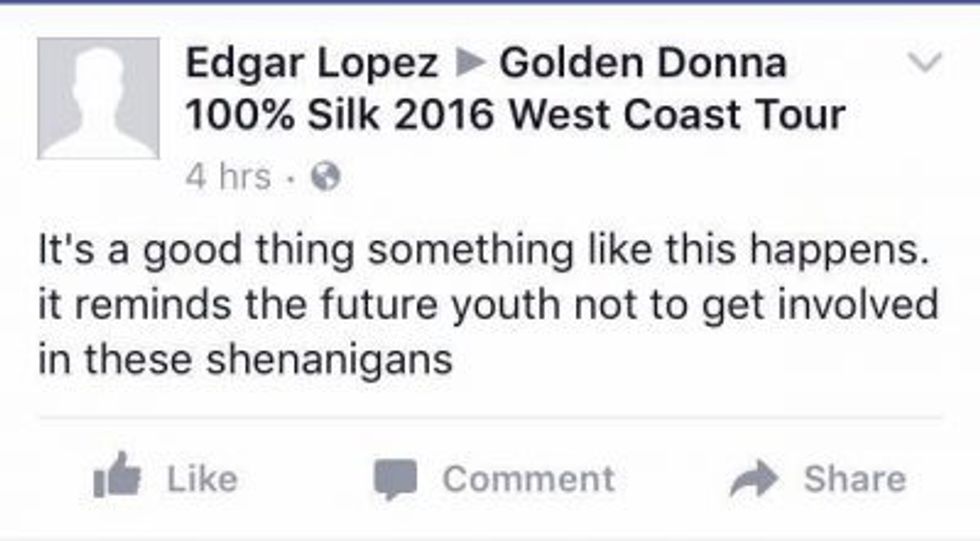 via WeAreYourVoiceMag.com
Because as KQED's Gabe Meline pointed out, the situation has now become politicized -- one in which an intimate concert of our peers has been warped into an EDC-esque "rave," with all its reckless, selfish, hedonistic connotations. Which is funny, because I've never felt safer than amongst this sort of extended group of friends who all have a dedication to celebrating carefully and making sure everyone around them is okay.
The tragedy in Oakland will, undoubtedly, lead to the kind of criminalization and legal crackdowns that will drive these events to even more dangerous spaces. Even if the true, tangible solutions are being able to operate these sorts of spaces more transparently, more public arts funding so that creatives can afford to live/work in up-to-code places or the ability to host events in places designed to safely support them sans fear of it being shut down.
After all, this is something anyone even tangentially involved in underground music has feared, a sentiment reiterated by a Facebook feed filled with people all saying, "Guys, this could be us. Please be aware of your surroundings" and posting information on crowd management courses and how to stay safe while out in these sorts of spaces. We all consistently spend our weekends at some labyrinth of a warehouse with one exit and a set of pseudo-stairs -- more afraid of the immediate risk of arrest than the less likely possibility of a fire, and this is something that needs to change.
The underground community is a loving, empathic group of people connected by our love of music and idealism, and to see anyone from our family portrayed otherwise is heart-wrenching -- especially since it's a reminder of those feelings of alienation and isolation that drove us together in the first place. All we're asking is for you to be kind in this moment of fear and sadness.
Header photo via CBS.

You May Also Like