There was so much excitement and gravity to the young designers in New York this season and it could not come at a better time. Outside of the branded commerce and existential naval gazing of New York Fashion Week, here our some of our favorites whose names you might (barely) know and ones you'll get to know more, proving that youth is hardly waste on the young.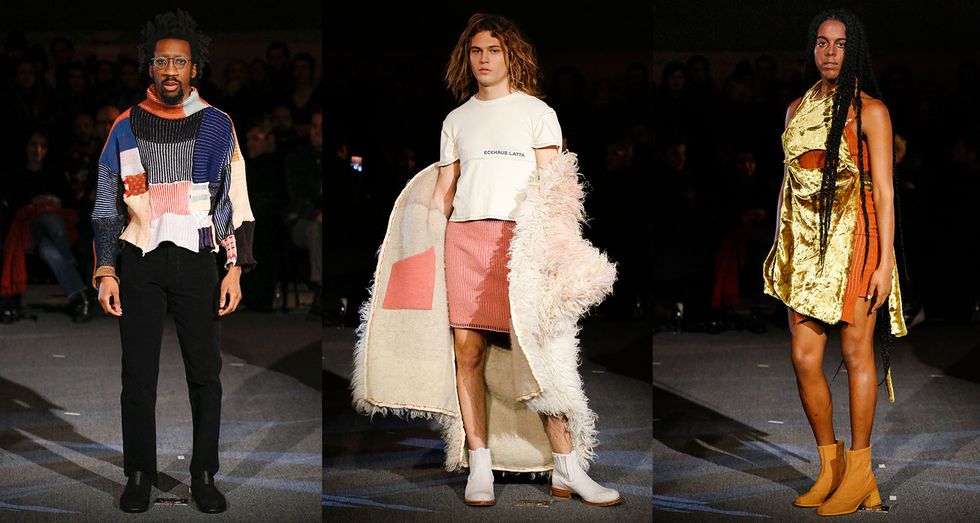 Eckhaus Latta
Showing their ninth season this week since 2012, design duo and PAPER Beautiful People Eckhaus Latta (Mike Eckhaus and Zoe Latta) are the most established of the group. As they've grown to be on the lips of the fashion cognoscenti, they have held fast to the spirit of their original proposition -- an alluringly ambiguous interpretation of comfortable and honest clothes,. They have never given into the angsty tropes of "young designers" and radiate a calm forbearance in the whirl of fashion. For fall 2016 they showed at a standing-room-only space at MoMA PS 1 in Long Island City. Drawing a capacity crowd to Queens in sub zero temperatures says more about their rising star than any review or celebrity coup.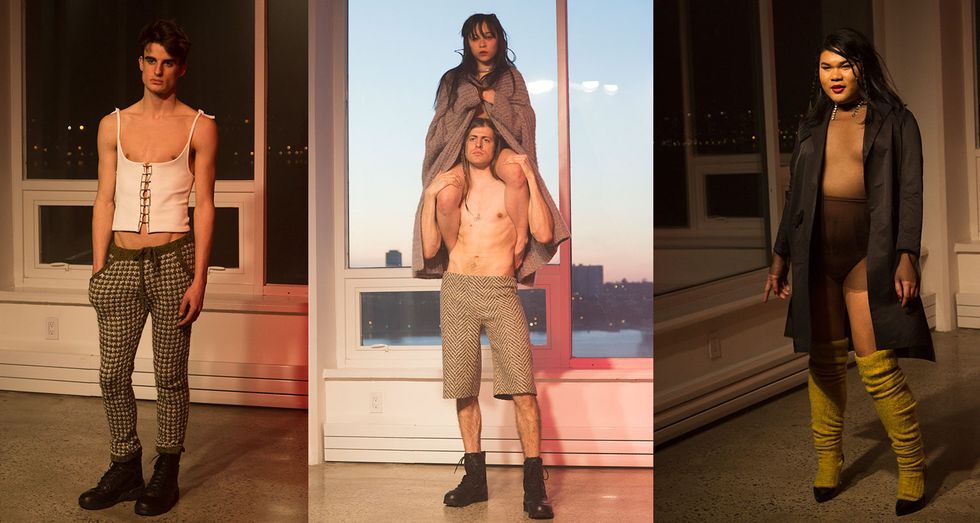 Moses Gauntlett Cheng
The three designers met while interning at Eckhaus Latta barely two years ago and have since been swooped up by Opening Ceremony and count Kim Kardashian among their supporters (she bought a piece from a photo shoot). The lie-in déshabillé of their knits and separates reads more considered than crafty and their propensity for showing skin is hardly about sex (and that's a good thing).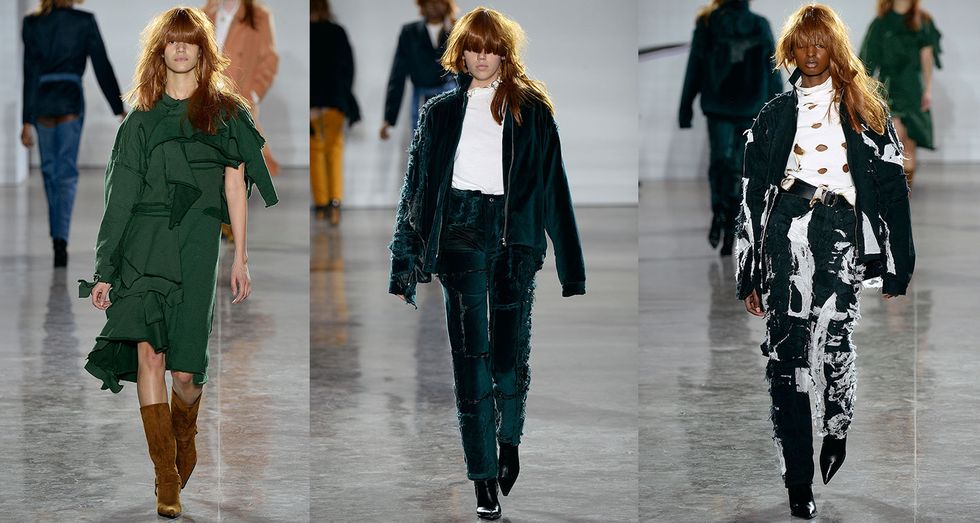 Ottolinger
A standout from this years VFILES line-up, their focused range of denim and frayed velour showed just the kind of clear point of view that separates them from the pack. They took a morbid theme -- the Japanese celebration of death's beauty -- and turned it into a modern and compelling moment in one of the more exciting venues of the week.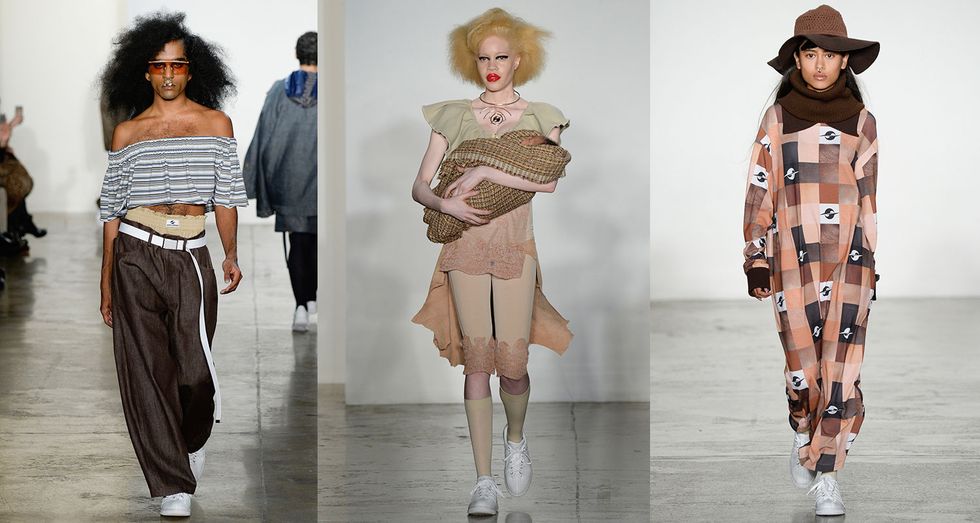 Gypsy Sport
Rio Uribe understands the poignancy of bodies that goes beyond the narrative of a simple casting direction for a runway show. This season he used snapshots of his friends' skin, as well as his own, to create a patchwork print on separates, outerwear and the best onesie of the season. The models reflected the kind of inclusion, optimism, and plain fun that Uribe is known for and when the model Diandra Forrest closed the show holding her newborn daughter, Rain, it was one of the more powerful moments of the week.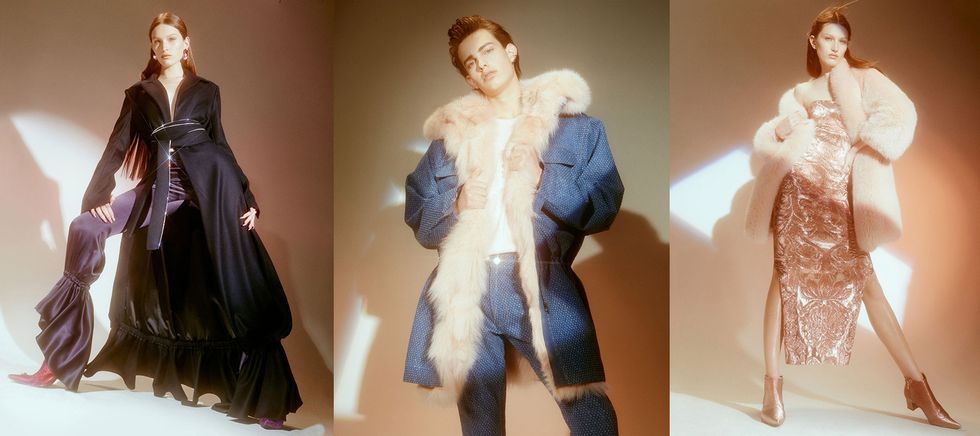 Area
Area is a brand you forget has only a handful of seasons behind them. Their preternatural elegance and full embrace of glamour is rare and exciting in this crop. Granted, designer Beckett Fogg and Piotrek Panszczyk, alums of Calvin Klein and Chloe respectively, have pretty stellar bona fides, their collections thus far tell a much more sophisticated story than their years would indicate. Not to skew too 'lady,' however, they resonate with the tumblr crowd just as well via their Charlotte Wales-lensed look books, shot in a signature fuzzy loucheness, which are reblogged ad infinitum every season.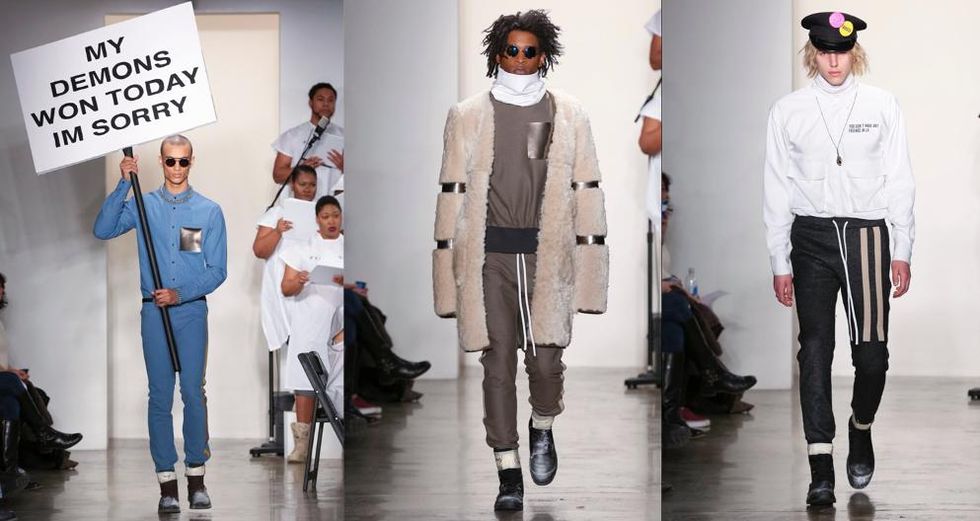 Pyer Moss
At his show this week, Pyer Moss designer Kerby Jean-Raymond focused less on political abstractions (despite what a passing glimpse at the picket sign-inspired closing look would indicate), and more on the very immediate but ambiguous indications of mental illness and cultural insanity of the state of race in America. The aforementioned sign was a line from the suicide note of Black Lives Matter activistMarShawn McCarrel posted last week on his Facebook page and was a moving close to a collection that was less pedantic in politics as it was grounded in an emotional experience. The Erykah Badu- styled collection was not without some fun and interesting clothes a relatively wide breach to close but done in a thoughtful and spirited way
You May Also Like