2016 is finally, finally drawing to a close. Dance it out, party hard, or even watch the ball drop from the warmth and comfort of not-Times-Square at these parties. Grab your masks, your 2017 novelty glasses and get ready to say "good riddance" to 2016.
Saturday, December 31st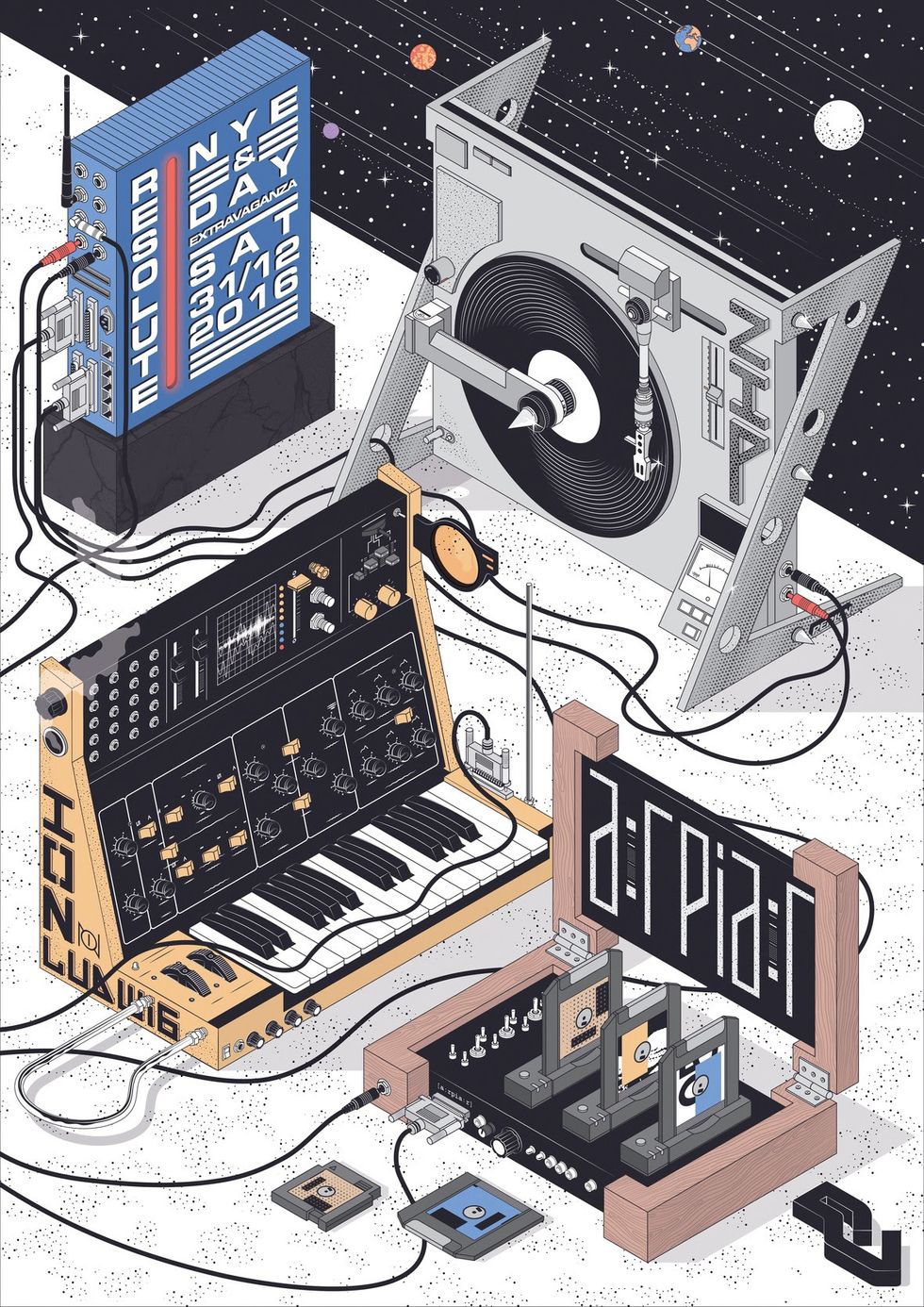 WHAT: ReSolute NYE and Day Extravaganza
EXPECT: ReSolute teams up with visual artist Silviu Visan aka Dreamrec for an NYE experience you won't want to miss. With beats from Connie, Lauren Ritter, Orazio, Maksim, and O.Bee, the party will be going for at least 26 hours, with a special countdown for the ball drop.
WHERE: TBA
WHEN: 10PM to 2017
RSVP: Ticket, $80; Email arpiar.resolute@gmail.com for location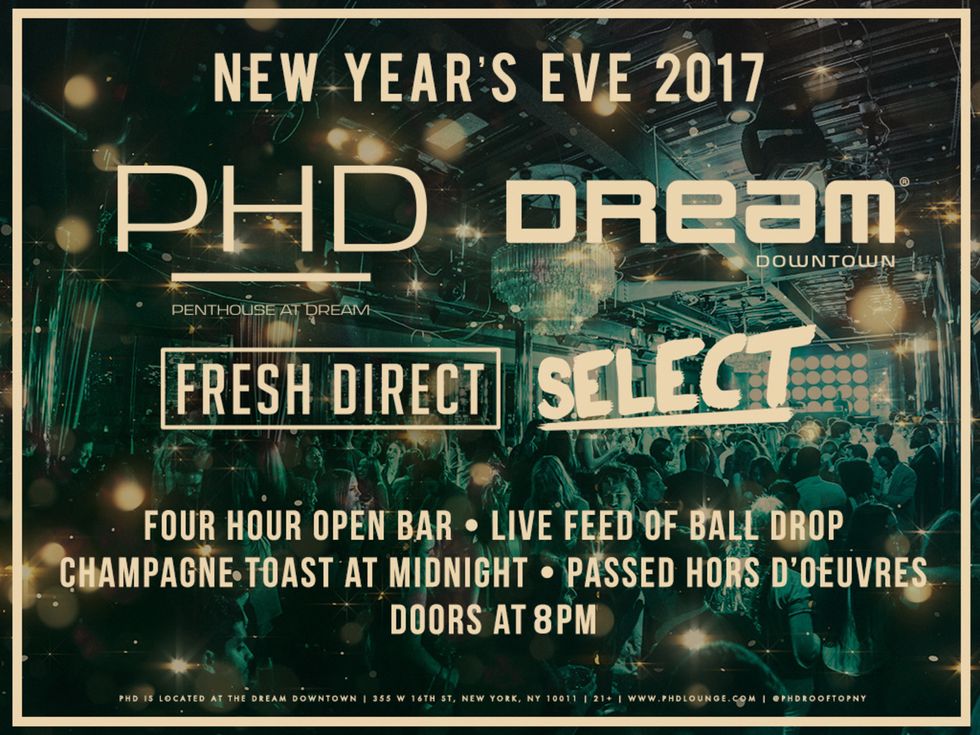 WHAT: Dream Downtown NYE at PH-D
EXPECT: Decked out in Italian Portoro marble and amber Venini glass chandeliers, get ready for the ultimate penthouse party at PH-D. With craft cocktails curated by mixologist Johnny Sweet, a champagne toast at midnight and music from guest DJs, you'll be dancing all night while enjoying one of the city's best rooftop views.
WHERE: 355 W 16th St., New York
WHEN: 8:30pm to 4am
RSVP: Ticket, $80-$195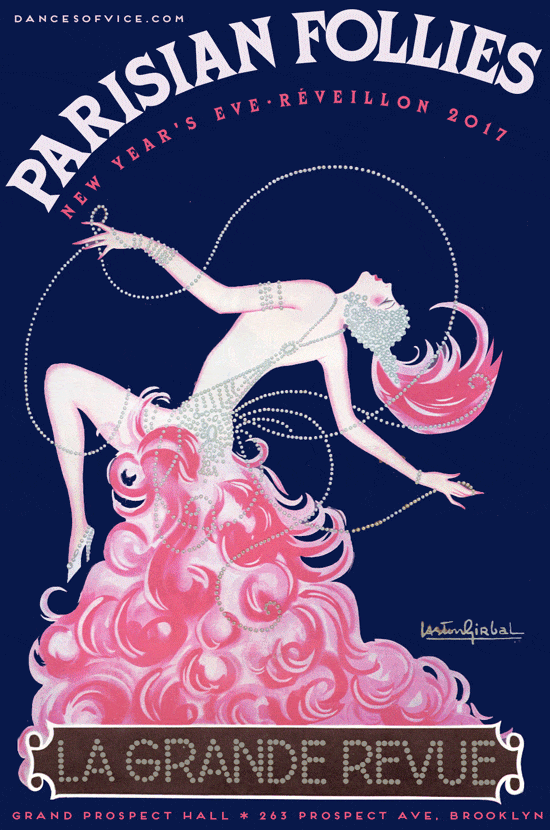 WHAT: Dances of Vice: PARISIAN FOLLIES
EXPECT: Travel back in time to Paris' Golden Age this NYE. Prepare for a long night of dancing, a lavish buffet of french cuisine, and an array of Rococo and Belle entertainment. Dances of Vice brings you 1920s Parisian nightlife at its finest.
WHERE: Grand Prospect Hall, 263 Prospect Avenue, Brooklyn, NY
WHEN: 8pm to 2am
RSVP: Ticket, $80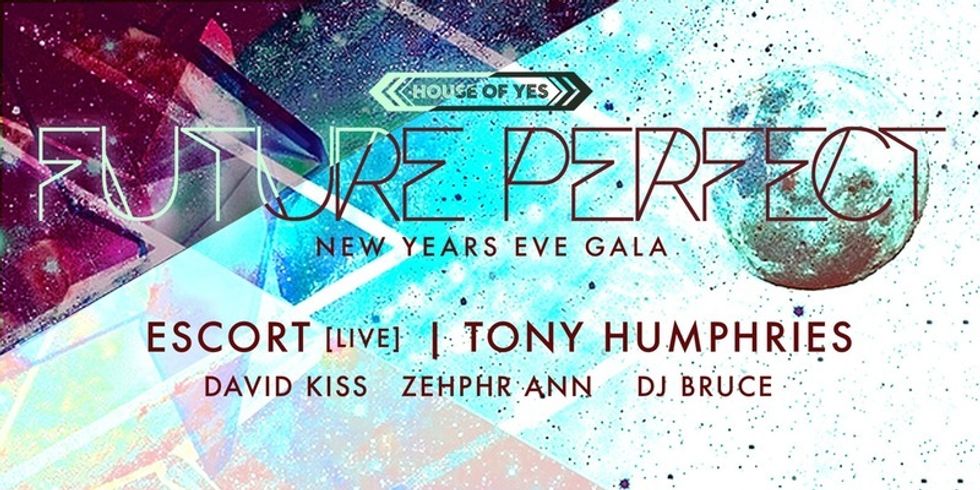 WHAT: Future Perfect: New Year's Eve Gala
EXPECT: House of Yes presents Future Perfect, a night dedicated to expressing yourself and reinventing the future. Dress in your most finest and fiercest for 3 rooms of music and magic, a future beauty perfection parlor, an elixir & tincture bar, and much more. Get there early to enjoy an open bar from 10pm to 11pm.
WHERE: 2 Wyckoff Avenue, Brooklyn, NY 11237
WHEN: 10pm to 4am
RSVP: Ticket, $50 - $90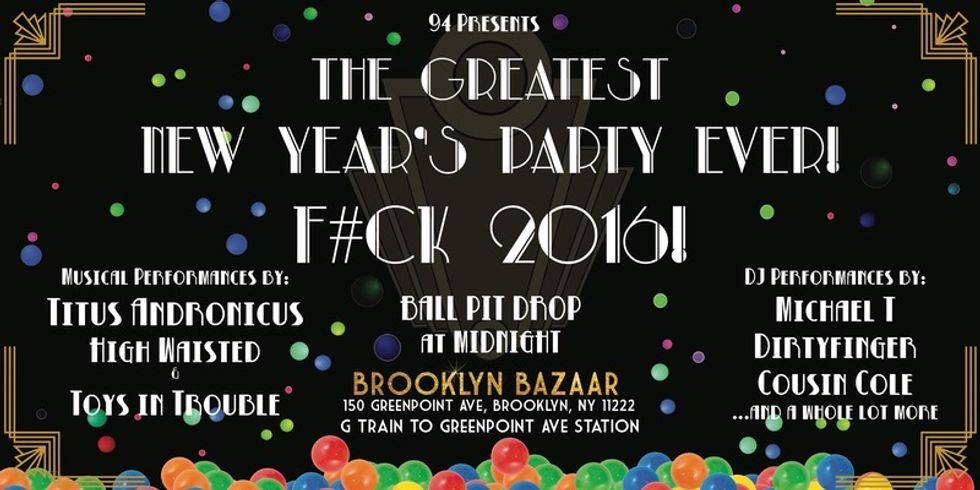 WHAT: The Greatest New Year's Party Ever 2017! F#CK 2016!
EXPECT: Feel like an angsty teenager again at the Brooklyn Bazaar's ultimate teenage house party. Music performances by Titus Andronicus, High Waisted & Toys in Trouble as well as DJ performances by Michael T, Dirtyfinger, Cousin Cole, and more. And what's a house party without games? Get rid of all your 2016 angst with Pin the Blame on the Politician and a screaming high striker. Enjoy a complimentary midnight champagne toast and a ball pit drop.
WHERE: 150 Greenpoint Avenue, Brooklyn, NY 11222
WHEN: 9pm to 4am
RSVP: Ticket, $40-$80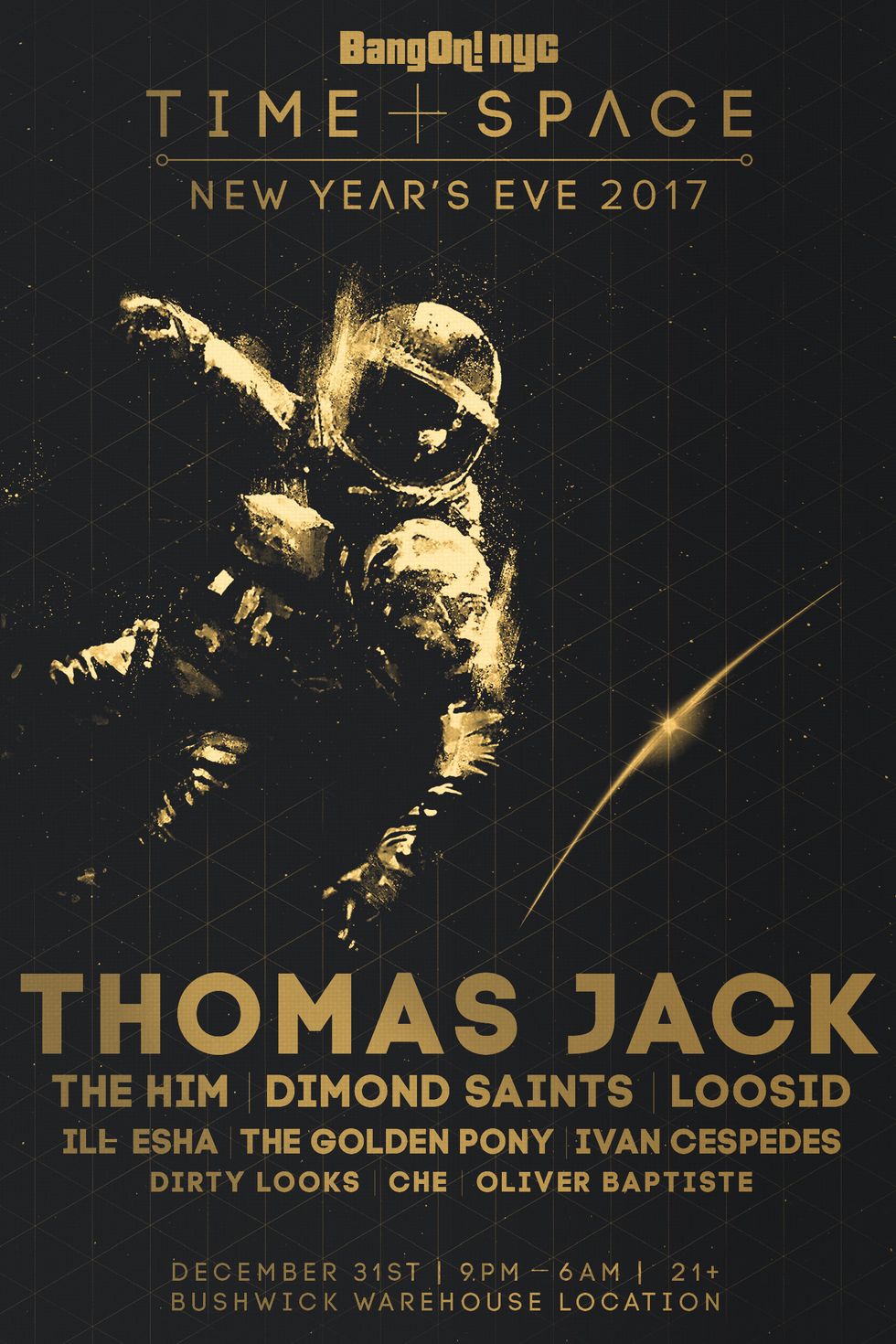 WHAT: BangOn!NYC presents: "Time & Space" New Year's Eve 2017
EXPECT: Blast off through "Time & Space" at BangOn's latest secret warehouse party. With an expansive solar system installation, immersive time machine, numerous fire breathers and aerialists, and music from Thomas Jack and Dimond Saints, don't expect your typical night of champagne and tuxedos this NYE.
WHERE: TBA
WHEN: 9pm to 6am
RSVP: Ticket, $60-$140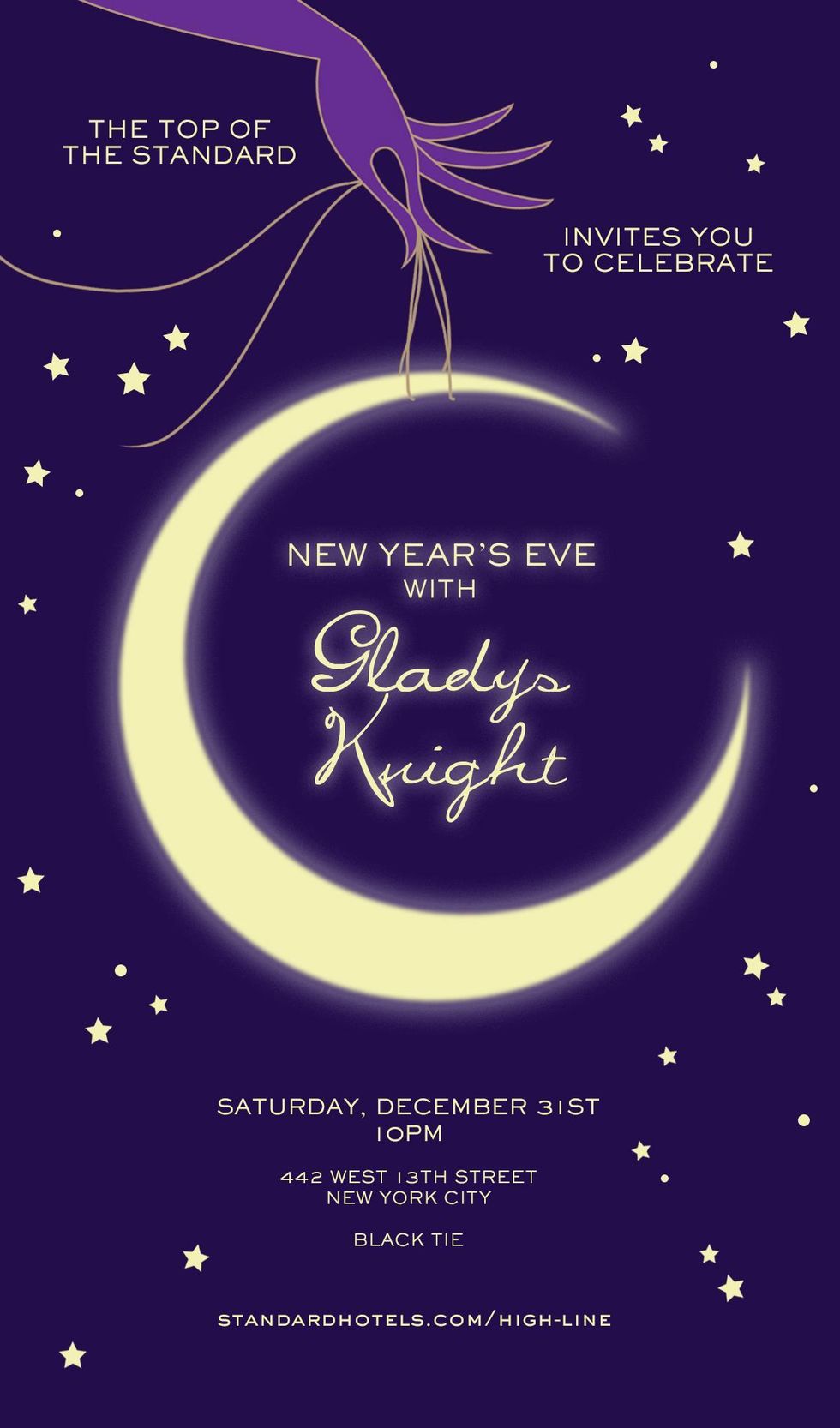 WHAT: THE TOP OF THE STANDARD WITH GLADYS KNIGHT
EXPECT: Feeling glitzy? Ring in the new year at the Top of the Standard with a performance by the empress of soul herself, Gladys Knight. Enjoy a classy evening of delicious food, trendy cocktails, and a guest list of New York City's finest.
WHERE: 442 W 13th Street, New York
WHEN: 10pm - 2017
RSVP: Ticket, $250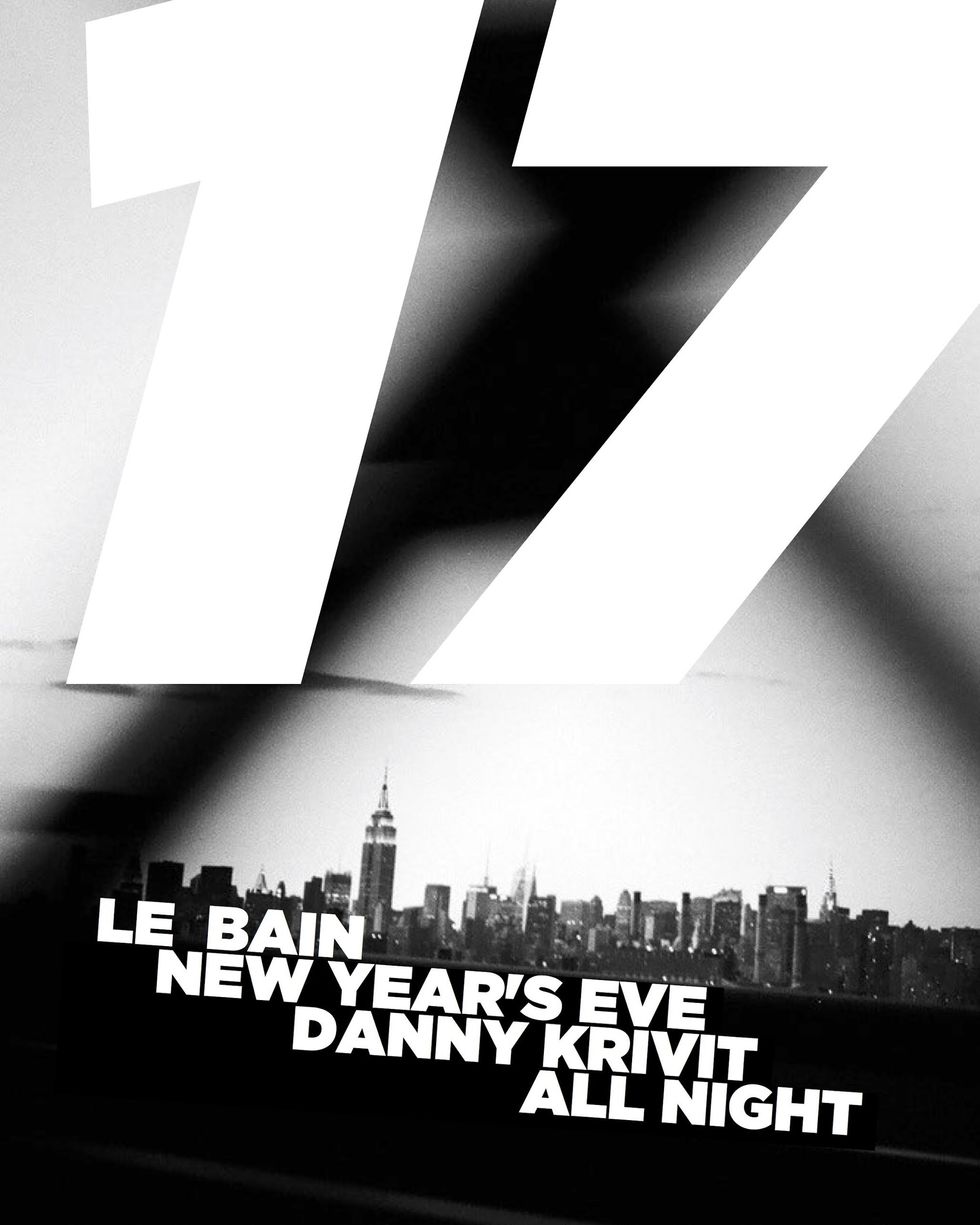 WHAT: New Year's Eve at Le Bain with Danny Krivit
EXPECT: Continue your night at The Standard and head to Le Bain for an all night long celebration with Danny Krivit.
WHERE: 444 West 13th Street, New York
WHEN: 10pm - 2017
RSVP: Ticket, $75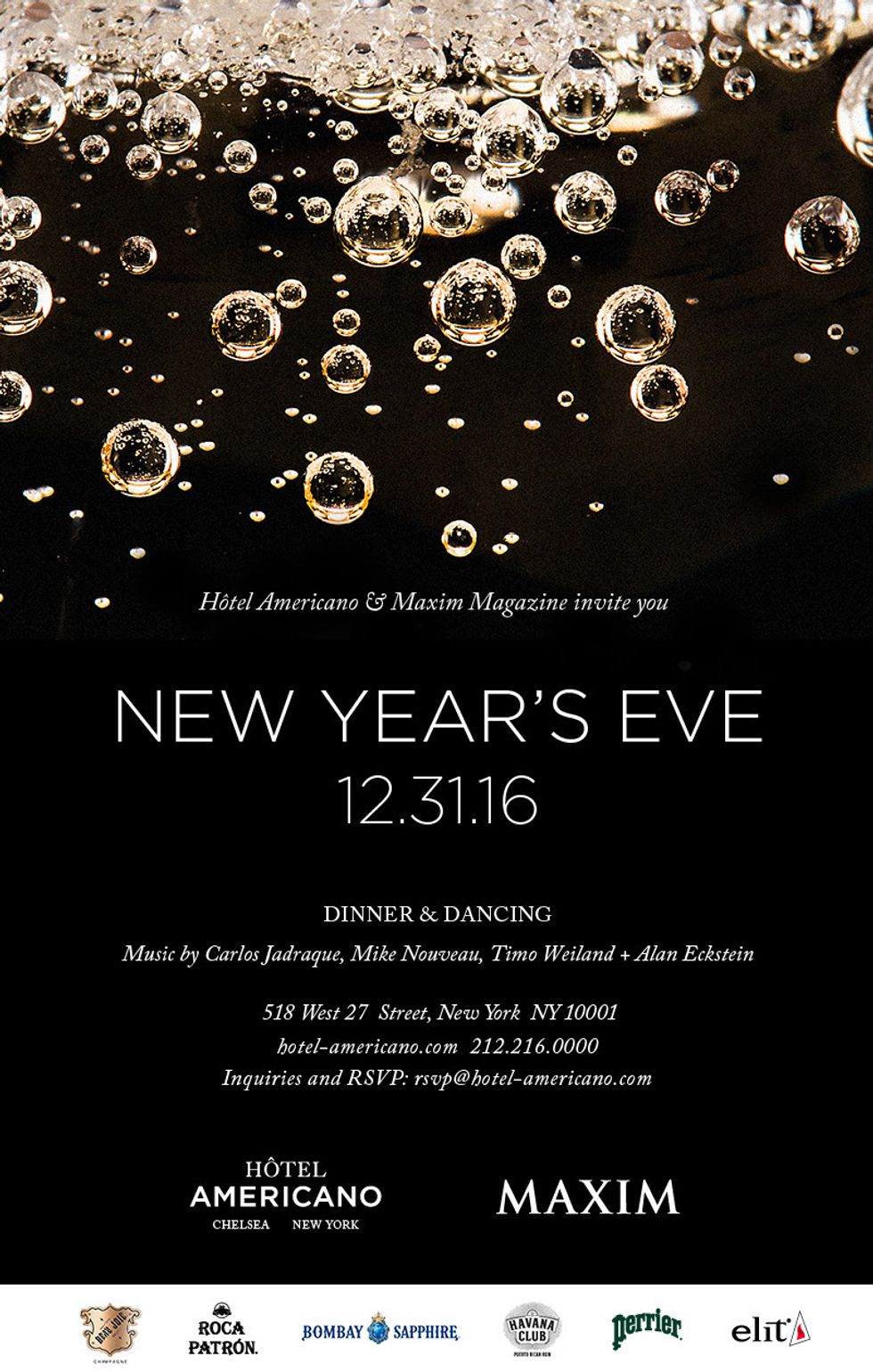 WHAT: Hotel Americano x MAXIM Magazine
EXPECT: MAXIM teams up with Hotel Americano for a two part evening. Enjoy a prix fixe menu dinner by Executive Chef Bryan Noury at Bar Americano first, followed by a dance party all night long with tunes from Timo Weiland, Mike Nouveau and Carlos Jadraque. Bring your ID and your friends!
WHERE: 518 West 27th Street, New York
WHEN: 7pm to 9:30pm; 9pm to 5 am
RSVP: Ticket, $30; RSVP@hotel-americano.com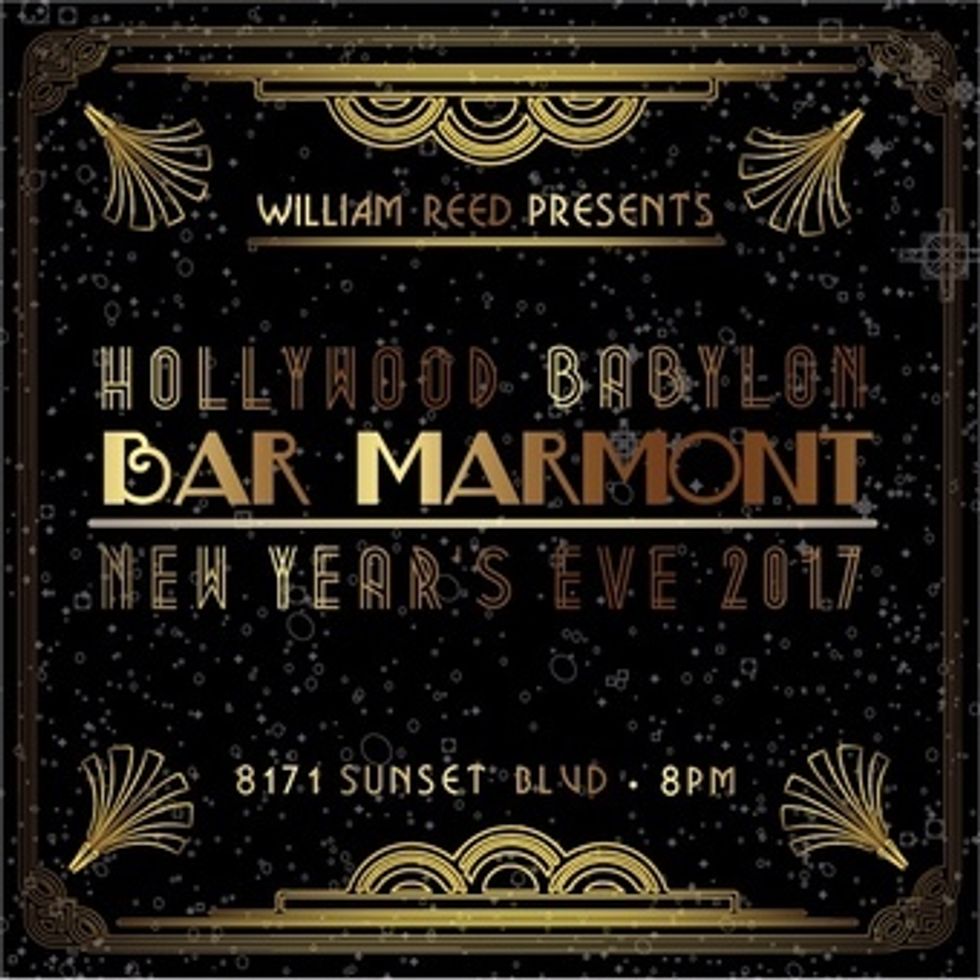 WHAT: Hollywood Babylon at Bar Marmont
EXPECT: Chateau Marmont is ringing in 2017 with a Great Gatsby themed bash at the hotel's Bar Marmont. The evening will feature music by Pleasure Principle and burlesque performances by Dolores Delight and Camilla Cruelle, as well as a NYE buffet dinner.
WHERE: 8171 Sunset Blvd, Los Angeles
WHEN: 7pm to 2am (PST)
RSVP: Purchase a ticket, starting at $145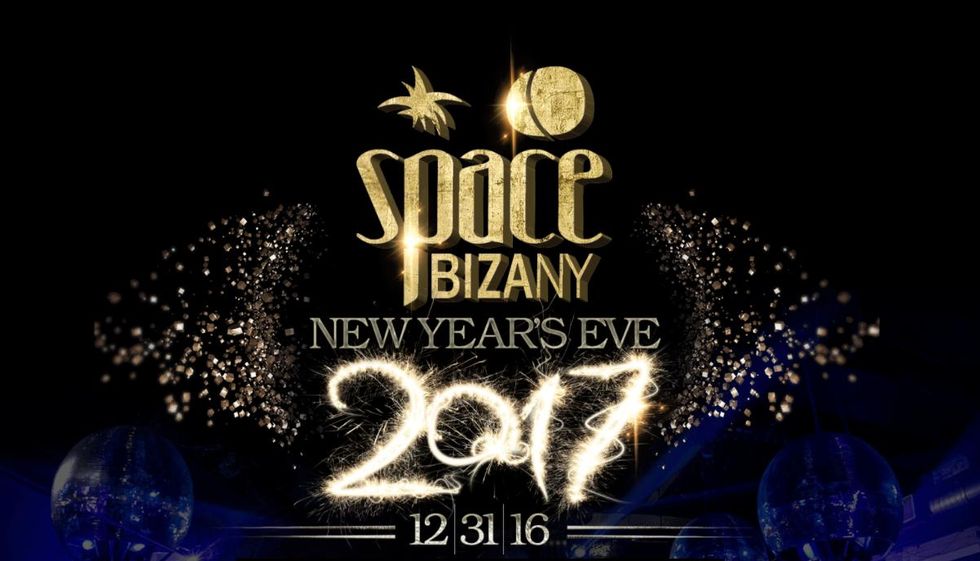 WHAT: Space Ibiza New York New Year's Eve
EXPECT: Party like you're in Ibiza while never leaving the west side, with a lineup of DJs spinning all night--the main attraction are headlining House DJs Solomun and Dixon spinning back to back. Also: open bar until midnight and a champagne toast.
WHERE: 637 West 50th Street, New York
WHEN: 7pm to 2am (PST)
RSVP: Tickets start at $129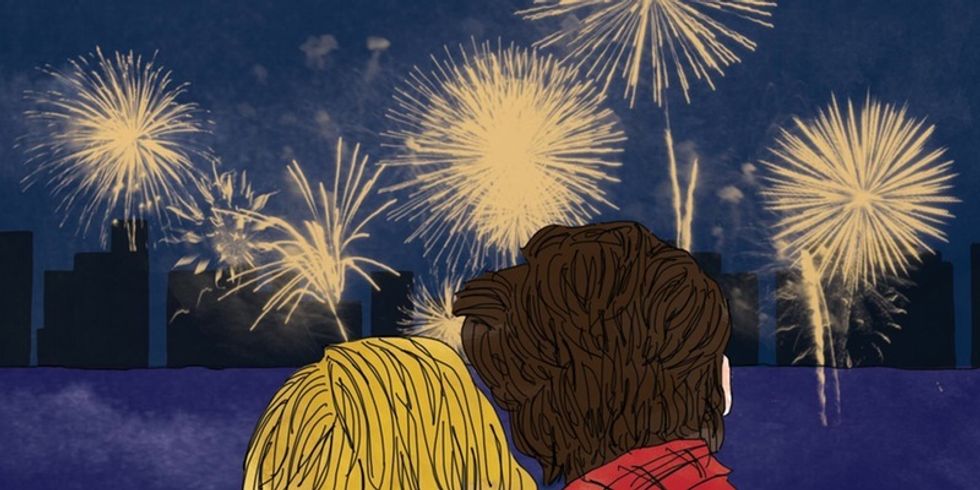 WHAT: Edge of Seventeen at the Standard East Village
EXPECT: Drop by the Standard's East Village outpost for a dane party in the penthouse, with open bar and tunes from DJ Sammy Jo.
WHERE: 25 Cooper Square, New York
WHEN: 10pm to 2am
RSVP: Tickets are $125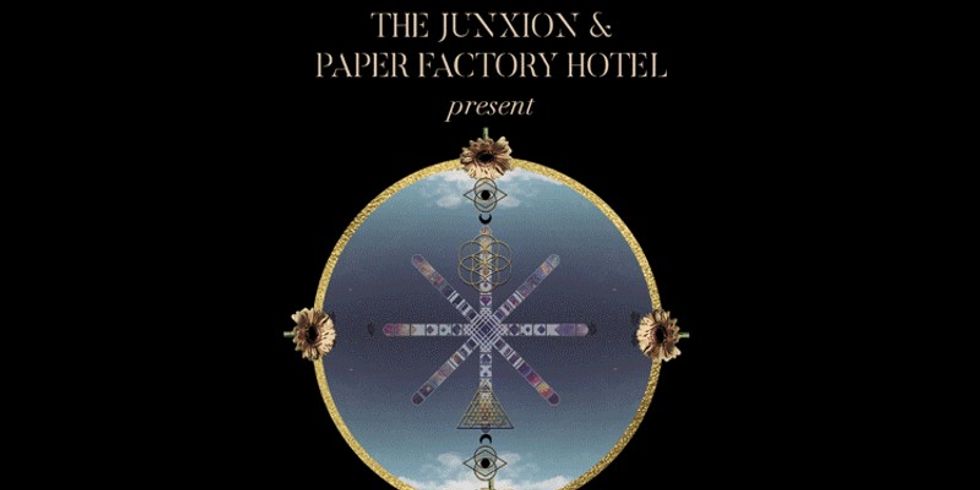 WHAT: JunXion and Paper Factory Hotel Present: RESET New Year's Eve 2017
EXPECT: Four different rooms will offer immersive musical and dance experiences, from global house to New Orleans brass, and a heated courtyard. The night will also feature a full range of performances from aerialists, burlesque dancers, 3D projection mapping, contortionists, fire artists, and magicians. Costumes are encouraged.
WHERE: 37-06 36th Street, Queens, New York
WHEN: 10pm to 4am
RSVP: Tickets are $50-$70

EXPECT: A masked Brooklyn dance party with headliners Sleepy & Boo spinning a blend of house and techno late into the night.
WHERE: 395 Wythe Ave., Brooklyn, New York
WHEN: 9pm to 4am
RSVP: Tickets start at $35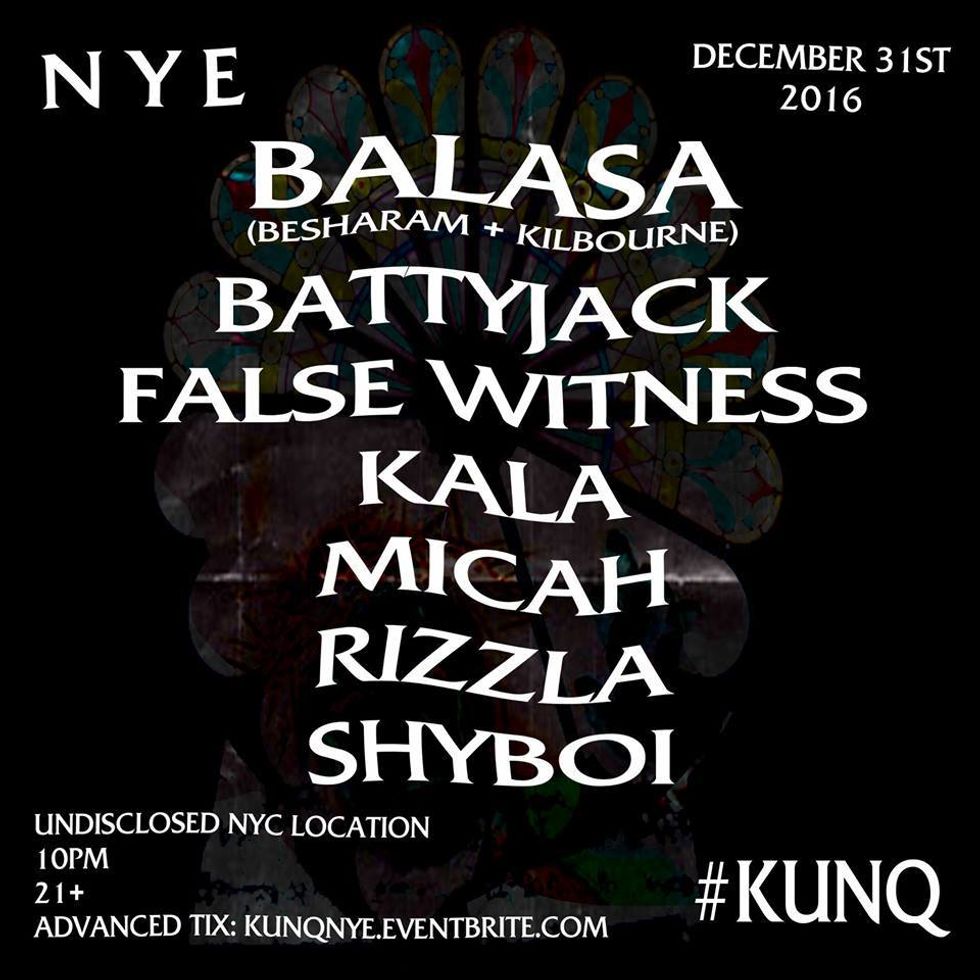 WHAT: #KUNQ NYE
EXPECT: Somewhere at an undisclosed Brooklyn location, a lineup of curating a hell of a dance party all night long. The lineup includes Fade To Mind's Rizzla, GHE20G0TH1K resident False Witness, Discwoman's SHYBOI, and special guests Balasa, a duo made up of artists Besharam and Kilbourne. Ticket holders will receive the location via email on Dec 29th. Facebook attendees on the 30th.
WHERE: TBA
WHEN: 10pm to late
RSVP: Tickets start at $15, or RSVP on Facebook.