As the year winds down, the anxiety over how to celebrate its conclusion ramps up. Nothing says "Auld Lang Syne" quite like scrambling to figure out how to navigate partying in NYC with your 20-person deep posse on one of the most tourist-packed, soul-wrenching nights of the year. But this time around, kick back, sip some champagne, and let Paper take the reins on your plans to ring in the New Year (and feel free to send us some of that bubbly as a token of your thanks in 2016).
1.The Bowery Hotel
The Bowery Hotel is the perfect venue for any indecisive year-end revellers out there, offering up a different room for pretty much any type of party you could possibly imagine, all for $249. There's a Prohibition barrell room with retro whiskey and bourbon cocktails, an Anna Karenina-themed Russian tea room complete with caviar, ice bar, and make-your-own martinis, a Mexican hacienda featuring agave drinks and an all-girl Mariachi band, a premium scotch lounge with a live jazz band, a champagne lounge, and an outdoor cider hut and cigar lounge. With this many options, deciding what room to hang out in is going to be by far the hardest choice you make in 2016.
The Bowery Hotel, 335 Bowery, Manhattan, buy tickets here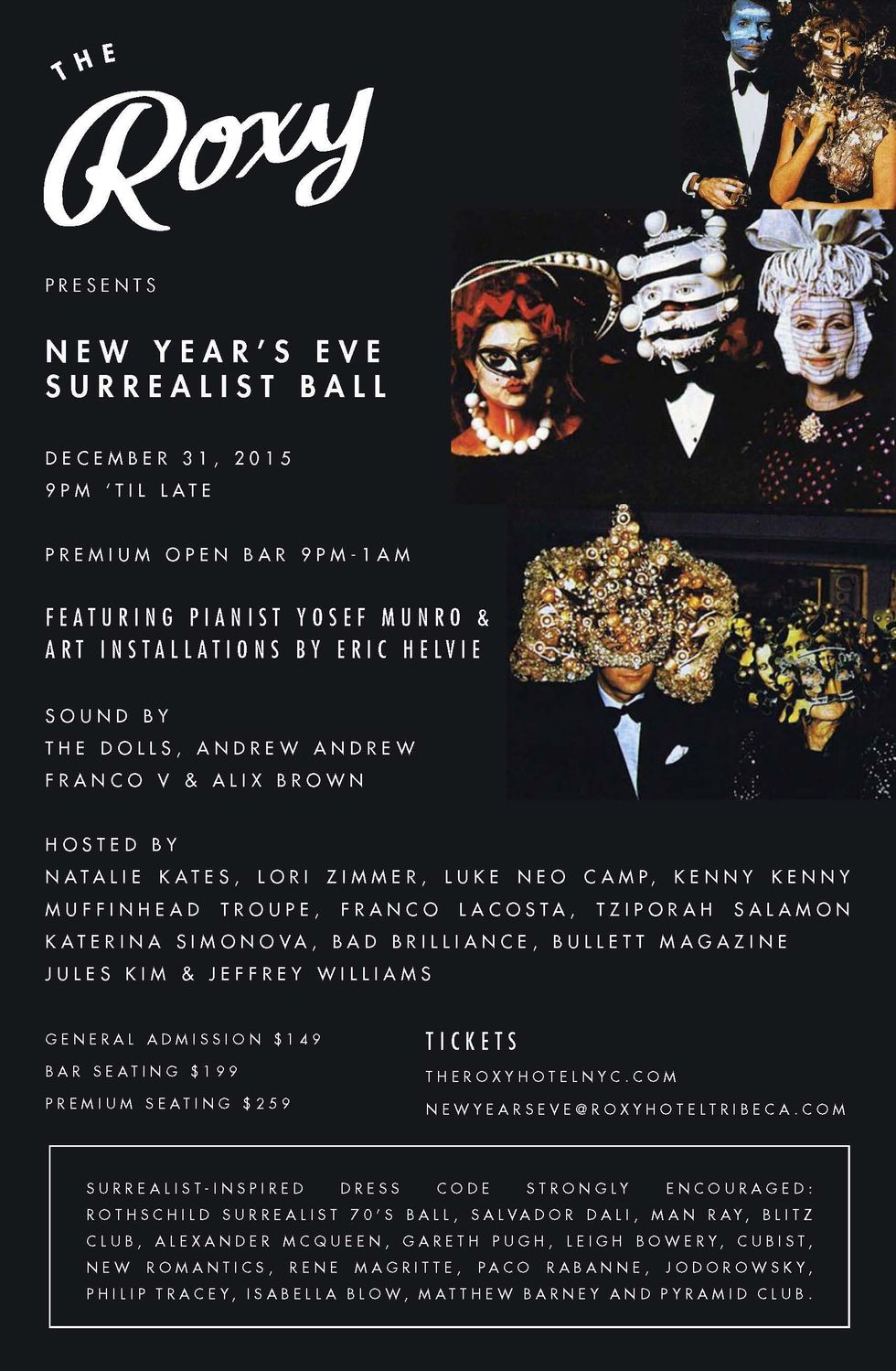 2. The Roxy Hotel
Have you always dreamed of attending one of Salvador Dalí's Surrealist Balls but were cursed to be born three decades too late? Well, The Roxy Hotel is here to answer all your postmodernist prayers, transforming their lobby into a melting clock-laden wonderland in honor of the holiday. Your $149 ticket will get you a premium open bar, midnight champagne toast, and a surprise musical performance. A strict dress code will be in effect, giving you the chance to show off your finest 70s-era Rothschild party-inspired garb. Things are guaranteed to get freaky.
The Roxy Hotel, 2 Ave of the Americas, Manhattan, buy tickets here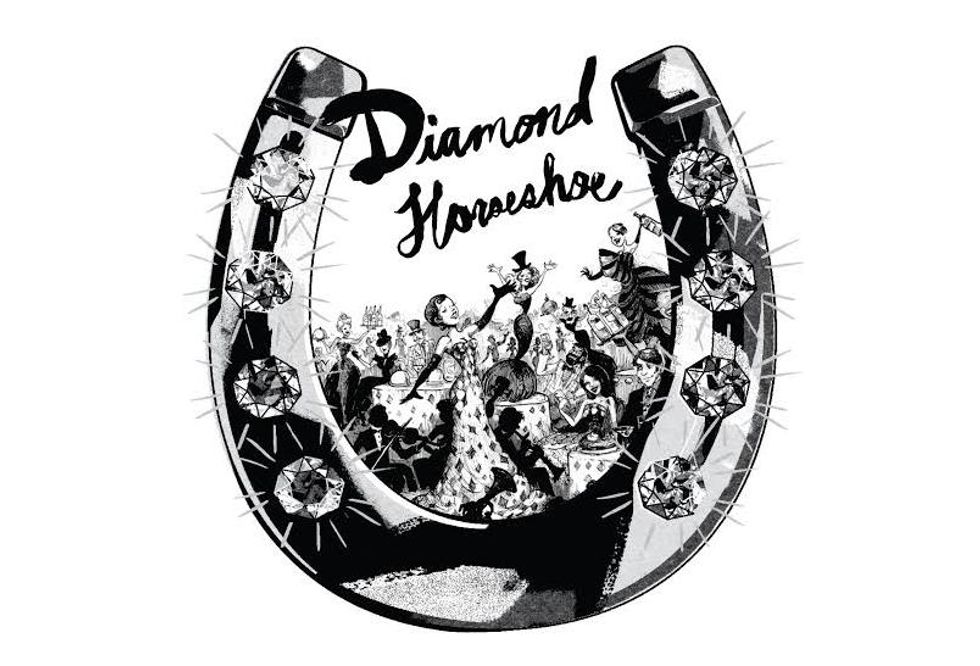 3. Queen of the Night at The Paramount Hotel
Queen of the Night is already one of New York's must-see shows, but their New Year's Eve festivities are taking their standard dinner performances to all new heights. The Gala Reservation will cost you big bucks, ringing in at $450, but it also guarantees you an all-access pass to the Diamond Horseshoe, the full Queen of the Night show and after party, complete with canapés, a sit-down dinner, and free-flowing drinks all night long. Expect an immersive, opulent experience even Marie Antoinette would consider a touch over the top.
Paramount Hotel, 235 West 46th Street, Manhattan, buy tickets here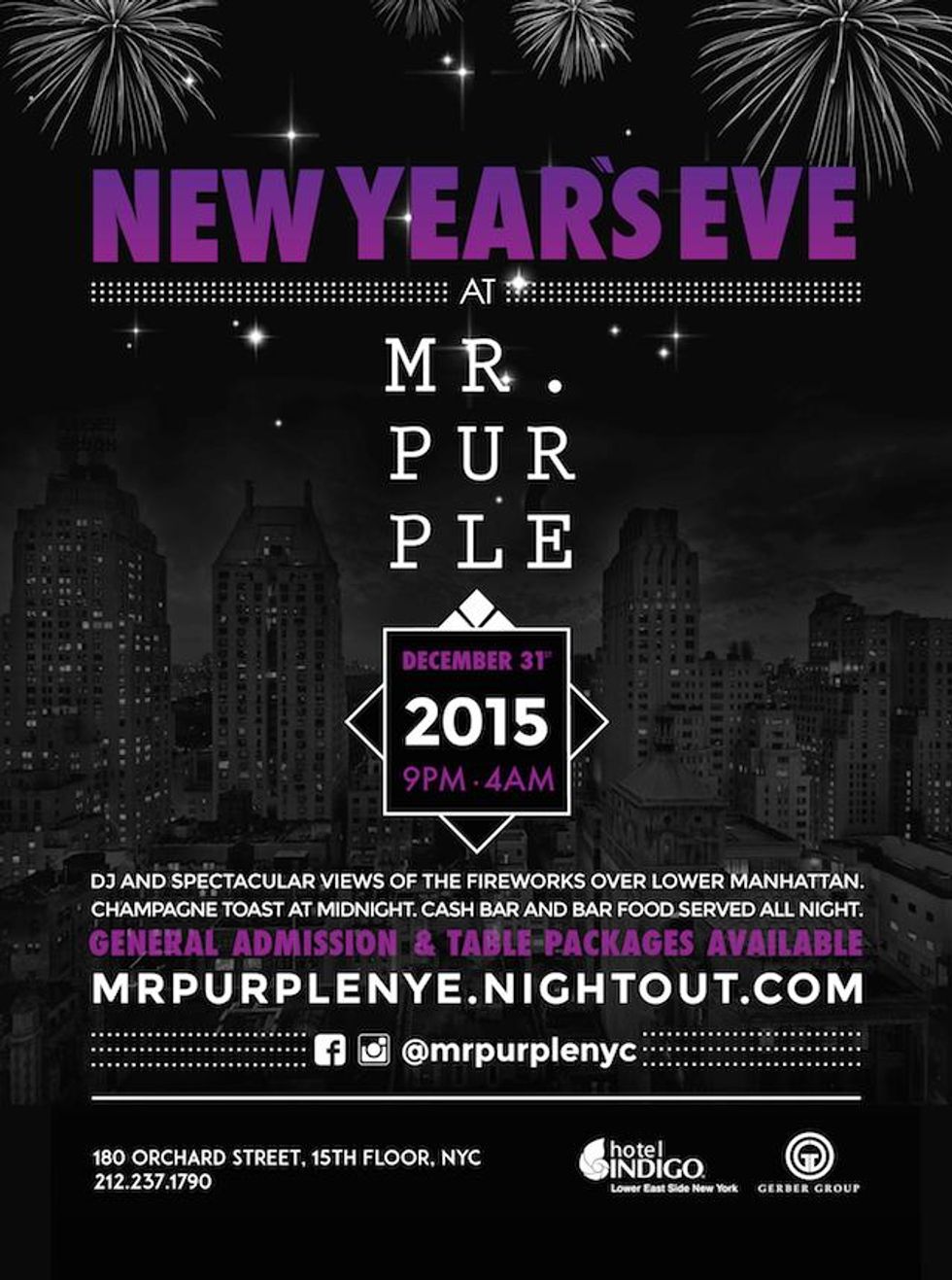 4. Mr. Purple at the Indigo Hotel
Mr. Purple at the Indigo Hotel is relatively new to the NYC bar and restaurant scene, but it's already cemented itself as one of the coolest rooftop locals in the LES. General admission to their December 31st revelries will include a free champagne toast, music, and an amazing view of fireworks, all for $50. If you're looking to go big or go home in 2016, the bar also offers up VIP table service ranging from $750-$3000 complete with Veuve Clicquot and your choice of liquor. And for those who want to get a head-start on their resolutions, there's also cold-pressed juices on premise, just maybe save the hardcore workout for after you've sobered up a bit.
Indigo Hotel, 189 Orchard St, 15th Floor, Manhattan, buy tickets here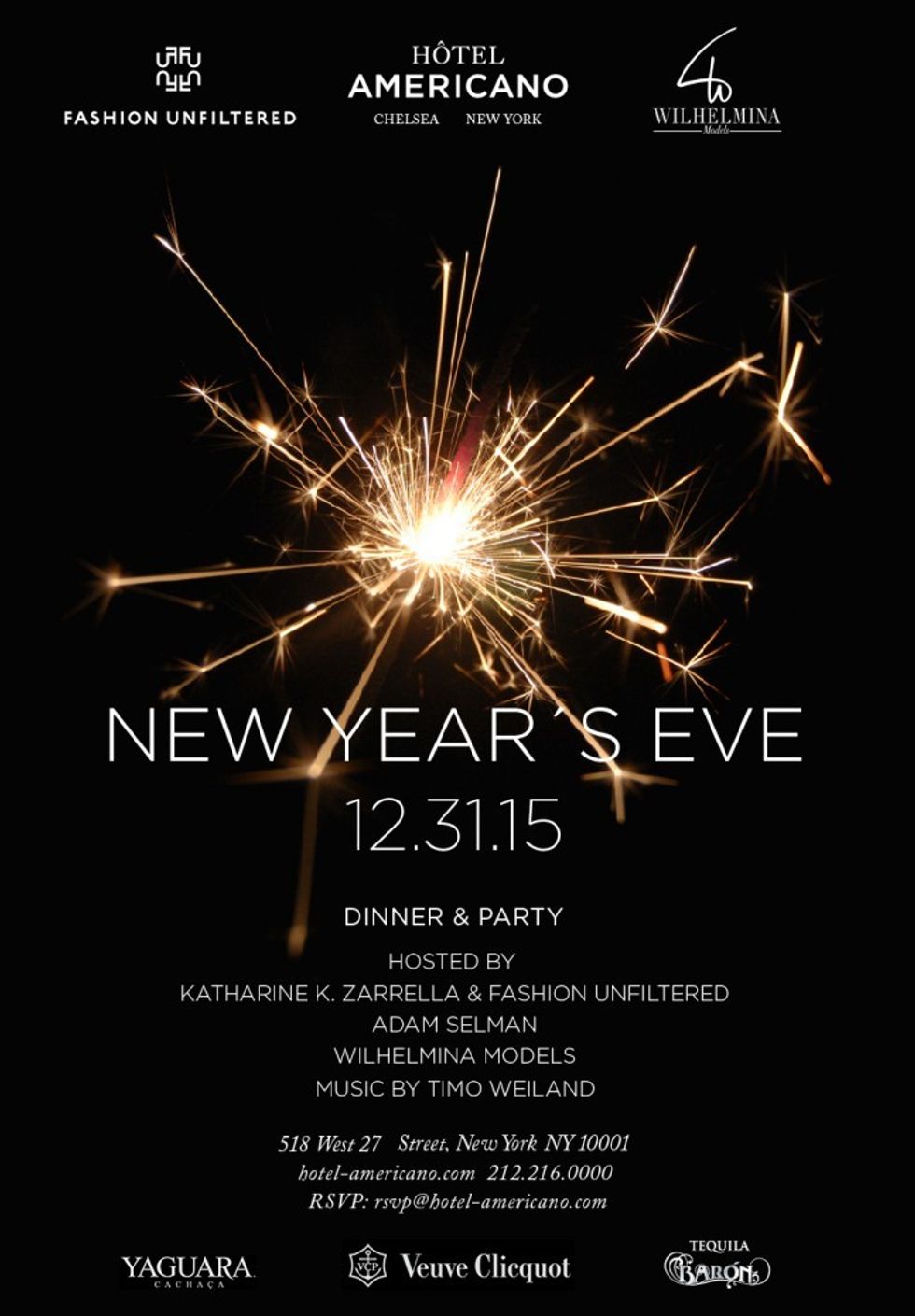 5. Hôtel Americano
What could be chicer than a NYE spent wining and dining with Adam Selman, Katharine K. Zarella, Wilhelmina Models, and Fashion Unfiltered Magazine? If your inner-sartorialist is currently squealing, Hotel Americano's got you covered with a prix-fixe dinner at their rooftop restaurant Arriba where you can hobnob with the industry's finest. After dinner, head downstairs for a midnight toast and dance the night away at a party with music by Timo Weiland. Just don't forget to dress to impress.
Hôtel Americano, 518 W 27 St., Manhattan, buy tickets here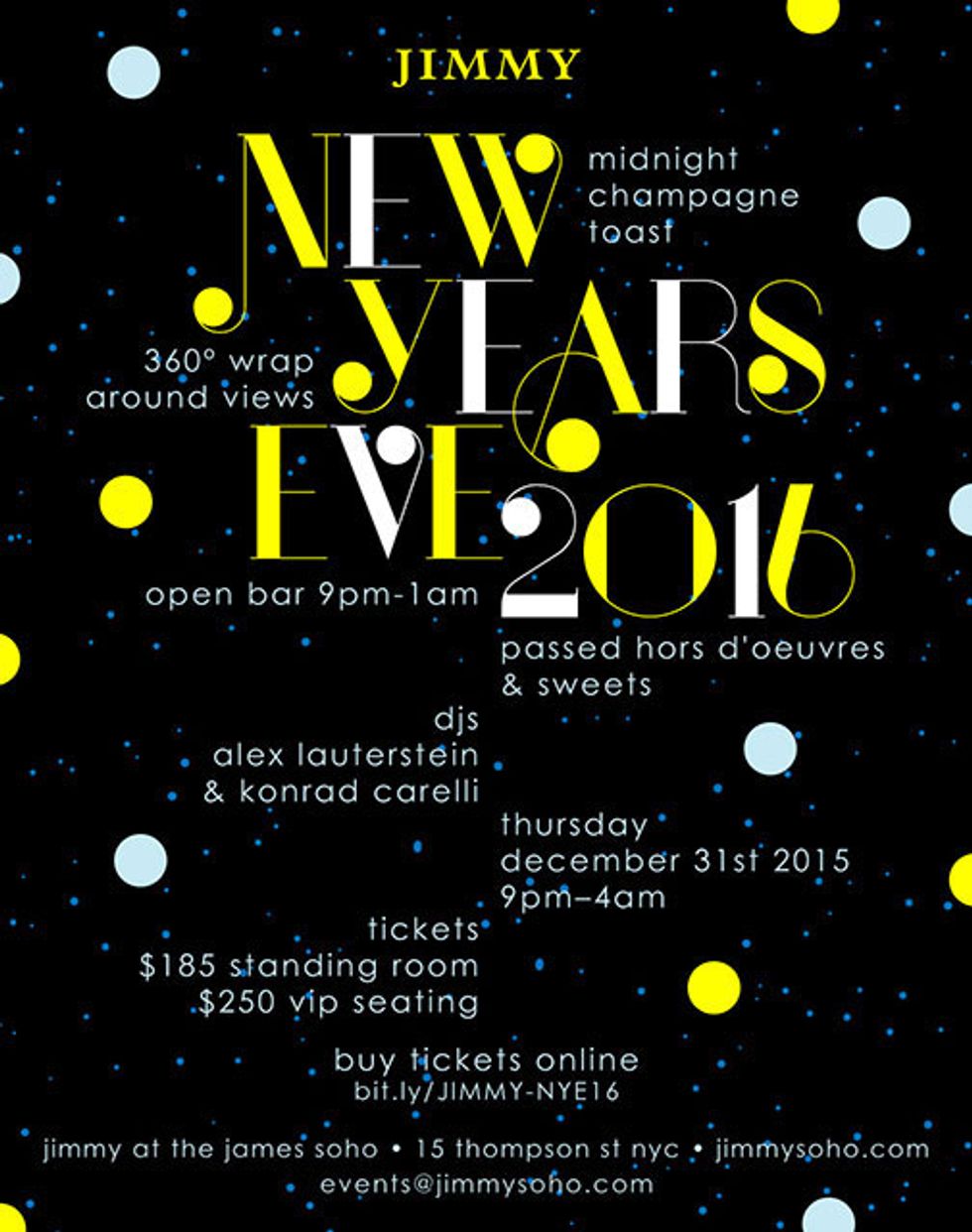 6. The Jimmy at The James New York
The Jimmy provides the real New York New Year's Eve experience with a 360-degree wraparound view of Manhattan, offering up the best vantage point for the fireworks in town. Music will be provided by DJs Alex Lauterstein and Konrad Carelli with an open bar, hors d'oeuvres, and sweets served from 9-1am. Tickets range from $185 for standing room to $250 for VIP seating, but regardless of your access level, every guest will get to ring in 2016 in luxury with a complimentary midnight champagne toast. In either case, a totally worthwhile price for the selfie potential alone.
The James, 15 Thompson St., Manhattan, buy tickets here
7. The Garret East
The Garret East, the East Village spin-off of the 7th ave, second-floor speakeasy by the same name, has the best NYE deal in town with just $100 for a 9pm-2am open bar featuring the restaurant's full list of tasty, creative cocktails such as their banana liqueur-based Banahatta or the Double-R Reprise served up in a kitschy tiki glass. If the eclectic, vintage decor doesn't immediately win you over, the all-night, groovy jams played by their vinyl DJ surely will.
The Garret East, 206 Avenue A, Manhattan, buy tickets here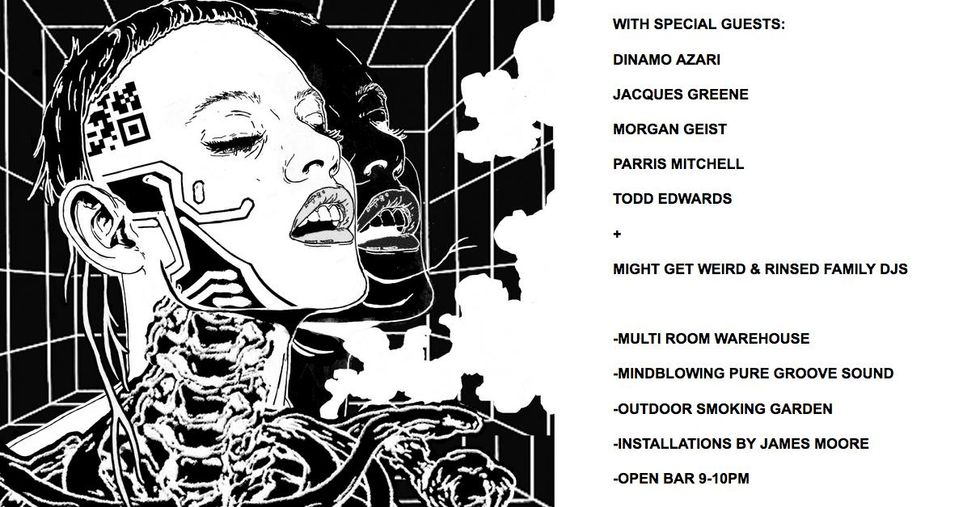 8. RINSED 5: NYE 2016
To celebrate their five-year anniversary, professional partiers RINSED are upping the ante tenfold, taking over an abandoned indoor/outdoor furniture warehouse in Brooklyn and pimping it out with a NASA developed soundsystem. The space will be decorated with Terminator-style bionic humanoids courtesy of James Moore and music by DJs including Jacques Greene, Dinamo Anzari, and Daft Punk collaborator Todd Edwards. If you can't swing the $90 cover, there's still hope. The organizers have hidden five sets of tickets around the Newtown Creek Wastewater Treatment Facility Nature Walk. Let the shitty scavenger hunt begin!
Rinsed, Location TBA, Brooklyn, buy tickets here
9. Union Hall Awesome Aughts Party
As we edge towards the end of yet another millennial decade, there's no better time to look back upon the golden years of pop culture yore; namely, that magical time we call the early aughts. Take a trip in Union Hall's Y2K time machine and relive your youthful obsession with all things Britney Spears and N*SYNC courtesy of DJ Steve Reynolds. Doors open at 9:30, show starts at 10, and with tickets going for a measly $5, even your pre-teen self wouldn't mind blowing their allowance on this shindig. Plus, maybe you'll finally be able to find some closure over the abrupt 2005 Brad and Jen break-up.
Union Hall, 702 Union Street, Brooklyn, buy tickets here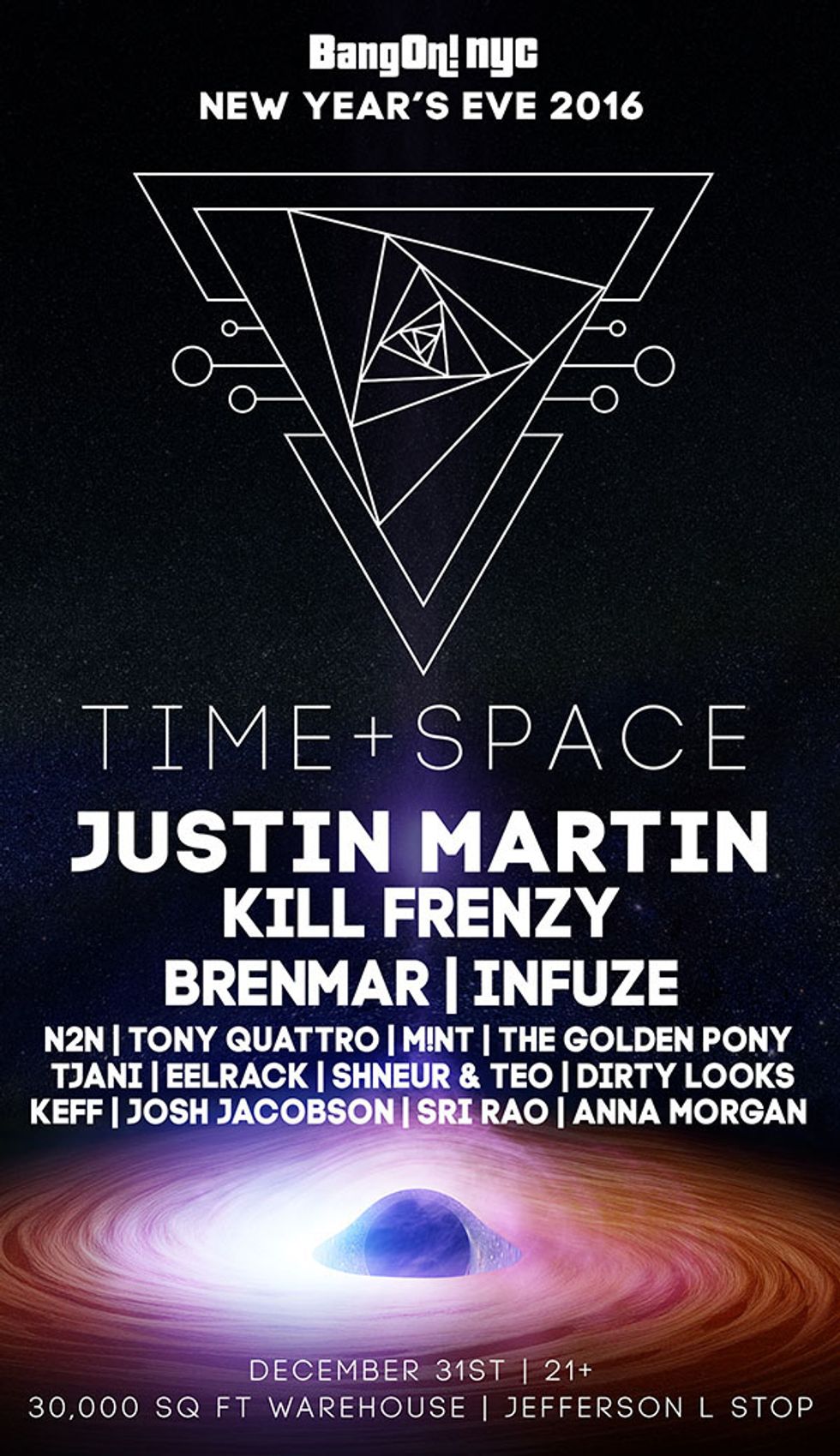 10. BangOn! NYC New Year's Eve: Time and Space
BangOn! is a rave-aficionado's wet dream. This year, the party's found a new home at an as yet to be named 30,000-square-foot warehouse with 30-foot ceilings located somewhere in Bushwick. Tickets are $64-$159 for an appropriately time and space-themed night packed full of back-to-back DJs, art installations, immersive 3D projection mapping, art cars, and a midnight rocket launch. Break out your furry boots and glow sticks because this party don't stop 'til 5 in the morning.
BangOn!, Secret location, Brooklyn, buy tickets here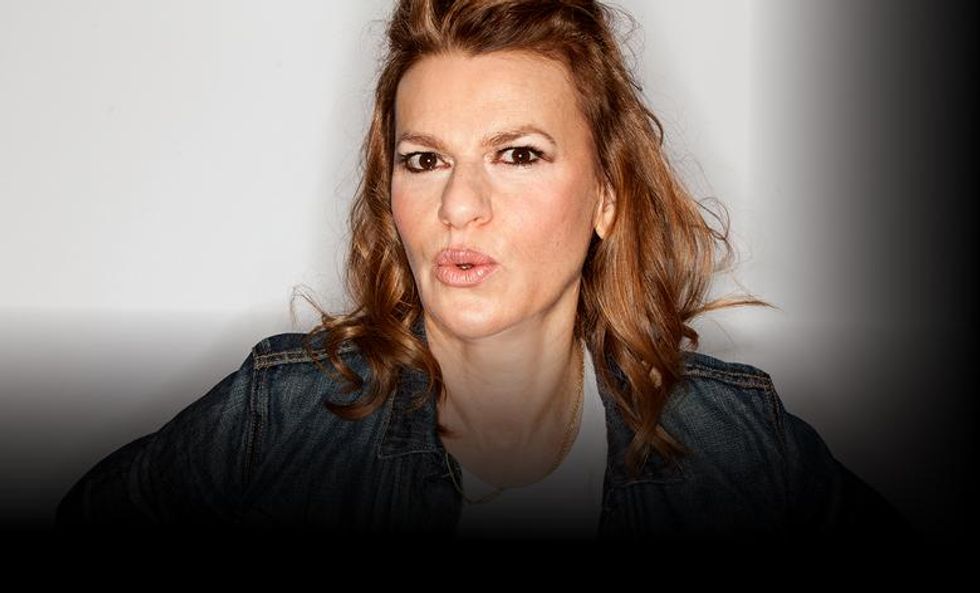 11. Feel the Bernhard at Joe's Pub
If your idea of the perfect NYE is attending one of the most caustically funny, dirty, and spontaneously musical recaps of 2015, with just a touch of nostalgic shmaltz, look no further than Sandra Bernhard's annual year-end review at Joe's Pub, Feel the Bernhard. As the show's description says, "give yourself a gift of liberation" for the price of $60-$200, and prepare to laugh/cry all the way into 2016.
Joe's Pub, 425 Lafayette Street , Manhattan, buy tickets here
12. Dear Bushwick's Grand Opening of Yours Sincerely Cocktail Laboratory
Favorite English "East Williamsburg" eatery Dear Bushwick is launching their new top secret speakeasy, Yours Sincerely Cocktail Laboratory, right next door. Their NYE grand-opening will feature 20 ready-made cocktails on tap, three house-made boozy sodas, six craft beers, two wines and a whiskey. Cheers to that!
Dear Bushwick,41 Wilson Avenue, Brooklyn, no tickets needed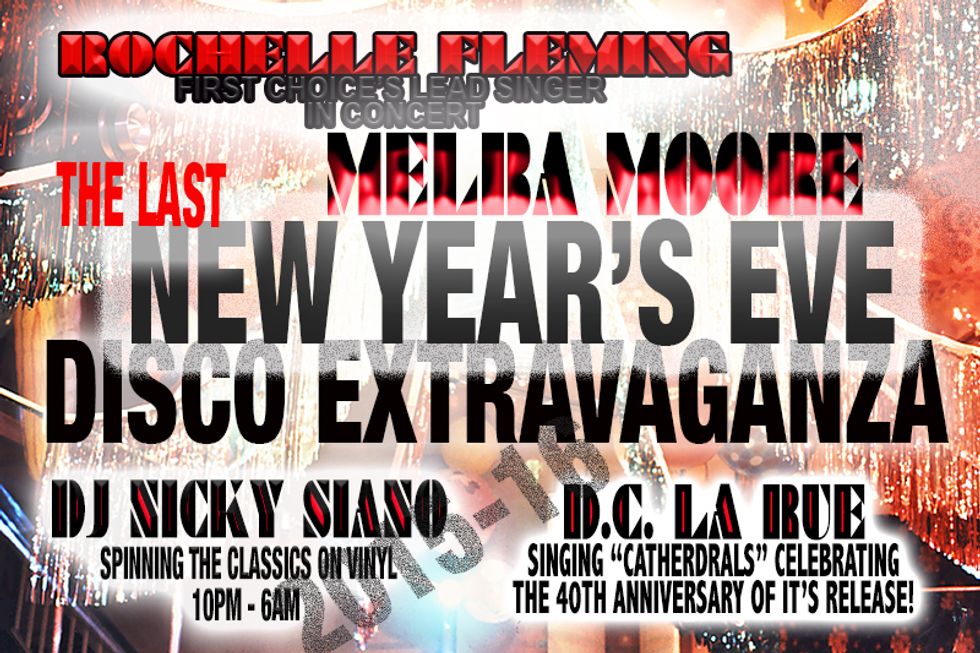 13. Nicky Siano's THE VERY LAST NEW YEAR'S EVE DISCO EXTRAVAGANZA!
Got a serious case of Saturday Night Fever? Nicky Siano's The Very Last New Year's Eve Disco Extravaganza's got the antidote. Once a resident DJ at Studio 54, Siano is now throwing his final New Year's party at The Eldorado Auto Scooter Ride and Arcade with performances by a handful of storied 70s artists. Tickets are $75 in advance, $150 at the door, but If partying with a living legend while surrounded by go-carts isn't worth the trek to Coney Island, nothing ever will be.
The Eldorado Auto Scooter Ride and Arcade, 1216 Surf Ave, Coney Island, buy tickets here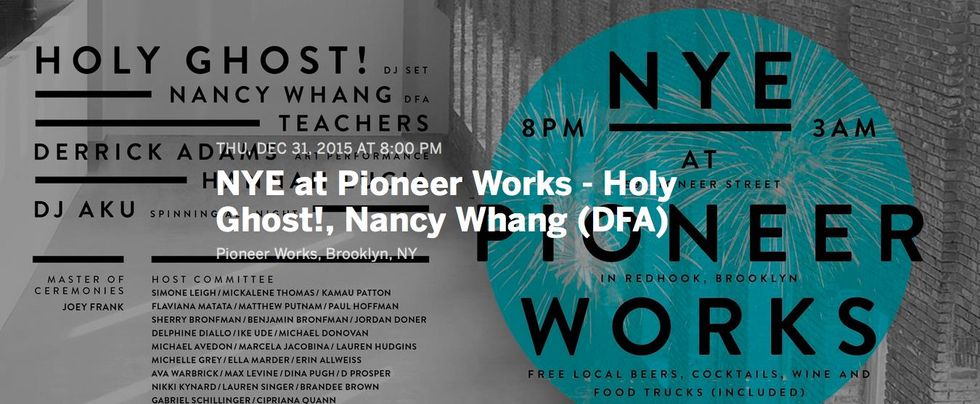 14. Holy Ghost! at Pioneer Works
Hop on the ferry to Red Hook to rub elbows with some of New York's elite art crowd this NYE at Dustin Yellin's Pioneer Works party. Tickets are a little steep, between $106 and $159, but well worth it for a night full of free drinks, a conceptual art performance by Derrick Adams, a DJ set by Holy Ghost! and DJ AKU, and a rare live performance by Kanye West collaborators, Teachers. And don't forget the backyard full of gratis food trucks there to help ease those drunken midnight munchies.
Pioneer Works, 195 Pioneer St., Brooklyn, buy tickets here'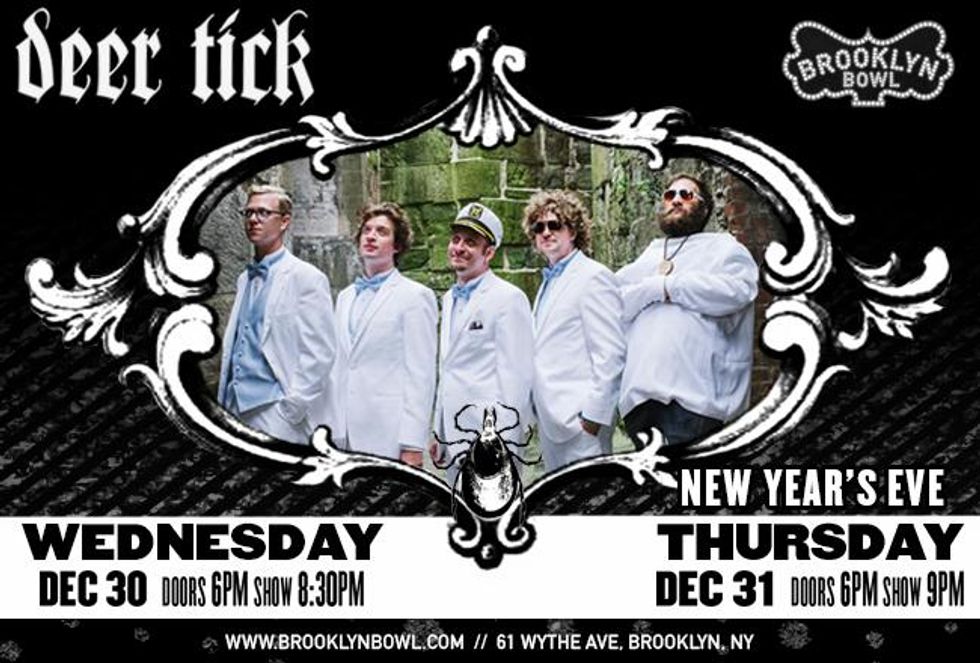 15. Deer Tick and Museum of Love at Brooklyn Bowl
What could be better than bowling your way into the future? Why, doing so to the dulcet tones of Deer Tick, of course. Come for the band's melodious sounds and the venue's buckets of fried chicken, stay for the Museum of Love after party featuring Pat Mahoney and Dennis McNany that will most likely rage on until the wee hours. Deer Tick tickets are $50 and the DJ sets are $15, but the price of bowling a strike right as the clock strikes 12? Priceless.
Brooklyn Bowl, 61 Wythe Ave, Brooklyn, buy tickets here
You May Also Like