Before chain stores took over the city like behemoths from outer space, there were a lot more mom and pop establishments serving a down-home specialness that made them invaluable. Even the few chain stores that existed weren't as chain storey. Here are some mistily remembered places to buy things.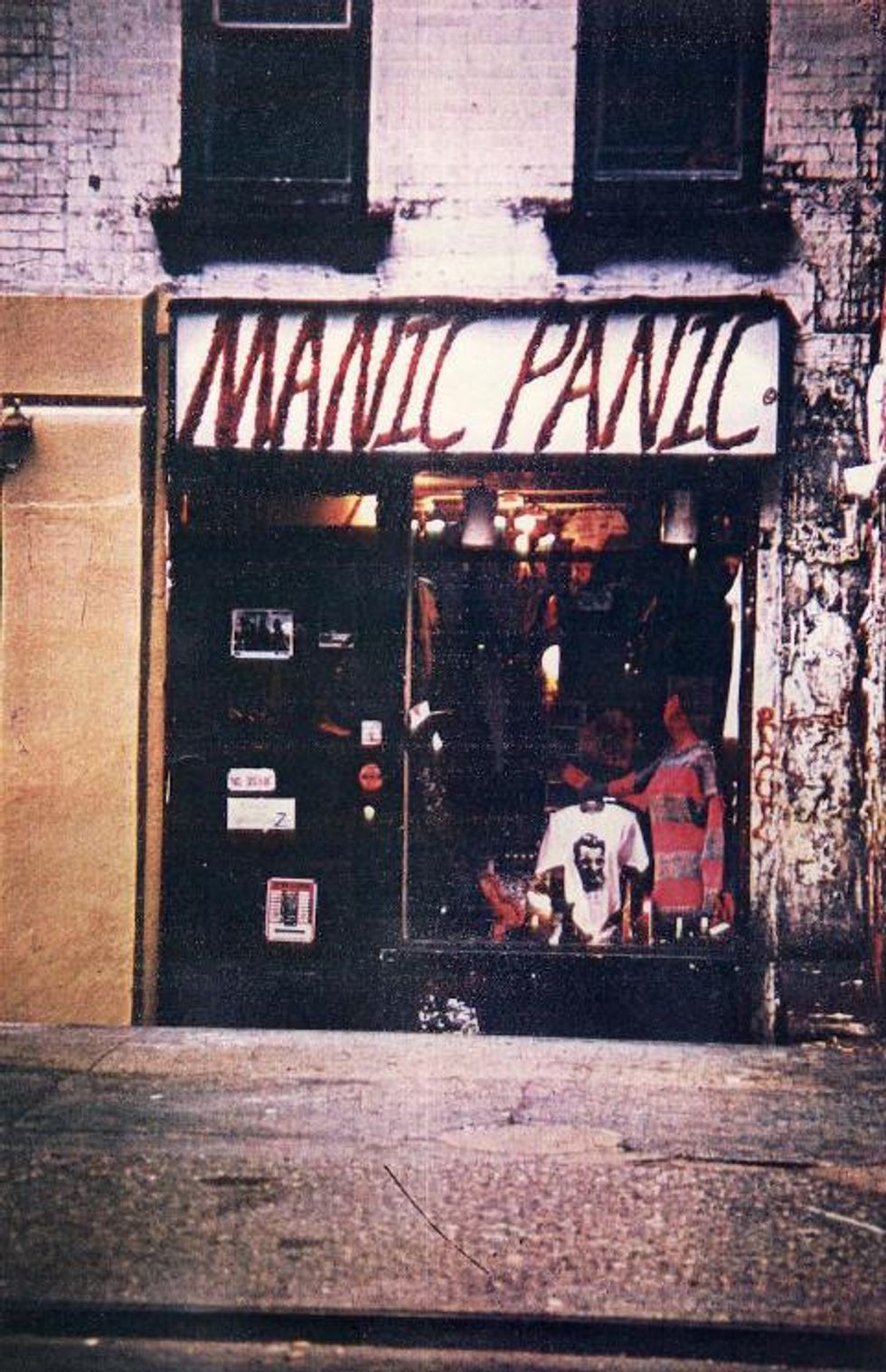 [Image courtesy of Manic Panic via]

MANIC PANIC (33 St. Marks Place)
The first punk boutique was opened in 1977 by sisters Snooky and Tish Bellomo, using a $500 loan from their mother. The Bellomo gals gathered up some of their wildest designs and put them on racks to change the face of downtown shopping. The store had fabulous shoes and ties and wigs and outfits and dye. Nowadays, Manic Panic is an international hair color and cosmetics firm, and it's, ahem, to dye for.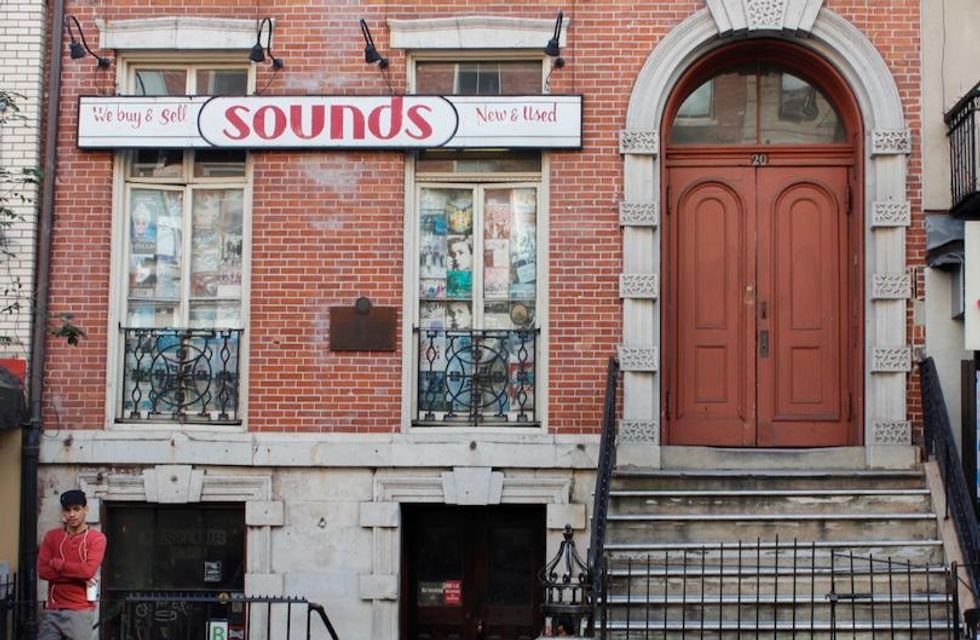 SOUNDS (20 St. Marks Place)

"We buy and sell" was the motto of this very useful music mart, which was music to my ears. I would regularly put my record albums -- yes, record albums -- into crates and haul them into a cab, then carry them up the steps to sell them to the Sounds cashier. Eventually, Sounds updated to CDs (though vinyl was still an option). But in 2014, they simply closed, which seemed a sad inevitability. The strip was home to a lot of music shops, actually, but now, everyone just sits home (or at the gym) and clicks away.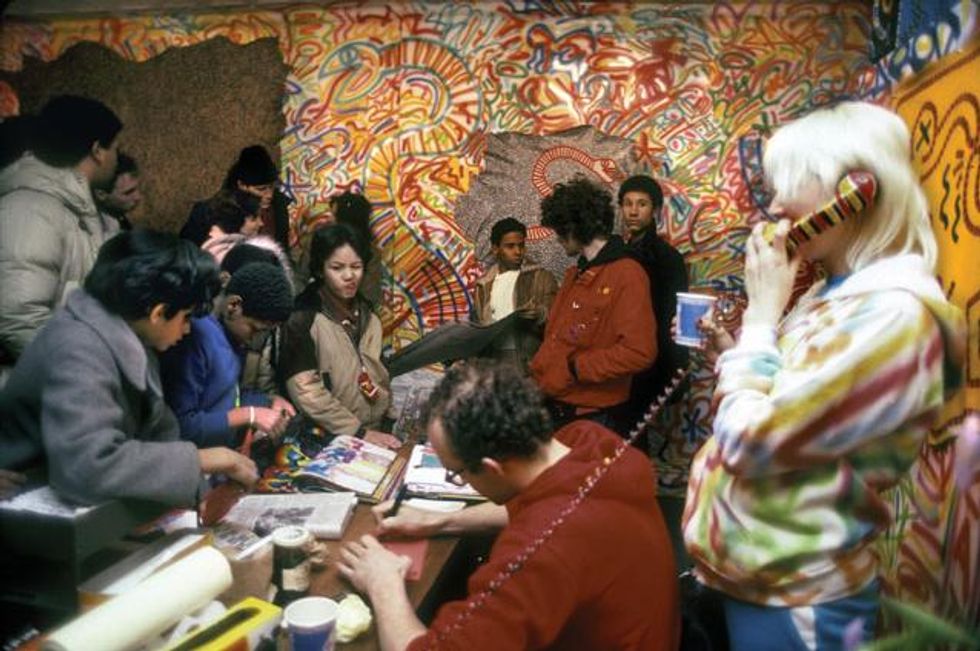 [This and splash photo courtesy of FUN Gallery...The True Story]

THE FUN GALLERY (225 E. 11th Street)
Started in 1981 by indie actress Patti Astor and Bill Stelling (who met at the downtown rock haven the Mudd Club), Fun turned a tenement storefront into the centerpiece of the East Village art scene it sparkplugged. Rising artists like Futura, Fab 5 Freddy, and Jean-Michel Basquiat were represented, as graffiti and hip hop melded in extraordinary ways. (A second location was 254 E. 10th Street.)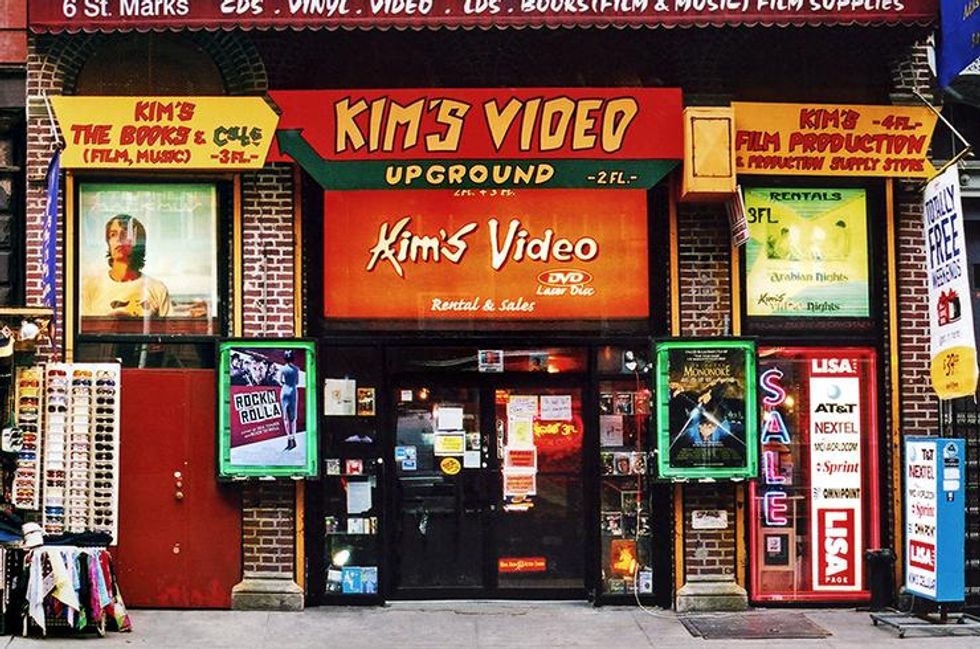 KIM'S VIDEO & MUSIC (6 St. Marks Place)

Kim's had several locations, including one on Avenue A and another on Bleecker Street, but my favorite was Mondo Kim's on St. Marks Place, which was rich with cinematic possibility. This was before you could easily access movies at home. You had to actually go to a store and look for a video you wanted and bring it home for a night -- sort of like a date (but not as messy). Kim's had rare selections, along with major new releases, and I never had trouble finding something up my alley. But Mondo Kim's closed in 2008.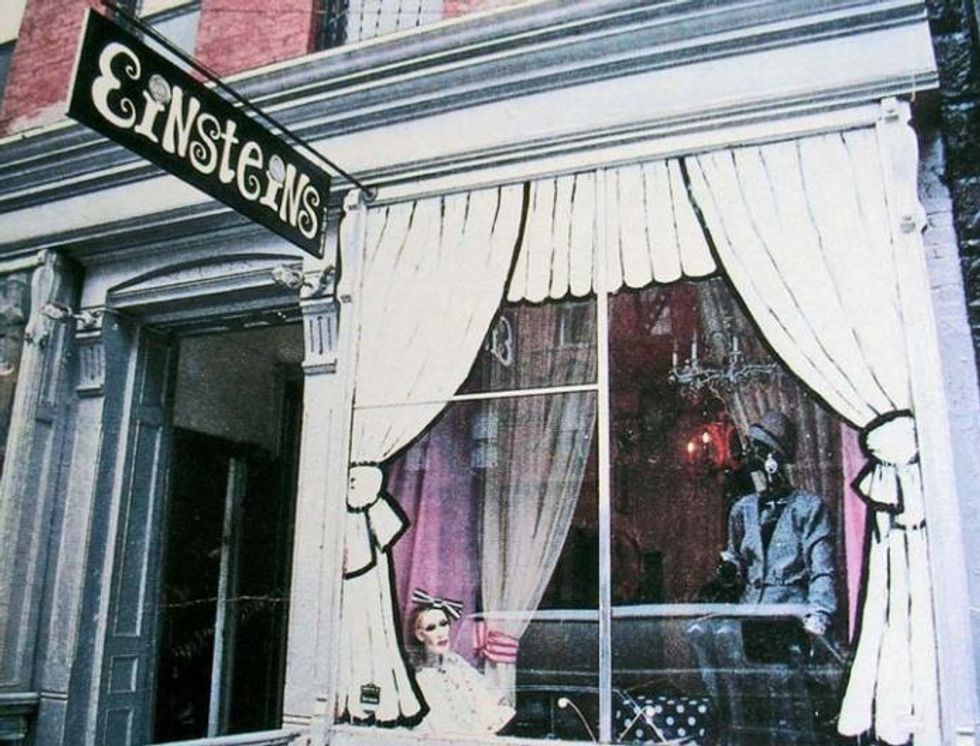 EINSTEIN'S (7th Street between First Avenue and Avenue A)

In an unassuming storefront in the 1980s, Julia Morton and Paul Monroe offered fashion that made waves and got press. Morton pioneered the idea of dresses for men (she's said her clothes were "about movement and theatricality"), while, in Morton's words, Monroe offered "jewelry and clothes that were all about glamorous humor." It was very East Village and very '80s.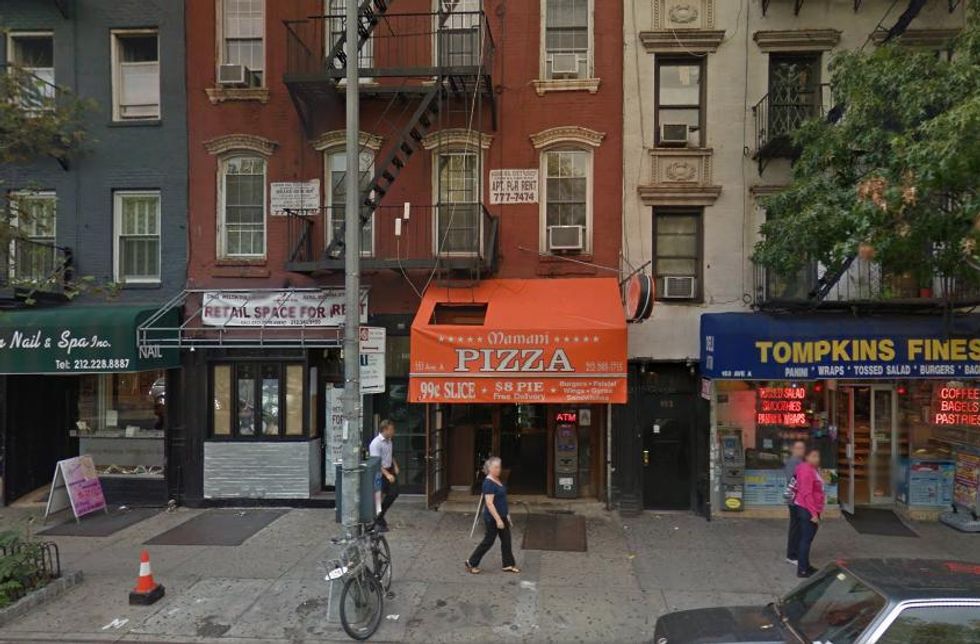 [Former location of Batislavia]

BATISLAVIA (151 Avenue A)
Designers Carmel Johnson and Pilar Limosner added creative wattage to the 1980s by coming up with wacky but well done fashions inspired by a variety of cultural icons. There was a Mrs. Rambo camouflage cocktail dress, a "Liberace meets Mr. Spock in Mexico" line, and even duds based on the persona of Mahatma Gandhi. You definitely left there feeling famous.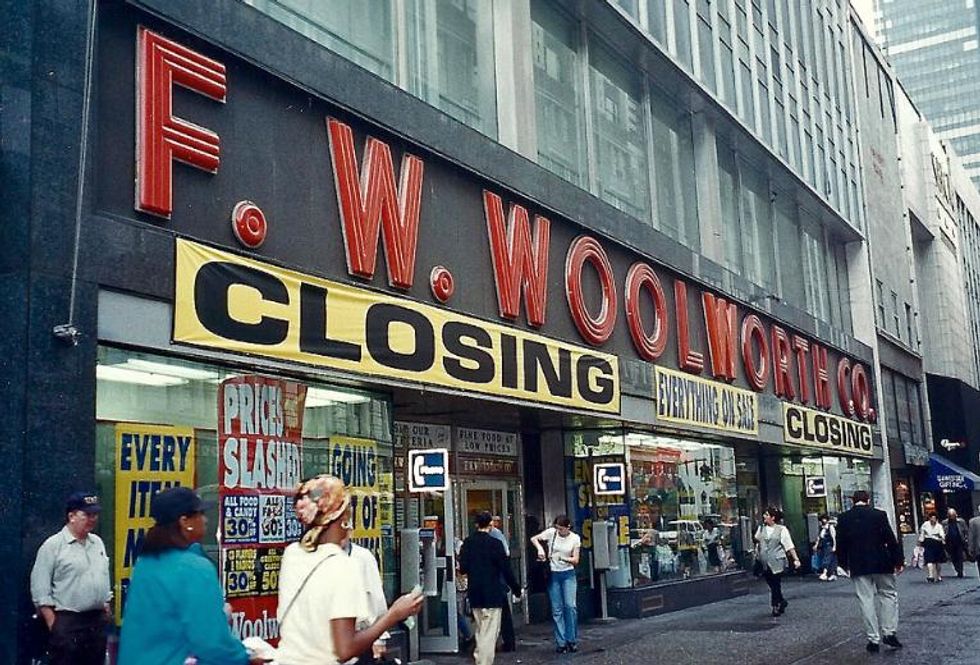 WOOLWORTH'S

Yes, a chain store! But it was kitschy and fun! These five-and-dime stores sold what the New York Times described as "Play-Doh, pet food, paper clips and pajamas." Oh, and greeting cards -- and art! Kitschy bas reliefs and velvet paintings! The store was the forerunner to places like Duane Reade, but not as slick, and eventually, they became out of date and discarded. In 1997, Woolworth closed their remaining 400 stores and now it's just a memory. But I still have some of that art!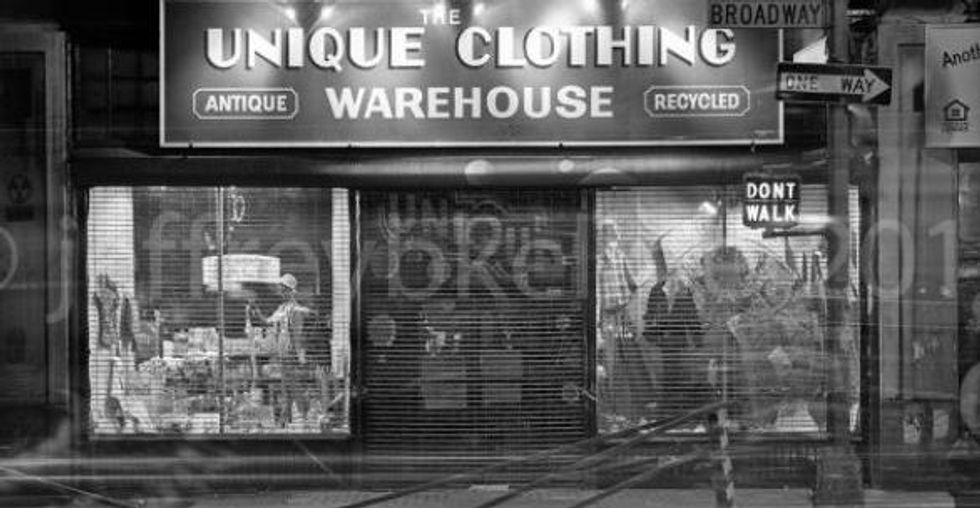 UNIQUE CLOTHING WAREHOUSE (726 Broadway)

In the '80s, this gigantic store pumped punk music through the speakers as NYU students and European bohos looked for jeans, coats, shirts, and sportswear. It was sort of a nightclub as boutique (or vice versa) and totally lived up to the Unique. In 1991, it was a goner.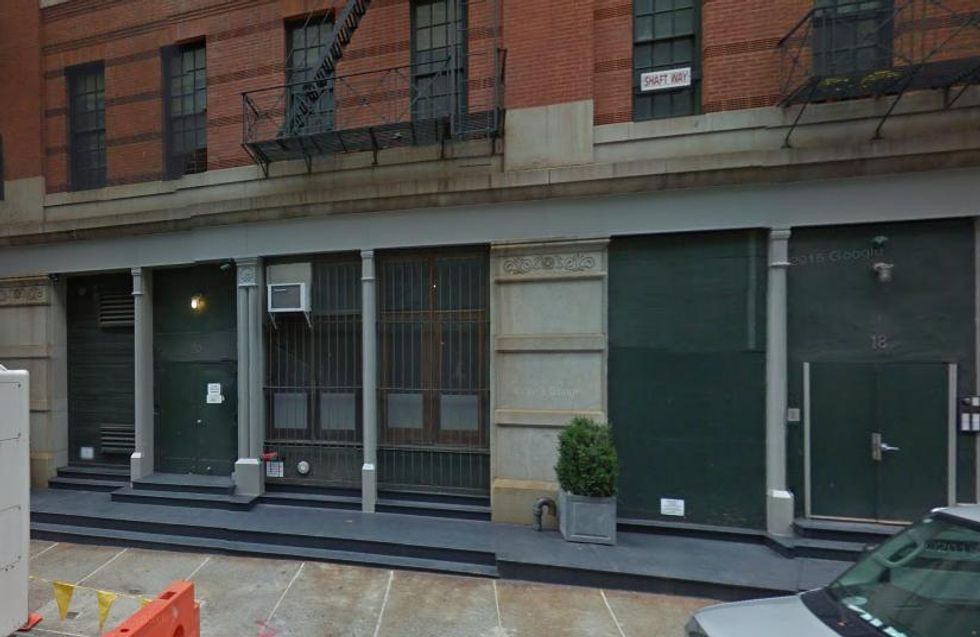 [Former location of Jungle Red Studios]

JUNGLE RED STUDIOS (20 Desbrosses Street)
In 1977, way before Tribeca was widely populated, Francine Hunter McGivern opened her groundbreaking salon and kept it going all the way until 1989. Taking its name from The Women, it was the ultra chic spot for witty beautification. Francine then used the name for her art studio till 2011.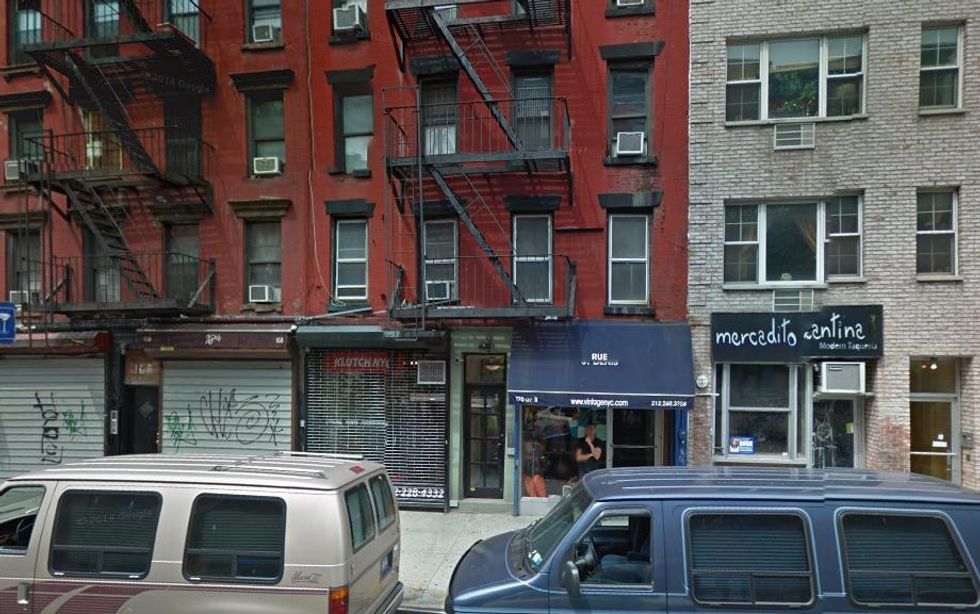 In the '80s, Keni opened the first boutique on Avenue B, getting an arty crowd thanks to the five galleries within a block of there, not to mention fashionistas, tourists, and pioneering downtowners. His motto was to "wrap, tie, and layer," turning designs into pieces of sartorial sculpture. And let's not forget his wonderful McDonald's overalls, eight-arm dresses, and monastic looking suits in the Italian flag colors. I wore the overalls to Andy Warhol's funeral!
You May Also Like
Fashion
Story by Mario Abad / Photography by Ellen Virgona
Entertainment
Story by Katherine Gillespie / Photography by Conor Cunningham / Styling by Nina Cheb-Terrab