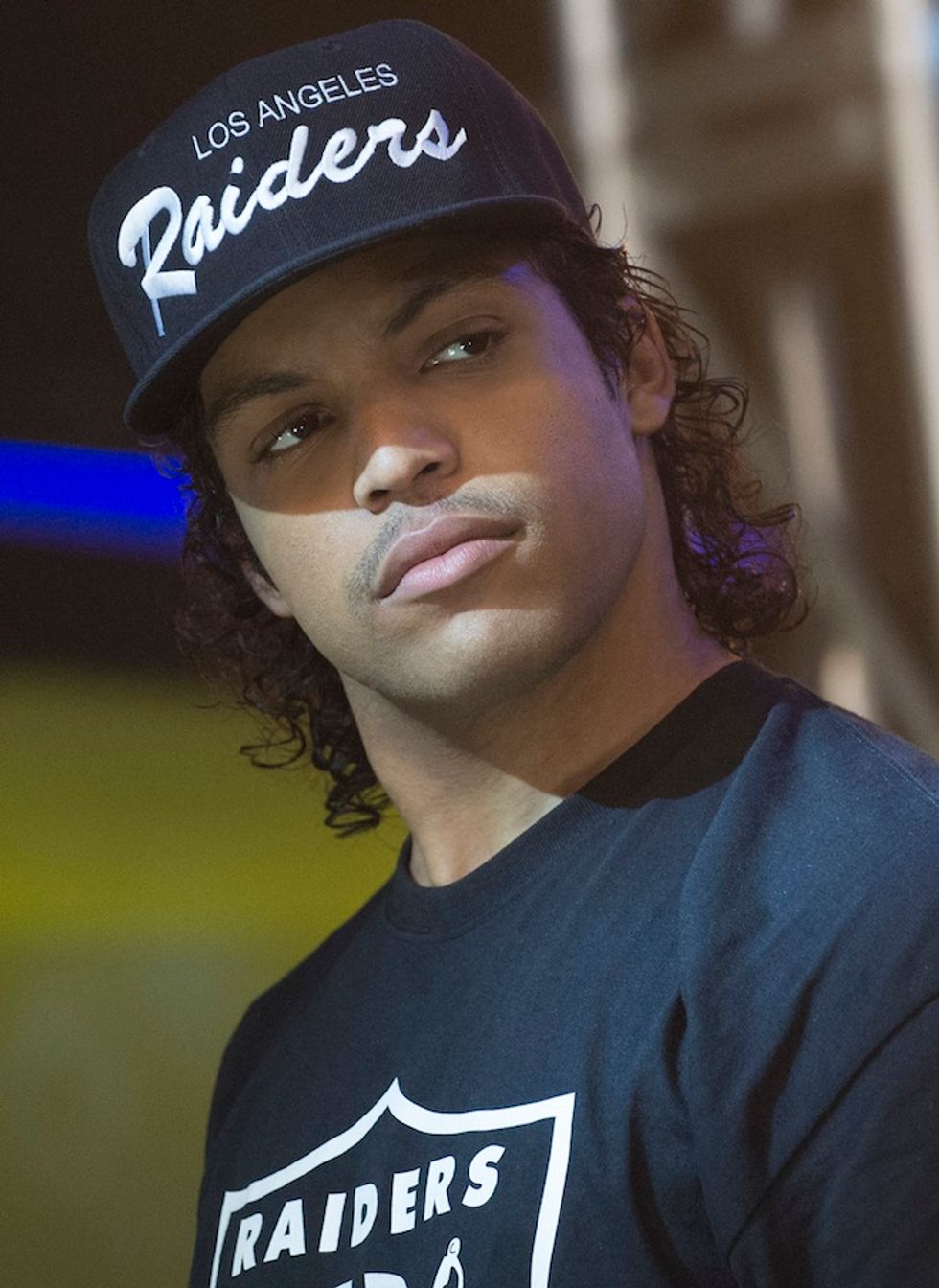 Living up to your dad's legacy can be daunting. Even more of a burden? Portraying your dad in not only one of the most iconic times in his life, but also one of the most iconic times in recent American history. But O'Shea Jackson Jr., son of Ice Cube, isn't afraid of the challenge. He'll be appearing in
Straight Outta Compton
, the highly-anticipated biopic about the rise of N.W.A. While the film is set in the late '80s, it couldn't be timelier with the current events and conversations happening right now about racism, police brutality and America's prison-industrial complex. Ahead of the film's release this Friday, O'Shea talks about stepping into his father's shoes, his big screen aspirations, and donning his dad's famous scowl.
How did it come about playing your dad?  Did you have to audition?
Oh yeah I definitely had to audition. He brought the idea to me before there was a script and he let me know how big it was and what it means and how I was the perfect man for the job. I've never had any acting experience, so he got me Aaron Speiser, who is Will Smith's acting coach, and I worked with Susan Batson out in New York for a week. Altogether it was about two years of training with coaches and three auditions with screen tests before I got the part. My dad made sure that I went through the audition process and went through all those hoops so I had confidence in myself that I was the perfect man for the job.

Did your dad give you any tips on how to portray him?
Oh yeah, of course he gave me tips. He would call me everyday because during some of the film he was shooting
Ride Along 2.
He would call me and we would talk about what scene I was filming that day and where his head was in real time [back then] so that I could use that to help make the story more authentic. But as far as him being around or what it was like having to portray him, that wasn't weird at all. That was the fun part. It was fun to see him bug out. Because he and Dre never got to see N.W.A. perform and the rest of the cast and I murdered it in their eyes.
The real thing he wanted me to get out of it was to not have him frowning all the damn time. You know that's his look but it almost dehumanizes him because people feel like they can't talk to him, that they can't approach him, you know? So I wanted to show what made it appear, what made it so deep, what made it what it is. 
In the movie Alexandra Shipp plays your mom. What was that like, shooting scenes where you're supposed to be falling in love with someone playing your mother?
That was the running joke on set for that whole shooting week. I just kept telling myself that's not my mom in the movie -- that's my wife in the movie. Or an actress that plays a little kid's mom [and the kid] just happens to be me. That was another weird thing in and of itself -- that I get to see me as a baby in the movie.
I read that you studied script writing in college. Did that help you with your acting?

I went to school at USC for screenwriting -- I'm a Trojan at heart. I still have to finish up there. But screenwriting is my first love. I can't shake it, you know? I see stories in everything. I'm constantly trying to think of stuff. And being able to act, I feel like being a screenwriter has helped me as an actor because I feel like I know what goes into a good movie, and what people need when and where.
What type of acting roles are you hoping to land in the future?
Oh man. Don't give me the "Cube's too old for this so lets get his son" roles. I definitely would want to show my versatility as an actor. I'm happy to start off with a drama like this. I would like to further into drama and later maybe explore comedy. I never want to hold myself into being a one trick pony. I want to show my versatility and my range.  
A theme of the film is the tension between police and the black community, a topic that we're dealing with a lot several decades later.
There is nothing new under the sun -- this has been happening before N.W.A., this is happening after N.W.A. What it really is about is that there are certain people in power that abuse the power. They don't use it for righteous reasons. And you know, that is a character flaw. That is entirely in the character of who is holding the power and what they do with it. And through non-violent protests N.W.A. was able to kind of take the wool off some people's eyes and let them be aware of this. And when it comes to current events,
Straight Outta Compton
couldn't have more perfect timing.   
Do you think music today can have the same effect as N.W.A. had in changing the national dialogue?
N.W.A., they were the mass to start the fire. They were the straw to stir the drink. The original. No one was saying the things that they were saying at the time. It was almost a death wish, entertainment-wise. They are going to shut you down, they are going to wait outside your shows and all that. But the fact that it was non-violent protests, the authorities couldn't do much. So there is definitely the possibility -- I wouldn't say that anything is impossible. But a lot of the music today is repeating itself. I feel like some people don't necessarily want to bring it up because they feel some type of way. They honestly don't know. All they can tell you is "yes, police are beating up black people." They really don't have anything to say about it. But there are plenty of artists today that can help move the people.
We were lucky to have had your father and N.W.A speaking out about injustice in the '80s and '90s and since then, I think there's been a tendency to assume some of those issues are in the past. But then you see young people getting shot for no apparent reason and it's like, Okay this is actually going on again. This isn't just something that happened before I was born. Maybe this is my reality and not my history.
Yeah, I won't say things aren't better [than before] but they are not good. They are not alright and not everything is tranquil. I mean, if you don't think racism is going on in the real world, I got something for you. I got videos you can see. There are plenty of cases you can read. It's there right in front of peoples' faces but some people choose not to acknowledge its existence.
People see what they want to see.
Exactly.
N.W.A. brought these issues to the forefront and people called their music violent. But really it was just like, "No, this is our reality. We're speaking about what is literally happening."
It's stuff that they would see every day outside of their window or walking home from school in my father's case. They felt like people had no right to tell them not to talk about their lives or what they saw every day. The struggle is real. A lot of people didn't want to hear that from N.W.A. but their attitude prevailed. The flame hasn't burned out. That's why N.W.A. was a super group. You get these lions together who think bigger than music and they all had great minds.

You May Also Like
America
Story by Mikelle Street / Photography by Renell Medrano / Styling by Anatolli Smith / Hair by Evanie Frausto / Makeup by Marcelo Gutierrez
America
Story by Rob Dozier / Photography by Moisés Arias / Styling by Jason Bolden