For her first New York show at S.O.B.'s, Jorja Smith has shaved off her signature black braids in favor of a fierce buzz cut that approximates a cross between Sinead O'Connor and Amber Rose -- the perfect look for a neo-soul singer aiming to impress a room full of Brooklynites.
Clad in a puffy red jacket, black turtleneck, and large hoop earrings, she breaks into a soulful rendition of a song called "Beautiful Little Fools," waving her long, green fingernails while singing in an effortless contralto that many have likened to the one possessed by Amy Winehouse. The comparison -- which is made often -- is meant as a compliment: if Amy Winehouse was the Queen of modern UK Soul, Jorja Smith might be the heir to her throne.
Like many big UK artists, Smith's first stamp of approval came from radio, when she was nominated for the BBC Sound of 2017 award after her 5-song Project 11 EP EP made waves on the BBC and on Apple music after it came out in November 2016. Soon, music blogs across the pond were featuring a separate track she recorded, "Blue Lights," which immerses listeners in that early-00s jazz-R&B fusion that Amy Winehouse did so well, while also harkening to earlier R&B divas like Aaliyah and Lauryn Hill. (One reviewer said that her first EP arrived "so perfectly formed it almost feels like showing off.") Soon, Smith was being asked to perform at small clubs around the UK. Smith has an unassuming demeanor and heavy British accent (she grew up in Walstall, about an hour outside of Birmingham), but her voice remains unique for its ability to comingle with samples from both classical music and modern hip-hop without sounding out of place.
Lyrically, Smith also has a flair for introspection, which is all the more impressive in light of the fact that she is only 19-years-old. Born to a Jamaican father and an English mother, she recalls being surrounded by music as a kid. "I've always been into music and singing, since I was little," she says. "I'd come home from school and there would be music playing so it's always been around me." Smith's father was a singer in the soul group 2nd Naicha, and was first to point out that his daughter had talent after she wrote a nativity play for school. "I sang 'Silent Night', which was the first time my dad heard me sing," she said to Dazed in a previous interview. "He told me he knew from then I had something special."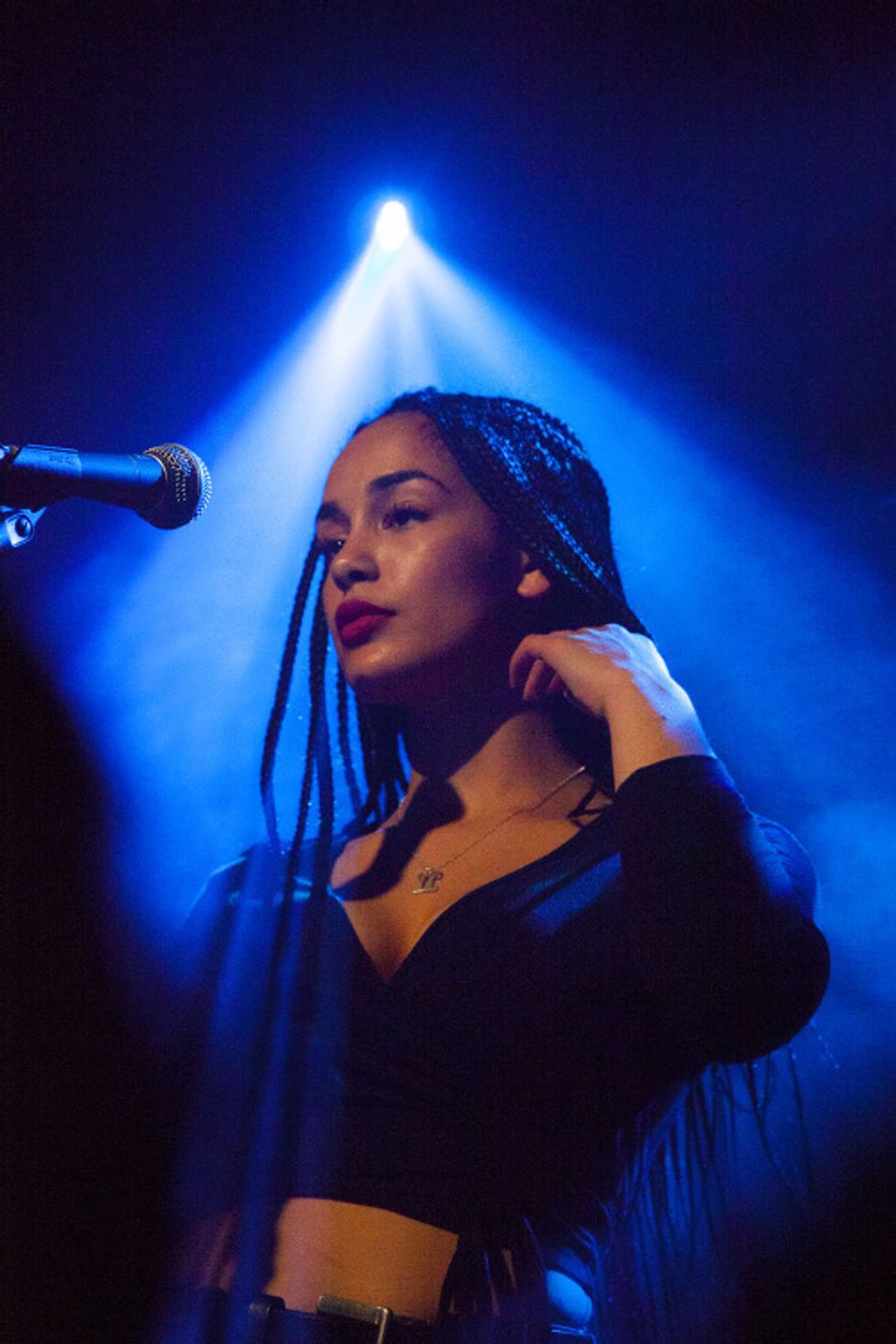 Photo by Chloe Newman
Smith went on to pursue music on scholarship at a local arts school, where she learned proper breathing technique and other aspects of vocal training that buoyed her natural talent. Today, while singing "Imperfect Circle" -- a hit that's been circulating on Beats 1 London lately -- Smith now moves with the casual confidence of someone like Rihanna and the dreamy bravado that seems to be given at birth to everyone with a killer falsetto. Later on in her NYC show, she performs a cover of Mario's "Let Me Love You" -- a song that came out when Smith was only 7 years old -- before being joined by frequent collaborator and fellow R&B singer Maverick Sabre to perform "Carry Me Home," an evening highlight full of lilting tremolo.
Smith has always had a very academic approach to music. Her first collaboration with Sabre, "A Prince," includes a sample of Henry Purcell's "A Prince of Glorious Race Descended" (written for the Duke of Gloucester's sixth birthday in 1695), which the artist first heard in an A-level music class where she was trained to singe in German and Latin. After taking note of the melodies on "A Prince of Glorious Race Descended," Smith went home, looped the song's principle melody, and overlaid it with breathy vocals that harken to the "fairytale" theme. It was in this same class that Smith was inspired to write "Blue Lights" after she was asked to analyze "Sirens" by UK grime legend Dizzee Rascal. "I'll start singing a melody and certain words will just start to stick -- I might just keep repeating a word -- and that's what I'll tailor the song to," she later told Hunger.tv of her writing process. "'Blue Lights' started with 'don't you run.'" ("Don't you run / When you hear the sirens coming / When you hear the sirens coming / You'd better not run / 'Cause the sirens not coming for you," she sings on the song's chorus, in reference to the original.)
"I would dream to collaborate with Amy Winehouse," she says when speaking of her biggest musical influence. "I loved her honesty and realness." Smith, for her part, is similarly introspective and jazzy; on "Something In The Way" Smith sings the words "wash / your / tears" in descending octaves with such aplomb that it's hard not to make the Winehouse comparison, even if Smith's jazzy inclinations are more abstract. "I'm inspired by observation, experience, and conversation," she adds -- and the documentarian quality feels appropriate. Smith is an omnivorous listener and musical innovator -- both within her sound and without. By the time she and her band perform "Imperfect Circle" during her NYC show, the song's lush, improvisational instrumental has already given way to a new fan-favorite: a cover of Luther Vandross' "Never Too Much" mixed with a cover of Drake's "Too Good For You." Smith changed the cadence of each song to make them fit her jazzy vocals, but that didn't stop the crowd from going wild and singing along. Smith is a natural talent -- but that much was clear from the start.
Sign Up For The Morning PAPER
Music
Photography by Grace Scuitto / Story by Jade Gomez / Makeup by Marla Vazquez / Hair by Abraham Esparza / Styling by Heather Picchiottino