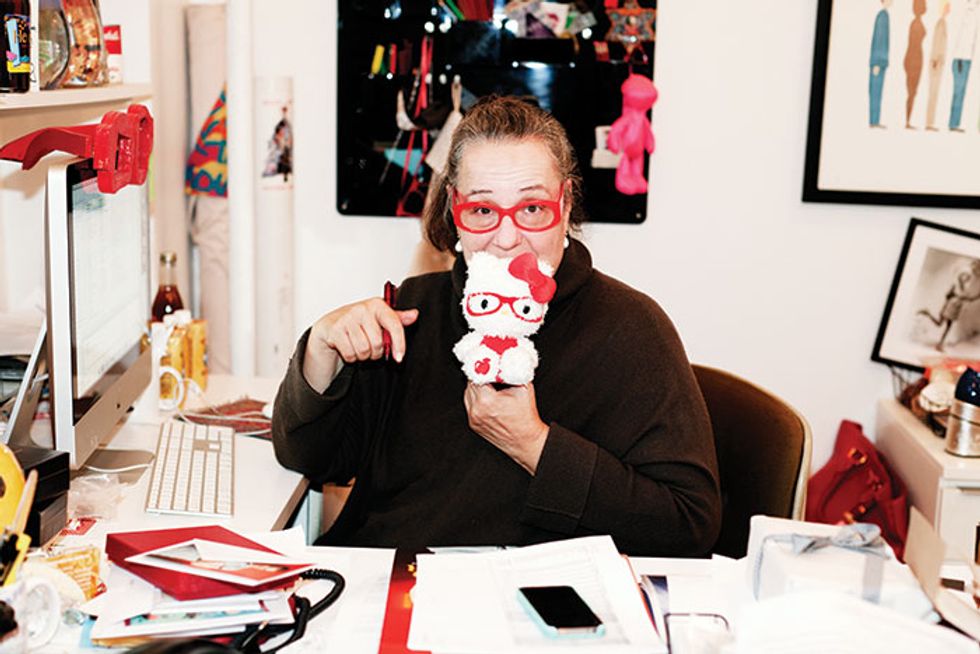 I cracked up when I heard that young fashion kids are obsessed lately with stylist Carlyne Cerf de Dudzeele and the over-the-top looks she became famous for almost three decades ago. It only makes sense that super edgy, equally over-the-top designers like Jeremy Scott have fallen for her big-time recently as well. (In fact, Scott interviewed Carlyne for us in this issue. Read their Q&A
HERE
). Her signature beyond-bling styling -- throwing furs, gold, leopard, and diamonds together with her rich French upperclass twist -- is the perfect antidote to the minimalism of current designers like Raf Simons and Phoebe Philo. I've even noticed hints of Carlyne's fancy
je ne sais quoi
influence on mainstream classics. Perusing creative director Jenna Lyons' uber-chic, crisp new J. Crew fall collection (which I loved, by the way) I noticed the opulent jewel encrusted Dudzeele-esque jewelry paired with denim or crisp white shirts. We even ran a story this month inspired by de Dudzeele's styling, shot by '80s-favorite fashion photographer Walter Chin.
So why does this crack me up? Because back in the day (when, yes, even I was one of those hipster, fashion-obsessed kids), I would have never been caught dead emulating fancy pants stylists like de Dudzeele or what I saw vibing in magazines like
Vogue
or on the runways. In those days I was much more infatuated with someone like the outrageous Brooklyn designer and pioneer Andre Walker, whose innovative work you would never find in
Vogue
or in Barneys but was regularly featured in the pages of Paper and sold at Patricia Field's super-alternative 8th street emporium. But culture changes and the context of style changes with it. Today de Dudzeele's vibe makes sense in the context of music, street, hip-hop and bling -- vastly different from the early '90s, when she made a powerful and unconventional high-fashion statement by showing a pair of well-worn jeans paired with a jeweled Lacroix sweater on Anna Wintour's first cover of
Vogue
as editor-in-chief.
Still, some things never change. Fashion kids will always be looking back and gagging at stuff from decades past that strike a nerve with the cultural context of their moment in time. I remember the radical American designer Geoffrey Beene throwing us all into a frenzy back in the day (much in the same way that kids are gagging over de Dudzeele today) as did the
enfant terrible
photographer Bob Richardson (the father of Terry), both of whom I worked with as much as I could in Paper. I even remember obsessing over photographer Francesco Scavullo, who, by the '90s had become a has-been. But I became hooked a second time around, inviting him to shoot crazy fashion stories for us for free. (Which he did!)
When I heard of the surprising de Dudzeele trend I went straight to my my friend Laura Wills, owner of the vintage emporium Screaming Mimi's, and my go-to source for fashion history, its future and even its back to the future. I wanted to know which designers we'd be shocked to see worshipped by the next generation of hipsters 30 years from now. (Because believe me, it's never who you think it will be!) Laura laughed in disbelief as she confided to me that all the hipper-than-hip fashion kids have been combing her shop for '80s and '90s Liz Claiborne and Tommy Hilfiger. She said she cannot keep it on the racks. WHAT? Who would have thought that Nicolas Ghesquiere's next collection (wherever he ends up) could very well be influenced by Liz Claiborne circa 1990? Oh. My. God. When I asked her what else she thought was in the future she said that '80s designs by Todd Oldham and Nicole Miller were starting to inspire the kids, and it was just a matter of time before it was a full on rage.
So you see, fashion is often just one big circle. I remember seeing a Marc Jacobs show in the '90s where '70s Biba inspiration came down the runway. Again, I cracked up. Why? Because those looks Barbara Hulanicki created for Biba in the early '70s (that influenced Marc so much in the '90s) were actually all inspired by the '30s! As they say, what goes around comes around (and around!).