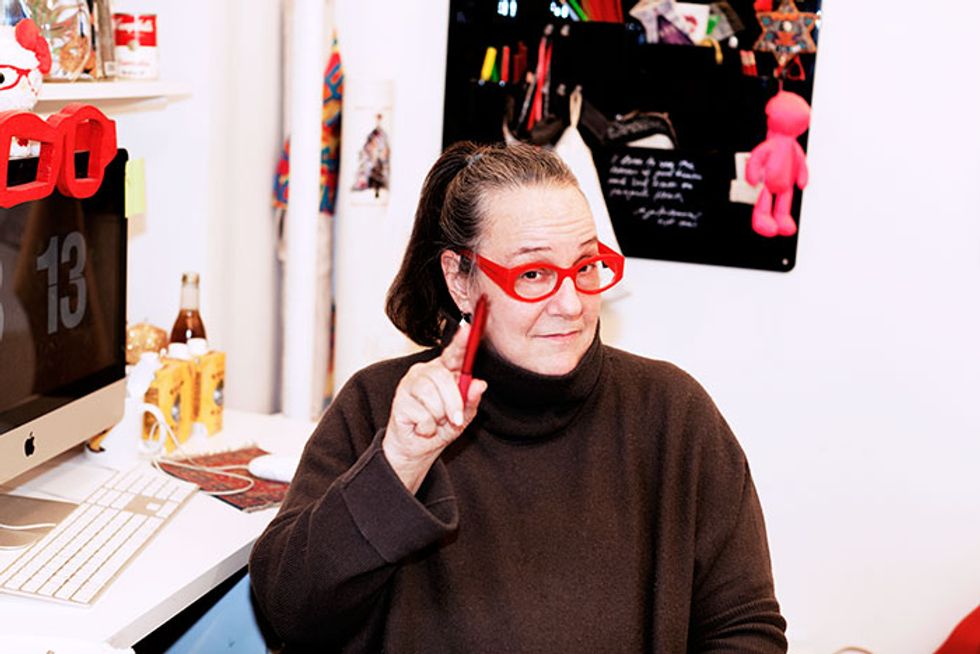 Photographed by Jacqueline Di Milia
I know I sound like an old curmudgeon punk when I say that I'm totally sick of this "brand" they call Brooklyn. But it's true. I'm sick of Brooklyn the look, Brooklyn the cool and Brooklyn the aesthetic. And I'm especially tired of Brooklyn's monolithic tourist trap, Williamsburg, which looks like it's been branded by the Portland agency Wieden + Kennedy. If I see another Edison light bulb or indie, vintage-furnished Ace-style hotel open up, or one more white, bearded, tattooed, apron-clad, work-booted hipster standing behind the counter of a shop selling pork bellies, small-batch gin, organic barber shop products or old-school, authentic, artisanal, heritage, sustainable, distressed-looking anything, I swear I will throw up. Breaking news, kids: This is not the Pacific Northwest! It's a trend and it's getting old. Fast. I get it that Brooklyn the location still offers affordable space where young people can hole up to make art, music, film, or innovative food and it still has great texture and cultural mixes. But to me, Brooklyn the brand is becoming a monochromatic cartoon of itself.

For years people like me had been drawn to this city because of its toughness, breadth of diversity and opportunity. Living here, we were hardened yet inspired by its many challenges. Back in the day, New York was, after all, a filthy city with crime, drugs and the edge that came with that (like tranny hookers working the loading docks, and junkies and bums sleeping in the doorways to your apartment). But we were also enlightened by the city that never slept, the mix of people everywhere you looked and the extreme opportunities offered for those ambitious enough to go for it hard and become players. High and low coexisted and a crazy cultural soup was all around us. The air was electric with a frenzy of creative combustion that came from artists of all kinds who were drawn to New York by its aggression, inspiration, stimulation and endless possibilities.

Although the grit that originally made New York so attractive to young creatives has been slowly sanded down by years of gentrification, Manhattan remains like nowhere else in the world and we remain hardcore city peeps. Survival in post-gentrified New York has now taken on a whole new meaning when a burger costs 15 bucks and a downtown one bedroom (sans the tranny hookers working the block) can be almost $4,000 a month or $1.5 million to buy. It's not surprising you still have to be one tough motherfucker to stay alive in this shark tank. I adored a post on Facebook the other day quoting an old-school queen talking about New York City. She said, "New York will always be New York. It's like an old whore -- time keeps passing and she'll keep changing her clothes. But she will always be an old whore."

I, too, still love New York City, the brand. It is still for ambitious fighters who live to wake up every day, roll up their sleeves and attack their lives. We live and work hard and are survivors. It can be seen in our eyes, in the way we dress, in the way we walk, in the way we hustle. Our city these days is top heavy with rich people, shrewd people and financial movers, but for those of us who aren't in this category and were lucky enough to have grabbed land before the gold rush, it's still a challenging daily fight to live to tell the tale.

It's the last day of New York Fashion Week as I write this and I'm tired but energized by the shit show of the past week. Just yesterday morning. I was in Washington Square Park, having my photo taken for a shoe company ad. I then caught the most beautiful and excellent Proenza Schouler fashion show, then raced back to the office to put out ten fires before heading back downtown to check out Jeremy Scott's fun and outrageous show (and his new collaboration with my artist friend Kenny Scharf) where I sat across from Nicki Minaj and our sexy cover girl, Iggy Azalea. Then I headed back to the office to brand consult with a few visiting big cheeses in town from Italy and raced off to Lincoln Center for the Anna Sui show where on the way to my seat I met Dr. Ruth Westheimer (I swear) who was sitting next to superstylist Carlyne Cerf de Dudzeele. Kiss, kiss and it was show time. Fuck Brooklyn. I (still) love New York.