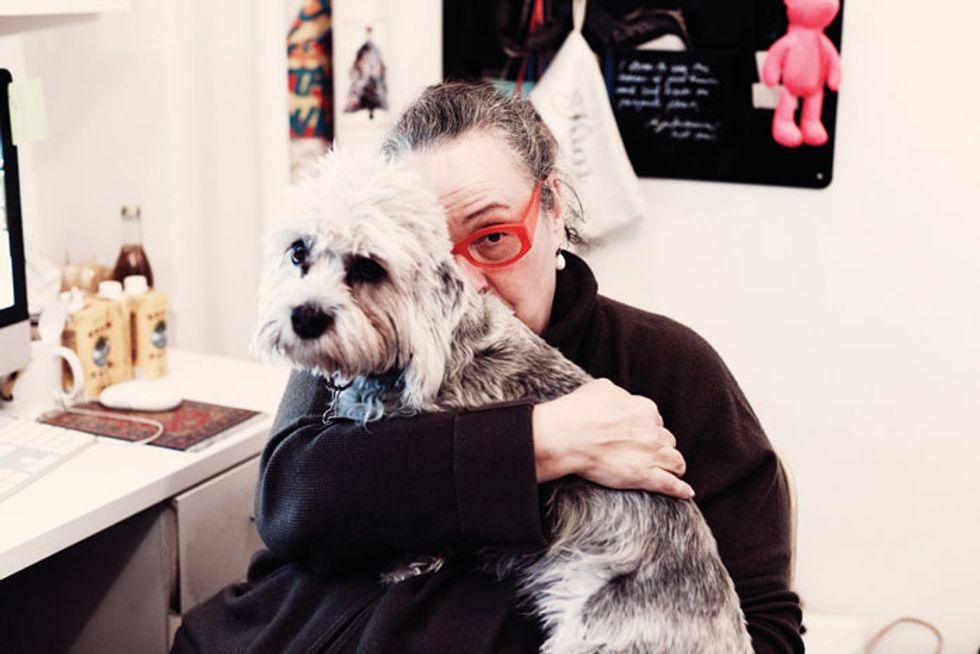 My father might have been nutty, but he was a beautiful person too.
Lately I've been thinking a lot about my kooky father, Alex Walter Hastreiter, who passed away in 2010 at the age of 87. During his lifetime, my dad never thought of himself as anything more than an average guy. But he was far from it.
Although stubborn and single-minded, Walter was a sweet, kind and generous man who told his wife (my mom) he loved her more than once a day for almost 60 years and would do anything -- no matter how preposterous -- his two daughters asked of him. I used to joke that if I asked my dad to drive me to the moon, he'd simply say, "What time should we leave?" He was a totally unique fellow who did what he wanted when he wanted how he wanted and couldn't care less what people thought of him. He lived in his own private universe and kept his family and friends in stitches with his long list of eccentricities that, to me, sometimes bordered on performance art.
Walter was a jeweler by trade and even after retirement could be seen pulling out his loupe on 47th Street to examine a diamond or a pearl for flaws. He was a non-judgmental person, rarely noticing people's differences, interacting with all folks equally whether they were intellectuals, janitors, celebrities, artists, waiters or the man selling fruit on the corner. I once watched him having a serious talk with a drag queen for a half hour at a Paper party and I am quite sure he never even noticed that this she was actually a he.
My father was not big in the fashion department but had a peculiar sense of personal style, which was mostly based off of thriftiness rather than a desire to look up-to-date. He even found a company that manufactured socks with lifetime guarantees (I swear). He wore the socks religiously and would send them in for replacements whenever even a tiny hole was found. He loved to wear bow ties, his baseball cap and his ill-fitting blue jeans held up with suspenders so his ankles and trusty but lumpy orthopedic shoes stuck out. He was constantly scouring the city for bargains in his eclectic look, which he accessorized with his favorite leopard-print schlep-cart. Walter often traveled an hour to the Upper West Side by bus from his home in Greenwich Village to save ten cents on a quart of orange juice. I never realized how eccentric he looked until I passed him one day in a taxi on 14th Street. There he was trudging across the street -- his crazy animal-print cart filled with bananas (likely from Trader Joe's) -- on his way to his next bargain discovery.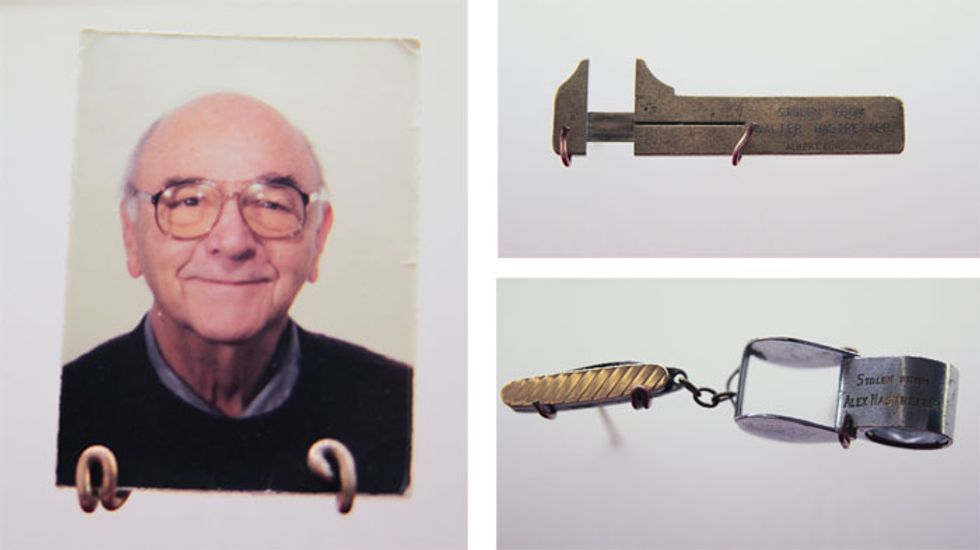 Among his many idiosyncrasies, Walter was obsessed with health issues (that rarely applied to himself) and gave much advice to all those around him. We always joked that he had his "AAD" degree. ("Also a Doctor.") In a super-organized mega-folder he saved clippings from every magazine and newspaper on every possible illness from back problems to heart issues, from prostate and colon troubles to cancer and end-of-life care, even including a recipe on how to commit suicide with an easy-to-make cocktail of bourbon, warm tea and barbiturates. He firmly believed that placing a 64-page magazine (preferably
Teen Vogue
or a Martha's Vineyard real estate magazine he got for free during the summers he spent on the island), trimmed down to exactly 4.75" x 6" and wrapped in duct tape, under his left "ass cheek" (as he liked to call it) would relieve his back pain. He swore by these "devices" (which our family called his "ass pads") and created dozens of them in his kitchen (slicing, dicing, wrapping -- driving us all crazy). He would never leave home without them but would also absentmindedly leave them wherever he sat. He once left one of his "ass pads" at a book signing we'd attended at Barnes and Noble on Sixth Avenue not long after 9/11. This triggered a paranoid visit from security, who called the police and fire department thinking it could be a bomb. I kid you not! Thank God I hadn't left yet and was still there to explain and apologize to the SWAT teams that had gathered.
Walter was also obsessed with putting his name on everything he possessed, and habitually engraved the things that were most important to him with the slogan "STOLEN FROM ALEX HASTREITER." He was big on business cards and spent hours at Kinko's designing cards for himself that were so skinny he could cut traditional cards in half and end up with two batches for the price of one. Walter never left the house without these, his "ass pads," his trusty Cross pen, jeweler's loupe and diamond and stone measuring tool-all engraved with his "STOLEN FROM ALEX HASTREITER" slogan. Just in case.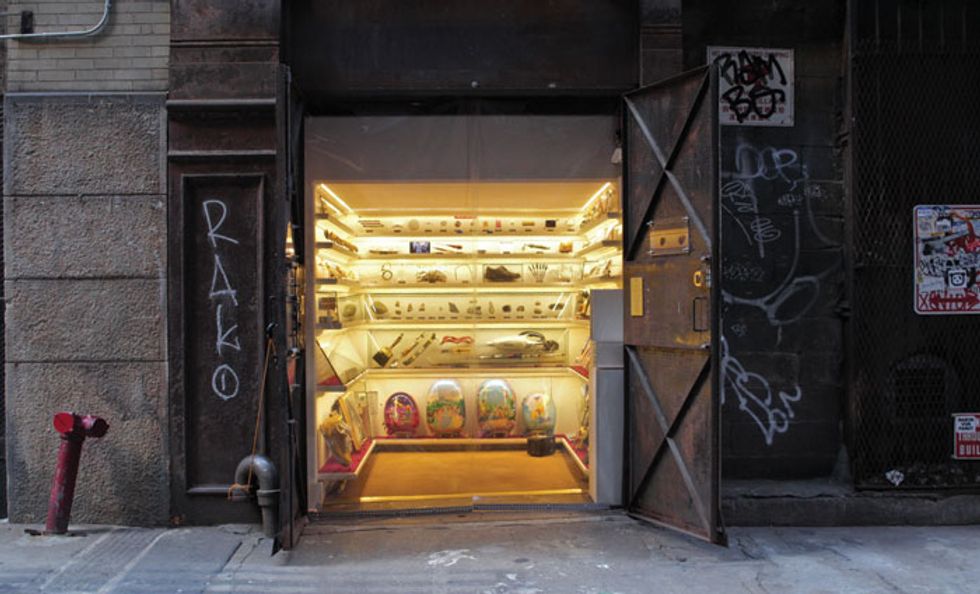 Recently I was invited to exhibit a few of my father's quirky personal artifacts in a show in one of my favorite new offbeat museums called, simply, Museum. It's located in a freight elevator car in an alley off of Franklin Street near Broadway. I love this delightful museum, whose mission is to highlight odd collections of stuff from both ordinary and extraordinary people. I also love the kids who founded it--Alex Kalman, and brothers Benny and Josh Safdie of Red Bucket Films, who all had eccentric fathers themselves and were excited when they heard of my father's nutty tendencies. It was fun to see my dad's engraved treasures installed next to Tom Sachs' moon rocks, Peter Allen's collection of fake vomit, Tucker Viemeister's gaggle of toothpaste tubes from around the world and Al Goldstein's personal ephemera. If you live in New York City, you should check it out! I'm not sure what my father would have thought of it all but I do know he would have loved the donuts and cider (served from a card table set up in the alley by Kalman's wonderfully idiosyncratic mom, Maira Kalman) at the fun grand opening the other night.
Museum is located on Cortland Alley (between White St. and Franklin St.) Hours: 11-7 p.m., Sat. and Sun.
mmuseumm.com