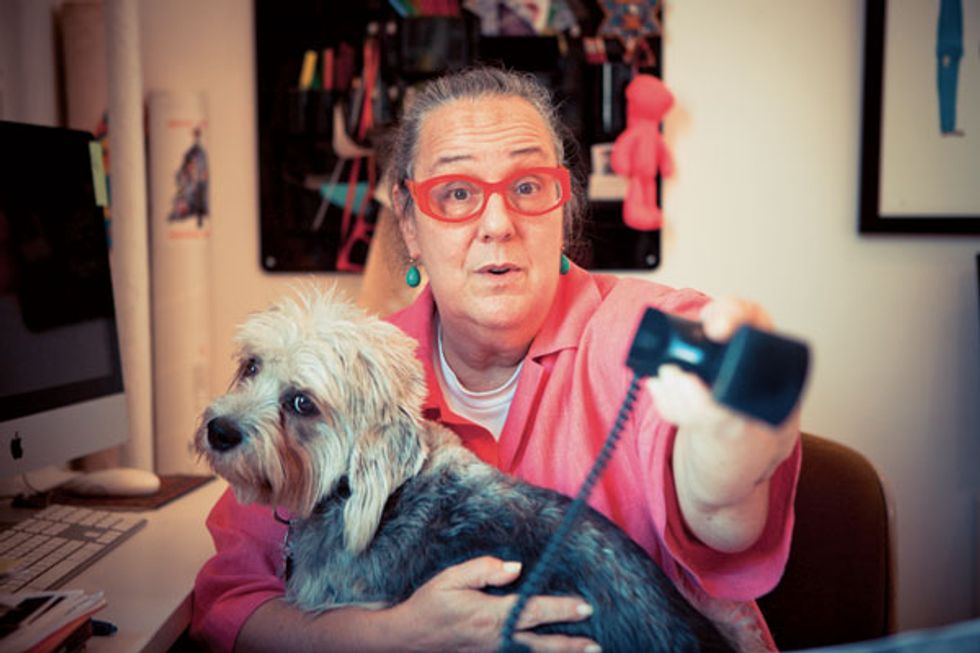 It's that time of year again. Troops of bright-eyed, enthusiastic kids brimming with excitement are piling into the PAPER offices to begin their summer internships here. In the early days, our volunteers came to us via the street and word of mouth. In fact, our very first two PAPER interns arrived on our doorstep in the mid-'80s from their local high schools. Both happened to be super-hip, had candy-colored hair and came from prominent (although radically different) New York families.
The first PAPER intern, Rebecca Moore, was born to a bohemian artist family -- her late dad was the legendary Fluxus performance art photographer Peter Moore. Rebecca was already an aspiring artist when she found us at 16. I remember her telling me that her parents worried about her tremendously when she was in junior high because, to rebel against them, she dressed conservatively. But, when she finally dyed her hair green in high school, her mom rejoiced and was so relieved. Rebecca started interning in 1984, as we were working on the second issue of PAPER. At the time, we surreptitiously put the magazine together in the middle of the night on the 11th floor of the
New York Times
(where our first art directors were on the payroll!). She'd run around town fetching ads and photos for us to lay out, as we snuck into the
Times
office during nights and weekends so we wouldn't get caught. She eventually went on to become a musician and performer as well as lover and muse to the brilliant singer-songwriter Jeff Buckley before his untimely death. She still makes music, writes and photographs while living upstate doing advocacy and farm animal rescue.
Our second intern was Peter Davis. He arrived in 1985, and still contributes to PAPER today. Peter, like Rebecca, was a teenager when he showed up at our offices (located at that point in the kitchen of my Tribeca loft) with lots of energy and humor. He was punked out with a blue Mohawk and Dr. Marten boots and carried a Day-Glo cartoon lunchbox instead of a bag. Unlike Rebecca, Peter was a private-schooled Upper East Side boy from a notable blue blood family. Although super-young, he was already a sharp, savvy, in-the-know, Downtown-loving New York club kid, as well as a pop culture junkie who had amazing preppy-gone-wild personal style. Peter was a natural bohemian and just seemed to fit right in with our motley crew. He continued to intern at PAPER throughout his college years at Bennington, then wrote a monthly column for and eventually became a contributing editor to the magazine. He recently left his job as the editor-in-chief of
Avenue
, stepping up to create and edit the new social magazine,
Scene
.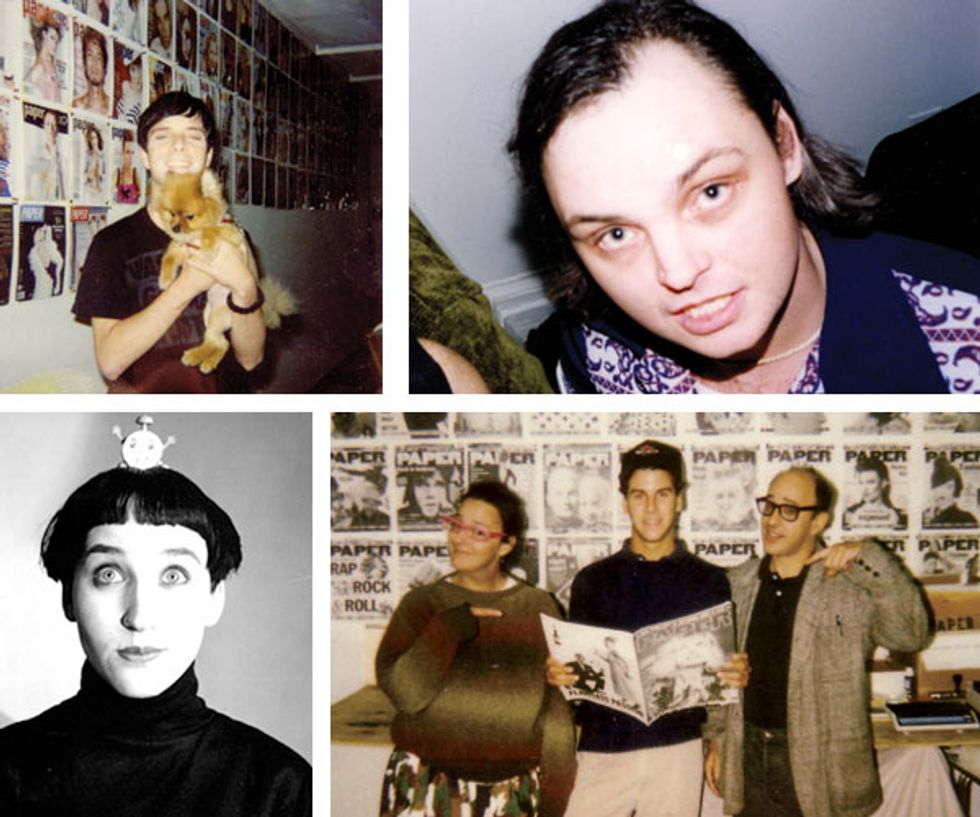 PAPER's interns before they were stars (clockwise from top left):
Drew Elliott
;
Mickey Boardman
,
Peter Davis
with PAPER's founders Kim Hastreiter and David Hershkovits;
Rebecca Moore
Rebecca and Peter were just the first of a long, eclectic and impressive list of characters who've passed through the PAPER offices over the past 28 years. Looking back, it amazes me to see many of those who volunteered for us in the old days who are now at the top of their games today. The actor David Moscow and filmmaker Galt Niederhoffer were interns, as was Scissor Sisters superstar Jake Shears, who used to schlep garment bags to shoots before he became a household name. Beth Littleford, the comedian and actor (whom we saw in an ad during this year's Super Bowl!) was our "fact checker" intern. In the fashion world, the amazing stylist Masha Orlov interned for us, as did Kerry Youmans, now the VP of PR at KCD, and Brian Phillips, who founded the hip firm Black Frame PR. Many PAPER interns have also gone on to become successful editors and writers. There was Laurie Pike who became editor-in-chief of LA.com and style editor of
Los Angeles Magazine
and now edits a great site for Parisian expats called The Paris Blog. There were two school pals Brandon Holley (now the editor of
Lucky
) and Alex Kuczynski (author and writer for the
New York Times
) who arrived at our doorstep to lend a hand in our copy department. There were interns like Christine Muhlke who became our managing editor and is now the executive editor of
Bon Appetit
, and Jonathan Durbin who was also our managing editor and is now the editorial director of NYCgo.com. There was Anna Holmes who went on to found Jezebel.com. Ex-intern Kat Stoeffel is now the media reporter at the
New York Observer
while Alex Gartenfeld is an editor at
Art in America
.
But some of our most legendary and magical interns still work in our office today. From the moment the brilliant, talented and unique Mickey Boardman knocked on our door to volunteer in the early '90s after being thrown out of fashion school, we knew he was something special. He has never left our side since, building an amazing career as our editorial director, columnist, and photo editor and attracting a major cult following through his loveable, generous and hilarious personality. Then there's the extraordinary PAPER Communications executive vice president and director of our marketing and events division Extra Extra, Drew Elliott, who began his career 12 years ago volunteering at PAPER between his classes at NYU. Our amazing executive editor Alexis Swerdloff and senior editor Elizabeth Thompson both worked as editorial interns years ago. And the list of excellence goes on: Jamie Granoff, Katie Karole, Steven Carey, Monica LoCascio, Nikki Brown, Ian Russell all work at PAPER today because they were such brilliant interns!
Being an intern seems to have gotten a bad rap lately with random lawsuits popping up from (abused and neglected?) disgruntled young folk who weren't lucky enough to be trained, taught and nurtured by someone as amazing as PAPER longtime intern director Diane Drennan-Lewis (who has recently been promoted and handed the torch to yet one more stellar ex-intern Kelly Govekar!). I still believe that you can learn more and get more of a career boost from a great internship program than from going to graduate school. And my best advice to someone in school or coming out of school has always been this: Identify your dream job at your dream company and go intern for them, doing whatever you have to do to make this possible (work weekends, nights, babysit, bartend, waitress etc.). While you are there, soak up as much knowledge as you can, work your ass off, make yourself indispensable and, bingo: Eventually you will be hired because they won't be able to live without you.