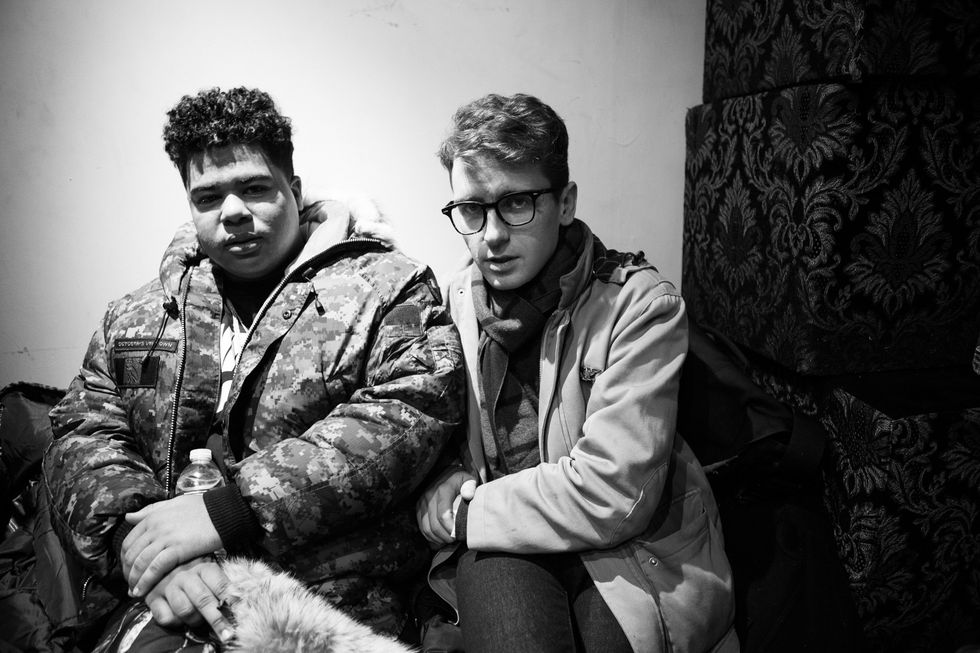 iLoveMakonnen and Thomas Morton. Image courtesy of Jessica Lehrman/Noisey.
Last night, on a Tuesday no less, Noisey hosted a screening for
Atlanta
at Webster Hall, followed by a performance by rap's new, Grammy-nominated weirdo,
iLoveMakonnen
and Father.
Watching the first few episodes of
Atlanta
, Noisey's new webseries that explores the complicated menage of music, drugs, and crime that is Atlanta, Georgia's rap scene, you start to understand what "cultural appropriation" means in a practical sense.
Atlanta
's first episode shows Curtis Snow -- a rapper, documentarian, former dope dealer -- literally cooking crack on a stove top. Later, we meet a whole cast characters who drive home that the music that comes out of Atlanta, trap music, is intimately tied up with the drug game and a way life. "Trap music is like, crack baby beats," Snow explains. "When a rapper's rapping, you should be able to smell the dope cooking." But now the vibrant scene in Atlanta is changing, as witnessed by iLoveMakonnen's DIY sound and Mike Will Made It's rise to a mega producer who now makes beats for the likes of Miley Cyrus. With Thomas Morton as your guide, featuring Gucci Mane,
2 Chainz
,
Migos
, the
ATL Twins
, and more,
Atlanta
gives you a sense of who is
actually
about that life (hint: it's not the ATL Twins), what that life really looks like, and how it's changing.  
Watch the first episode, below, and head to
Noisey
to check out the rest.