"Honestly, this song should be called 'Fuck You, Perez Hilton.'"
Noah Cyrus laughed a little, considered the weight of her words, then nodded and doubled down. "I don't care, I don't care if you put this out," she continued, wagging a lit joint balanced between her long and lacquered light pink nails, covered in tiny rhinestones that catch the afternoon sun when she gestures. "Perez knows I don't like him and he doesn't like me. He's treated me like shit since I was a kid. He used to call Miley the 'Disney Channel Whore.' Fuck people like that, because it's people like that who made me how I am."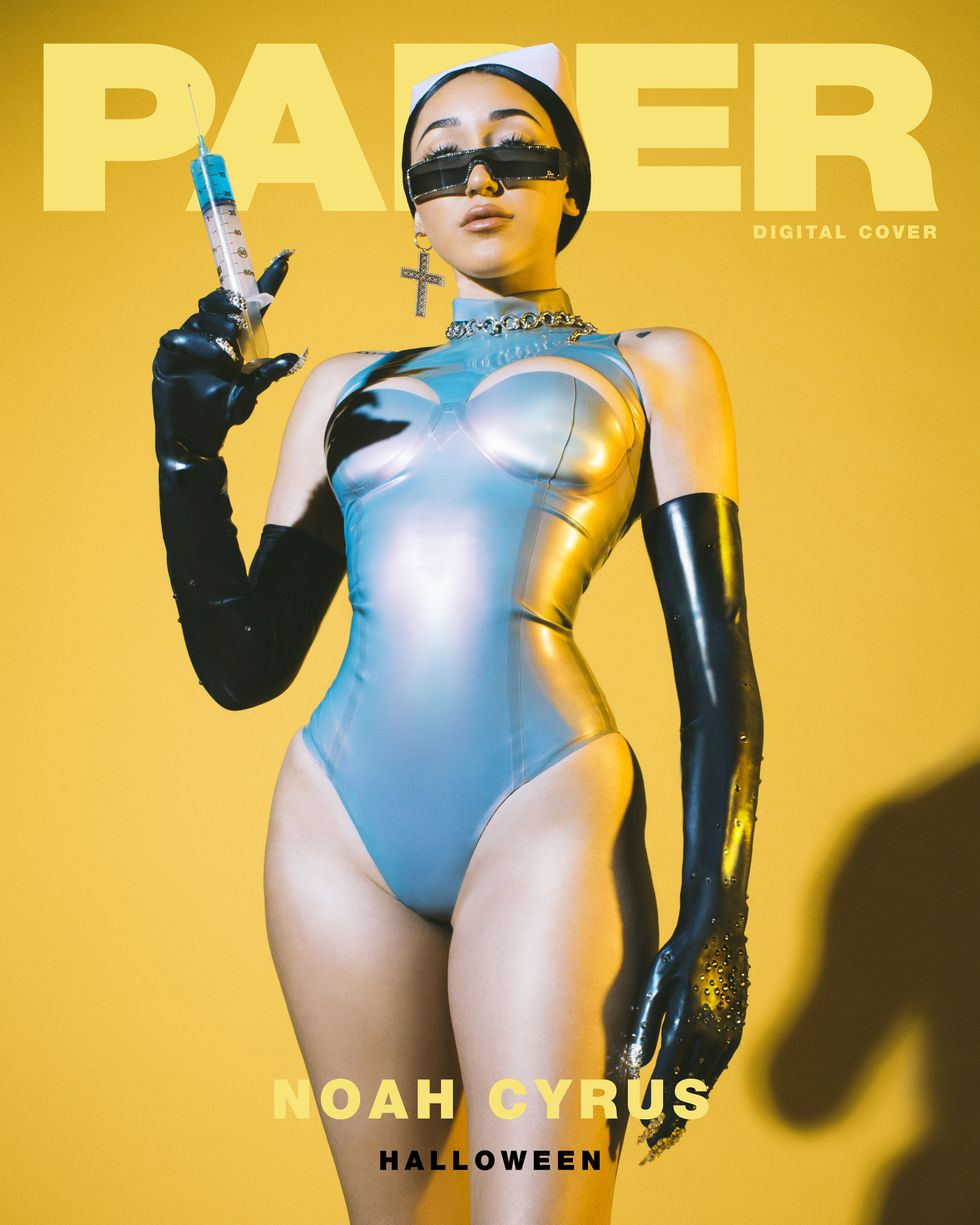 Bodysuit and gloves: Vex, Sunglasses: Christian Dior (Vintage), Choker: UNOde50, Earring: Lilou
How she is, Noah will explain, is anxious and sometimes depressed, like many of her teenaged peers, with a history of hating her appearance. Time spent examining her own mind has made her introspective, and as a result, her new single isn't actually named after the influential early aughts celeb blogger, even if the impact of him and other adults mocking Noah's appearance online when she was a child had an indelible impact on the youngest Cyrus. Instead the song, premiering today on PAPER, doesn't point outward at all, but turns inward: "Fuck you, Noah."
"'fuckyounoah' is about that manipulation in my brain, learning self-loathing and self-hatred, and the awful side of yourself that despises who you are," Noah explained. "I'm my biggest enemy. I actually have very little love for myself, which really is hard to say out loud. I want to have love for myself, I want to get there. And I do, I grow every day. But that's hard."
Noah and I met on the back patio of her brand new '70s-style house, nestled high up in the hills of Sherman Oaks. In oversized black sweats and a casually knotted black v-neck t-shirt, the Noah in front of me was so poised, it was easy to read her as fearless. That is, until a question hit an emotional nerve and her face crumpled. That's when I remembered she's just 19, and could easily be any other 19-year-old teenager in Los Angeles. Except, most 19-year-olds don't own a home in the hills, beef with celebrity bloggers as a kid, or bear the weight of growing up in one of America's most famous families.
Most teens also don't have a voice like Noah's: a golden, husky alto reminiscent of her sister Miley's, but feathery and sweet at the edges — a voice that has established Noah as a musical force in her own right. Even without a bonafide chart hit, her steady stream of pop and rap singles, EDM features, and a short EP in 2018, Good Cry, has assured her a foothold in the music world in a relatively short amount of time. Taking a break for the first half of 2019, she returned with two new singles — the folksy "July" released in, of course, July, and the towering, choir-featuring "Lonely" in September — leaning more into songwriter territory than anything she'd previously released.
Though it might lyrically come from the same open-hearted place as her first two singles of the year, "fuckyounoah" sonically goes in a whole different direction, with production by London On Da Track and a fiercely sung pop hook from Noah: "I ain't no bandaid for your heart." Written from the perspective of her self-deprecating inner demons — this song is the kind of no-fucks-given pop anthem that's empowering in its brutal, unvarnished honesty.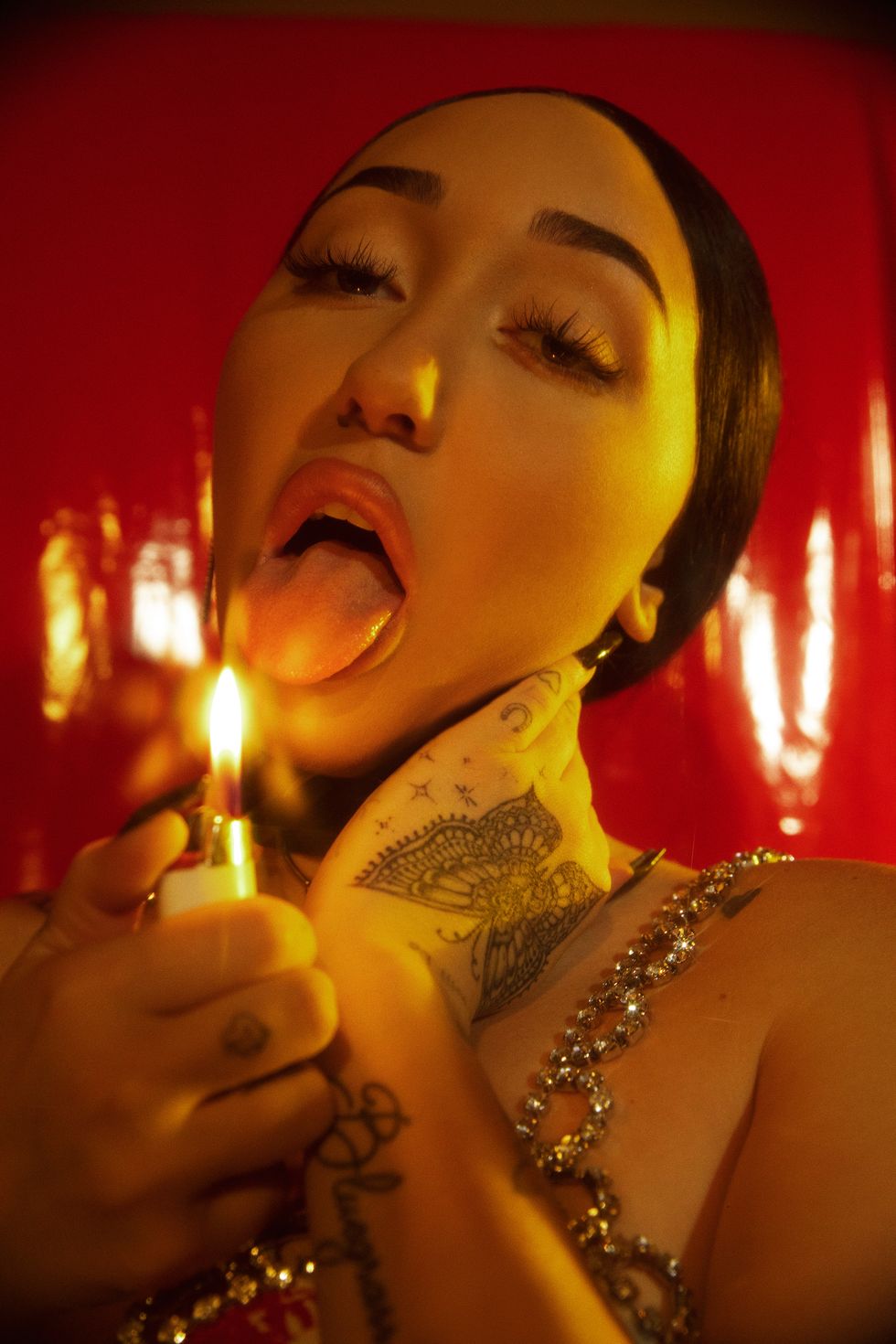 Dress: Area, Necklace: Teale Coco
Noah shifted chairs and kept smoking as she reflected on the pressure of the media scrutiny that has been a constant in her life, nearly from birth — for instance, being asked to weigh in on sister Miley's career as Hannah Montana at the age of six, walking the red carpet for Cyrus family appearances as a literal child, and encountering scathing commentary about her face, body and clothing online.
"People pinpointing what you're afraid of about yourself makes you hate yourself," Noah said. "When I was little, I wasn't posting pictures of myself — those pictures were just on the internet because my family was my family. I read the comments about my face and things they would change about me. That made me grow to hate my face and my body. That still sticks with me."
All these ideas are manifest in the "fuckyounoah" video, where Noah plays a series of characters navigating different forms of self-excavation — including open heart surgery, escaping through a bottle of pills, and lying on a therapist's couch. Each character Noah inhabits sings the same lyrics, revealing the universality of mental anguish. "The first verse of 'fuckyounoah' is all things I made myself believe about myself," she explained. "In the video, I'm playing the therapist, the doctor, the nurse, the patient, and all these versions of myself feel the same way. I'm the doctor and I'm on the operating table — but every single version of me feels the same way about myself."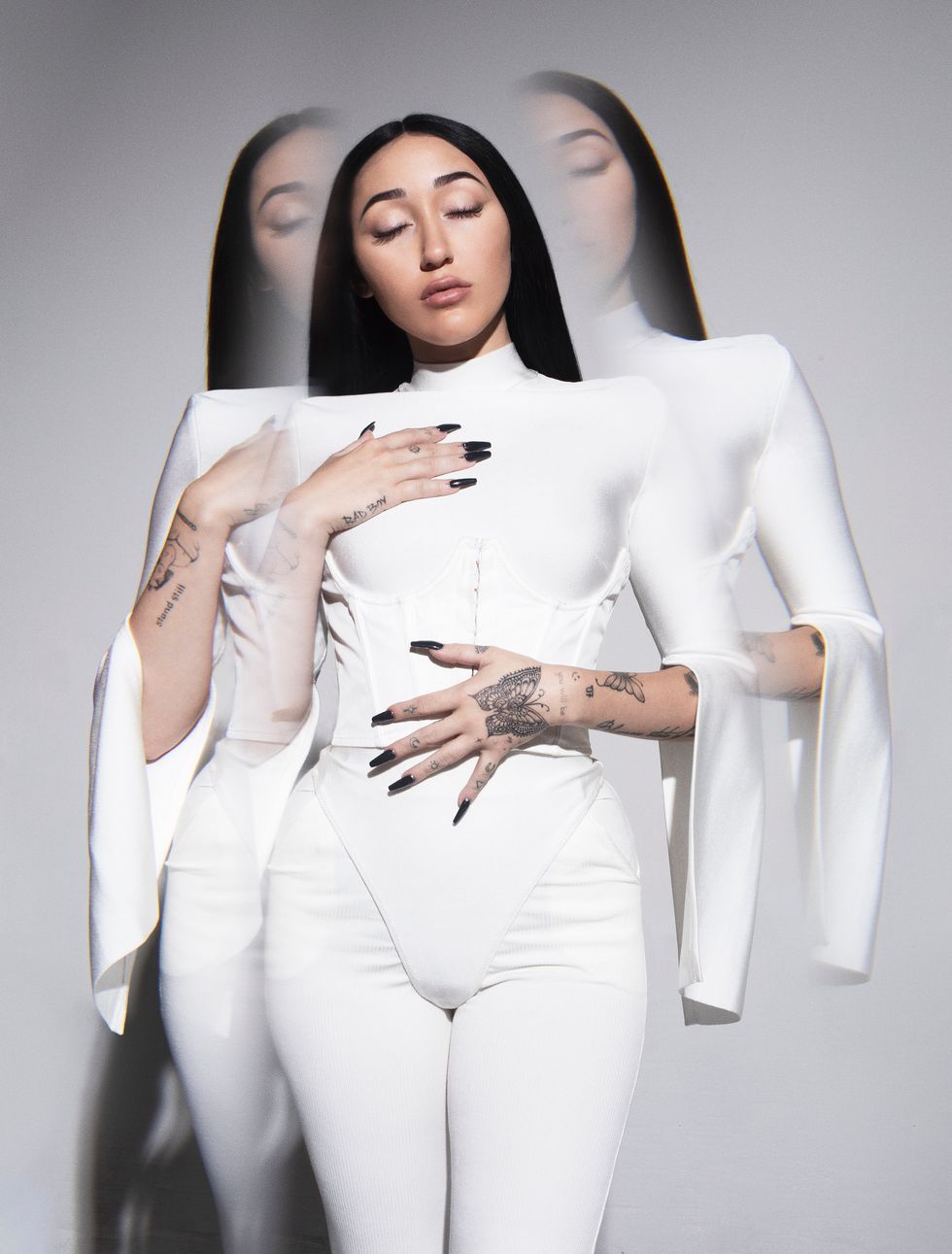 Bodysuit and corset: HOCB, Bottoms: Naked Wardrobe
Later, this insecurity reared its ugly head as we looked through shots from a recent photoshoot. "Do I look fat?" she asked her manager and publicist, who both glower at her with the same disbelief I feel. "NO!" they answer in tandem, shaking their heads.
As someone who has been in the spotlight since before she could consent to it, Noah only recently began to pursue music in earnest. Three years ago, when she decided to enter the family business, creating visibility for mental health issues played a leading role in her choice. "It's crazy, now that I'm thinking about it, my music has always been about mental health in a way," Noah said, reflecting on the first song she ever wrote well before she was a teenager. "My very first song was about a good friend of mine who started self-harming. I wrote a song called 'Angel,' from the perspective of how the world would be affected if she were to leave, how we would be torn apart without her."
A few more years passed before Noah returned to her keyboard or piano with creative instincts, and "Angel" never saw the light of day, beyond Noah playing it for the friend in question. Instead, she was focused on riding horses and being as normal a kid as she could be. But music was, in some ways, inevitable for Noah, who credits Melanie Martinez for being the first person to get her into the studio. And once she had a taste, all bets were off.
"My mom took me into Maverick Management and I played them the song I wrote with Melanie," Noah said. "Adam Leber is my manager — and has been a family friend since I was 12 — but Adam I were so close that there was a good three or four months of him saying: 'Are you sure you want to do this? This is going to suck, Noah, this is a struggle,' he said. 'You have such a normal life right now. Are you sure that you want to change your entire life?' But I was like, 'Yup, I'm 100% sure. Let's run this bitch.' And it's cool, because Miley and I are at the same management company now."
So it began almost immediately. Noah walked into a session with British producer and songwriter Labrinth, and the pair wrote and finished her first official single that day. Released in November 2016, "Make Me Cry" is a high-stakes duet between the two, using EDM drops and crisp percussion to build to a dramatic single raindrop sound — standing in for the tears and toxic cycles the lyrics describe. It wasn't quite a hit, but it broke the Top 40, positioning Noah as a pop newcomer with a vision completely separate from her famous sister.
"Being told that you're less than someone in your family, that can fuck up a person," she said. "I'm not less than anybody. Miley has her platform, obviously, because she's an amazing artist. But to each of us our own. Miley and I are completely different people."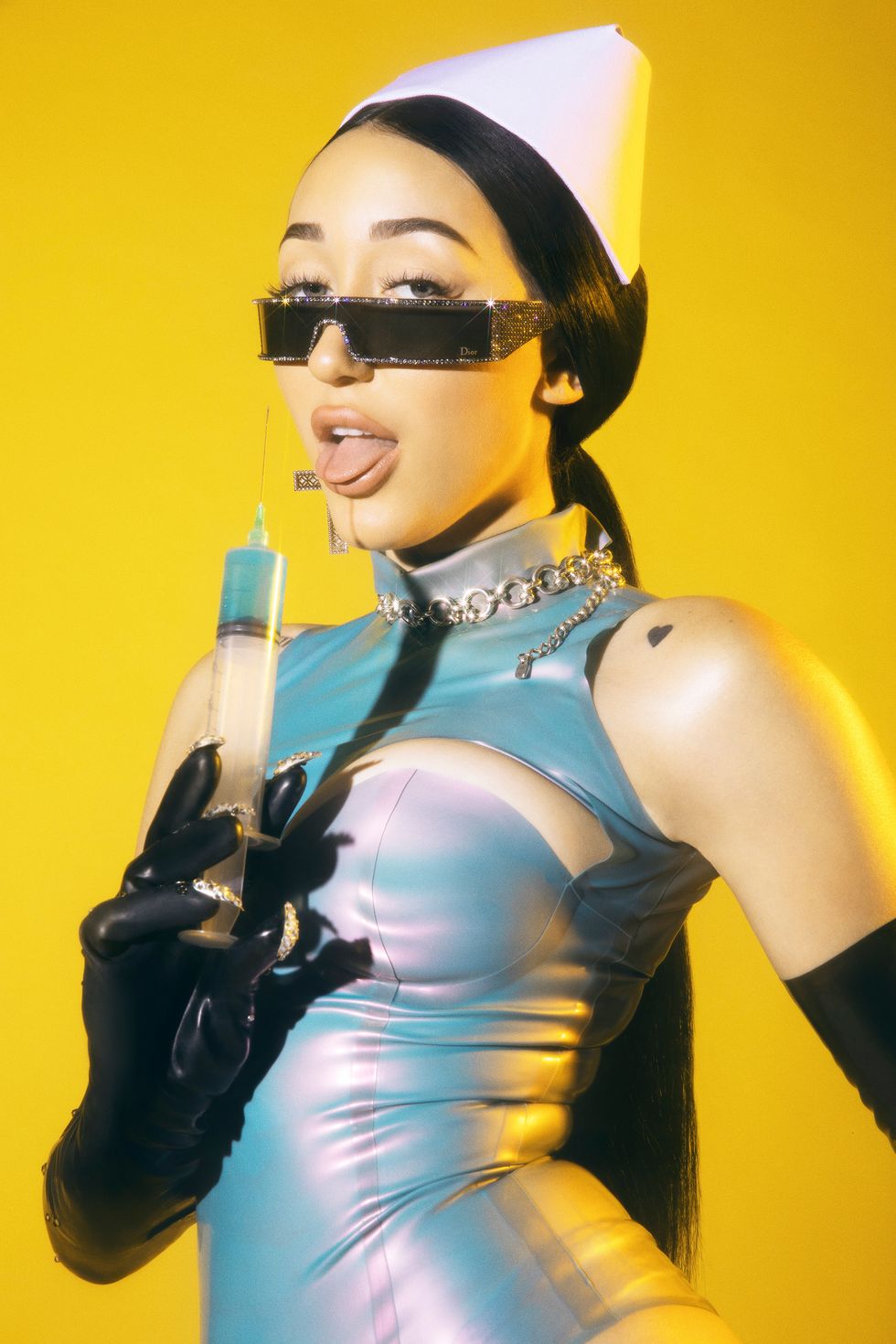 Bodysuit and gloves: Vex, Sunglasses: Christian Dior (Vintage), Choker: UNOde50, Earring: Lilou
Over the next two years, Noah put out music tirelessly, releasing a handful of songs that dabbled in pop, rap, and EDM. She often returned to the motifs of tears and crying, both visually and sonically, culminating in the 2018 EP Good Cry. She also flexed her collaborative muscles, working frequently with artists. There was a collaboration on the song "Live Or Die" with rising Soundcloud star Lil Xan — whom she briefly dated for a publicly messy, short-lived romance — and the controversial Florida rapper XXXtentacion, who put her on the mainstream radar in a very different way.
At the time, XXXtentacion was facing criminal charges of aggravated battery of a pregnant woman, domestic battery by strangulation, false imprisonment and witness tampering, and Noah was widely criticized for working with him on the joint single, "Again." His life was cut short, as he was shot and killed less than a year after their collaboration.
"I'm really glad that I took whatever bit of heat that I got publicly for being his friend at that time, when the world was against him," Noah said, hinting that more unreleased music with the late rapper could be making its way into the world soon. "I feel forever grateful that he was in my life. All he wanted after all that shit he'd been through was to make himself better. He wanted to better himself."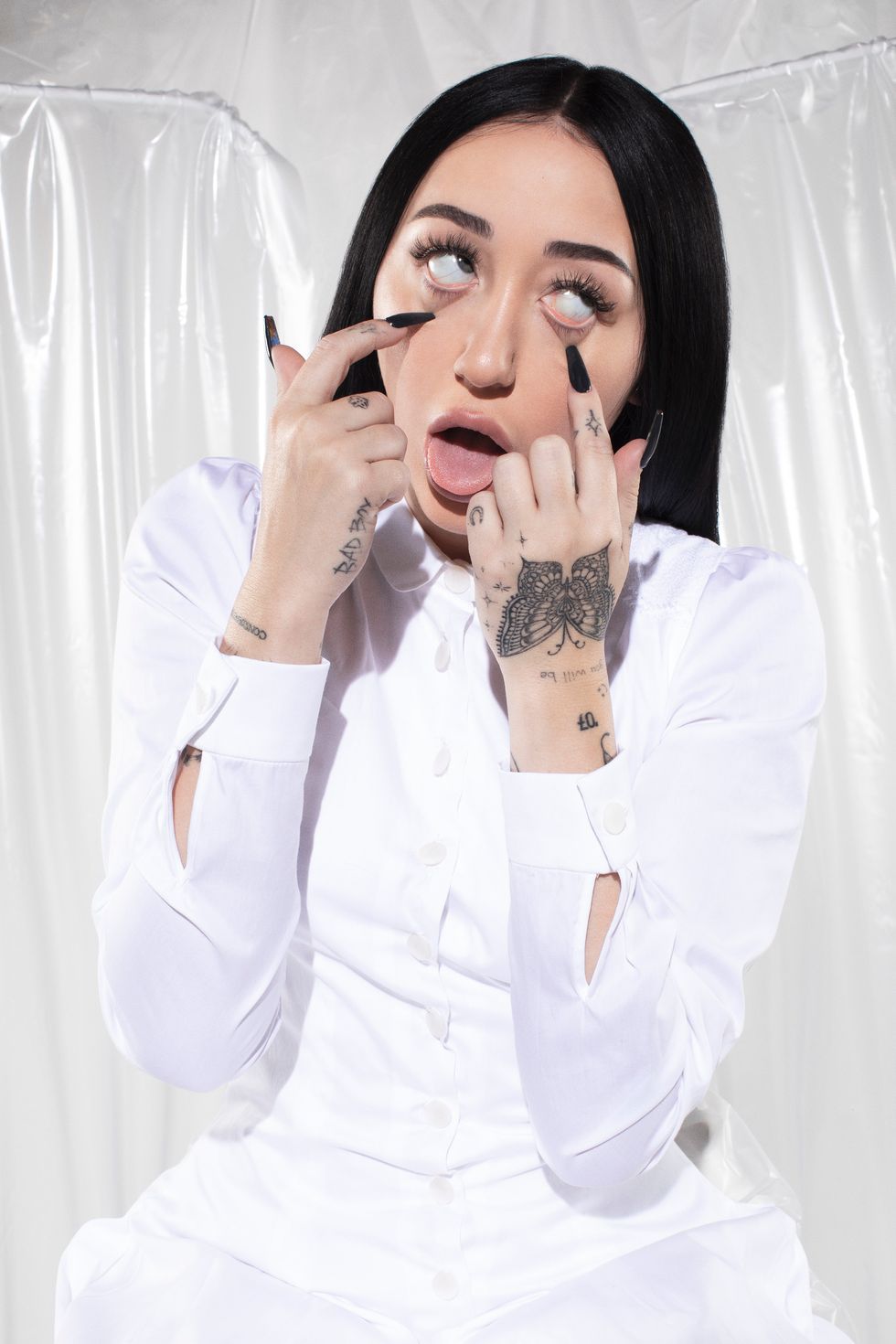 Dress: Hiraeth
Noah shares the sentiment of bettering oneself, taking the first half of 2019 to recalibrate her sound and focus back on music that feels connected to her heart. While she won't name specific songs ("What's the point? They're already out"), a couple lines on one of this year's singles, "Lonely," touch on the disconnect she clearly felt: "I'm slowly killing myself," and "I'm writing these songs that will never get played." In the video, directed by Symone Ridgell (who's also behind the "fuckyounoah" video), Noah clutches at members of a stoic male choir that refuse to acknowledge her cries for help.
"When people ask me, 'What music did you put out that you loved and you're passionate about?' — before the music that I'm putting out now — the songs I could name are 'Make Me Cry,' 'Live Or Die,' and 'Again,'" Noah explained through the haze of her joint, checking in periodically to make sure the smoke still isn't bothering me. "A few songs off my EP, 'Good Cry' and 'Mad At You,' oh and 'Topanga,' even though that's just a voice memo version."
Of the 30 or 40 songs she's released or featured on so far, Noah can name six she actually cares about, vowing to stick to a release schedule that will reflect her values as a songwriter in the future. "My goal for this year is that my heart is in the same place that it was for those six songs," she said, before launching into a series of mantras: "Don't live for other people. Don't live for the record label. Don't live for your management company. Don't live for them. Make your music that you love."
Beyond public scrutiny, another factor that has impacted Noah's mental health is a high school relationship she describes as "very verbally abusive." This experience, and not her relationship Lil Xan, as some fans assumed, inspired most of the songs on Good Cry and her three new singles. Memories of the relationship also continue to impact Noah's self-esteem, even years after it concluded. Because of this, she considers her first single from this summer, "July," to be one of the most significant songs of her career to date.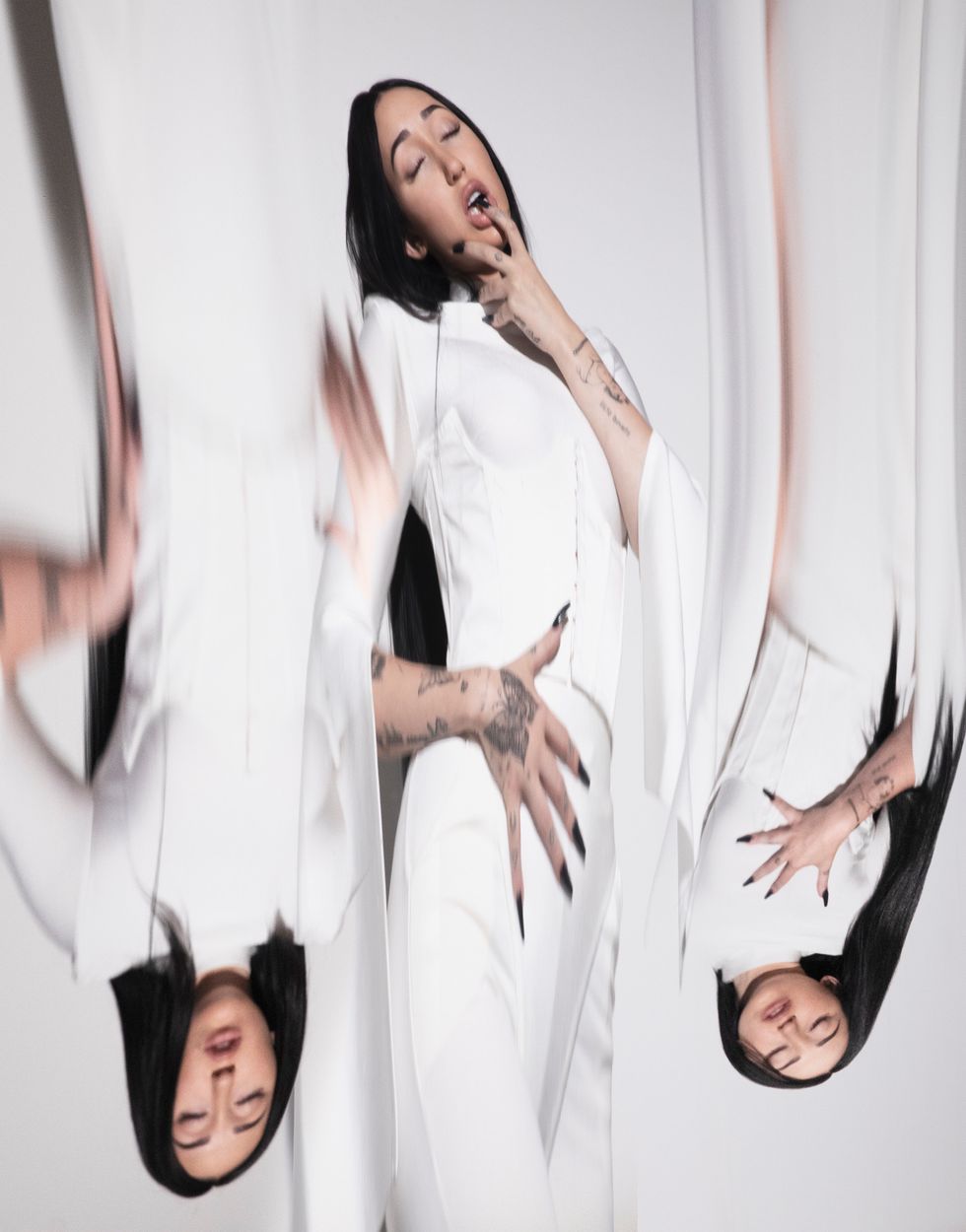 Bodysuit and corset: HOCB, Bottoms: Naked Wardrobe
Leaning all the way into a folk and country sound, the song reflects on the aforementioned toxic relationship with a wisdom and weariness that seems almost impossible for a 19-year-old to possess: "You know I'm afraid of change / Guess that's why we stay the same," and the equally gut-wrenching "You remind me every day, I'm not enough... but I still stay." Drawing praise from the likes of John Mayer on Instagram, "July" made the world remember that while Noah might be Miley's sister, she's also Billy Ray's daughter.
"I think that's what the public forgets is that none of us would even know what the music world is without my dad," Noah said. "I look up to my sister, but when people ask me about following in someone's footsteps, I'm following in my dad's footsteps. He's my hero. I want to ask him to sign my t-shirt, I'm his biggest fan."
Performing the song live this month on The Late Late Show With James Corden, Noah wore a cowboy hat, and massive, wild blue jean bloomers that nearly overtook her frame, offering the high-end, Gen Z update to her dad's generation of Yeehaw. She was also eager to use the platform to talk about The Lonely Collection, her new clothing collab with Crystal Campaign, an organization geared toward bringing awareness to mental health. The collection features t-shirts, hoodies, and sweatpants that Noah helped design, with all the proceeds going toward The Jed Foundation, another organization focused on raising awareness for mental health and suicide prevention among teens.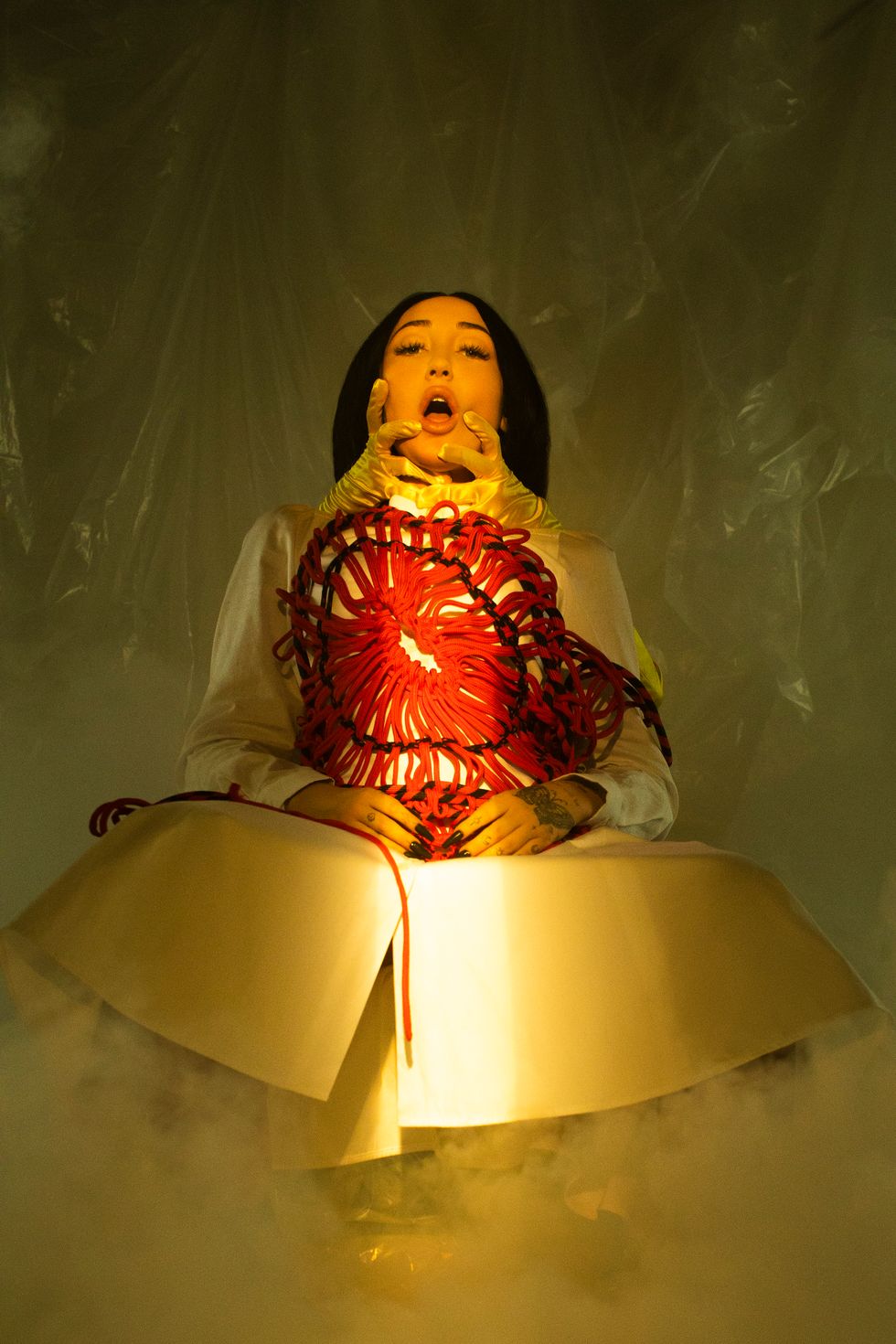 Dress: Hiraeth, Rope Dress: Susana Bettencourt, Boots: Vagabond
"I needed to prove that I had something to stand for, and mental health is the thing that I'm most passionate about in my entire life," she explained. "I wanted to make sure people know that they're not alone. The only way to stop the stigma is to listen, and talk."
Her passion for shining a light on the importance of mental health is present everywhere, from her anger at Perez Hilton's careless trolling, to the vulnerability she shows on social media — frequently posting videos or photos of herself crying — to her Instagram bio itself, which reads: "breathe in for 7, hold for 8, out for 10 .. it helps 🖤." This is what Noah broadcasts to her five million followers, no mention of the songs, videos, or projects that might need promoting, just a breathing exercise designed to help those who struggle with anxiety.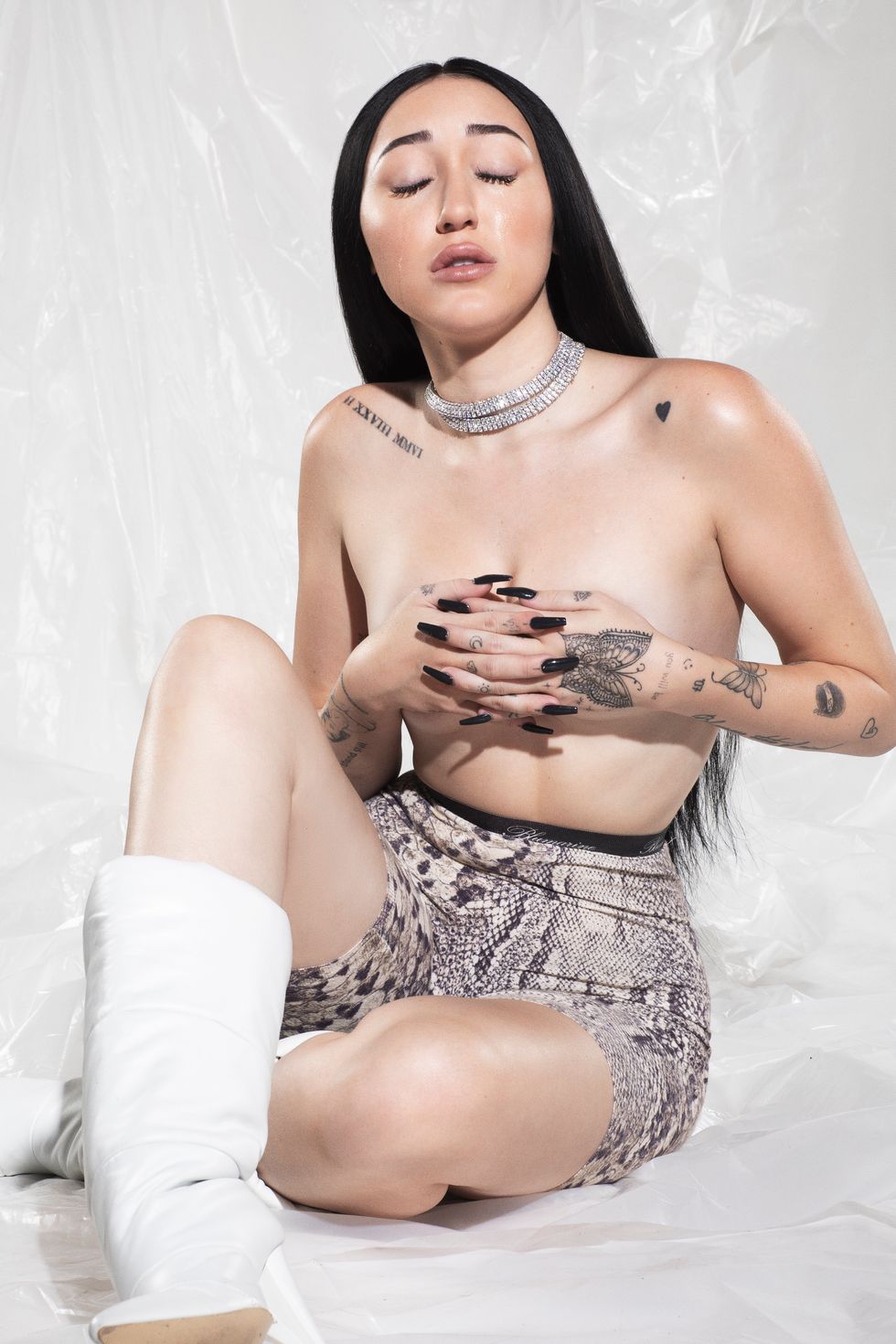 Bottoms: Blumarine, Boots: HOCB