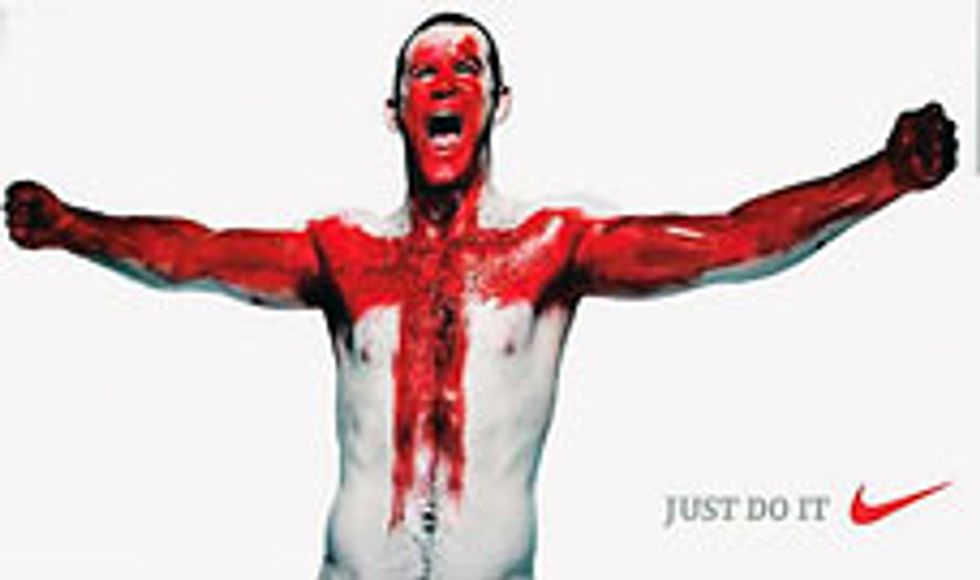 The advertising world continues to push buttons, this time it's Nike and a controversial ad campaign they're running in England in conjunction with the World Cup,


Drenched in blood-red paint and screaming a war-cry, this chilling image of Wayne Rooney was last night condemned as 'offensive', 'exploitative' and 'tacky' by MPs and church groups.

He may yet turn out to be the saviour of England's World Cup campaign, but the Christ-like pose of the striker in a new Nike campaign yesterday provoked fierce condemnation....
People complained on religious grounds as well as for what appears to be glorification of violence.
Its other interpretation as a battle cry from the dark ages or throwback to the Crusades was equally unfortunate as the poster's launch coincided with the first outbreak of serious violence involving England's army of fans in Germany on Monday night.
Striker Wayne Rooney was injured and a doubtful starter. The ad was created to celebrate Rooney's return.
The good news is that most of the comments on the Daily Mail site where the story appeared seem unconcerned by the response of official outrage. They seem to like it!
via Daily Mail