Bronx-born Brian Butterick has worked at a succession of vital NYC nightspots starting in the 1970s, bringing his deadpan charm to all kinds of late-night experiences. Danceteria, the Mudd Club, Pyramid, and Jackie 60 have all been graced with Brian (and/or his drag persona Hattie Hathaway), and today he's on the board of HOWL! Arts Inc., which preserves the memory of yesterday's East Village. I just talked to Brian for some very eye opening dishing, and got quite an education.
Hello, Brian. What was your first nightlife job?
I like to think it was late night short order cook at the Empire Diner, which was in 1979. Then I was a busboy at Danceteria [a rock dance club at 37th Street], which was really, really long shifts from eight or nine until eight or nine in the morning. They had no liquor license and they advertised in the New York Times! Whatever you can do illegal, they did it. They were all such mobsters. They thought they could get away with it. We all went to jail. By the time they moved it to 21st Street, it was a different branch of the family. Meanwhile, the Mudd Club [a new wavey hangout in Tribeca] was open and Richard Boch was working at the door. After Danceteria closed, I worked at an after hours club called Berlin, which opened at three in the morning. Iolo Carew worked at Berlin and got me the job at Mudd, from 1980-'81.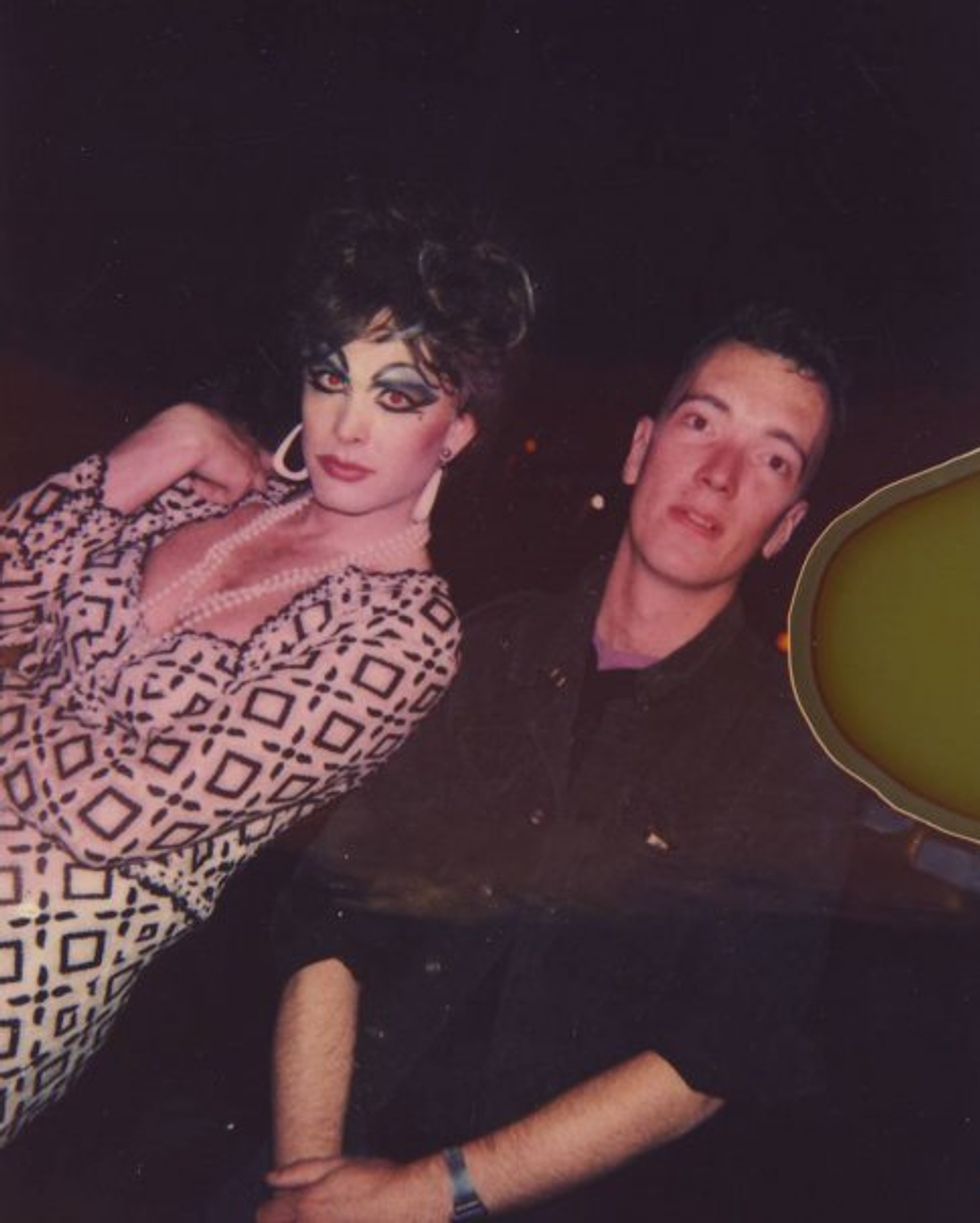 At Mudd, did you have to deal with snooty people? I know I did.
Some. Particularly heinous was the SNL people -- not the workers, but Belushi and other stars -- and those brothers who went on to open Pastis.
The McNallys.
The McNutty brothers. Hateful. And there was a lot of Guidage [meaning Guidos] and actually, I got a gun shot at me. It was in a speeding car and it went wild and could have accidentally hit me.
Someone you didn't let in?
Yeah. That was the Guidage factor from New Jersey.
Would Mudd owner Steve Mass torture you?
He'd call down and say, "There's too many fat people here."
Would you do what he said?
He'd forget. I'd tell people, "Walk around the block and come back and I'll let you in." Then I told Steve I was going on vacation, walked up to the Pyramid [the East Village drag/rock performance space], and said, "Can you please hire me?" Bobby Bradley [the manager] hired me, but the only job they had was security, so I got to throw people out for the first three months.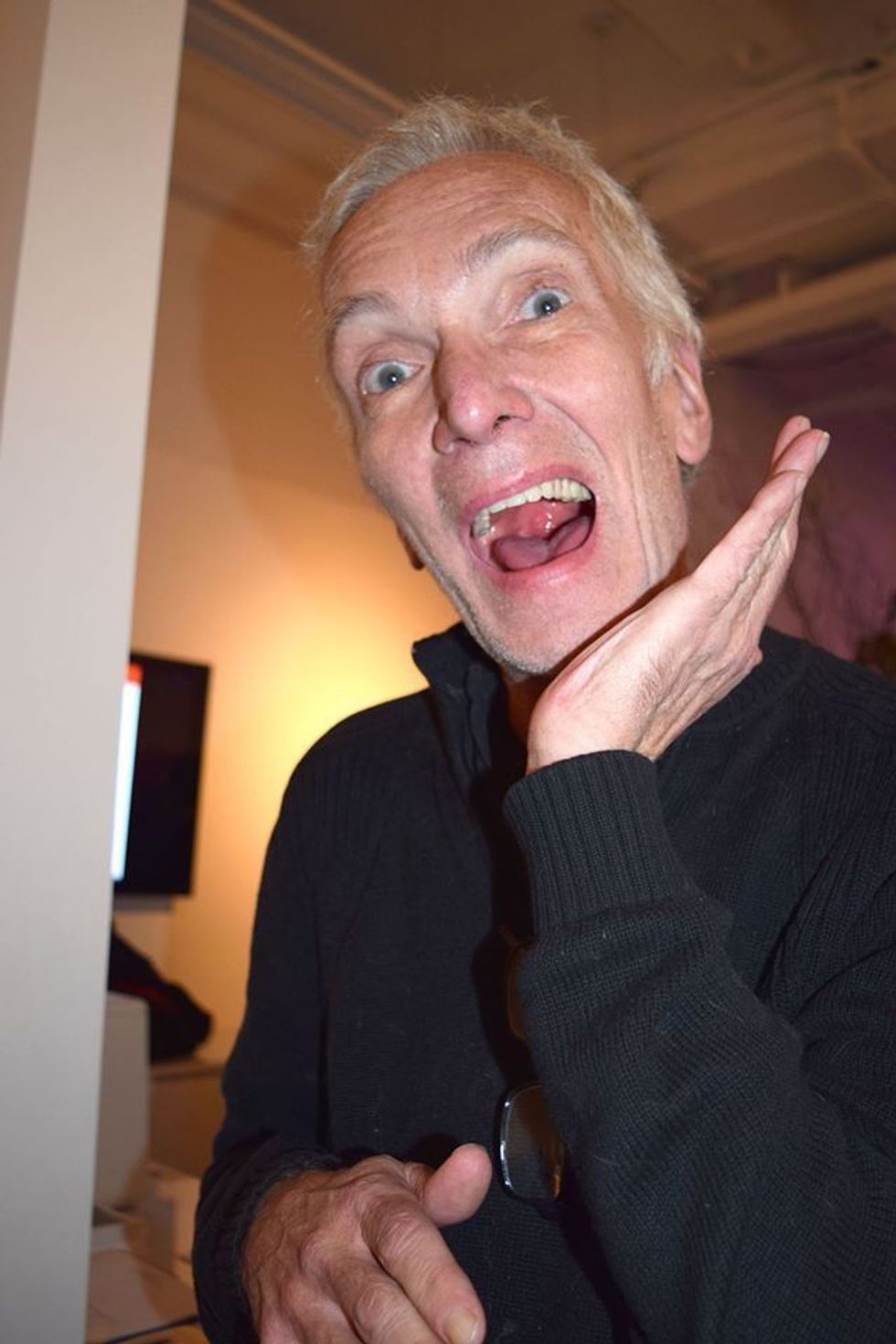 How did you become creative director there?
Bobby left -- he bottomed out with drug use, before all the rest of us did [laughs] -- and I was gonna leave, but Alan Mace said, "Please stay and we'll work together." I was there till '89. Till that fateful -- you had called me about it -- Dean Johnson sex room in the basement, which was actually quite harmless. I quit and was fired at the same time.
Was everyone trying to get a gig at the Pyramid?
Of course, of course. I'd get tons of tapes daily. You try to be nice, but after a while you don't even bother to listen to them. If there's something in the packaging or it was short enough, like one song, you'd listen. I went to a lot of places and saw stuff, but once in a while, someone would walk in -– like when the Red Hot Chili Peppers walked in and you just knew they were great.
Is there anyone you booked, but regretted?
We were gonna book [shock rocker] GG Allin, but I said, "I can't do this to Richie [the owner]. His father's gotta clean the place." GG would be throwing excrement around the club. The most legendary band was called Mr. Pickle. I threw out their tape -- I couldn't be bothered. This woman started calling me at home and torturing me -- and my number was unlisted. I'd keep hanging up on her. That was in '89, so in '90, I got together with Doug Wah and Victor and Jeanette Anonymous and we did a Thursday at the Roxy called Disco Interruptus -- performance arts, visuals, and dancing. The Roxy owner, Gene DiNino, was another nutcase. The new Chinese owner of the Pyramid wanted me to come back. I did, and we started Fag Bar, the ACT UP official bar, for about a year there. No bands, all gays and lesbians. Clit Club did one of the nights, Linda Simpson stayed…We had a pretty great gay roster. I started going to Jackie and was totally enthralled. I said to Pookie [Richard Move], "You have any jobs? I want to get out of here. You know my ADD." He said, "The only thing I have is Dee Finley was the cocktail waiter and she was horrible. Do you want to cocktail waitress?" I was like, "Sure" and I did it. I've known Chi Chi and Johnny since the '70s. I waitressed, then bartended, and I promoted some nights when they bought the club.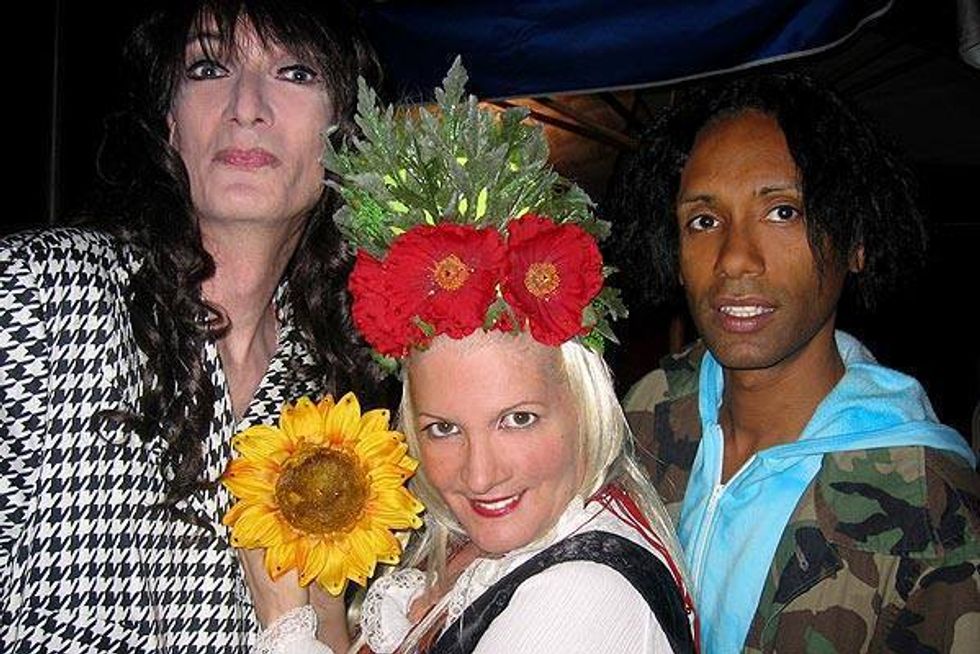 Jackie was not only proudly keeping the torch lit from anything we'd ever done, but there was such a beautiful cross section of people, and don't forget the '90s is when everything started to get compartmentalized -- "this is a gay club, black club, tranny cub, goth club, club for people with short hair, long hair….". We never did that at Jackie. It was very old school that way.
Did you make a living from clubs?
Yeah. I've always been fortunate. I had this loft on Canal Street where I paid a tiny rent, so I was fortunate that I could always support myself.
Aside from a mixed crowd, what makes good nightclub?
Music, shows. There has to be something for you to drop your straw at. Sometimes clubs get away with just having dancing, but the most crazy, eclectic mix of people. You'll walk through a place and there'll be someone huge there. A drag queen or a star. A lot of it was very much art as well as being frolicsome.
Is it old-fogeyish to say nightlife might never recapture that kind of magic?
Yes and no. Cyberspace has virtually destroyed human interaction, yet it's still…I say let them stay glued to their devices. But still, people who were born after '91 -- millennials -- actually are smart, they value your interaction, they know all the social media and use Wikipedia in the best way. They find out about everything. They fetishize some of what we did, which is always a good ego boost, and they give me hope.
How was your drag persona, Hattie Hathaway, born?
She was originally Loretta, something that Faye Runway and I had concocted as a country singer. Loretta Nicks became plain old Loretta, and then Loretta B. DeMille as a joke because of all the spectacles we supported. My grandmother's name is Hattie, so one New Year's Eve, we made $25,000 profit charging 10 bucks a head at the door. I put it in this suitcase we had labeled Hattie Butterick and hid it under the stage. I came back sober the next day and paid everyone. As I paid them out of this suitcase -- you couldn't put it in the bank, it was tax free; [pause] I guess there's a statute of limitations -- everyone saw "Hattie" and thought it was the funniest thing on earth, so they started calling me Hattie. And one day [drag performer] Hapi Phace called me Hattie Hathaway, because Jane Hathaway -- Nany Kulp -- had just died. [Kulp played Miss Jane Hathaway on the '60s sitcom The Beverly Hillbillies.]
In 2006, you played multiple roles in a Broadway production of The Threepenny Opera. How did that happen and what was it like?
[Translator] Wally Shawn and [director] Scott Elliott auditioned a bunch of people for the beggars/gender-bending hookers and happened to love my song, which was Grace Slick's "Dreams." Working with Wally, Alan Cumming, and Jim Dale was pure magic. And of course, fellow beggar Carlos Leon! And singing Brecht/Weill for three and a half hours every night was amazing.
Are you a long-term relationship person or a single guy?
I've had my relationships already in my life. Now I'm just an old spinster. I've had three important relationships, and I think it's more than anyone should have. One of them was [artist] David Wojnarowicz, so I have a pretty good track record. The fact that they weren't "till death do us part" -- even David --doesn't make the relationships any less valuable. They were genius, beautiful people -- and I'm difficult too. I think gay marriage is great; those that want to, why shouldn't they? But those that don't, why should they feel inadequate? Many times people will say "I'm gonna fix you up. You're single." Good luck with that. You're out of your mind. That matchmaking shit never works.
You May Also Like