One of the more stunning New York Fashion Week style transformations, Nicki Minaj has served just about every look under the sun -- from Harajuku fashion clown to an achingly chic pop star. We chart Ms. Minaj's style evolution below.
See Beyonce's NYFW evolution here.
It all begins in 2011.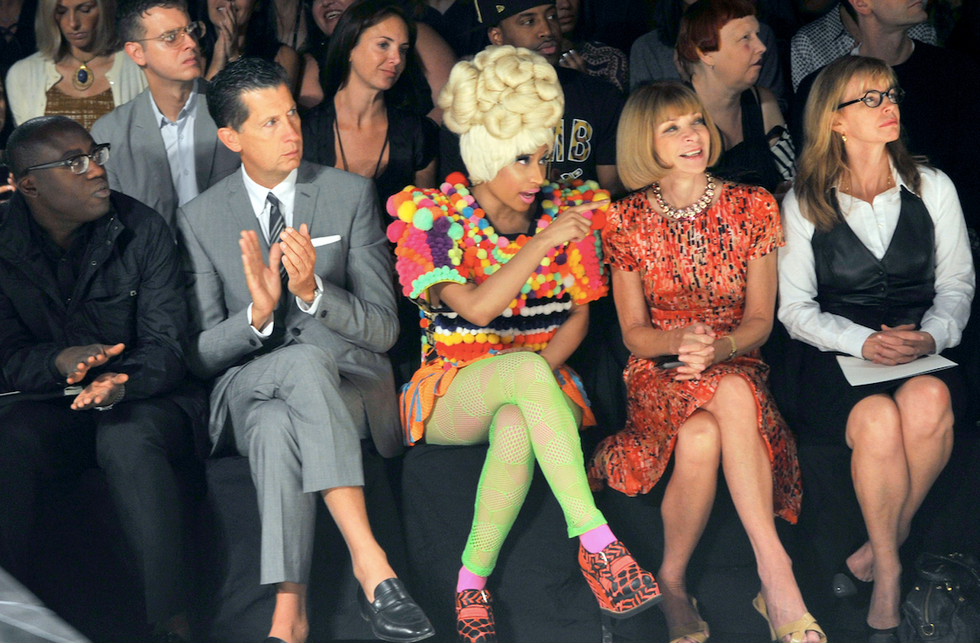 Front Row at the Carolina Herrera Spring 2012 Fashion Show September 12, 2011. Photo by Patrick McMullan.
In town for the spring 2012 shows, Miss Minaj was the unofficial Clown Princess of 2011 NYFW with her Rainbow Brite-meets-troll-doll look. In what is now an iconic front frow picture, Minaj chats with Anna Wintour at Carolina Herrera, who she famously called out in her song 'Muny' rapping "Hey, yo, Anna Wintour, I'ma need that cover baby girl,....", we're pretty sure she got her attention. The New York PR's must have been in cahoots to snag Minaj a Vogue cover (which is is yet to grace, though she did Teen Vogue in 2013) as they were again seat mates at Oscar De La Renta.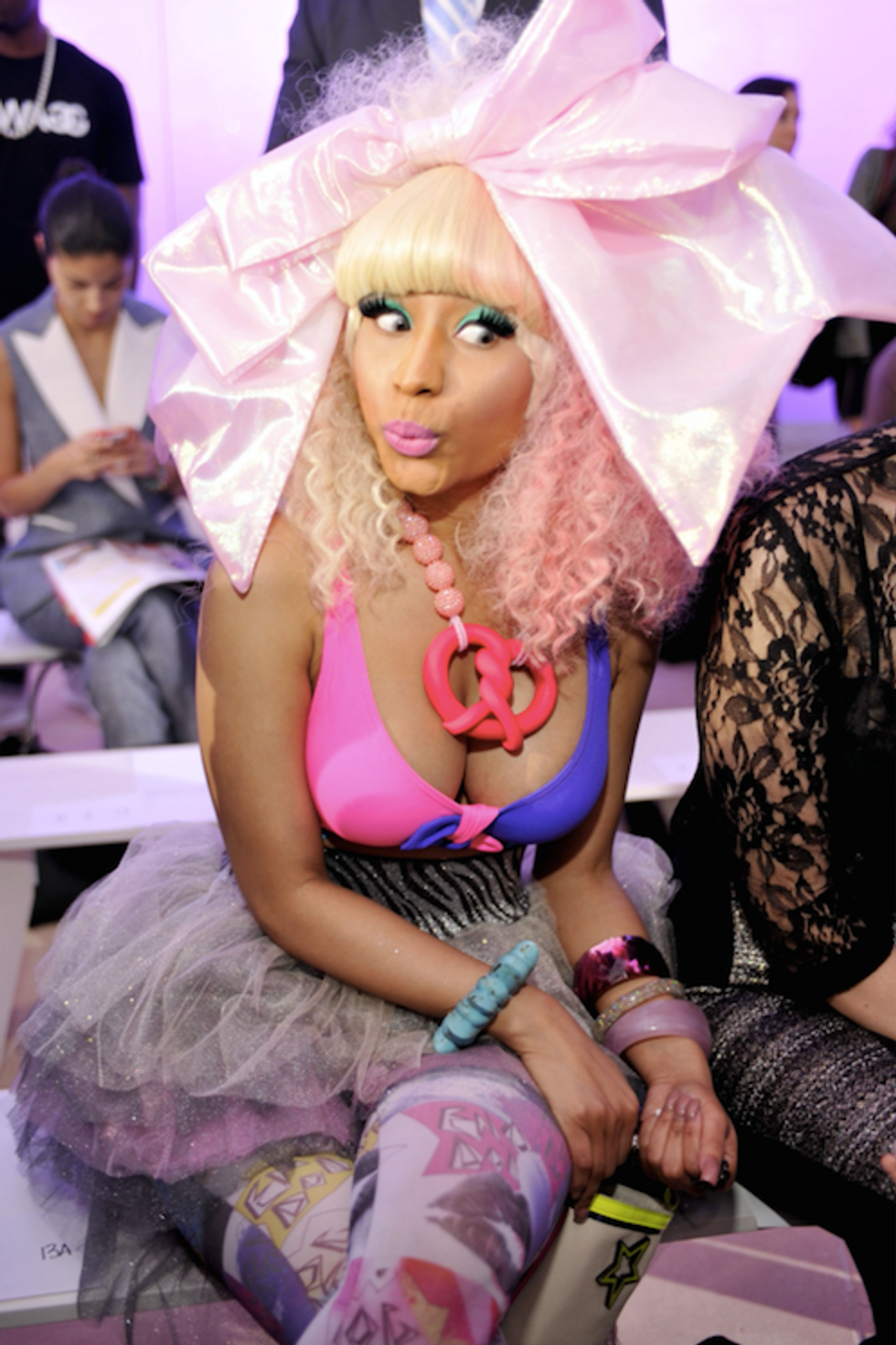 At the Prabal Gurung Spring 2012 Fashion Show September 10, 2011. Photo by Patrick McMullan.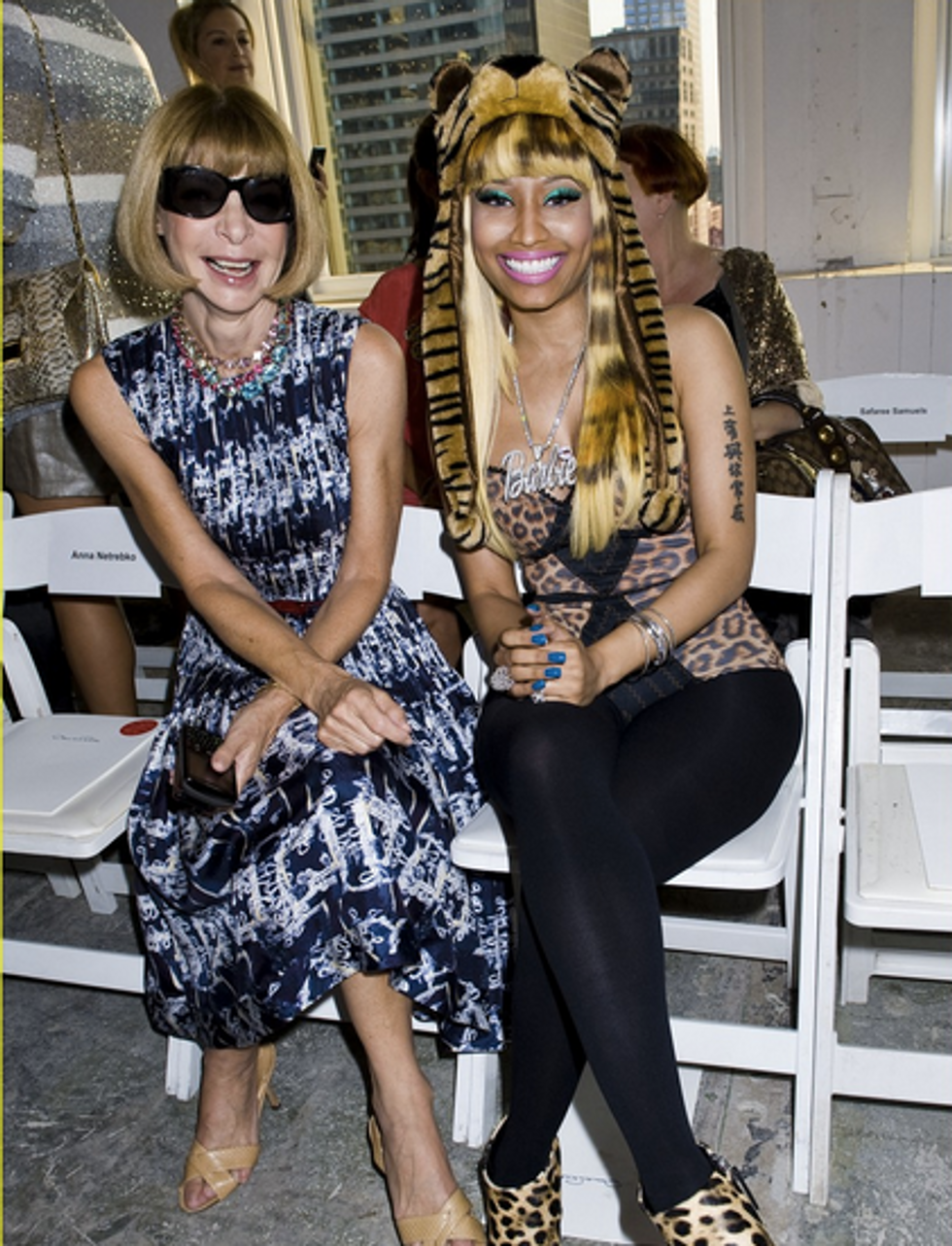 At Oscar de la Renta September 2014, 2011
2013: Come see the softer side of Nicki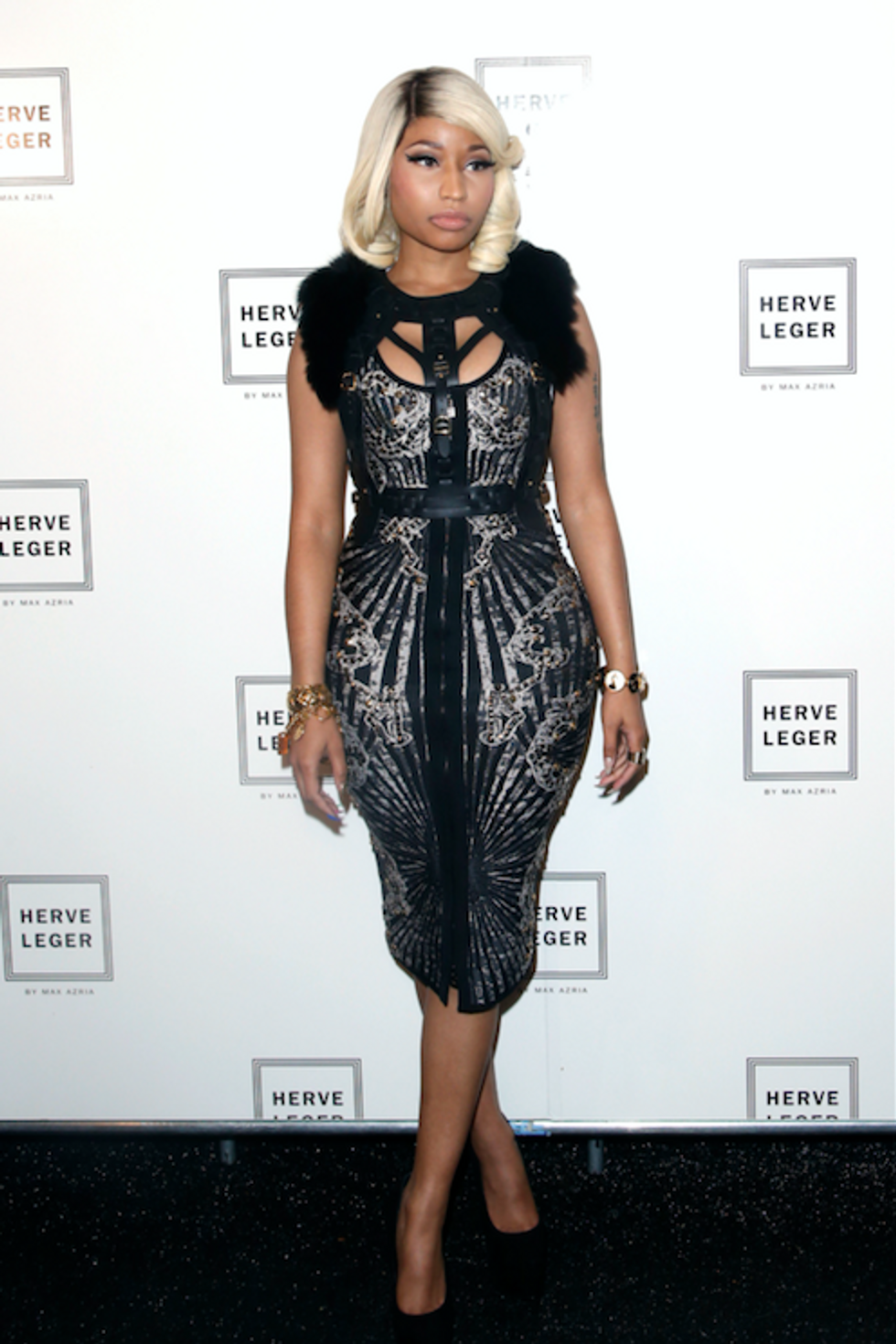 Herve Leger by Max Azria Spring 2014 Fashion Show September 7, 2013. Photo by Patrick McMullan.
A few seasons later she would appear a bit more understated, relatively speaking, in bleached-blond hair with exaggerated roots and slick, body hugging looks from Herve Leger and runway showman Jeremy Scott,
and later twerking with Alexander Wang when she was the surprise guest at his after-party.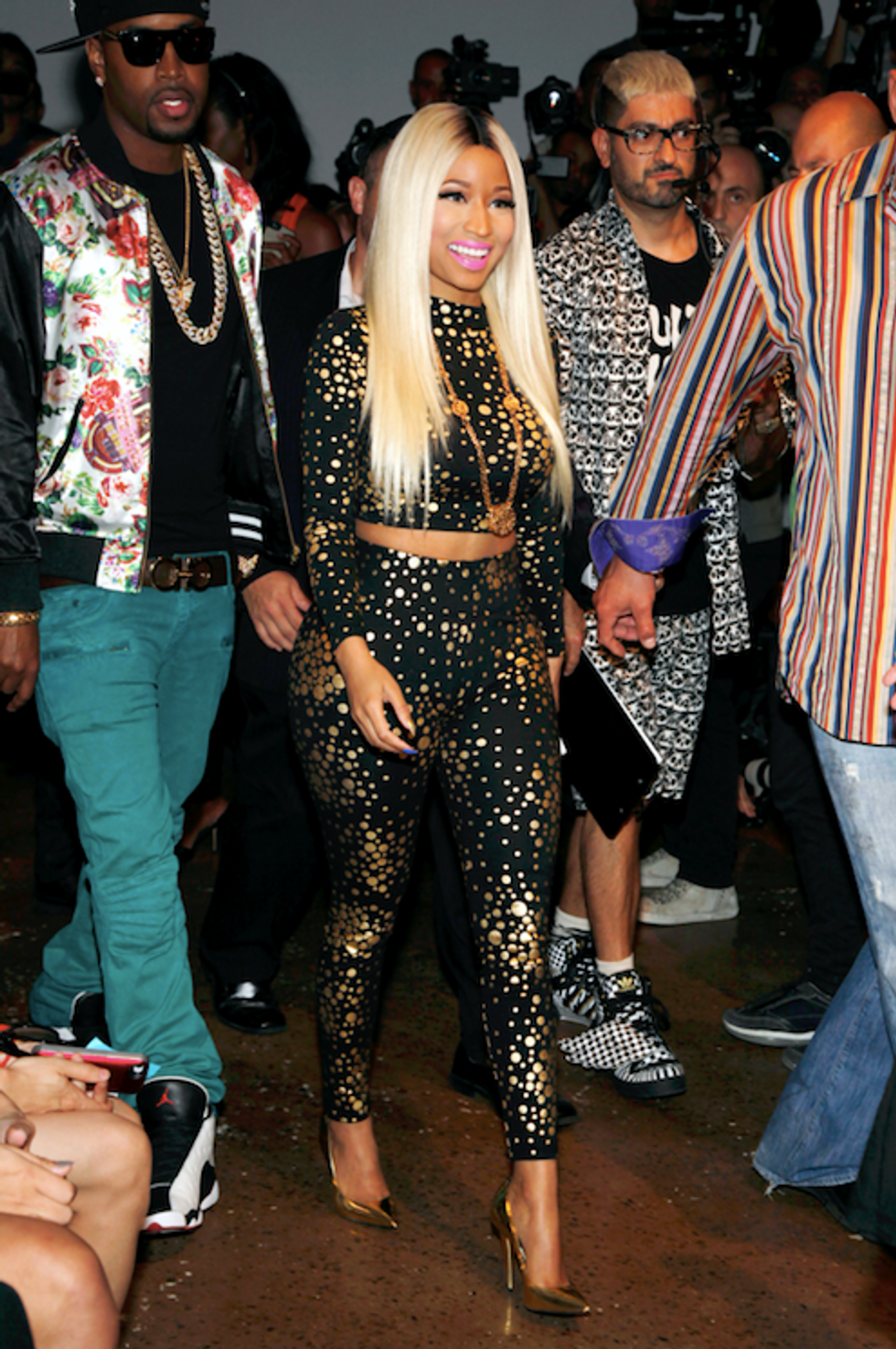 At the Jeremy Scott S/S 2014 Fashion Show September 11, 2013. Photo by Patrick McMullan.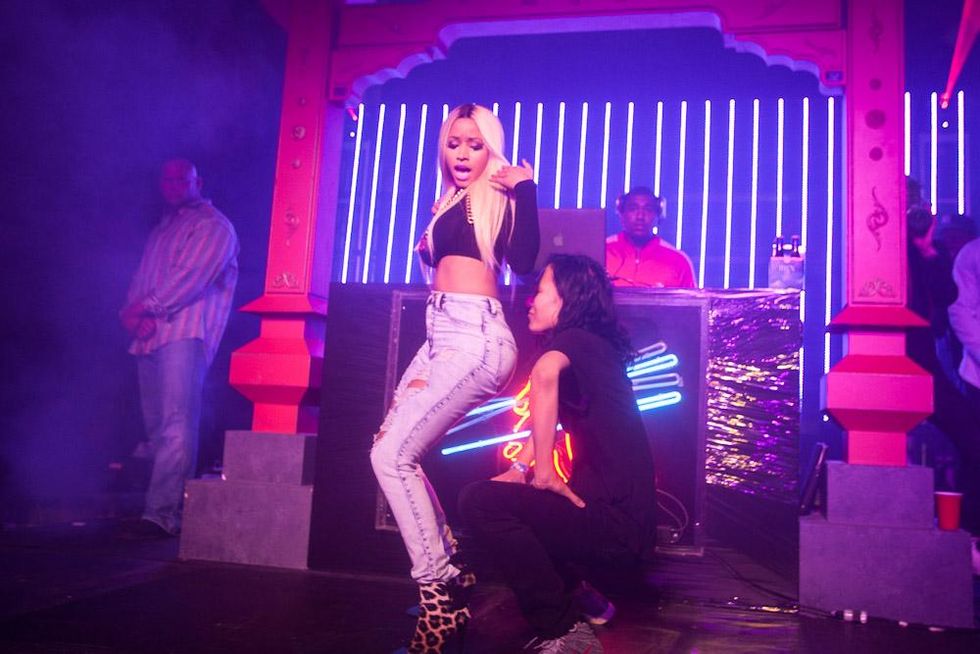 Performing at Alexander Wang's after-party, September 7th, 2013.
Photo by Rebecca Smeyne
.
2014: Getting Real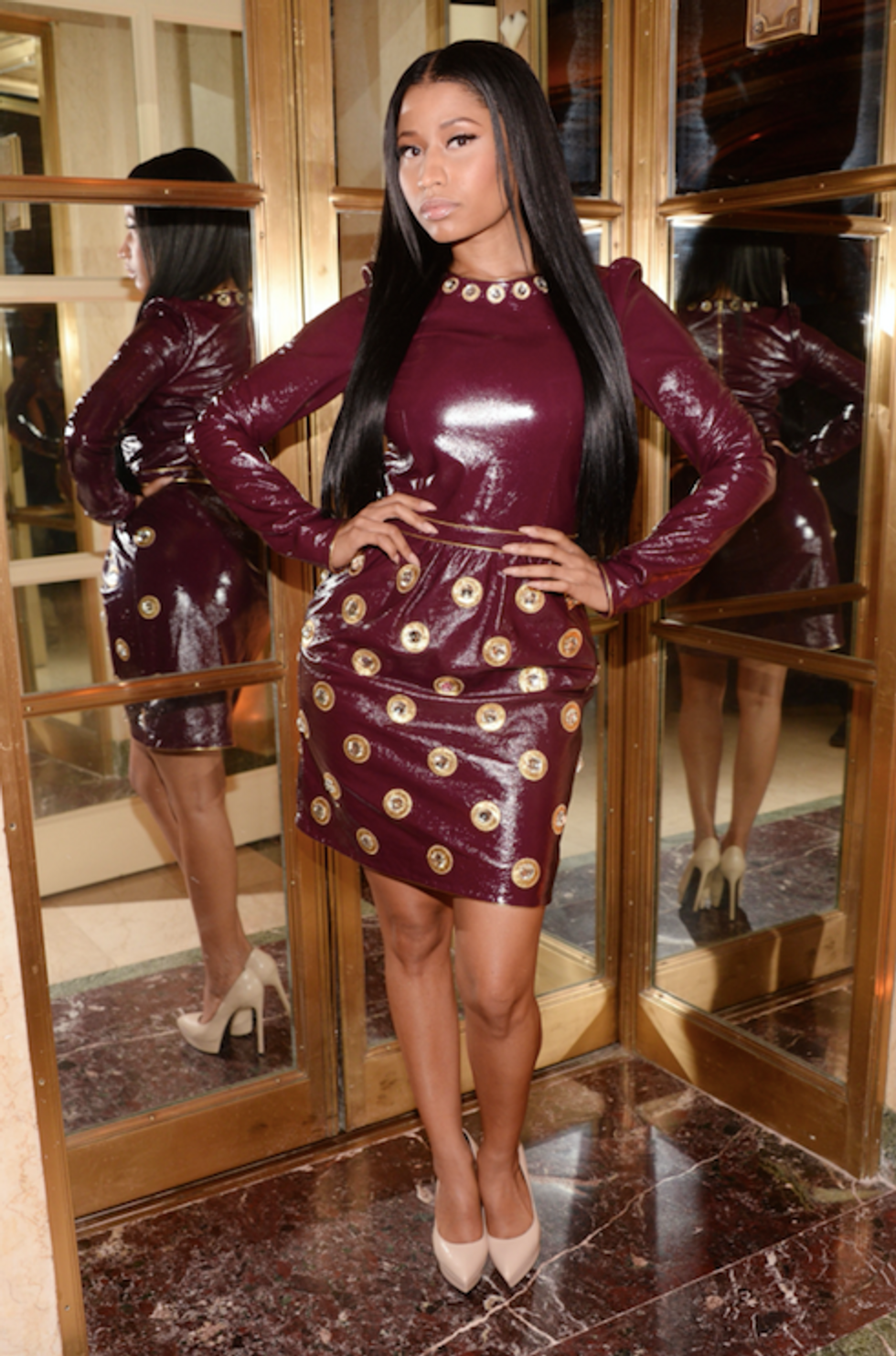 At the Harper's Bazaar ICONS party, September 5, 2014. Photo by Patrick McMullan.
The following year she would lose the theatrics all together and up her fashion cred, rubbing elbows with the queen herself, Donatella Versace, at the VERSUS show and take in Alexander Wang's spring 2015 collection next to fashion royalty, Lauren Hutton.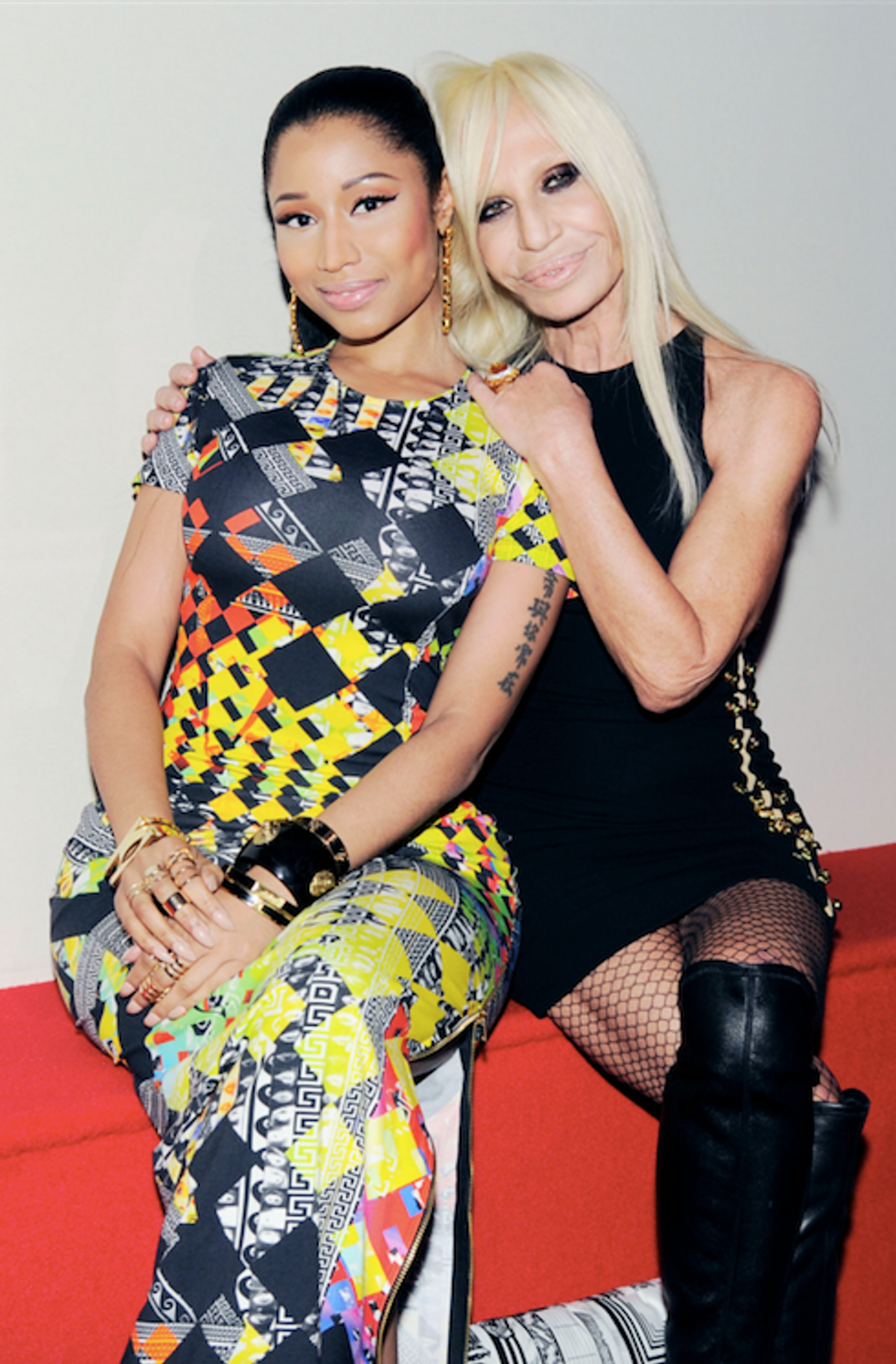 At the Versus Spring 2015 Fashion Show with Donatella Versace. September 7, 2014. Photo by Patrick McMullan.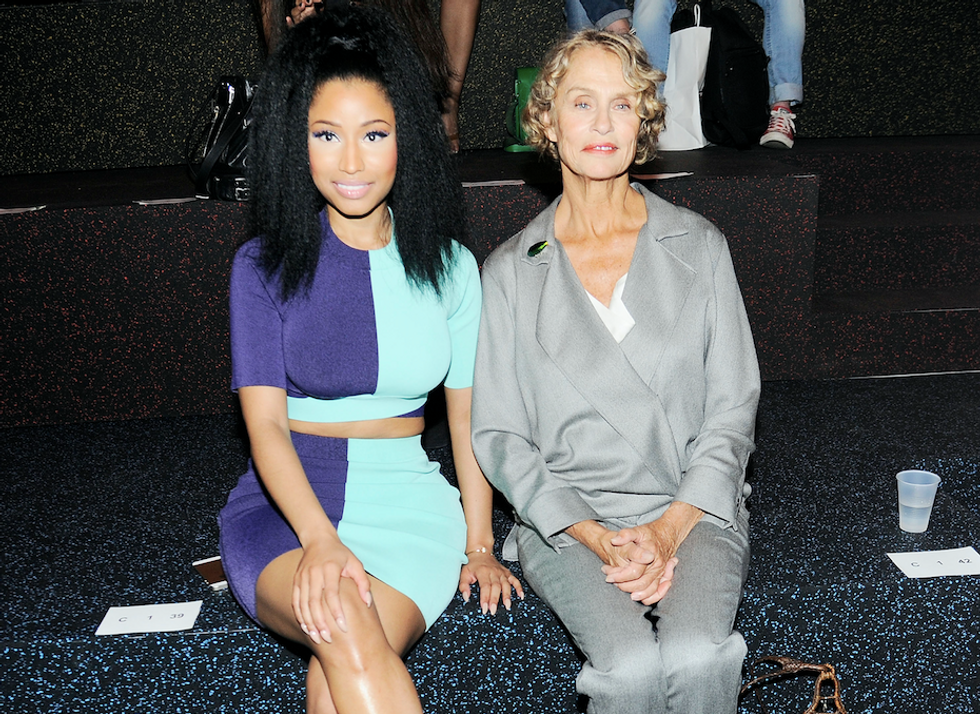 At the Alexander Wang spring runway show with Lauren Hutton. September 6, 2014. Photo by Patrick McMullan.
2015: Threat Level Nicki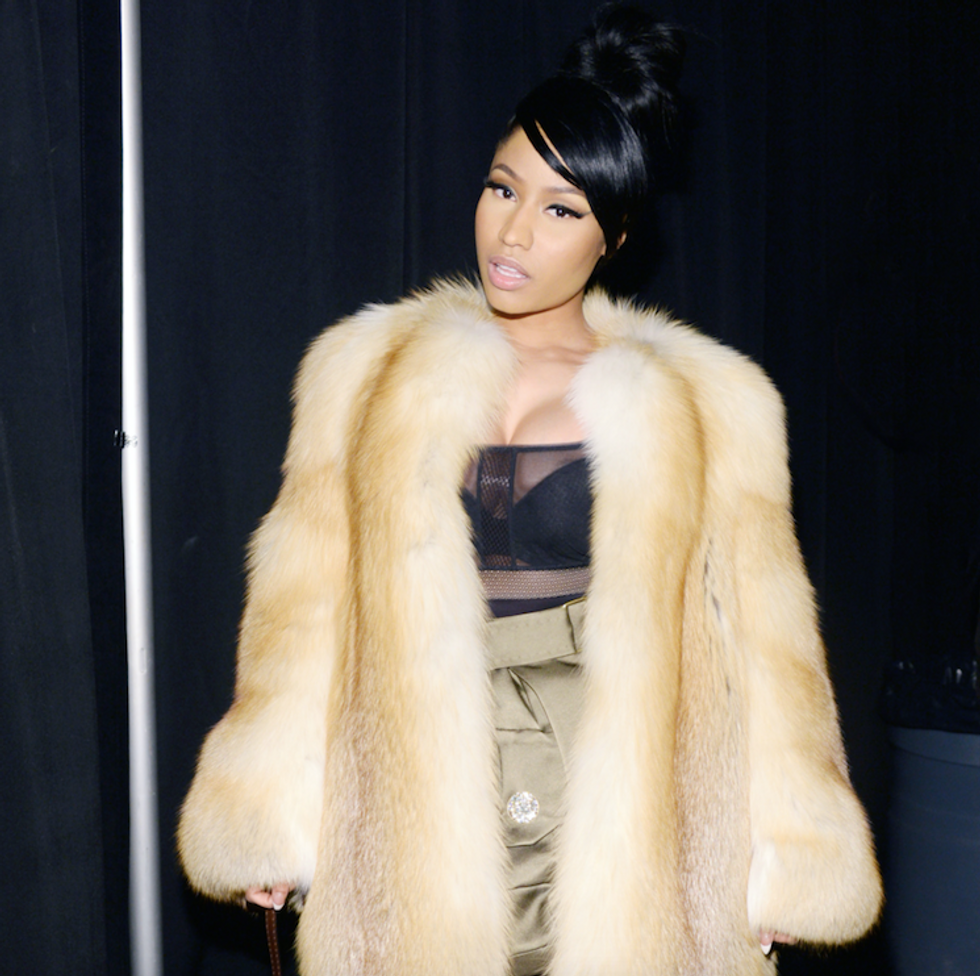 At the Fall 2015 Fashion Show February 19, 2015. Photo by Patrick McMullan.
This past February, Minaj channeled her best gangster moll in buttery fur, python boots, and dolce vita hair and makeup at Marc Jacobs. Then at Alexander Wang she looked incredible as she kiki'd with the Kardashian-Wests, no doubt comparing notes about what it takes to land that Vogue cover. Some day, Nicki. Wake up, Vogue.