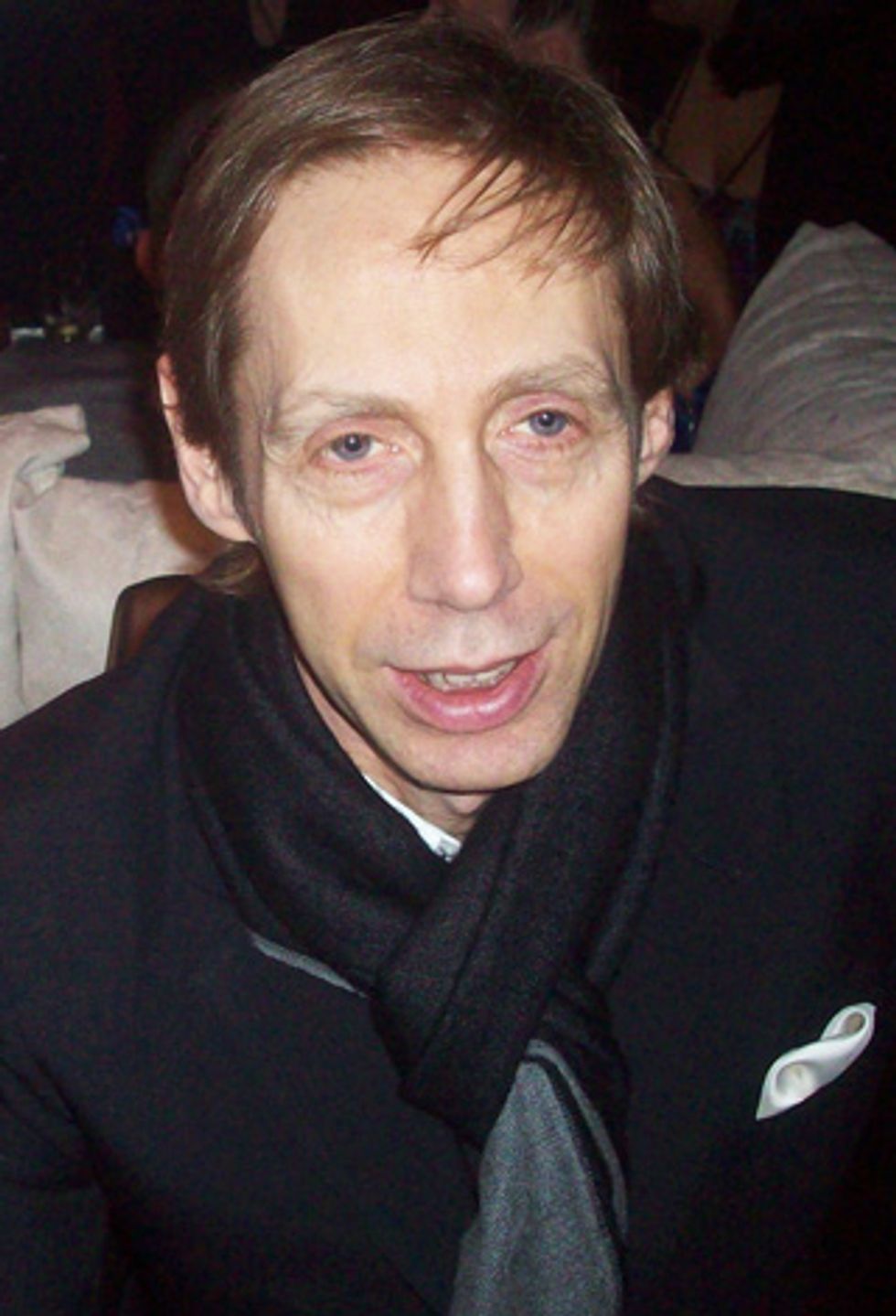 Iconic and innovative photographer
Nick Knight
created
SHOWstudio.com
, the award-winning fashion website in 2000 with the goal to push the boundaries of the online fashion community, using the latest technology to broadcast runway shows  and photo shoots live. This season in New York, he is working with downtown cool-boy
Alexander Wang
and always avant-garde
Rodarte
and streaming their shows as they happen. We sat down with him at Mercedes-Bens Star Lounge to discuss his site, Lady Gaga and upcoming projects. 
Why broadcast the shows live online?
A lot of people want  to see the shows. Traditionally, the shows have been attended by journalists and buyers, which is fine, but there is a huge amount of people out there who are fascinated and almost desperate to see them. Sometimes, the designer want the clothes to be seen by the people who really want to see them. So, I think that makes that link very directly. 
What kind of production goes into shooting a show live?
It depends on the designer, what they want to articulate. It sort of like doing anything, if you're doing  record cover you listen to the music and go to the artist and create a vision. It's the same with this: you talk to the different designers and see what the are trying to articulate this season and put forth a vision.
CLICK HERE FOR PAPERMAG'S COMPLETE DOWN-LOW FASHION WEEK FALL 2010 COVERAGE. >>
Do you approach the designers or do they come to you?
Again, it's a bit like the record companies or the recording artists, you kind of gravitate around the people you really like, the people doing really exciting things. For Alexander Wang and Rodarte, they're two of the most exciting designer houses working this season. So, you naturally gravitate towards the people who you would like to see their clothes and their shows. It's a bit mutual.  
You recently did 100 portraits in 20 days for iD Magazine for their 30th anniversary. How was that?
Physically exhausting. We started saying that we were going to do five portraits a day, so we did five one the first day and we thought it felt too easy. So we pushed it to 10, it felt reasonable, but then we sort of let things happen and we were looking at 20 a day! 
Did you have a schedule? Did you know who was coming in every day?
I wanted it to be like if you were going to a great party where you get a chance to spend an hour with every person you really want to speak to. That's how we approach it. So we found all the people we wanted to photographed, who are doing interesting things. Invite them in and spend a really enjoyable hour photographing. It was a bit like a 20-day party, but it's the best of ways. But yes, it was physically demanding to be focused, perceptive. You want to reveal each person a little differently. 
Aside from the shows, what exciting projects can we expect from you?
We are working with
Lady Gaga
. I co-directed a series of films that are being show on her Monster Ball tour, and we're currently re-working them for the next let of her shows and making new ones. So a lot of work with Lady Gaga to look out for.