As the founder of Soho House, Nick Jones has transformed how we think of private members' clubs, doing away with the idea of a stodgy oak-paneled place where men in three-piece suits gather to smoke cigars and trade business tips and dreaming up a community space where dynamic young creatives can gather to eat, drink, work, watch films and live performances, collaborate on projects and have a raucous good time instead. 2016 is proving to be an especially busy year for Jones, who recently opened Ludlow House on New York City's Lower East Side and is gearing up to launch properties in Malibu, Barcelona, downtown LA, Amsterdam, London and more.
What is the vibe you looked to create with Ludlow House, and in what ways is it meant to be different from the vibe in Meatpacking?
Well, there's a different building, it's a very different area, and, you know, we don't just want to put the Meatpacking District in Ludlow. We want it to be a club for people who live within the area. So as far as just design is concerned, we've gone with the building, which is a beautiful building … we've put a lot of vintage in here, and we want to make it feel a bit younger and a bit more relevant for the area.
Unlike the other houses, there are no hotel rooms. Was that another intentional design element to increase the sense that it's a community space for locals as opposed to visitors?
Yes, the building wasn't designed to have hotel rooms since it only has windows in the front and the back. In a typical hotel room, you need windows in every room, all the way around. And again, it's not big enough to have bedrooms, and we feel, you know, that we need more space for our members. And I think this place provides that.
Can you share more about the additional properties opening in the coming year?
We've got downtown L.A. -- well, it's not downtown, and it's not the arts district. It's the southern industrial district of LA, which is one block away from the arts district. There's a fantastic warehouse there, which we're converting into a Soho House ... we're 14 months away from there. We have Barcelona opening in September. … It'll be near the old marina. So it's a lovely part [of town], beautiful building. Next year we have Amsterdam opening. ... We have another club in London opening called White City House, where the old BBC used to be based. And also, hopefully by the end of the year, we'll reopen our 40 Greek Street, which is our original location. There's, you know, 3 or 4 houses a year coming on board after that.
Very exciting. It seems like every couple months there's a new house.
It's hard, and it's relentless, but, you know, we still connect ... we sit down and talk to all the managers, all of the staff…
It's a real testament to the brand's ethos and commitment to participation. Was there one moment or one person that you ultimately credit with leading you to where you are today?
I can't pick one moment ... I feel like there's been lots of moments. And I don't look back and think, you know, that I've been a big success. I mean -- there's no reason why this place [Ludlow House] should work, or not work. Hopefully we'll know in about a month's time. And then people might walk in and go, "You know, it's a bit rubbish."
You don't take anything for granted.
No, never! We're opening in Malibu at the end of the month as well, a little beach house in Malibu and they're going to judge us very, very quickly when we get there: if the food is good, if the service is good, have we [gotten] the design right, have we ruined the building. So every new place that we open, we can be tripped up. You should never rely on [the fact that] just because you worked it out before, you can do it again. Which I think is good, because it keeps you match-fit, it keeps you alert, and it keeps you, not complacent. But for years, lots of people have inspired me ... the biggest people who inspire me are the people who work for me and the customers and the members who come to us, and seeing the reaction that our members have when they're having a good time in the clubs, and the people who they meet in the clubs, and what we create in our clubs, and the people who come to our clubs. That drives me. And the other thing that drives me is that I can't do this on my own, I have to do it with a big team of people, and it's watching those people and how they develop within the Soho House family. A lot of people have been around since day 1, and there are reasons why they're still there, and there are reasons why they haven't taken opportunities elsewhere, so that's very inspiring.
Have you had any mentors?
I've had people who are in the restaurant business who I have looked at, like Terence Conran in London, because when I went into catering, or hospitality, it was a very undesirable business. It was really for people who couldn't do anything else. And in a way, I was sort of one of those people, but also I could see the opportunity -- one thing people are always going to do is eat and drink and sleep. And I just thought, certainly in London, or in England, there [were] a lot of ways that it could get a lot better. But it's good to see how people have come into it now. Lots of young people come into it and feel proud … and people are obsessed about food. Whereas 35 years ago, I liked food, but I wasn't a food nut. Now I'm always thinking food.
What do you consider your greatest accomplishment?
My family and children. They are everything to me, the way they're everything to every parent. But you know, I view workers as family as well; a lot of people who work here, I've known them longer than my children. So I think having a good relationship and a good balance between work and home life [is important] but it's [like walking] a tightrope to get the balance. But I've been really close with my family, and I still loving going to work. That's a good achievement.
What would you say are some of the biggest things that motivate you to succeed or achieve certain goals?
Money has never been [a big motivator] ... I mean, I want lots of money -- that goes without saying -- but just to be comfortable so that I can live where I want and do what I like. But you know, I'm not obsessed by that side of it. I've been able to do something internationally. Lots of people could open a restaurant in London, but they haven't done it in New York, and they haven't done it in Chicago, and they haven't done it in, you know, all of these other places. … I think [creating a] global [brand] is something we feel special about.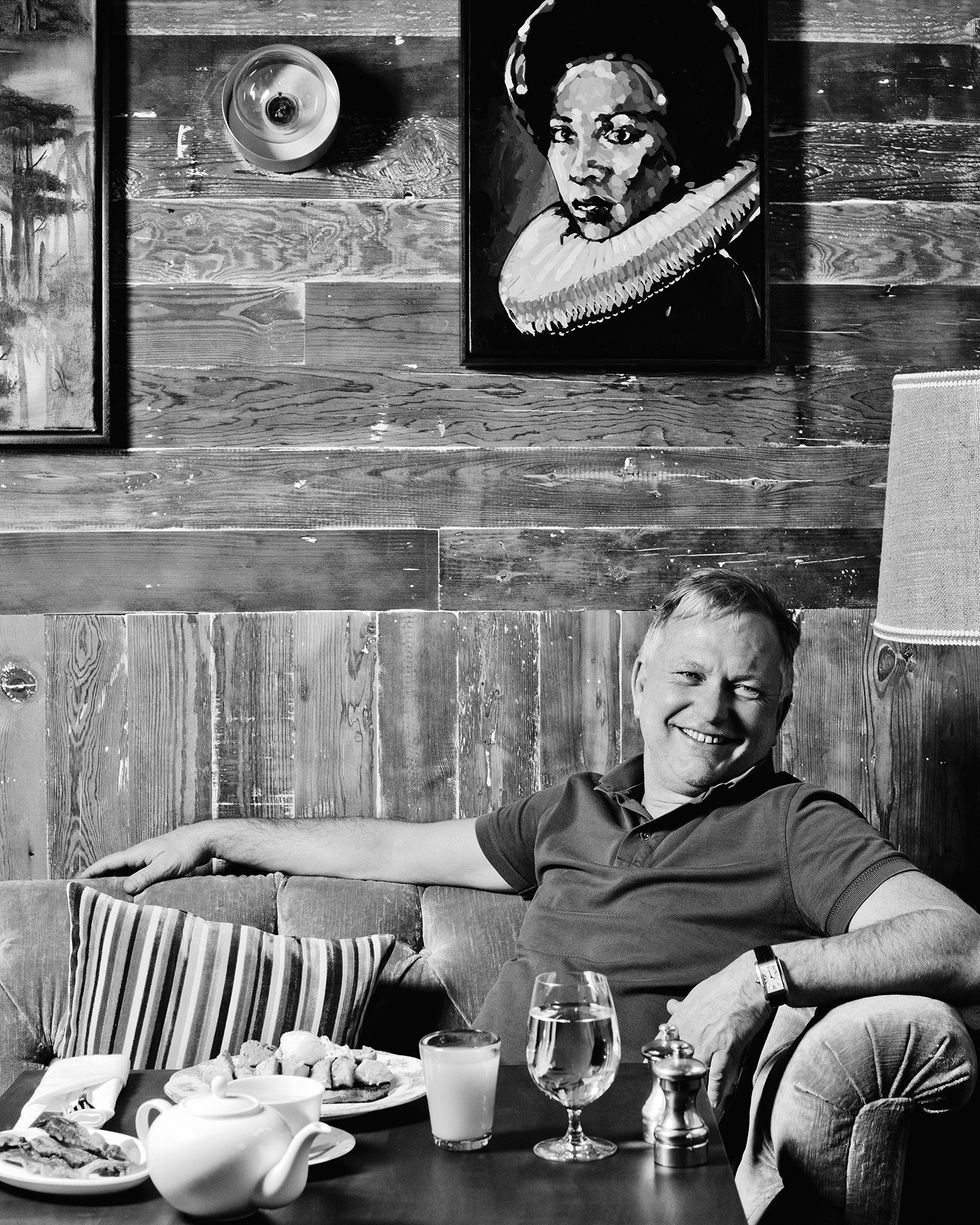 Nick Jones at Ludlow House
What do you do to relax or to clear your head?
I went boxing this morning! I know some bloke with one eye ... he lost his eye in boxing [laughs]. I think I nearly took his other one out. It was good. I find it quite easy to relax. I could lie down on the floor and fall asleep.
What has been your biggest career obstacle?
Well, I don't see things as obstacles, I see things as temporary obstructions, and if you're determined enough, you can always get 'round them, get over them, burrow your way through them.
What is your morning routine like?
If I'm at home, my alarm goes off at 5:30 am. I'm in the gym before 6, and I have a trainer for an hour. I love food and I love drink, so I have to balance ... but I don't want to be a "skinny fit guy" -- you know, these guys who get to a certain age, and they lose a lot of weight, then suddenly look 20 years older? Then, you know, a light breakfast, and I like starting work early.
What time do you usually start working?
7:30 am. This morning I woke up early, I was on the phone to London for an hour and a half, then went for my boxing class, then went for a little bit of breakfast and started the day.
Are you neat and organized?
Yeah, I'm pretty organized. I'm not over-the-top organized -- I could go into the house at home and take my shoes off and throw my coat on something, and that wouldn't bother me. But I don't want a mess, and I'm certainly very clean. Cleanliness is more important than tidiness.
What did you want to be growing up?
Always this, that's the strange thing. My family had an insurance business. It was the dullest business in the world…
Did your family want you to go in and take it over?
Yeah! Well, not take it over, but work there. And even now, having to deal with the insurance here is the most boring day of the year.
So that wouldn't have been good for you.
No, it would have been bad.
So you always knew that you wanted to go into hospitality?
Yes. I always liked the idea of people having a good time.
What were you like as a kid?

Shy. My dad said, "He didn't open his mouth until he was 18, and he hasn't closed it since." I was observing. And I am quite shy ... you wouldn't think I was shy, no one would think I'm shy, but there is a bit of shyness there.
What was your first paid job?
It was working in a restaurant at 16. A French restaurant. I was in the kitchen doing lemon meringue pies.
What are you listening to, reading or watching?
Well, I'm not a great reader because I'm very dyslexic, so reading doesn't really come to me, but I do read. I love an autobiography. I'm always interested in other people and other peoples' lives. I listen to music, but I don't have a big music collection. I like quite cheesy music, to be honest. You know, that's not a cool thing to say. '80s and '90s stuff. But I would love to listen to David Bowie, because he was very connected to Soho House. He was a big member ... he was an investor.
Are you watching any TV or movies?
I love a Netflix series. I came late to Breaking Bad -- I don't know why -- and I think that's the best thing on TV. I watch House of Cards because I love American politics.
Really?
I love it. I'm obsessed.
Do you have any regrets in life?
I'm sure. In the morning, [there might be an] "oops."
But nothing that stays with you…
No.
You don't seem like a person who would really regret too much.
I like to be very positive, I always look at the glass half full. I've learned more and more if I do things wrong, it's much better to apologize. Just because you're the guy running the company, you still make as many mistakes as the next guy.
Do you think it requires a certain degree of optimism to be successful?
Well, I think if you're entrepreneurial, you can't do it unless you're like that, because you've always got to see the positive. Because if there's eight reasons not to do something and two reasons to do it, you have to have the belief to do it, you have to be optimistic.
What would you say you learned from your biggest failure, and what was it?
Well my biggest failure would have been Over the Top Restaurants, and my first restaurants. We're still the same company now, and it was obvious why it failed, and it's because it wasn't good enough. And I think if anything we do isn't good enough, it won't work. The customer is very clever.
Was there anything in particular from that experience that taught you how to make something that isn't good enough better?
Just do it the opposite! Maybe some decent food, nicer decorations, better service [laughs]. You know, I don't think anything's ever too complicated. People love making things complicated, like your relationships, your friendships, or work decisions. And I think one of the advantages of being dyslexic is that you really do simplify things, because that's how your brain works. You don't overcomplicate things. You have to simplify. And when you simplify something, it's quite easy to see what's right or wrong.

You May Also Like
Fashion
Story by Mario Abad / Photography by Oscar Ouk / Styling by Jimi Urquiaga
Paper People 2020
Creative direction by Agusta Yr / Styling by Erika Golcher