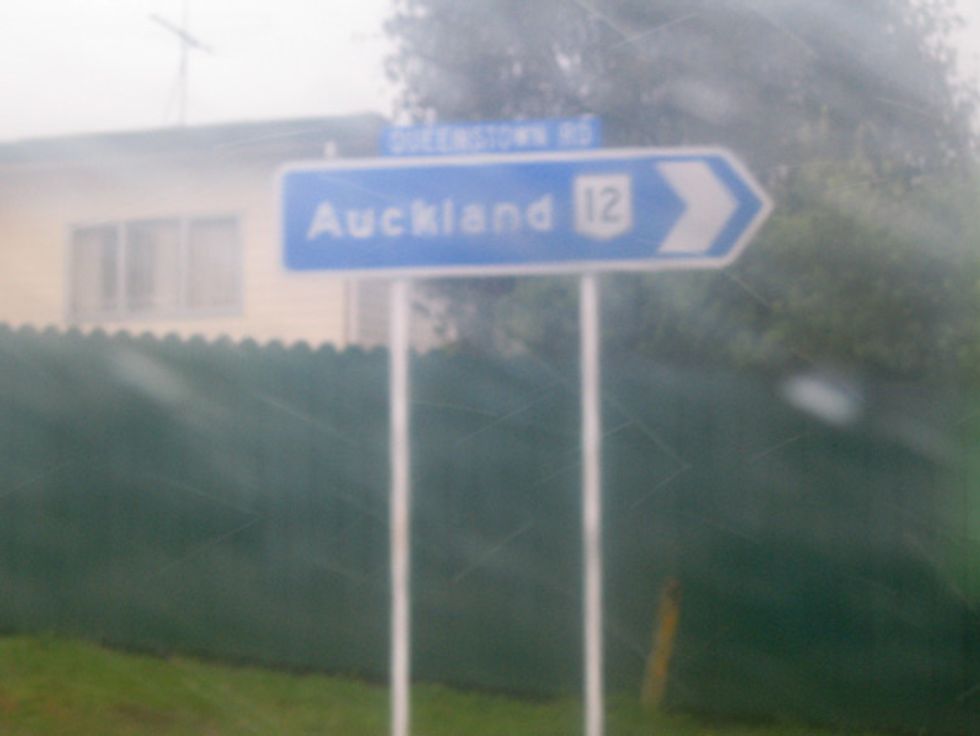 Before you could say, "Thank God, it's over!" I hopped on a jet plane and flew halfway across the world less than 48 hours after New York Fashion Week ended to attend New Zealand Fashion Week. In a New York minute, we were switching gears from the "Down-Low New York Fashion" to "Down-Under New Zealand Fashion." So stay tuned for my updates from the Kiwi-land.
Day 1, Monday, Sept 17, 3:42 a.m.
So where do I begin… I keep passing out and waking up (note the time above) in a state of delirium and anxiety like I'm late for something -- which was actually the case yesterday. But first, let me rewind. I flew for almost 20 hours straight… first stopping in L.A. (United is horrible. You have to pay for your own pretzels while listening to the cling-clang of silverware against china in first class. I watched the biggest Hollywood douchebag of a movie Oceans 13 on a monitor 50 feet away). But my plebian status changed swiftly once I checked in for Air New Zealand, the title sponsor for New Zealand Fashion Week -- and therefore me. I said buh-buy to the gate stalkers, hot-spot hoggers and benchwarmers and walked straight up to my ANZ VIP Lounge. I would be treated and referred to as such throughout my remaining days in NZ -- more on this later. Once I got to the VIP Lounge (where I belong) I couldn't wait to change into my classy business class gear which consisted of camel-toe-inducing American Apparel grey sweatpants, a modal throw-on from the GAP and glasses -- hate wearing contacts while flying! Not to brag, but business class is so fun –- they serve you champagne as soon as you're seated! I never wanted to leave. I should've indulged in more cocktails, apéritifs and whatnot but I'd already drunk three glasses of champers in the "Lounge," in my business class get-up, to "decompress" while perusing through Viva which is a fashion supplement of the New Zealand Herald to "research" NZ's fashion journalistic sensibility. One of the three cover lines was "Strike a Pose: Agyness Deyn Is this Year's Most Wanted Model." I'm feeling the Aggy-fatigue -- couldn't finish the article.
So I was well on my way to snoozevilles. But, alas, just my luck, my "bed" refused to work due to some electrical funk. Fabulous. Still, 12 hours zipped by with hardly any turbulence. Even at the tiniest bit of a tremble the captain would make a polite and preemptively cautious announcement and order the flight attendants to suspend any food service. What a contrast from my earlier United Air flight! That plane swooshed around like the cyclone and nobody even batted an eye except the grandma next to me who muttered to her husband, "Why is the plane shaking so much?" I watched Mr. Brooks -- stupid movie but Demi Moore is good –- and half of Waitress with the actress who was murdered.
Upon arrival my maitre'd or equivalent of that in avian terminology offered me $90 NZ dollars in a voucher as an apology for the malfunction of my bed. Not to sound like a total beeotch but $90 is not that much especially in NZ dollars. The NZ dollar is about $.75 the U.S. dollar. And you can only buy Air New Zealand products with the voucher. What would I get, a plastic toy plane? Before she had offered me if I'd rather switch over to three straight economy seats to spread myself out. I mean that's nuts!
Now I'm safe, cozy and jet-legged in my room at the Hilton Auckland which sits prettily on the water. I have an amazing view of Princes Wharf. When I landed around 5:25 a.m. a light drizzle had turned into a full-on downpour. My driver was a half hour late, which sort of sucked, but he was nice and told me that he's a Maoriki (half Maori and half Kiwi) a local slang for someone who's born and raised in NZ and never left like the Kiwi bird. After checking in I took a shower (they have Crabtree & Evelyn products here), bathed and passed out until 5:30 p.m. when my "host" knocked on my door. There was a Fashion Week kickoff party at 6 o'clock which I almost slept right through. I thought I'd just take a quickie disco nap, walk around the hood, maybe hit the gym and get ready for the party. But instead now I had 15 minutes to sort my shit out.
I put on my trusty Viktor & Rolf black dress, patent black Ferragamos with bow, black Lia Sophia bracelet, made up my face, put my hair up (no time to be fussy) and went down to join my host Kitty and the rest of the FW gang. My outfit could've been better but given the time crush I think I did OK. I was introduced to another Asian Carol from American (I think) Elle. The FW tents were just a five-minute walk from the Hilton so we all bounced on foot except the other Asian Carol -- she and her host drove in an Audi, another NZFW sponsor.
Kitty my host/minder is a very delightful, very charming just-got-engaged textile designer from Wellington, the capital city of NZ, and introduced me to everyone as a VIP from New York without a hint of irony (kinda loved it!). At the party I ran into Nicole Bargwanna whom I had already met at the Auckland airport while waiting for our drivers. They unfortunately lost her luggage (nightmare!) but she was a good sport about it. She's a Tokyo-based (12 years!) Aussie and is a buyer with her own PR company and Fashion Weeks are her bread and butter -- she was coming straight from NYFW and after this she's on to Paris. New Zealanders (a.k.a. Kiwis) are very proud and Fashion Week is a very big deal. So much so that one of keynote speakers was the NZ's Prime Minister Helen Clark. She was very butch and her New-Zealand-accented English sounded like German to me. Kitty told me that she's from the Labour (notice the Kiwi spelling by way of British) party and popular. There were three mini-stages all set up for bands to play like a mini-pallooza. One of the bands was called Man Chicks or something MTF like that. Some guy from Australia complimented me on my bracelet. I had some really hard to eat, half-shucked oysters and (more) champagne in a total haze. It was a chilly night and the crowd thinned out after an hour or so. I met a cute boy who used to be part of Tsubi (the denim company) but now he has his own accessory line so I made an appointment to check it out the next day. We talked about Kelly Cutrone a bit because People's Revolution used to do PR for Tsubi. I turned in early and fell asleep with my makeup and the lights on. I'm such a grandma!
Wow, the sun's rising already -- it's almost 7 a.m. now -- but it looks strangely like the moon. A carpet of fog is obscuring the ocean and I can hear the foghorns bellowing from the wharf. Who am I -- Hemingway?! I love hotels! Oh, btw, I saw a big Korean restaurant on the way to the tents. You can bet your ass that I'll be there today getting my rice and kimchi on. One last thing before I sign off… I hate getting used to a new currency (mainly because I have an unhealthy relationship with money) especially when the currency note is the same as America's, just a different rate. It makes everything seem so expensive! I mean they drive on the right side, elect prime ministers, use the metric system and Crabtree & Evelyn so why not call it pounds instead of dollars? I've been up for five hours already and getting loopy again. My first show's at 11 -- hope I don't fall asleep and miss it!!
Correction: Tsubi is still represented in the U.S. by People's Revolution. The cute boy who used to be in Tsubi is Gareth Moody and he has a menswear line called "Chronicles of Never."
Also, Air New Zealand gave me $120 Kiwi dollars in air plane money not $90 -- I didn't really count!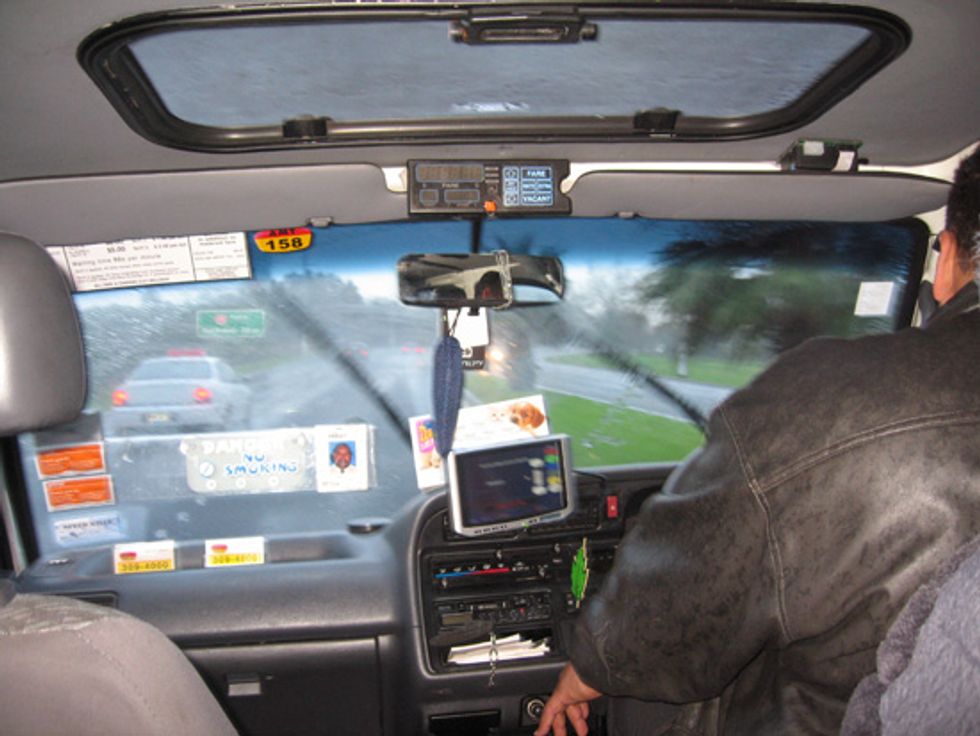 Driving on the right side to the Hilton in the rain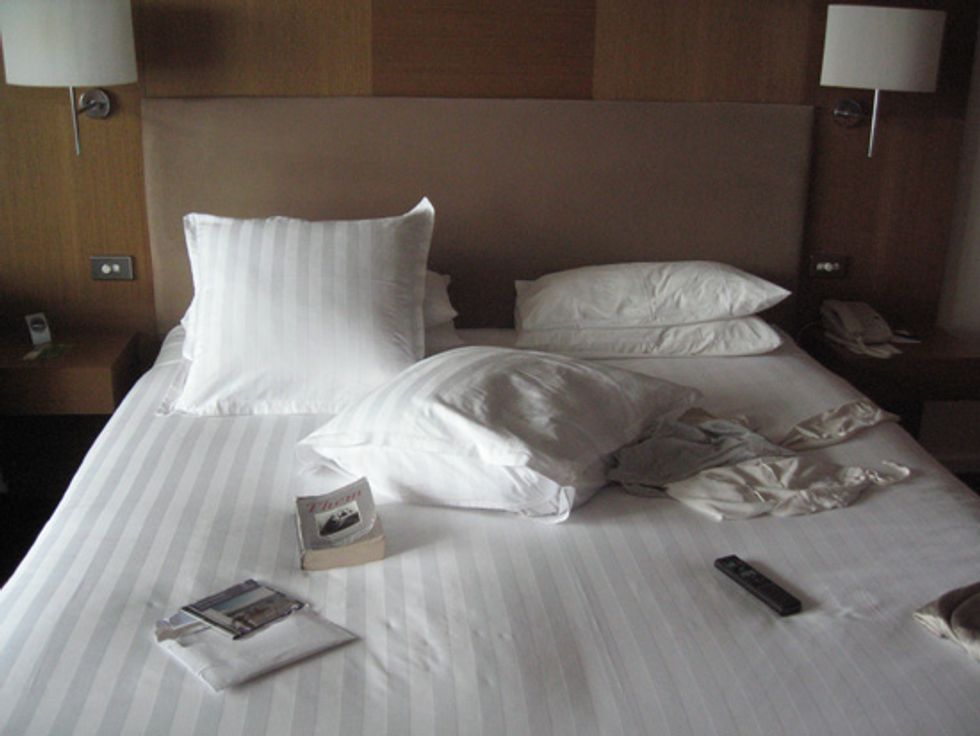 Bed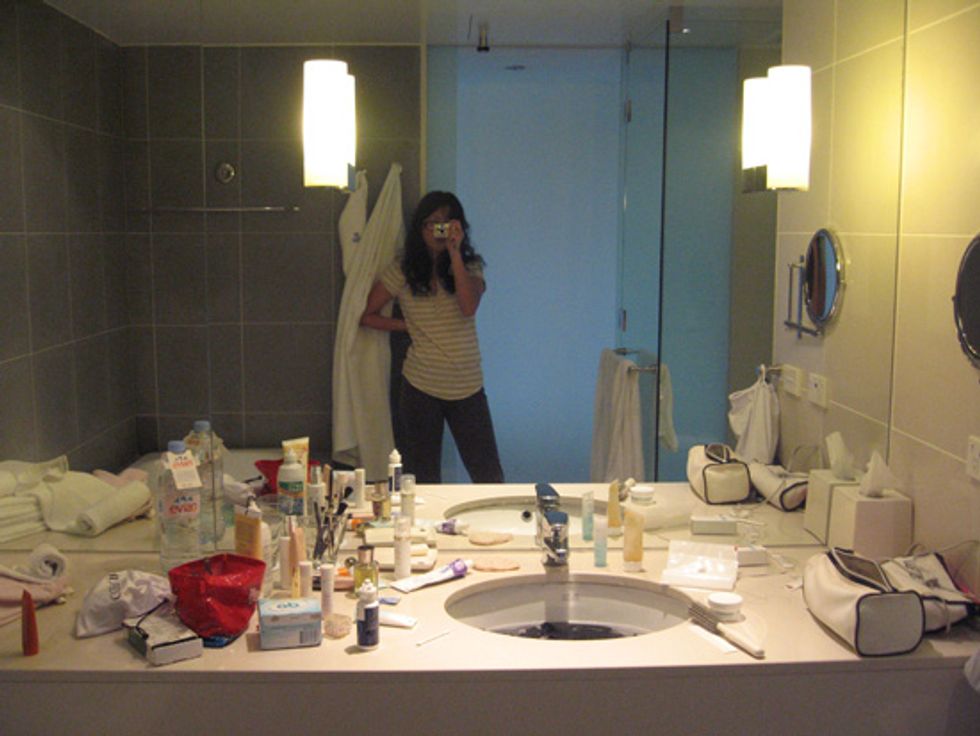 Bathroom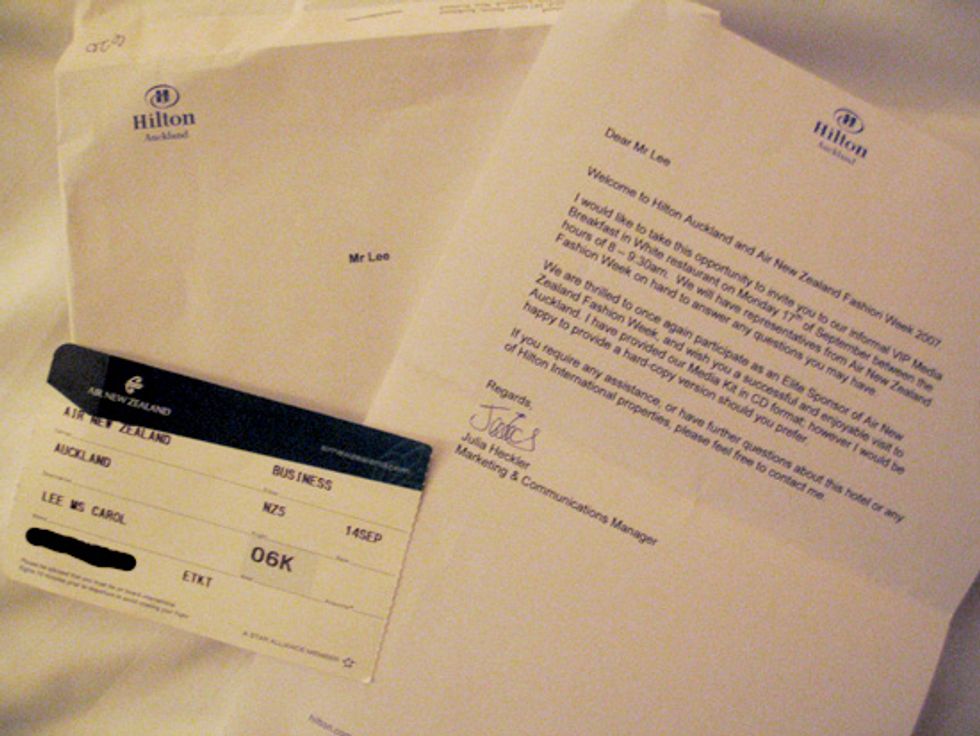 Dear Mr. Lee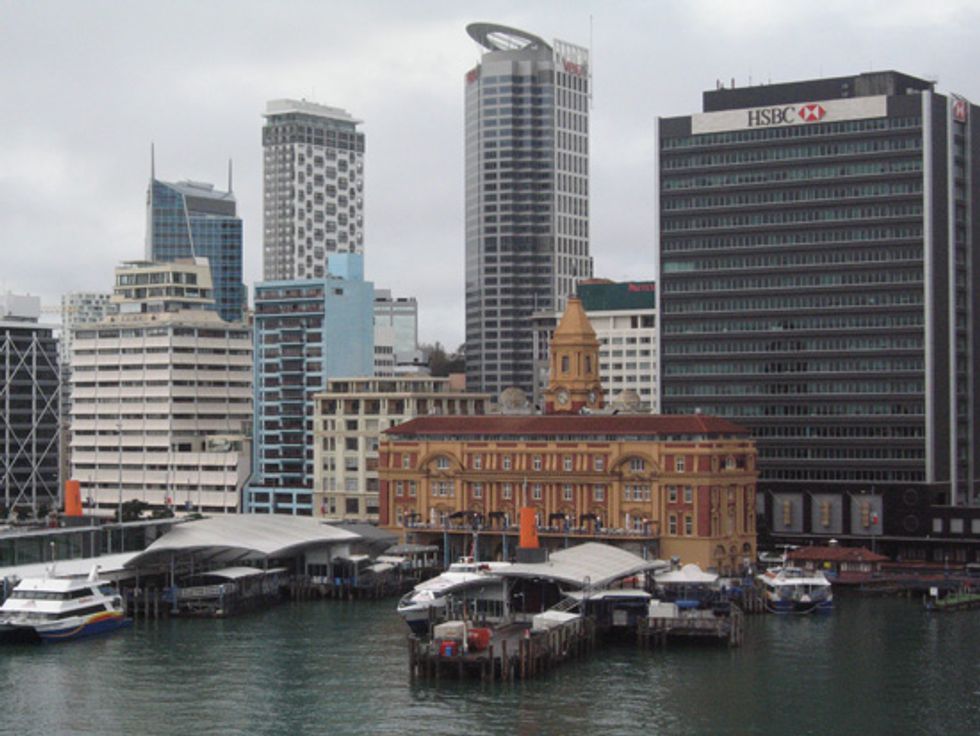 View of Princes Wharf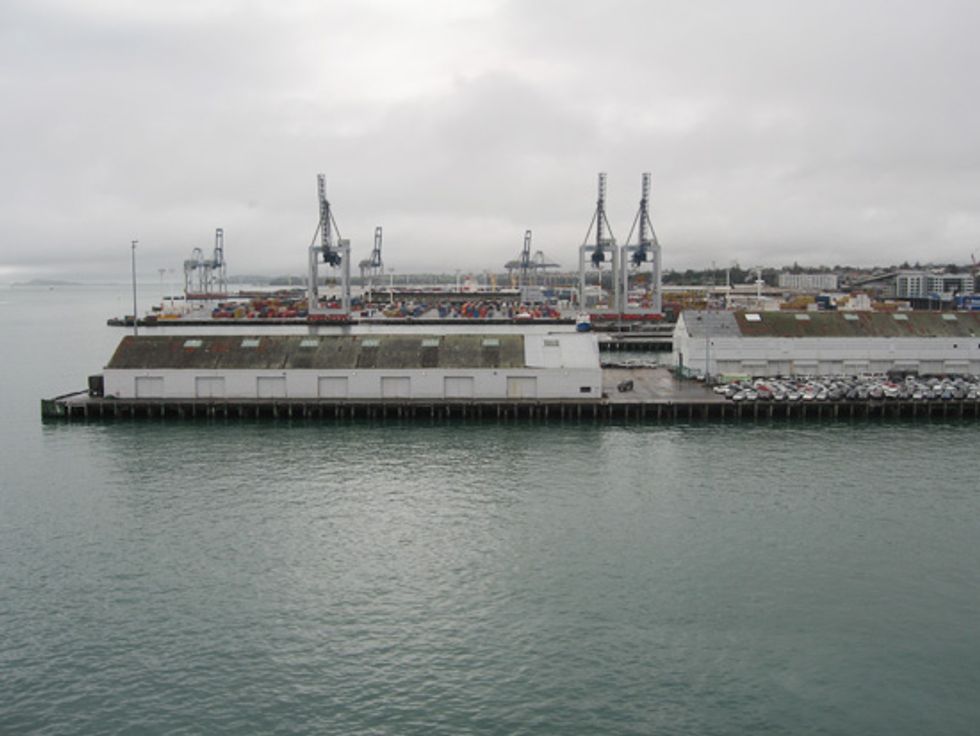 More view from the room: a gigantic loading dock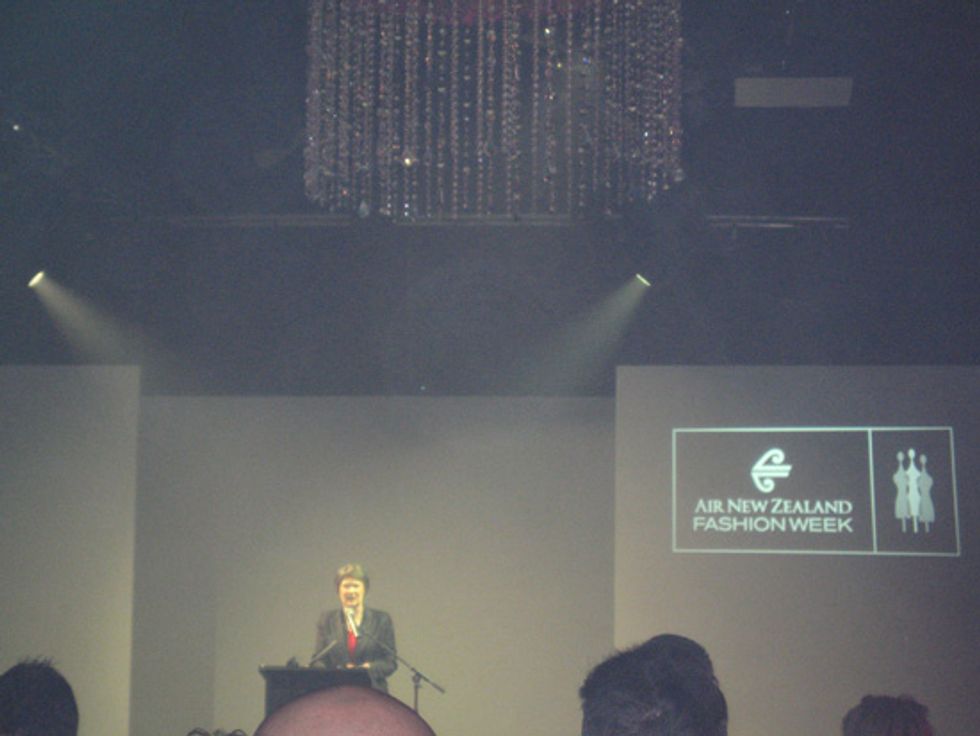 NZ's Prime Minister Helen Clark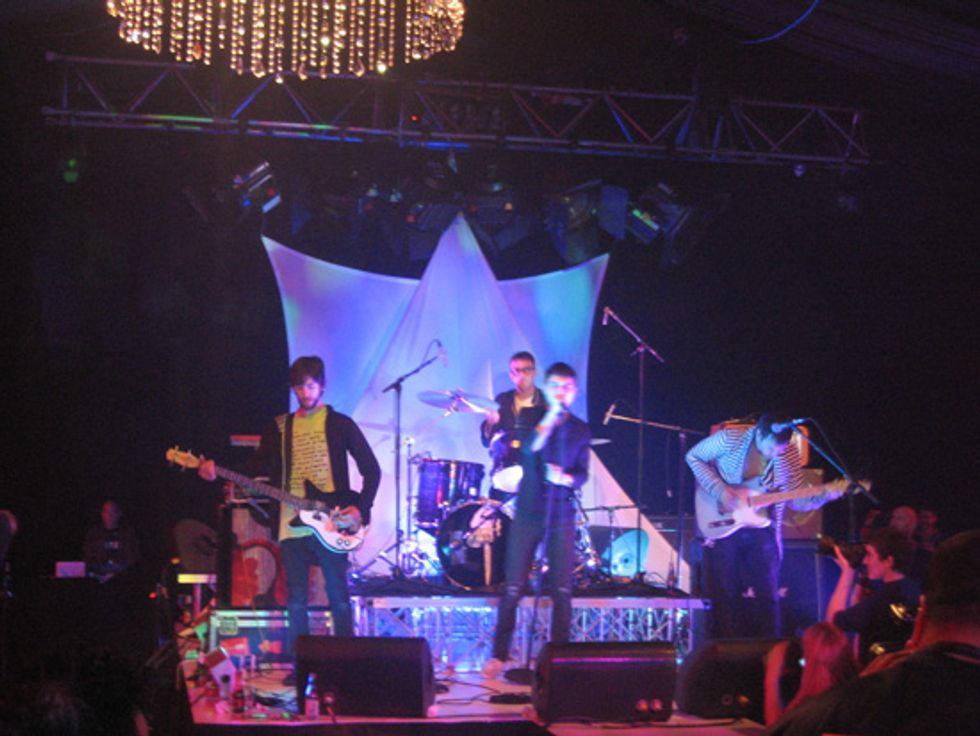 Man Chicks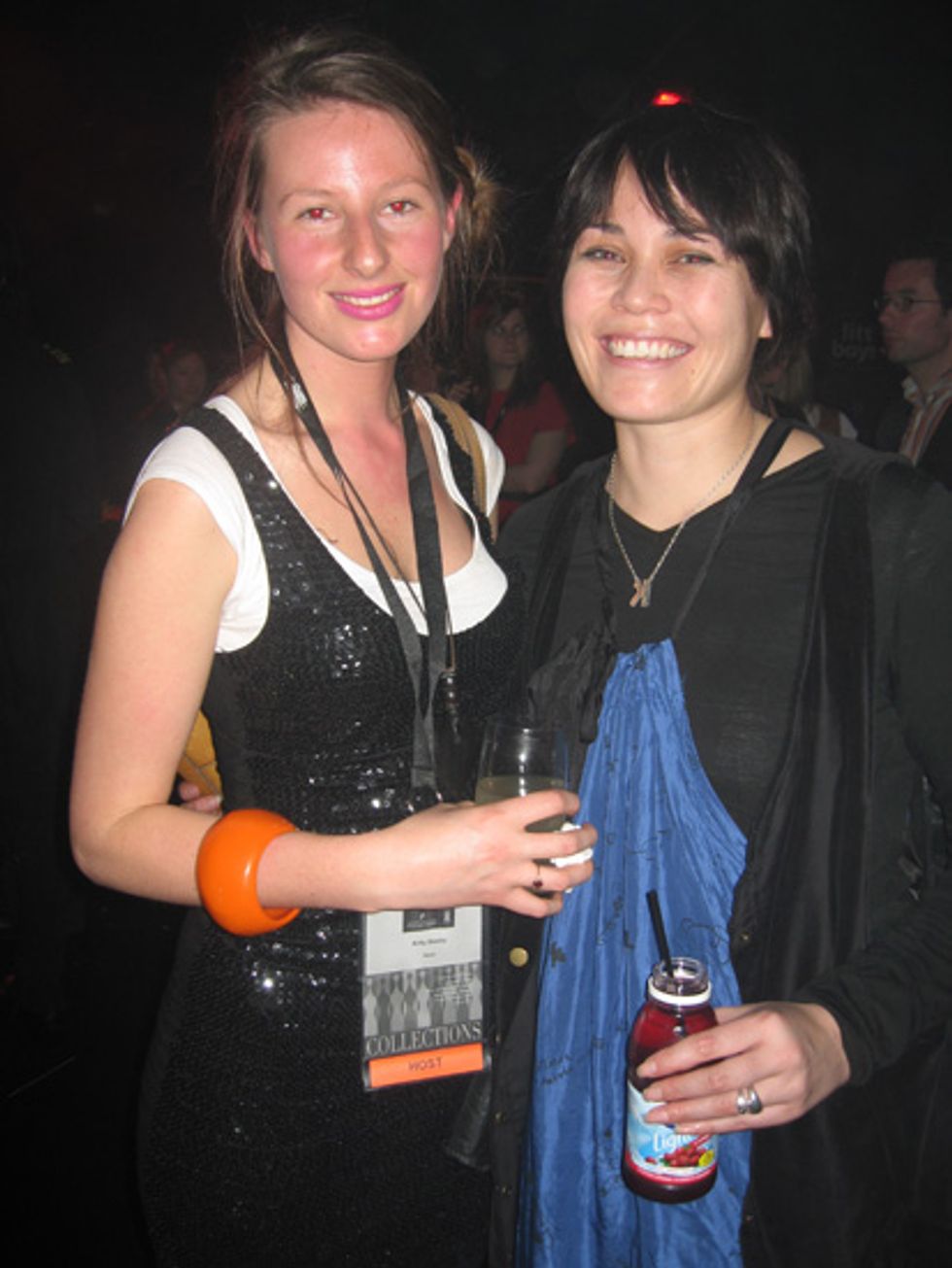 My host Kitty Busby and Salasai designer Kirsha Whitcher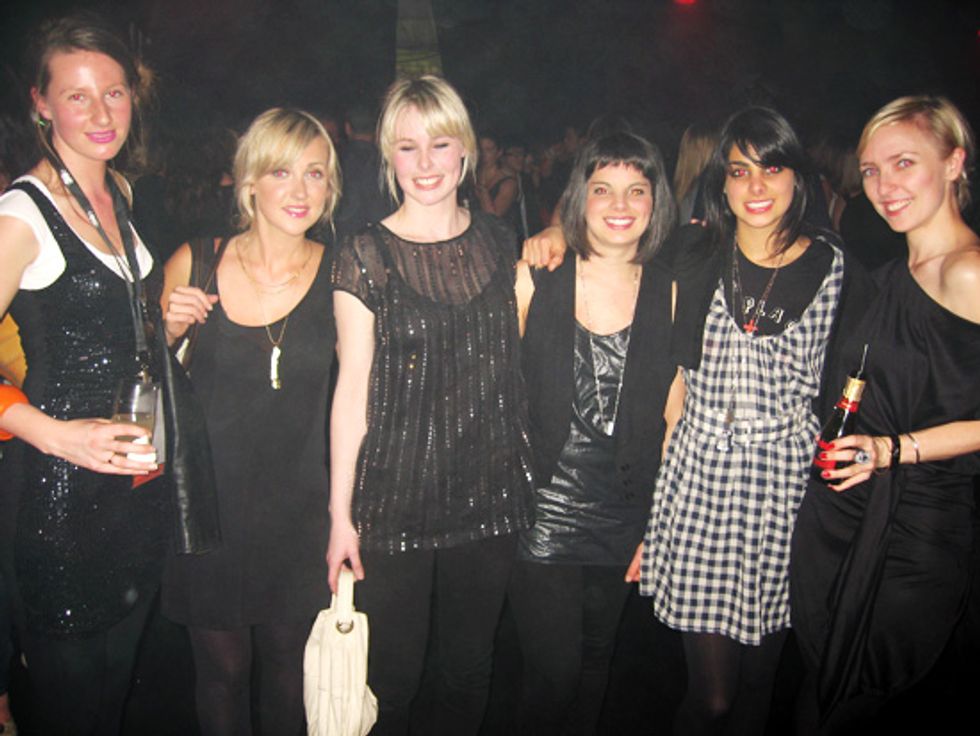 Kitty, Karie Higgins, Love Lies Bleeding's Rachel Easting & Anj Stewart, Prea Stewart & Nicole B.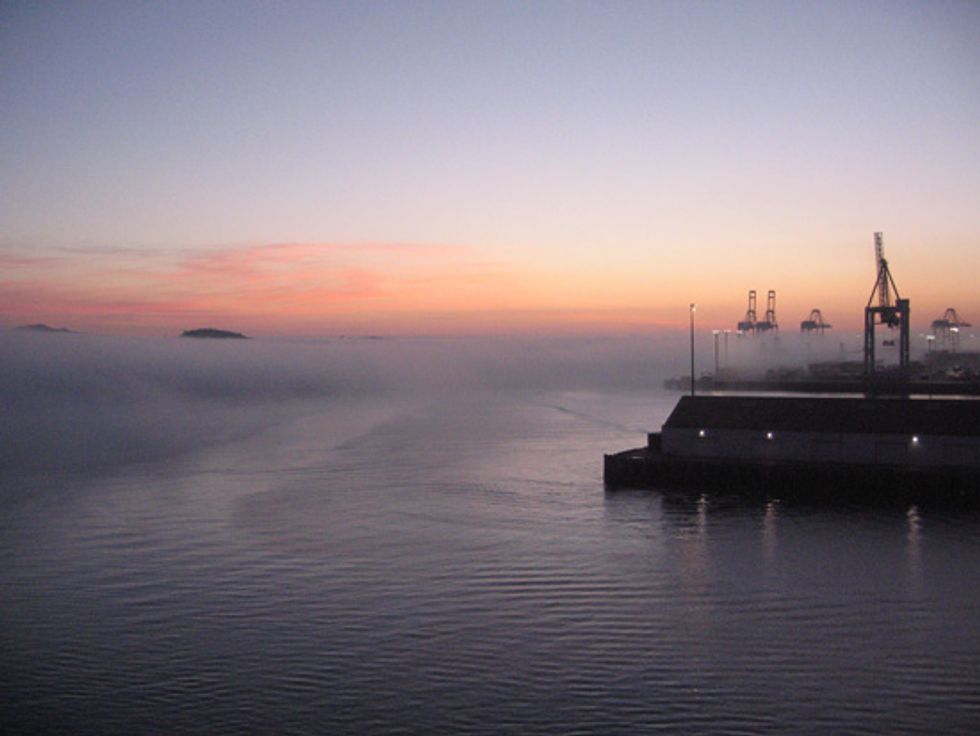 Sunrise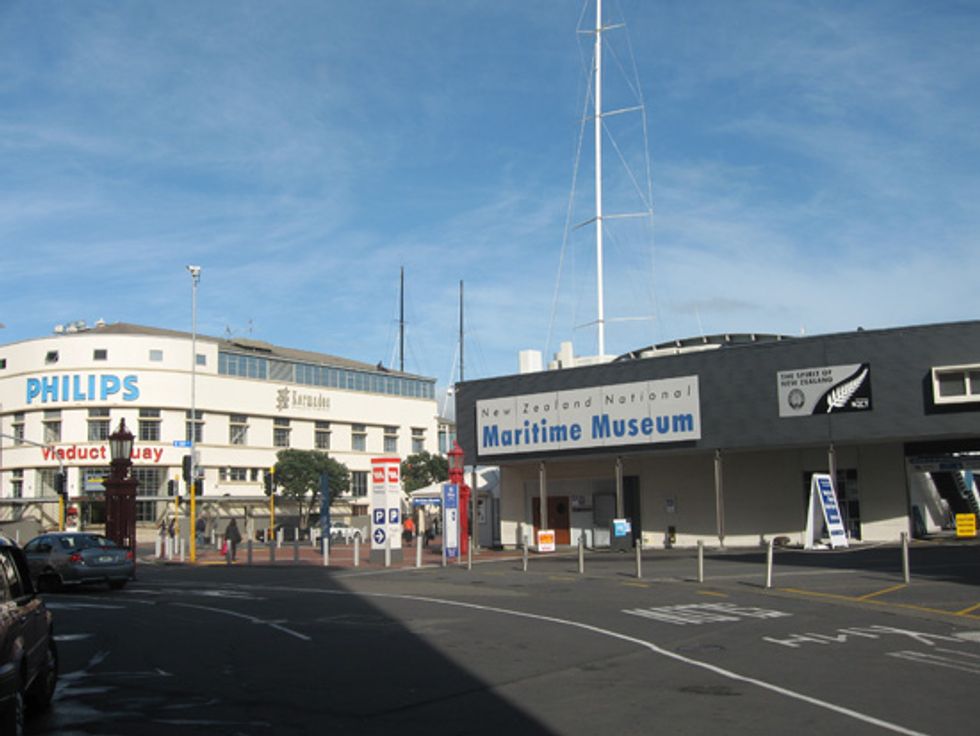 Going for a morning stroll before shows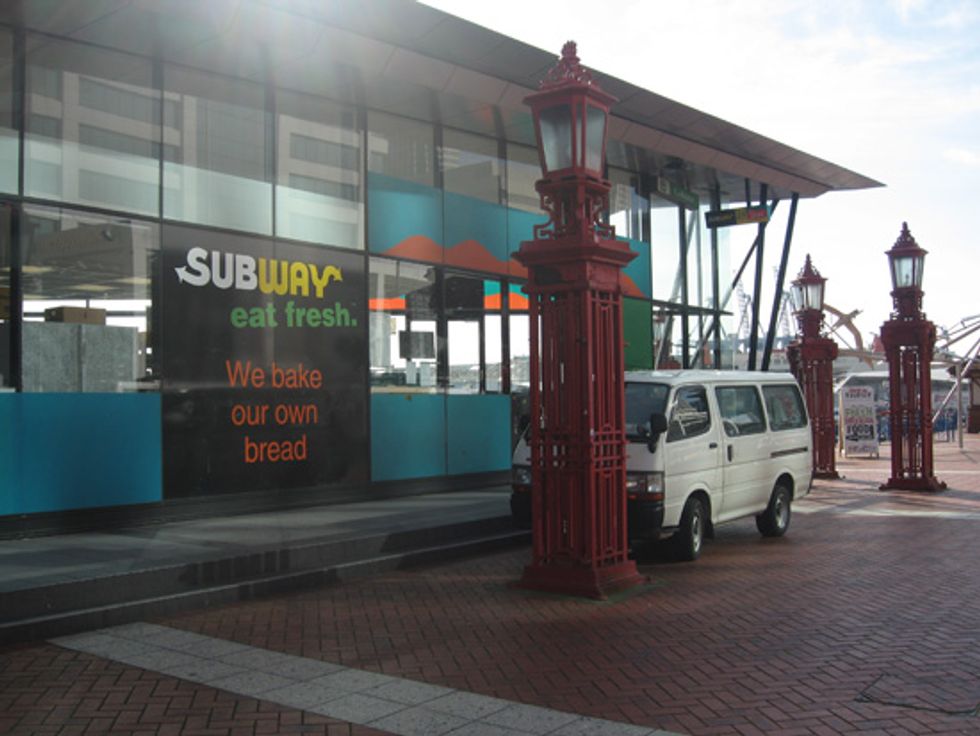 Is NZ the home of Subway or Australia?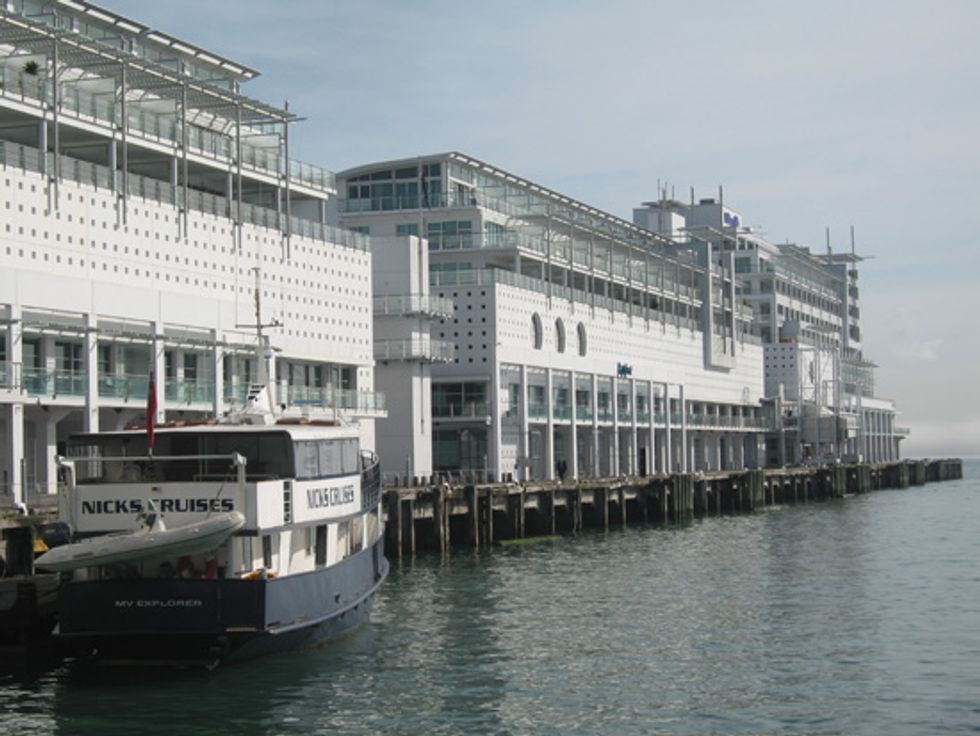 View of the Hilton from the streets