Let the FRIEZE fun begin! The art fair had its big VIP opening last night and now it's time for the rest of us to get in on the action at Randall's Island. This weekend the city will be awash with art openings, special exhibitions and tons of parties and goings on in conjunction with the fair. Here's a complete guide to events and happenings over the next few days, as well as a guide to other art fairs in New York this weekend including PULSE and NADA.
Friday, May 4th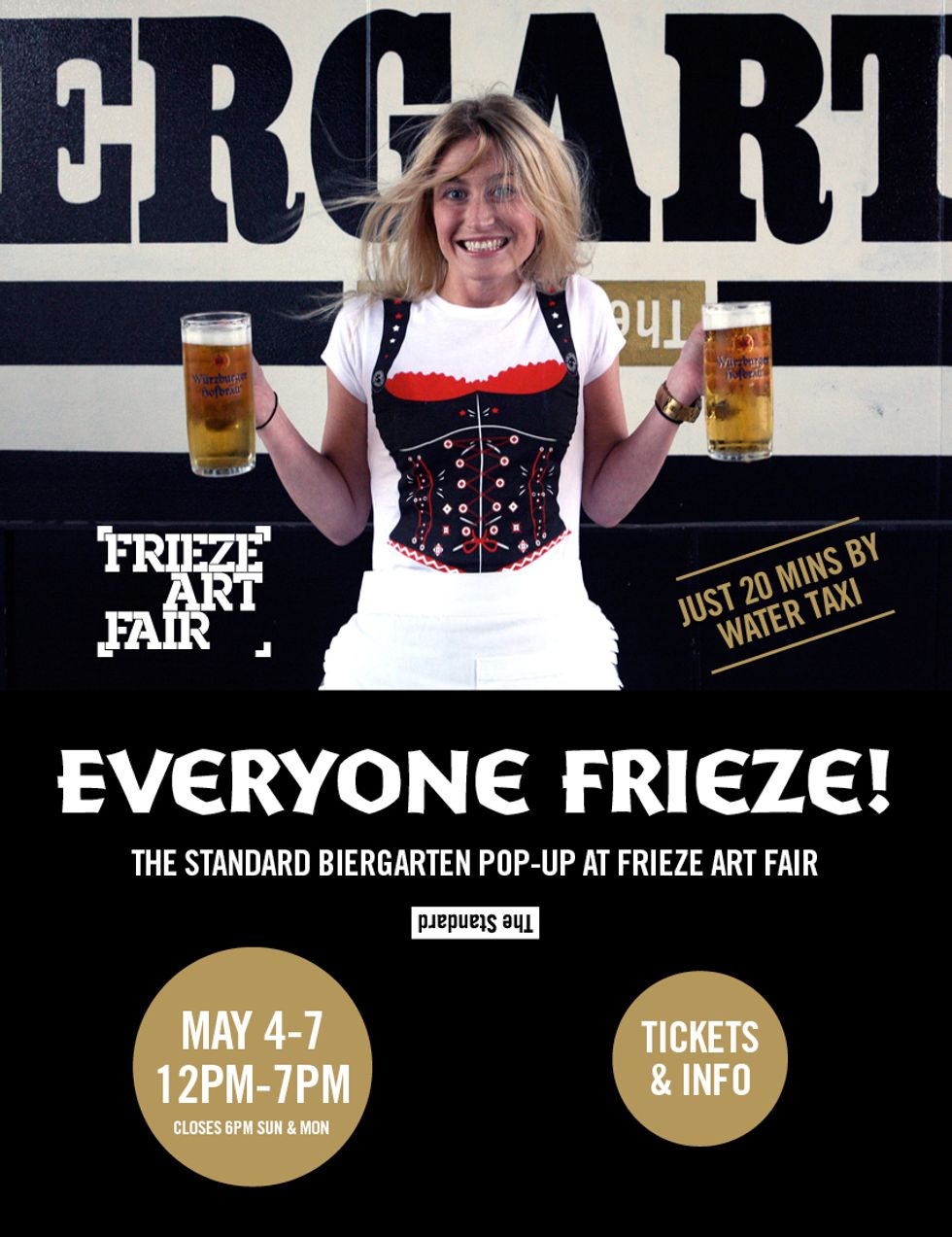 The Standard's pop-up Biergarten opens today on Randall's Island and will be serving up biers and snacks through the 7th. Go
here
for more details.  

Creative Time
's annual benefit and auction starts at 7:30 p.m. tonight at Roseland Ballroom (240 West 53rd Street).
Sheik 'n' Beik
's
Julio Santo Domingo
DJs the afterparty.
Helmut Lang
made the leap from fashion designer to visual artist and
his first New York show of new sculptures
opens today from 6 to 8 p.m. at 24 Washington Square North.  It will stay up until June 15.
The Suzanne Geiss Company
(76 Grand Street) opens
Kristin Baker's "ILLUME-MINE"
tonight from 6 to 8 p.m.
Whitewall Magazine
celebrates their China issue
and the PULSE fair with a big party from 8 to 11 p.m. tonight in the Yard at the SoHo Grand Hotel (310 West Broadway).
Gavin Brown's enterprise
(620 Greenwich Street) opens
"Rock & Rap /c Simulacra"
by
Sturtevant
  tonight from 6 to 8 p.m.
Artist/DJ
Peter Makebish
hosts the opening of his "Golf Sale" at Bowery & Third Street, 7 - 10 p.m.
Mike Weiss Gallery
(520 West 24th Street) launches the inaugural exhibition of paintings by Belgian artist
Jan De Vliegher
, PLUS there's an afterparty starting around 9 p.m. at the Tribeca Grand (2 Sixth Avenue).
The Lower Manhattan Cultural Council
(125 Maiden Lane, 14th floor) opens their workshop studios tonight from 7 to 9 p.m. The space will also be open on May 5 & 6.  All the details are
here
. Admission is free but you should RSVP.
The Israeli non-profit organization,
ARTIS
, is opening a rooftop pop-up shop today from 11 a.m. to 2 p.m. in the same building housing NADA (548 West 22nd Street).  Look for limited-edition works by 20 leading Israeli artists, all at affordable prices.
HERE
are the details.
Saturday, May 5th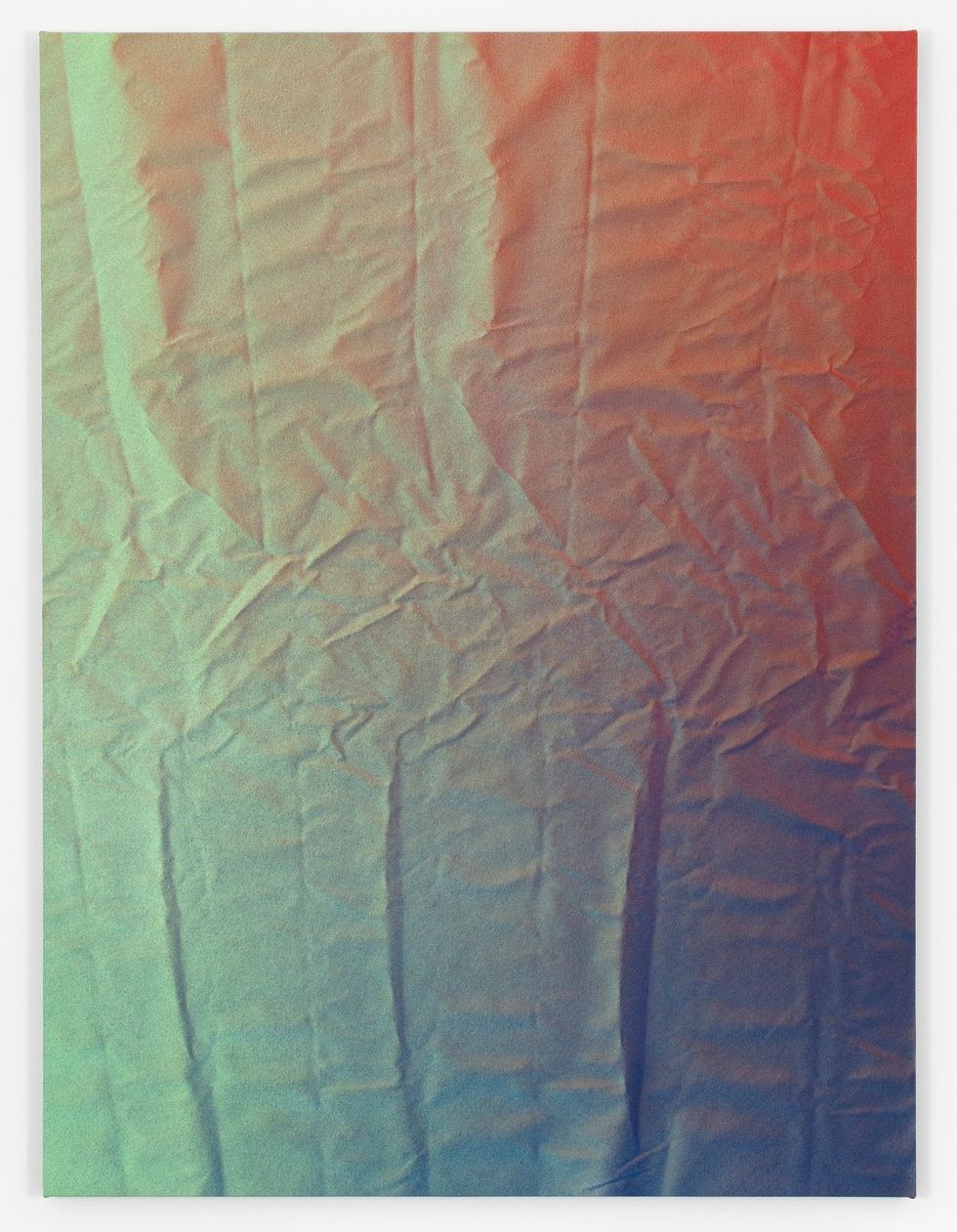 Tauba Auerbach
has a new show
, "Float," opening tonight from 6 to 8 p.m. at
Paula Cooper Gallery
(521 West 21st Street). It's up until June 9. (
Above: Untitled (Fold) 2011 by Tauba Auerbach
)
Shepard Fairey's
new show,
"Harmony & Discord," opens at at Pace Prints Chelsea (521 West 26th Street, 3rd floor). It will be up until June 16
All of the galleries on
West 26th Street
(between 10th and 11th Avenues) in Chelsea get together to host a big block party and open house from 6 p.m. to 9 p.m. this evening.  It's open to the public and there will be food trucks, DJs including
Hannah Bronfman
at 6 p.m. and
Dreamshow
at 8 p.m. PLUS lots of art.
HERE
are the details.

Loris Greaud
opens his first show, "
The Unplayed Notes
," at
Pace Gallery
(534 West 25th Street) from 6 to 8 p.m. with two large-scale installations and a film.

Sunday, May 6th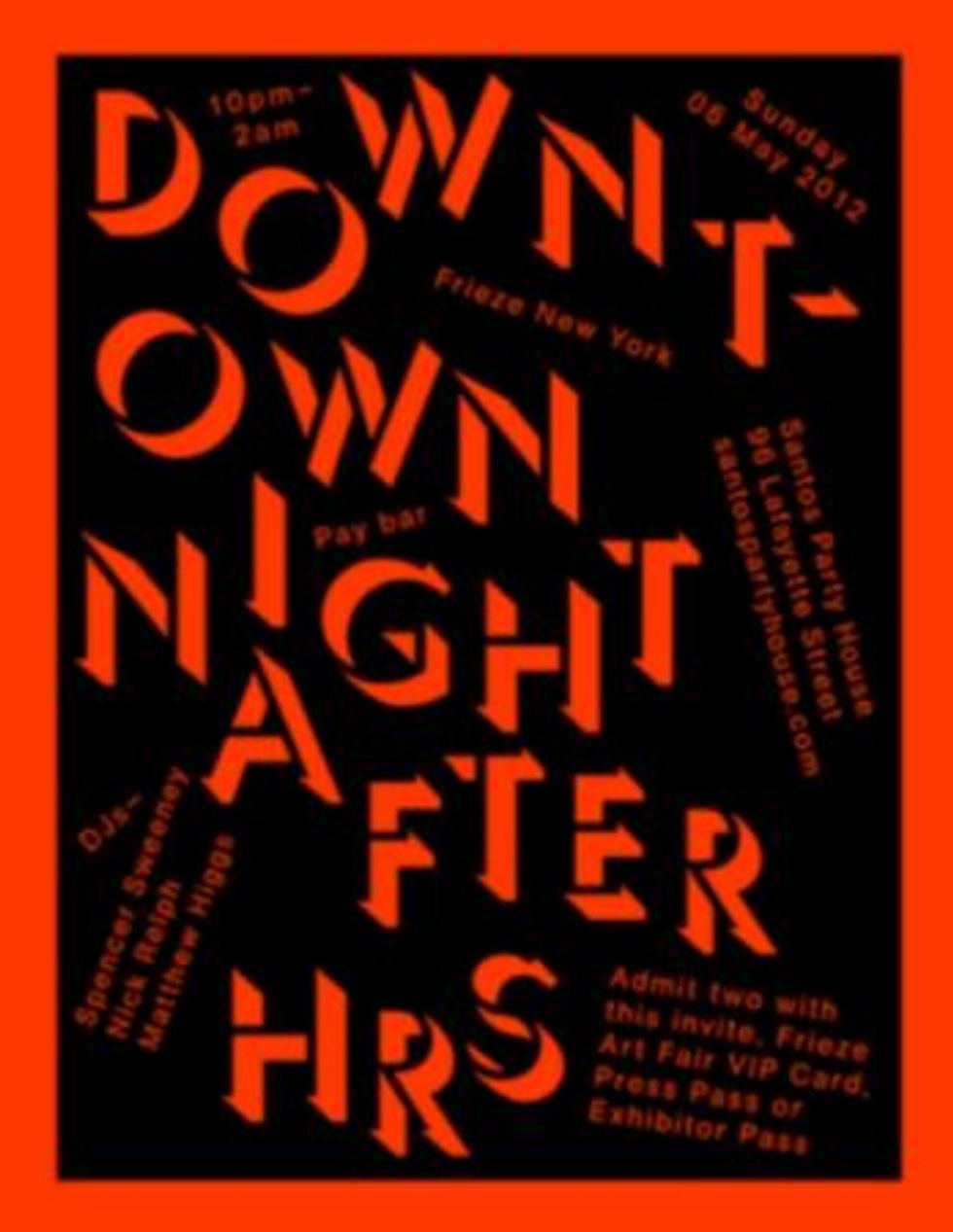 Don't miss Frieze's "Downtown Night" on Sunday when tons of galleries and performance spaces in lower Manhattan will be open late and holding special events to celebrate Frieze. You'll find the complete list below.  (Many of the following events have a limited capacity, so contact the venues for more information)
AND: If you're still awake, head over to Santo's Party House (96 Lafayette Street) for
the "Downtown Night After Hours" party
with DJs Spencer Sweeney, Nick Relph and Mathew Higgs. Admission is FREE with a Frieze VIP card, press pass or exhibitor pass.
DOWNTOWN NIGHT

Keren Cytter's Show Real Drama
Cytter's new theatrical production comes to The Kitchen for a two-evening engagement (40 mins). Seating limited. The show will also take place at 6 p.m. on Saturday May 5th at The Kitchen, 512 West 19th Street. 6 p.m.

Andrei Roiter -- Opening reception with live music
Jack Hanley Gallery, 136 Watts Street, 6-8 p.m.
Launch of Bidoun Book Shelf
Visit Bidoun's new bookshop for tea. They'll also be showing "Middle Eastern video eclectica" selected by Bidoun staff. 47 Orchard Street, 6 p.m.-9 p.m.
Mary Heilmann, Mary Mattingly,T ony Oursler, Hannah Sawtell (The Island), Alaina Stamatis, Lawrence Weiner Open studios and galleries
The Clocktower Gallery/ ARTonAIR.org 108 Leonard Street, 13th Floor. 6 p.m.-9 p.m.
Noam Rappaport
James Fuentes, 55 Delancey Street, 6 p.m.-9 p.m.
Torsten Slama
Kimmerich Gallery, 50 White Street, 6 p.m.-9 p.m.
Pepe & Puntar's Lucid Dream Lounge with special guests Performance by SKOTE
Sheila Pepe and Diana Puntar have built "a field of operation" including light, shadow, drawing and sculpture.
Participant Inc, 253 East Houston Street, 6 p.m.-9 p.m.
Hans Schabus Opening reception
Simon Preston, 301 Broome Street, 6 p.m.-9 p.m.
Virginia Overton Closing reception
Sculptures and installations curated by Matthew Lyons.
The Kitchen, 512 West 19th Street, 6 p.m.-9 p.m.
Gilbert & George
Lehmann Maupin, 201 Chrystie Street, 6 p.m.-9 p.m.
Maria José Arjona Private view
Visual and performance art.
Location One, 26 Greene Street, 6 p.m.-9 p.m.
Jo Nigoghossian
Renwick Gallery, 45 Renwick Street, 6 p.m.-9 p.m.
Capital C Performance
10 cabaret performers "address the relationship between capital and culture through humor, seduction and play." Storefront for Art and Architecture, 97 Kenmare Street, 6 p.m.-9 p.m.
John Armleder Private View
Swiss Institute, Contemporary Art, 18 Wooster Street, 6 p.m.-9 p.m. Catch a tour by curator Gianni Jetzer at 8 p.m.
Quentin Meillassoux Talk and Book Launch
Miguel Abreu Gallery, 36 Orchard Street, 7 p.m.
The So-called "Alternative Space" Talk
A discussion between four panelists who "will critically reflect on what "alternative" remains, in the context of a seemingly pluralized institutional landscape, as well as an accelerated and diversified global market place."
Artists Space: Books & Talks, 55 Walker Street. 7 p.m.
White Columns 2012 Benefit Exhibition Special Preview
Featuring donated works by over 75 artists, the Benefit Auction supports the programs of New York's oldest alternative space. Please visit whitecolumns.org for more information. White Columns, 320 West 13th Street. 7 p.m.
Ryan McGinley Artist Tour

Team Gallery, 47 Wooster Street. 7 p.m.


Shimon Minamikawa Performance and screening, co-hosted with Misako & Rosen.

47 Canal Street, 2nd Floor. 8 p.m.
AND DON'T FORGET ABOUT THE ART FAIRS!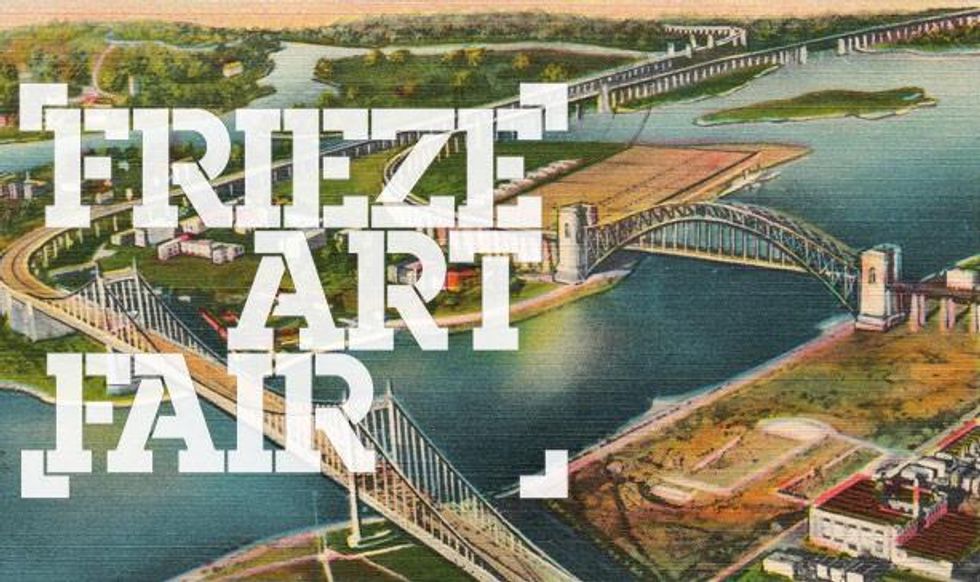 WHAT:
Frieze New YorkWHERE:
Randall's Island
WHEN:
May 4 & 5, noon to 7 p.m.; May 6 & 7, noon to 6 p.m.
HOW MUCH?
Tickets are $40 (various discounts may apply) and they must be purchased 
here
in advance. (The price includes ferry or bus transportation. Ferries depart every 15 minutes from 35th Street East River ferry dock. Buses depart every 10 minutes from the 125th Street 4,5 & 6 subway station.)
DETAILS:
This is the main event (assuming you don't count
Sotheby's auction of Munch's "Scream"
tomorrow). Over 180 worldwide galleries are expected to participate in the first New York edition of the popular London fair, founded by
Amanda Sharp
and
Mathew Slotove
r in 2003.  The tent housing the fair was designed by Brooklyn architects
SO-IL
and look for pop-up restaurants from
Fat Radish
,
Sant Ambroeus
and
Roberta's
. Also, be sure to check out the series of special projects curated by
Cecilia Alemani
including works by
John Ahearn
and
Tim Rollins
and 
KOS
.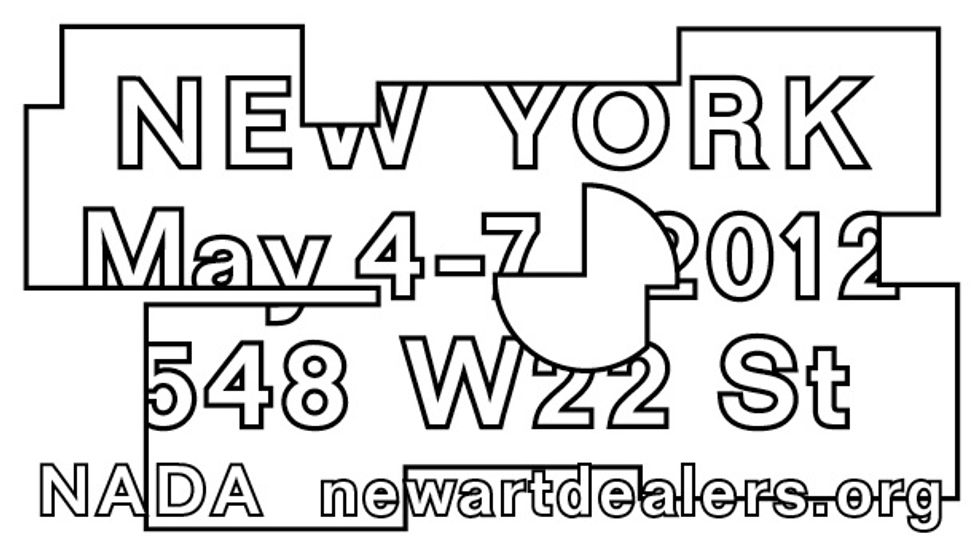 WHAT: NADA New YorkWHERE:
548 West 22nd Street
WHEN:
May 4, 2 - 8 p.m.; May 5, 11a.m. - 8 p.m.; May 6, 11 a.m. - 6 p.m.; May 7, 11 a.m. - 4 p.m.
HOW MUCH?
Admission is FREE.
DETAILS:
Though the
New Art Dealers Alliance
has been around for ten years and holding fairs in Miami since 2003, this is their first fair in NYC. More than 60 local and international galleries will be exhibiting on three floors in Chelsea and more the half of the galleries have never taken part in a previous NADA fair.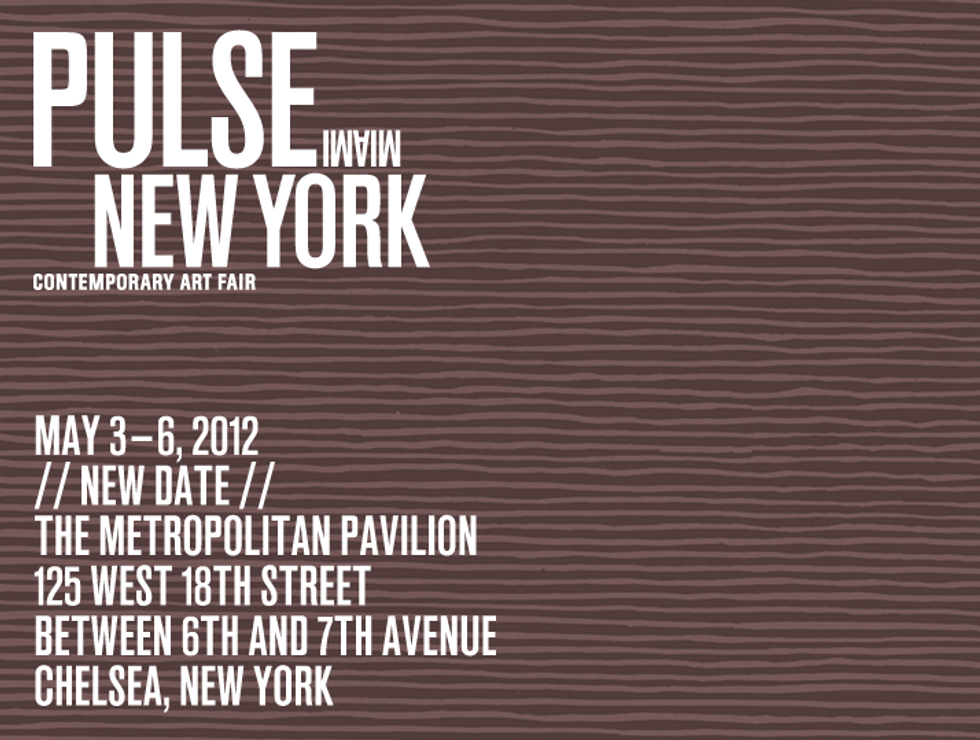 WHAT: PULSE New York 2012WHERE:
The Metropolitan Pavilion, 125 West 18th Street
WHEN:
May 3, noon - 8 p.m.; May 4, 10 a.m. - 8 p.m.; May 5, noon - 8 p.m.; May 6, noon - 5 p.m.
HOW MUCH?
Tickets are $20.
DETAILS:
Back for its seventh edition, PULSE will host over 60 galleries this year with works by undiscovered and emerging artists, as well as established.  This year's video lounge was curated by New York's Babycastles and David Ellis designed their tote bag.