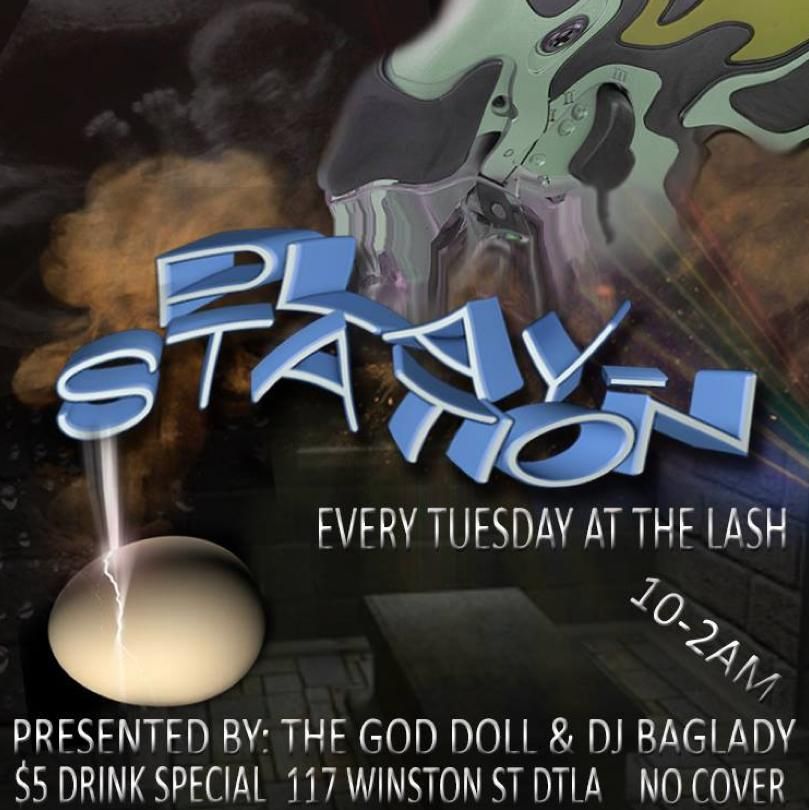 It's Tuesday night and only the front room of The Lash is open -- and it's small. By 11 p.m., the venue has filled up -- it's really more of a bar than a dance club. You might be able to get down on a slice of floor in front of the DJ booth but it's more likely you'll be hanging around the bar or in the ample sitting area, kicking back on boxy wood seats and setting your drink down on a table that's topped by a cracked mirror.
For the past year, The Lash has been serving up underground vibes inside a chic downtown bar. And Tuesday nights belong to Play Station. The brainchild of Isaac Ledesma (a.k.a. The God Doll), the weekly party has been building buzz and bringing together a cool, creative, and beautifully odd crowd. (That Ledesma's party has attracted such a fun following makes sense -- he's also the creative director for Mustache Mondays, a popular party at nearby La Cita, and used to throw an event called Suicide Club.) 
"If you were a raver or a goth when you were in high school, then this is your party," Ledesma says. The idea is to mix nods to corporate branding with notions of a "video game reality." Hence, the name Play Station. Musically, the DJs delve into electronic styles that don't typically get a lot of play in L.A. Ledesma tends to book DJs and performers who are relatively new to the scene and a night at Play Station is ultimately about discovery. "It's mostly kind of rave fun," he says, "a throwback to warehouse parties, but in a club."
DJ Bag Lady (Michael Locker) is the resident here and says approvingly that "it's a really good mixture of weirdos." Bag Lady relocated from Baltimore to Los Angeles six months ago and he incorporates Baltimore and Philly club sounds into sets that also include styles like reggaeton, bubble and dancehall.
There's a tall, thin guy hanging out in the corner. His hair hangs in two long, blonde braids. He's wearing baggy, rolled up Everlast sweatpants, an oversized t-shirt and a baseball cap. This is The mOOnbird. He's a producer from Copenhagen but has been traveling back-and-forth between his hometown and Los Angeles. The mOOnbird wasn't listed on tonight's flyer, but he's drawn a pretty good crowd. He dances behind the DJ booth, busting out snake-y moves as he goes between a laptop and microphone. Later on, he performs inside a crowd crammed between the staircase and the booth. He twists, turns and drops to the ground. The crowd breaks up into a half-circle around him.
Tonight that crowd is a jumble of kids in jeans, tank tops, sneakers and hoodies -- streetwear cool is the look here. There's a girl with a crescent moon adorning her forehead. I ask her if it's a Sailor Moon thing. She says that I'm the second person to ask that question. It's not intended to be a nod to the anime franchise, she says, but she loved it as a kid, so maybe it's a subconscious thing. Later in the evening, a couple recognizable figures from the local scene arrive. They're decked out in party gear, a furry vest here, a sparkling cowboy hat there.
One guy tells me that he likes that this place is removed from downtown's primary party strip. Located between Main and Los Angeles, the Lash is closer to DIY venue The Smell than it is to the skyrise-adjacent bar scene that marks downtown nightlife.
Location is part of what makes Play Station work. In the late '90s/early '00s, when downtown emptied by 6 p.m., warehouse and loft parties marked the city's underground. You would get a text message with a destination and drive around a desolate neighborhood listening for bass. Inside the parties, you could dance to the music that the legit venues ignored. The Lash is a proper club -- a beautifully designed one at that -- but it feels like a loft. It is the place to go when you want to ditch the bottle service of Hollywood or the crowds in Silver Lake and Echo Park.
Ladesma is right with the warehouse party comparison. This isn't a retro night for those pining for the old downtown. It is, however, committed to doing things differently, to pushing the sound of L.A. forward. And it's refreshing to find a weekly hangout in this town that isn't pulling the same old party tricks.
Play Station at The Lash, 117 Winston St., Los Angeles; 10 pm - 2 am, no cover.