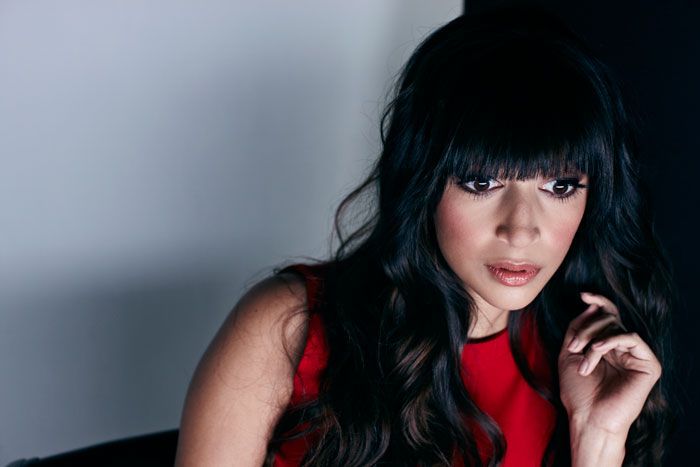 On a show that stars Zooey Deschanel -- bubbly, blue-eyed, retro-cupcake-dress-wearing Zooey Deschanel -- Hannah Simone plays the pretty one.

Which is to say that Simone is ethereally, ridiculously, unfairly gorgeous. So much so that her character's day job is "model." A vision in body-con black leather and bangs, Simone plays Cece, an even-tempered ice queen who lacerates men with a glance. She's the natural foil to Deschanel's frothy Jess. Together they carve out a place for strong female friendship on screens that more often depict women crawling after men, fighting over men or in lab coats explaining forensic data recovery.
Simone, 32, portrays Cece against the stereotype of the airhead model in part because, as a former model, she saw that the women around her were much more than that. "They were educated, cultured, well-traveled and interesting. And they weren't annoyed by men falling all over them. It was par for the course." Raised by intellectual parents who hopped from the UK to India, Saudi Arabia to Canada, Simone grew up without a TV, amusing herself by writing plays and acting them out. She's a "dork" who would rather be playing online Scrabble than out at a club. At the University of British Columbia, she majored in International Relations and Political Science. "I grew up in countries that were in a lot of turmoil, so I was exposed to human rights situations at a very young age," she says. "We were lucky, we were safe. But it definitely makes you grow up fast."
Those experiences gave Simone a toughness that comes across on screen as the goal-oriented Cece, but might be even better suited for a role on her favorite show, BBC's psychological thriller
Luther
. "If they made Luther into a woman, I could be a female Idris Elba."
***

Hannah Simone answers our TV survey:
What's the movie that no matter what time it is, or what you're doing, you'll watch if it's on TV?
Moonstruck
. It makes me cry and laugh. It's such a great romantic comedy, but it's also got the whole la familia, Italian over-the-top story. Plus, Olympia Dukakis and Nicolas Cage!
Do you watch your show when it airs?
We do so many jokes and so many alternate jokes, so when I watch the show it's the first time I get to see what made it into the show -- it's a completely new experience for me when I watch it.

Do people come up to you to talk about your character? What do they say?
They usually tell me to get back together with Schmidt. That's really the core of every conversation, at which point I explain that I genuinely have no control over it. And let's keep in mind that he is the one who broke up with Cece.

Dress by Jexika.