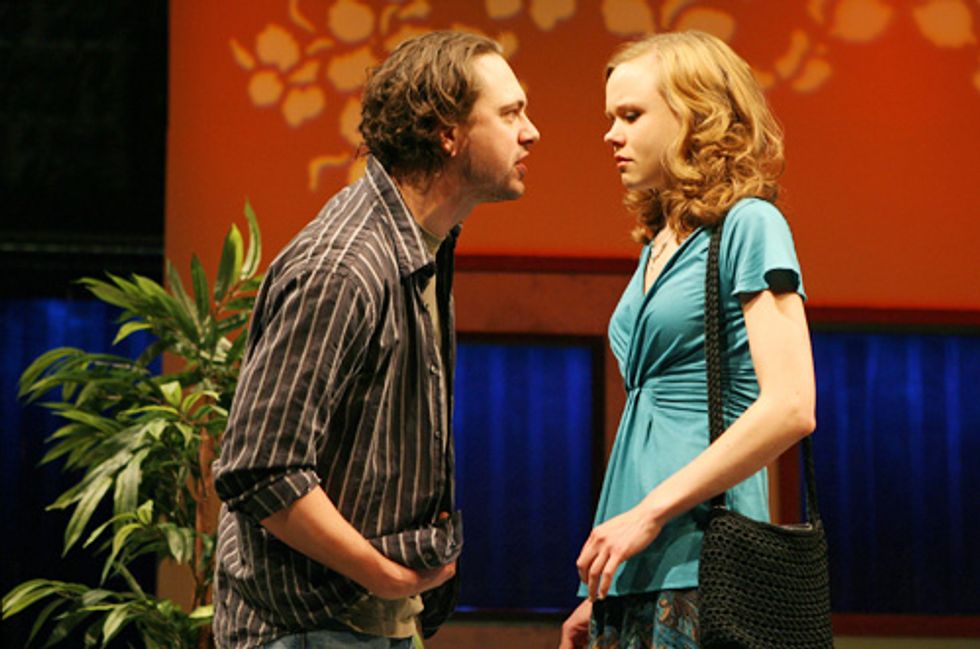 Neil LaBute's new off-Broadway play Reasons to Be Pretty opened last night at the Lucille Lortel Theatre in the West Village to a rave review from Ben Brantley in the New York Times. He says of LaBute, whose other works include Fat Pig and The Shape of Things, "the authorial force that drives [the characters] is one I have never encountered in a work from this writer: Neil LaBute, the harsh and unforgiving chronicler of men's darkest impulses, is making nice." Last week right before critics weekend I met with actress Alison Pill, who plays the pivotal character in the four-person cast, which also includes Pablo Schreiber, Piper Perabo (of Coyote Ugly fame) and Thomas Sadoski. We had coffee, (which we both got with soy and Splenda!) at MUD in the East Village where she lives.

Here's a few things she had to say about playing the not so cute girl, her introduction to film with Lindsay Lohan and her Tony-nominated Broadway debut.
Alison on:
Being chosen to play the girl whose boyfriend is overheard saying she has a "regular looking" face in Reasons to Be Pretty: "During rehearsal it got to be a little bit hard -- being faced with 'oh I'm considered the not so great looking one' -- and when I first read the play my friend Terry [Kinney] who's directing it brought it up to me and said I want you to read this and I went 'oh great' and I read it and went 'Wait a minute!' Then at the same time I have the most awesome lines to say and a great person to explore.
Playwright Neil LaBute: He's a teddy bear!
Playing Harvey Milk's lesbian campaign manager Anne Kronenberg in Gus Van Sants' upcoming biopic Milk starring Sean Penn, James Franco and Emile Hirsch: It was kind of hilarious because it was an absurdity of riches. And all of these figures who were actually there at this huge turning point politically were around and that was pretty amazing. Anne was there and her daughter actually plays my girlfriend. Anne was a motorcycle girl and I got into an accident during rehearsal so I don't have to ride one during the movie I just sort of get off it. I literally almost took out me and a stunt guy during rehearsals.
Her Tony nominated Broadway debut in The Lieutenant of Inishmore: I got that out of the way. Check! Before I could legally drink –- done.
Her career: It's more like less of a plan. I'm not really in any rush to do anything. There's not really a time limit on the things that I want to do. With certain classic Shakespeare roles there's a time limit but I've still got like 10 years. There have been certain things that I've been really lucky to be involved with just because they're nonsensically good like the Milk thing –- everything about it worked out perfectly. Great parts just seem to keep falling into my lap.
Why she'd rather live in New York than LA: I like getting up in the morning and running into things and people in the street and being faced with real life and walking home at night and seeing rats or whatever. There's garbage, there's rats, there's people. It's just about being faced with life of all sorts and in LA I find less of that. I'm sure I could seek it out but it's not like just walking around you see it and you also can't walk around which I find just hideous. I walk everywhere and you get weird looks when you walk around LA. People just don't know what to make of you. I've done that and gotten honked at and I'm like, I'm not a prostitute thank you. I've literally been mistaken for a prostitute and I burst into tears it was horrible.
On her first blockbuster movie Confessions of a Teenage Drama Queen with Lindsay Lohan: We were just a couple of teenagers hanging out in Toronto. I had just graduated high school and was trying to figure out what I was going to do -- if I wanted to go to school or act -- so we finished that and she went off and did her thing and I realized that I wasn't great at the obligations that you have when you work on a movie like that. When I first read the script I thought it was really cute and sweet and smart and a really nice story about two teenage girls. But...everything started getting watered down and suddenly we couldn't be the slightest bit offensive. In the movie we're supposed to be sneaking away to New York and they started saying we needed to get parental permission and that sort of takes away the entire crux of the movie. There's stuff like that that I found really really depressing and the amount of money that went into it -- it just doesn't make sense to me. I thought, I don't think I'm going to be good at this, so I went off to Europe and shot a movie with Thomas Vinterberg. That's what I did. And I was like, I'm going to do a nude scene, I'm going to do a European movie about guns shooting in Germany and Denmark so 'bye!' Not that I wouldn't do a big commercial movie they can be super fun and clever. I think Judd Apatow has made really funny, heartwarming mainstream movies. It can be done.
Why she doesn't have a TV: When I'm staying in a hotel it doesn't turn off. It's like the TV is my friend and when I come home and I'm like hey buddy! I don't sleep I don't do anything. When I was in San Francisco I got really really into the octuplet show on TLC. And that's what happens to me when I have a TV so it's much better that I don't.
Who she looks up to: Well two of my favorite people who I've worked with are Patricia Clarkson and Amy Ryan. Those are two actresses who have had spectacular theater careers and continue to and also just do great roles and make roles out of things that may not necessarily exist in the first place.
Go see Alison and her fellow castmates Thomas Sadoski, Piper Perabo and Pablo Schreiber discuss the good and the bad aspects of beauty in the MCC production of Reasons to Be Pretty playing through July 5th at the Lucille Lortel Theatre. Call (212) 279-4200 for tickets.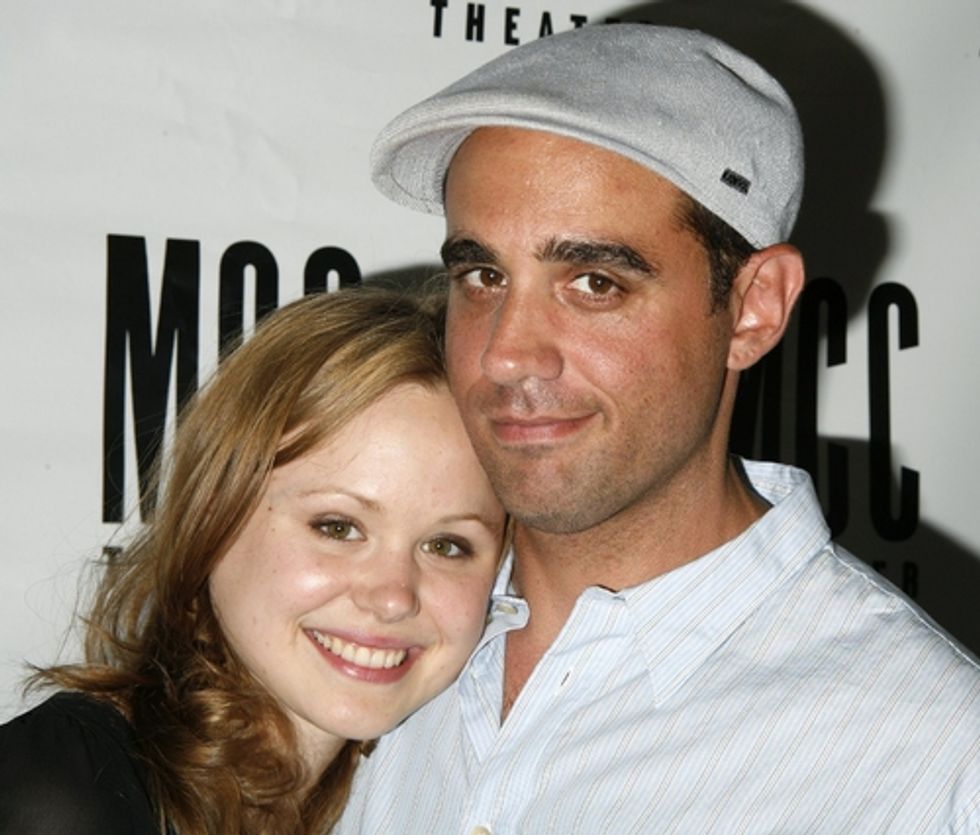 Pictured above is Alison and Sadoski in a scene from Reasons To Be Pretty. Photo credit: Joan Marcus.And Alison with her boyfriend and Tony-nominee for his role in Mauritius Bobby Cannavale at last night's opening night party for the play. Photo courtesy of Broadwayworld.com