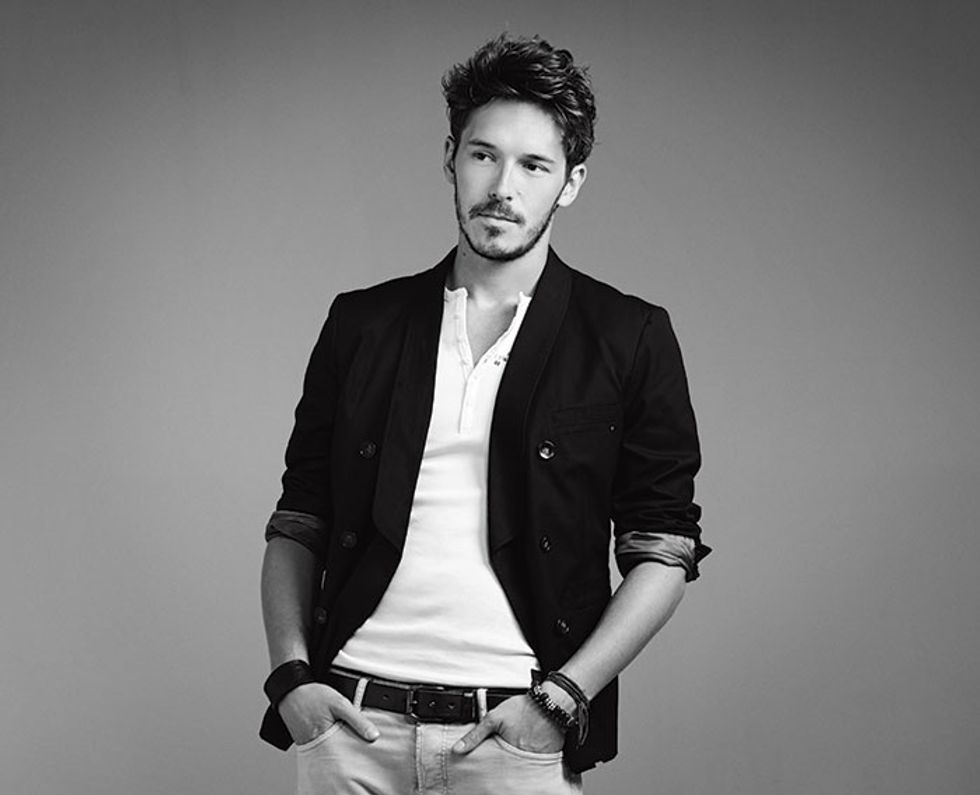 Sam wears a blazer and henley by G-Star RAW, jeans by AllSaints and belt and bracelet by Harley Davidson.
Though we'd like to say the eternally awesome Connie Britton is the reason we're addicted to ABC's country music drama
Nashville
, the dreamy Sam Palladio, who plays tortured singer Gunnar Scott, might also have a little something to do with why we tune in. The British-born Palladio -- who's a musician in real life as well -- will also be flexing his comedy muscle when he returns to Matt LeBlanc's hilarious Showtime series
Episodes
this January.
Nashville
, meanwhile, will be back this month in all of its campy-giant-haired glory. Y'all better watch.
What's the difference between filming a movie and a TV series?
Everything moves so fast on a TV set. [It's] you against the clock on a daily basis as you're trying to complete an episode every eight to ten days. From an actor's perspective, you have this fantastic opportunity to develop a character and watch them grow over a number of months, even years and that's rare.
What was your first day on the set of Nashville like?
Amazing, as we were filming at the famous Blue Bird Cafe in Nashville, and it was my first time ever being in the States, having just moved from London to Tennessee!
Would you be friends with your character? Why or why not?
Totally. We'd exchange some song-writing ideas, maybe write a hit or two and definitely have a couple of beers in downtown Nashville.
Have you given your character any trademark catchphrases, mannerisms or wardrobe choices?
I try to bring a little quirkiness to the character, and an awkward sense of humor. I think he gets himself in some tricky situations and I try to find the comedy in that. On the wardrobe front, you'll definitely find some good old plaid shirts on his back.
What's the first TV show that you remember watching regularly?
I always used to come home from school as a kid and watch
The Fresh Prince of Bel-Air
. Those were the good old days... Although I'd still watch it any day!
Is there a TV show theme song you know all the words to?
It's not a typical one, but I love the jazzy outro to Frasier. "Oh baby I hear the blues a-callin' tossed salads and scrambled eggs..."
If any actor could make a cameo on your show, who would you want it to be?
James Taylor. He's my songwriting idol. I got to play a show with his son Ben in Nashville earlier this year and it was awesome.
Photographed by Emily Shur / Styled by Camille Yvette / Hair and Makeup by Christina Buzas