Namilia delivered a show-stopping collection during New York Fashion Week. Designers Nan Li and Emilia Pfohl, using their trademark outlandish raver gear as a base, created a fantastical world inspired by Catholic icons, like if New York's famous club-in-a-church, Limelight, was directly translated into clothing. But Li and Pfohl didn't just riff on religious imagery — they subverted it, using traditional relics to boost an intersectional feminist message.
The clothing featured slogans reading "Pussycat Crusade" and "In Namilia's Name We Pray Awoman," twisting traditionally patriarchal terminology into something unabashedly pro-woman. Stars like Paris Hilton, Teyana Taylor, Junglepussy, and Richie Shazam took to the runway as athletic, slightly demented angels. The crowd was uproarious. The show was a fashion week highlight. So we asked Li for the lowdown behind all of the beautiful, uplifting insanity.
PAPER: Could you tell us about the overall inspiration for the collection?
Nan Li: The starting point for the collection was the idea of creating a modern religious group celebrating the eternal feminine, where women are at the helm of this religious order. We felt that every religion has a positive core and origin, but over time has turned into a patriarchal battlefield about power, money, and sexual oppression. Over the last century feminism has achieved many goals, but when it comes to existing world religions we feel that we are still stuck in the Middle Ages regarding gender equality and sexual empowerment.
It was quite pointedly focused on religion. Why did you decide to incorporate Catholic-style imagery and references?
We were mainly looking at Catholic supernatural and mythical warriors such as templar knights, saints, and archangels, combined with modern tactical and combat clothing — crusaders then and now, who went into bloodbaths under the pretense of peace and religious unity. We wanted to address this ever-ongoing conflict within existing religious order across the world. For our new world order we wanted to bring religion back to its positive core, which should be about equality, love, unity, and peace.
The angel wings were really spectacular. Could you tell me a bit about how they were made?
We wanted to translate these very historical, medieval wing references in a new hyper-modern way, so they were all made as part of puffer vests or tactical trousers in technical nylons, clashing the decorative with the functional.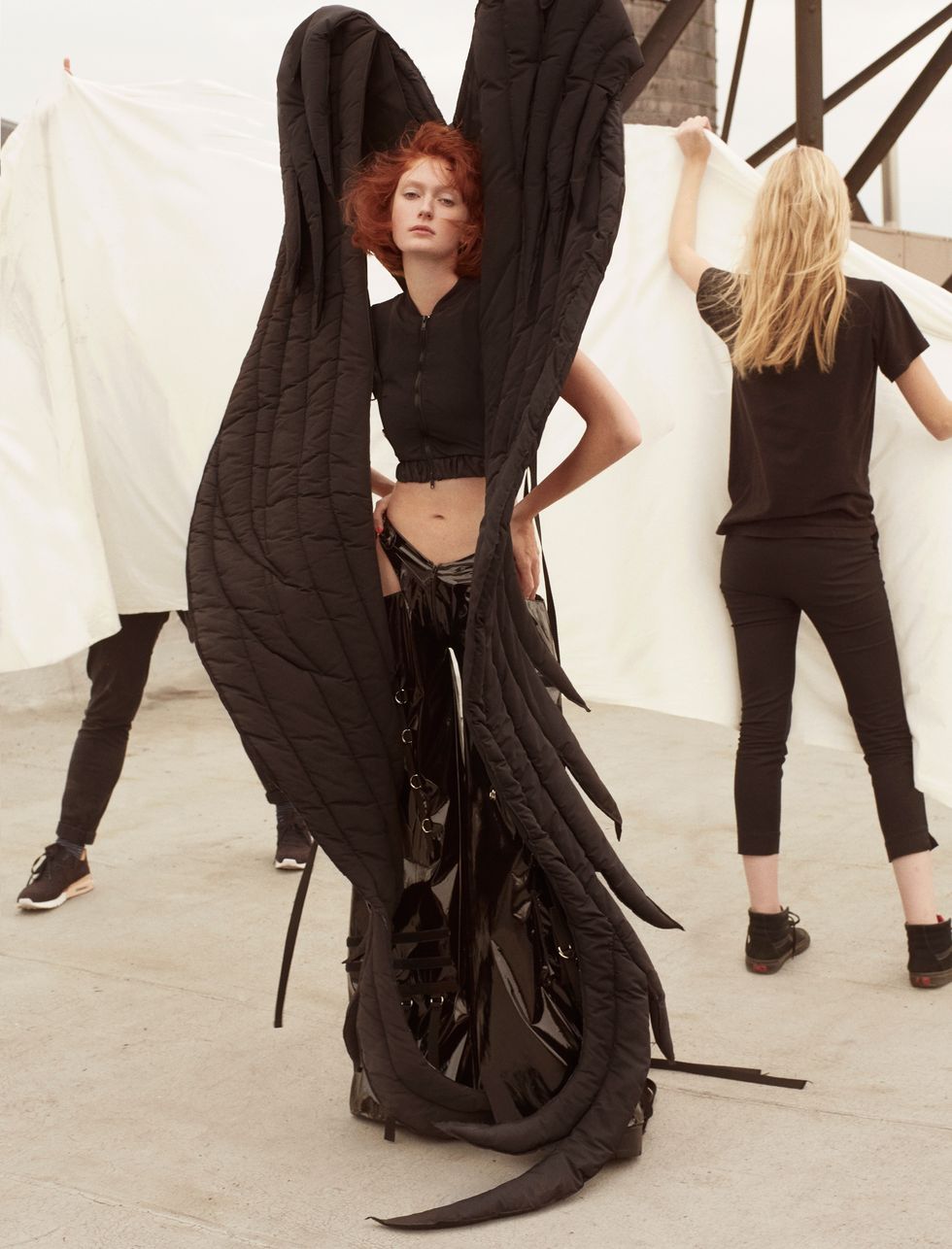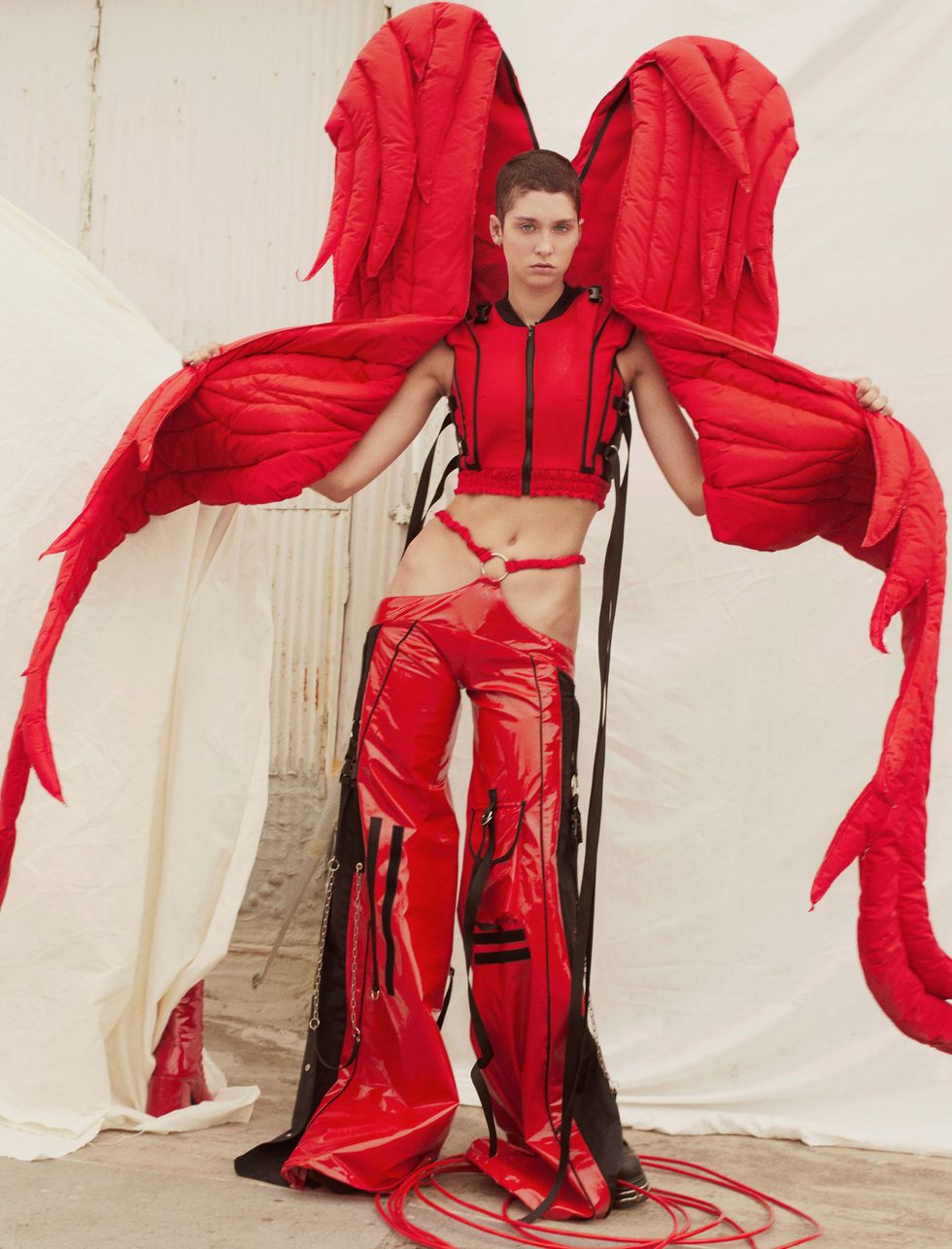 The clothes were emblazoned with feminist slogans. Did you feel it was important to speak out now, considering the state of women's rights in American and throughout the world?
Yes. We definitely feel that the world is in a very unsettling state right now, and that there are political and social movements which are completely dangerously backwards. Finding out what feminism and empowerment means to us has always been a driving force for our brand, and it will for sure be one of the focal points in the future as well.
"We felt that every religion has a positive core and origin, but over time has turned into a patriarchal battlefield about power, money, and sexual oppression."
Do you think that the fashion industry has a responsibility to be political? Should artists be free to create what they like, no matter the circumstances? It's complicated!
I think it's the whole purpose of art to communicate free thoughts and to provoke discussions in order for society to evolve. I don't necessarily think that one can say the fashion has to have any responsibility at all, but for us as designers, political and social issues are definitely at our core identity.
You had several fantastic guest stars on the runway: Teyana Taylor, Richie Shazam, Junglepussy, and of course Paris Hilton. Why were they cast, and what do you think their respective presences brought to the show?
Music, art and lifestyle are just as part of our identity as fashion and clothing references. We identify Namilia as part of pop culture, and having these celebrities in our show helps us to visualise and communicate our creative world as they are a part of our inspiration.
Fashion: NAMILIA
Photography: Mikey Asanin
Photography Assistants: Apiwich Bangrapimolpong, Johnson Lui
Casting: Ricky Michiels
Makeup: Yuui (using Kryolan)
Hair: Yuhei Nerome
Models: Alina Schulzen, Ava McAvoy, Zarina Green, Krista, Milliana
Sign Up For The Morning PAPER