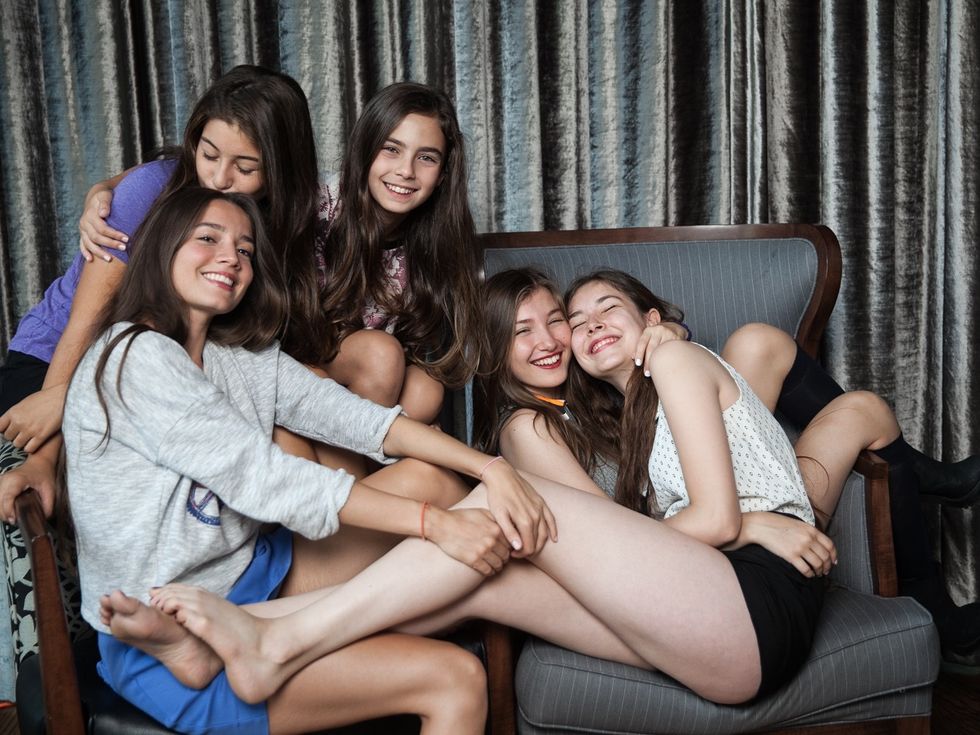 (Top row, left-right): Doga Doguslu, Gunes Sensoy, (Bottom row, left-right): Elit Iscan, Ilayda Akdogan and Tugba Sunguroglu ; Photo by Henny Garfunkel
Turkish director Deniz Gamze Ergüven's Mustang won the Europa Cinemas Label Award after screening in the Director's Fortnight in the 2015 Cannes Film Festival, screened in the Special Presentations section of the 2015 Toronto International Film Festival, and was selected as the French entry for Best Foreign Language film at the 88th Academy Awards. Not bad for a feature film debut. The dreamlike film, which has drawn comparisons to Sofia Coppola's The Virgin Suicides, tells the tale of five rebellious sisters whose family, obsessed with the girls' purity and marriageability, lock them away in a provincial Turkish home to monitor their bodies and train them for wifehood. Ankara-born director Ergüven -- a truly cosmopolitan artist who grew up in in Turkey, France, and the U.S. -- spoke with Paper about casting challenges, directing while pregnant, and the oppressive sexualization of women.
Mustang has a very fairy tale-like quality -- I was reminded of The Brothers Grimm's "Twelve Dancing Princesses" and Charles Perrault's "Bluebeard." Were there specific stories that inspired you?
Initially the desire at the base of the film was to tell what it was like to be a woman in Turkey. A few years before I even began writing the script, my attention was gradually focusing more and more on being a woman and getting closer to the subject in the books I was reading, the questions I was asking people. Everything was going in the same direction. The first draft was a lot of situations based on the stories of my family, which consists of two generations of strong women. So, there were a lot of scenes which were completely true -- for example, when the girls trigger the little scandal at the beginning of the film, when they sit on the shoulders of the boys, and a lot of specific scenes or even details. I put it in a drawer, thinking it was too close to reality. They're my secrets, secrets of people around me, so I couldn't handle it. Less than a year later, I took it out again, with [French screenwriter/director] Alice Winocour this time. What you perceive as elements of fairy tales were my way of distancing it from real life events. All of the basic situations are true. But when Nur breaks the chairs in the house saying, "These chairs touched our assholes! That's disgusting!", for example, those are the things that stay in your throat and you never manage to say.
And then, elements of, not only fairy tales, but mythology were starting to come out from every hole while we were writing. For example, I always identified the girls as a hydra -- a body with five heads, ten arms, ten legs -- and the story has something of the Minotaur and Daedalus in it. And there were aesthetic choices: when a girl came into casting with hair down to her thigh, it had something of a fairy tale vision. So, of course our attention was drawn to her. Or, while doing the location scouting, they had to have something of a fairy tale look -- an eerie nature, a look like the end of the world. There were a lot of aesthetic choices that drove us far away from the reality we were talking about.
A lot of these fairy tales and myths are ways of grappling with the idea of bourgeoning sexuality, especially as it relates to women. I thought it was really interesting that this film used some of the aesthetics of those myths and folk tales, but elevated that subtext of female sexuality and made it the text. You've said that you didn't want to make a didactic political film, but what specifically did you want to explore about female sexuality, especially in Turkey?
The most striking thing to me, which is shown in the opening scene, is the sexualizing of women's every action or every single part of their skin. It's something that starts at a very early age, and it determines their place in society from then on. That story about when the girls play in the water was just one of many anecdotes that showed the same thing. The foundation was systematic sexualization.
So much of the film is about the interactions between generations, especially between generations of women. You were actually pregnant while you shot the film -- how did that affect how you thought about this story?
Literally four weeks before the first day of shooting, I learned that I was pregnant, which was a beautiful surprise. But it was still a surprise. And then, exactly a week later, the main producer of the film abandoned the film. So, we were a hair away from not making the film. For three days it was dead. So, I found another producer. The first producer had taken away all the team and they were all back in Paris, so I was on my own in Istanbul, pregnant and was like, "Ok, how are we going to do this?" It took three days, and I found a producer, who was initially the first producer I had given the script to when I had finished writing it. He came on board at the 25th hour, and it was perfect because the film was underfinanced and in bad shape, in terms of production. It was great that it happened that way.
What happened with the pregnancy was that it gave me a lot of cold blood. It was a permanent crisis we had to handle, but the pregnancy made me avoid stress altogether. It was forbidden. I wasn't allowed to stress and I had to make a film, even as it was completely impossible. I had been working on my first feature for years, and Mustang was my second script and the first that managed to go into production. And I think the reason why I got pregnant was because I had withheld everything I wanted to do in life until the moment I would do a film. The fact that the film started to crystallize and come to life…I think the pregnancy was linked to that. We were very, very demanding on the girls: it was very long days of shooting for everyone, and since I was as vulnerable as them, being pregnant, we were in the same boat and I could demand a lot of them.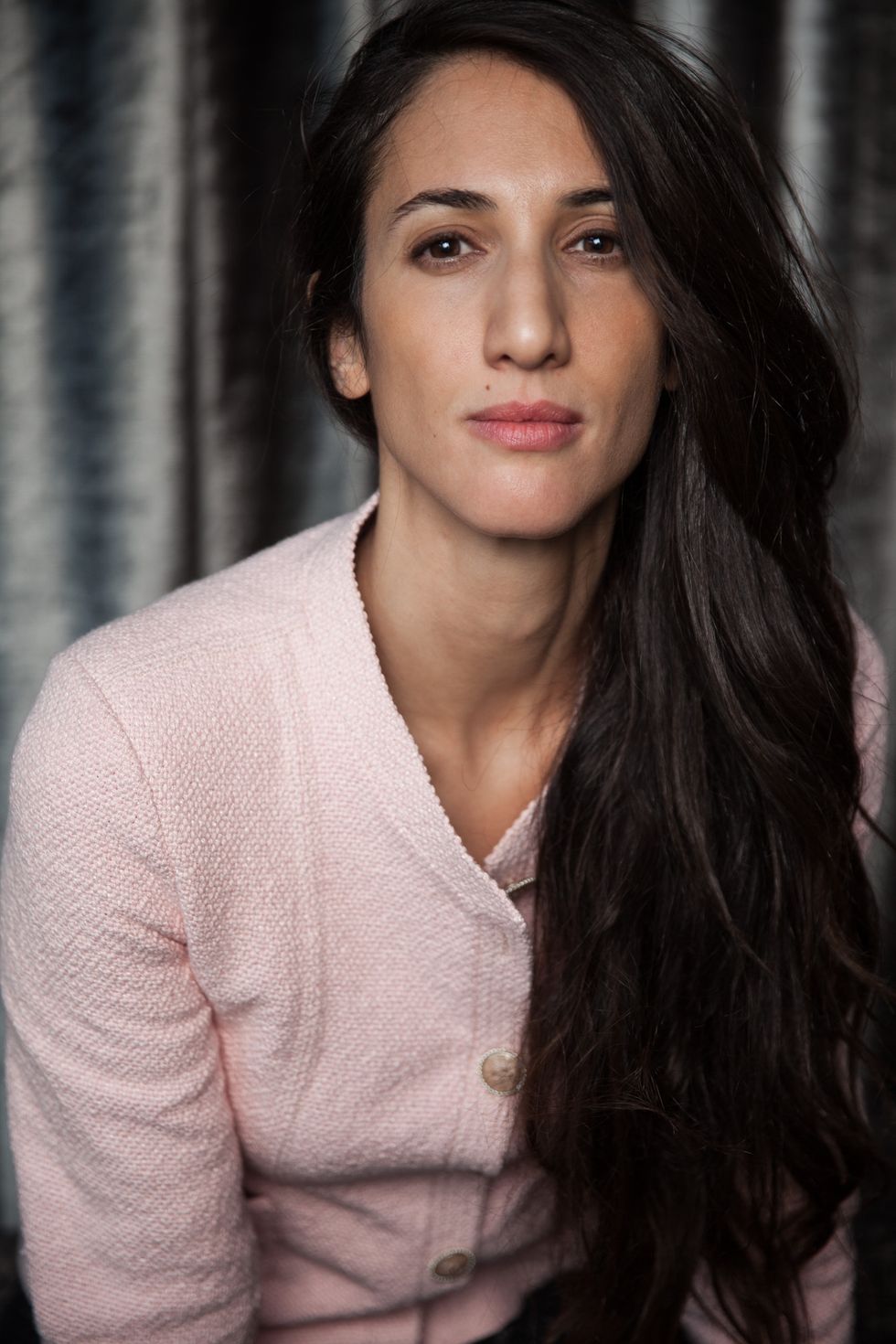 Deniz Gamze Ergüven; Photo by Henny Garfunkel
Speaking of the girls, this is a pretty remarkable cast of young actresses and only one of them had any previous onscreen experience. What was your process of finding them? They really look like sisters, and they're all so wonderful onscreen.
I was thinking about this figure [director] Ben Zeitlin talked about, that four thousand girls auditioned for Beasts of the Southern Wild. I was thinking "Oh, my God, we have five to find and the combination is very important, so we're going to see twenty thousand..." I was thinking impossible figures. But the audition process wasn't that much. It took nine months; the casting director saw thousands, and I saw hundreds of auditions. I had a plan for the auditions, which managed to show us real acting qualities in the girls: who would really listen, who would be completely immersed for minutes and minutes when we started to dive into a new situation. And then we could see the colors, the temper, everything of the girl. Plus, you have to have the physical resemblance. For months, I tried different combinations until one day it magically clicked. When they met for the first time, especially the two elder ones, they looked at each other as if they were looking in the mirror.
There's this English theater director, Peter Brook, who has written about this magical moment where he worked with actors in a chorus during a Greek tragedy. He said that, at one moment, everyone started to move together, to breathe as a single body. And all of a sudden, the leader of the chorus dropped to the ground, and they don't even talk about it. They know who it's going to be because it's like a natural election process within the group. With the girls, there was really a magical moment like that. All of a sudden, they were a group and they were in complete symbiosis. It was just perfect. And they got that thing really fast. [Günes Sensoy, the actress who played] Lale was a bit shy and behind the rest of the group [during an early scene]. She was so skinny and looked like a little ballerina. Then, at some point, her top blew and she started having this huge argument with the scene's antagonist and she was like a little hardened criminal having a fight. The other girls just took a step back and let her do that because they understood the dynamic of that group, and they also felt their own specific gestures. She was so small and so light that, if she bothered them, they seized her and they threw her away. It became a thing of that group. Like, she was a bit like the fly around the group. It was really great to watch.
It's interesting that you mention Peter Brook because the simplicity of your visuals and the way you use the space does remind me of his work. What other works inspired you?
When the first draft was written and I was looking at the skeleton of the film, I think what was closest to it was a film I watched when I was very young, Escape from Alcatraz. I've been watching a lot of escape movies and a lot of movies where the house is a character. For the distance between what we were saying and the form of the film -- it has nothing to do with my film itself and it's even crazy to say the name -- but I was thinking of Salò by Pasolini, because he was talking about fascism in this metaphorical way and we were talking about Turkey with equal distance, I think. The scenes when the girls are racing in the village like a little pack of horses or the scenes where they are parading in their shapeless, shit-colored dresses in the village, we wanted something that looked like a Western, which was a very specific distance from naturalism.
So, what comes next? Do you want to tell more Turkish stories?
I'm not so sure yet. We have a script that we're developing with Alice Winocour, the co-writer of this film, and it takes place in Turkey -- in Istanbul. If Mustang is about what it is to be a woman, [this new film] is about what it is to live in a democracy. We can talk about the recent past in Turkey, but now Turkey's taken an even more dramatic turn in the latest elections. We're, again, taking a step away from democracy. So, it needs a lot of thinking and depth.
Photos by Henny Garfunkel

Mustang opens tonight, 11/20, and will be screening at the IFC Center with the director in attendance at tonight and tomorrow's 7:40pm screenings. For more information and a complete list of screening times, go HERE.
Related Articles Around the Web