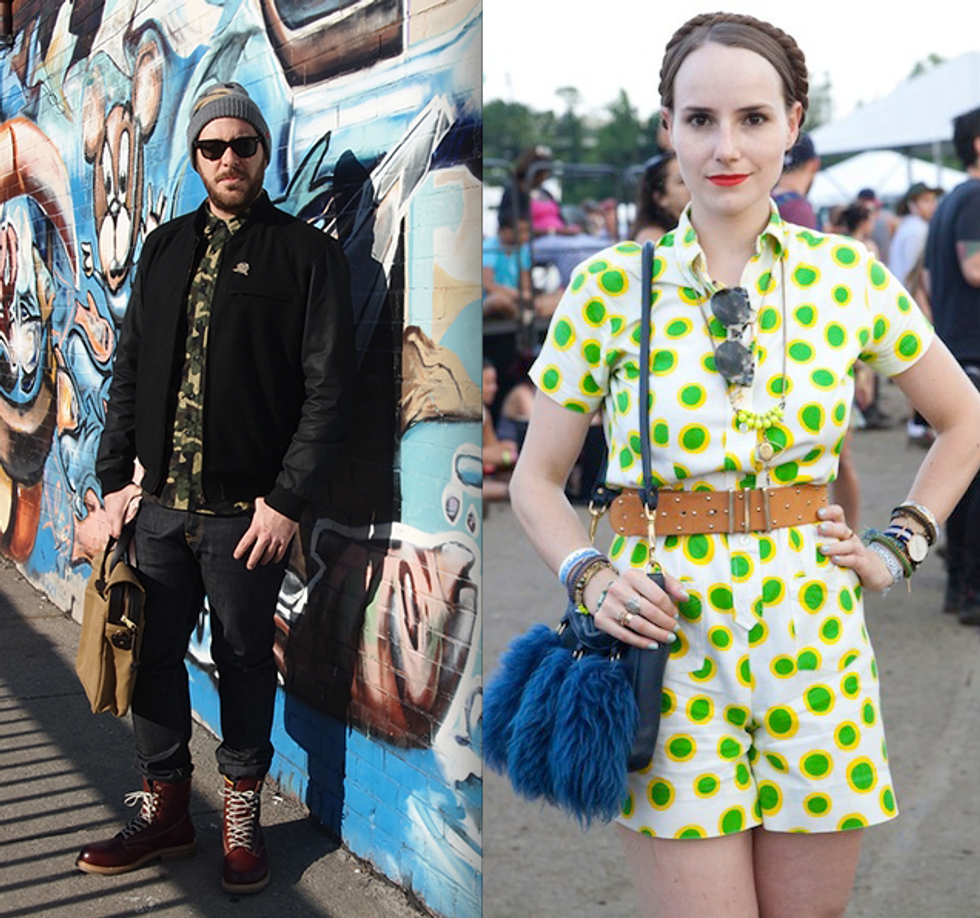 Tristan Banning (L) and Hawley Dunbar (R)
Each week in our new column, "No Sleep Til...," we'll be talking to cool kids around the globe, asking them to fill us in about the bands, DJs, music venues and night spots they and their friends are obsessing over. Next time you visit their home city, leave your Fodor's and Lonely Planet guides behind and go party like a local instead.


Names?
Tristan Banning & Hawley Dunbar
Ages?
32 & 26
Where do you live?
We live in the annex neighbourhood of Toronto, specifically Dupont & Spadina. Unlike most of Toronto's "cool" west end dwellers, we prefer to not to sleep where we party and retreat home to the shadow of Casa Loma.

What do you do there?
We run a music and fashion website called
Sidewalk Hustle
together.
What Canadian bands or DJs are you obsessed with that Americans might not know about (and should)?

We're really obsessed with
DIANA
and
Austra
who both have new albums out, are on tour together, and both from Toronto. We're also digging
Teen Daze
,
PARTYNEXTDOOR
,
Prince Innocence
,
Ryan Hemsworth
,
Blue Hawaii
,
Brendan Philip
and
A Tribe Called Red
.
What does their music sound?
Most of them have either a lo-fi/dream/weird pop, electro, punk, or hip-hop vibe -- we can't decide which genre we're more into at the moment. Our favorite songs are probably Prince Innocence's "Golden Hour", Brendan Philip's "Wild Side", Austra's "Home", Blue Hawaii's "Try To Be", DIANA's "Born Again", and that newish A Tribe Called Red track "Indians From All Directions," which features Das Racist.
Where are the cool places to see live music in Toronto?
We really like going to shows at
The Drake Underground
,
The Hoxton
, and
Wrongbar
, which are all scattered along Queen and King West offering up different kinds of crowds. Drake Underground is probably the coolest venue of the bunch because you can catch a band playing just before that pivotal breaking point before they hit headlining status (you get cool guy bragging rights). The venue is located below an amazing restaurant, lounge and sky bar, within the city's first legitimately (and consistently) cool boutique hotel (along the same lines of the Ace Hotel). It's really a hub of the neighborhood and they do a good job of curating a varied line up. Our most memorable moments there were spent watching George Lewis Jr. of Twin Shadow string his guitar at the merch table opening for Glasser; nearly half the room emptied out after he finished his set.
The Hoxton is a more centrally-located venue just off the King West strip where you'll find more electro and up-and-coming hip-hop. It's a small venue, but a cool one because of the décor and the crowd it attracts from show to show. We do not recommend going there on a normal night (or, god forbid, a weekend), but if AlunaGeorge, Chance the Rapper, CHVRCHES or Metronomy are playing, we are so there.
Wrongbar is owned by the same good folks behind The Hoxton and offers a mix of both The Drake and The Hoxton's music genres and crowds. You can pretty much be guaranteed to catch some cool band or DJ there on a week night, plus they have a great beer selection, too.
Also,
Lee's Palace
,
Horseshoe Tavern
,
Parts & Labour
and
Danforth Music Hall
are rad live music venues too, though we wouldn't generally suggest hanging out at any of these places once the show is over -- except Parts & Labour (head upstairs to the restaurant, trust us).
Describe your perfect night out in Toronto. 
We prefer to party on weekdays and spend the weekend brunching and sleeping it off. However, if we were going to head out on a Saturday night, we'd probably start at one of our favorite restaurants like
Oddseoul
,
Rose & Sons
/
Big Crow
,
Grand Electric
,
The Federal
, or
Momofuku
to get our stomachs lined and ready for a plethora of cocktails. From there we'd continue cocktailing at a few places like
Cocktail Bar
on Dundas West,
Northwood
,
SpiritHouse,
Bar Isabel
,
Nikai,
Unlovable,
or stay seated at the bar at Oddseoul for the evening and text all our friends to join us. We're big on cocktails.
What's your favorite bar or nightclub in Toronto?
We don't really go to nightclubs unless there is some amazing band or DJ spinning. Since our favorite bar, Booker & Dax, is all the way over in New York, the closest thing we've got to that in Toronto is Momofuku Nikai, though the vibe is totally incomparable and skews quite a bit older due to its location.
Most of the bars we mentioned above are in the cool pockets of Queen, Dundas & Bloor West near Ossington & Dovercourt, with the exception of SpiritHouse and Nikai. You'll usually find the west end packed with younger (probably bearded) folks.
What's a bar or nightclub you would NEVER go to in Toronto?
The Madison or any bars of the like (because we're not 18 any more).
Check out Tristan and Hawley's music recs:
DIANA -- "Born Again"


Austra
-- "Home"
Teen Daze
-- "Ice On the Windowsill"
PARTYNEXTDOOR
-- "Welcome To The Party"
Prince Innocence -- "Golden Hour"
Ryan Hemsworth
-- Migos "Bando (Ryan Hemsworth Remix)"
</div> <br/><a href="https://www.facebook.com/pages/Brendan-Philip/110057484935"><b>Brendan Philip</b></a> <b>-- "Wild Side"</b><br/><br/> <div style="text-align: center;"><iframe src="https://w.soundcloud.com/player/?url=http%3A%2F%2Fapi.soundcloud.com%2Ftracks%2F98459550" frameborder="no" height="166" scrolling="no" width="100%"/></div> <br/><a href="http://atribecalledred.com/"><b>A Tribe Called Red</b></a> <b>-- "Indians From All Directions"</b><br/><br/></font> <div style="text-align: center;"><iframe src="https://w.soundcloud.com/player/?url=http%3A%2F%2Fapi.soundcloud.com%2Ftracks%2F87583696" frameborder="no" height="166" scrolling="no" width="100%"/><br/><br/><div align="left"><br/><i>Check out Tristan and Hawley's nightlife listings:</i><br/><br/><a href="http://www.thedrakehotel.ca/dining/venues/underground/">The Drake Underground</a>, 1150 Queen St. W, Toronto M6J 1J3<br/><br/><a href="http://thehoxton.ca/">The Hoxton</a>, 69 Bathurst St., Toronto, M5V 1M5 <br/><br/><a href="http://wrongbar.com/wb/">Wrongbar</a>, 1279 Queen St. W, Toronto, M6K 1L4<br/><br/><a href="http://www.leespalace.com/">Lee's Palace</a>, 529 Bloor St. W, Toronto M5S 1Y4<br/><br/><a href="http://www.horseshoetavern.com/">Horseshoe Tavern</a>, 370 Queen St. W, Toronto, M5V 2A2<br/><br/><a href="http://www.partsandlabour.ca/">Parts & Labour</a>, 1566 Queen St. W, Toronto, M6R 1A6<br/><br/><a href="http://thedanforth.com/">Danforth Music Hall</a>, 147 Danforth Ave., Toronto M4K 1N2<br/><br/><a href="https://twitter.com/TO_ODDSEOULS">Oddseoul</a>, 90 Ossington Ave., Toronto<br/><br/><a href="http://roseandsons.ca/">Rose & Sons</a>, 176 Dupont St., Toronto, M5R 2E6<br/><br/><a href="http://roseandsonsbigcrow.com/">Big Crow</a>, 176 Dupont St., Toronto, M5R 2E6 (in back of Rose & Sons) <br/><br/><a href="http://www.grandelectricbar.com/">Grand Electric</a>, 1330 Queen St. W, Toronto, M6K 1L4<br/><br/><a href="http://www.thefed.ca/">The Federal</a>, 1438 Dundas St. W, Toronto, M6J 3L5<br/><br/><a href="http://momofuku.com/toronto/daisho/">Momofuku</a>, 190 University Ave., Toronto, M5H 0A3<br/><br/><a href="http://hoofcocktailbar.com/">Cocktail Bar</a>, 923 Dundas St. W, Toronto, M6J 1W3 <br/><br/><a href="https://www.facebook.com/pages/Northwood/395725120523643">Northwood</a>, 815 Bloor St. W, Toronto, M6G 1M1<br/><br/><a href="http://www.spirithousetoronto.com/">SpiritHouse</a>, 487 Adelaide St. W, Toronto, M5V 1T4<br/><br/><a href="http://barisabel.com/">Bar Isabel</a>, 797 College St., Toronto, M6G 1C7<br/><br/><a href="http://momofuku.com/toronto/nikai/">Nikai</a>, 190 University Ave., Toronto, M5H 0A3 (inside Momofuku)<br/><br/><a href="https://www.facebook.com/UnlovableBar">Unlovable,</a> 1415-B Dundas St. W, Toronto, M6J 1Y8<br/><br/><a href="http://www.papermag.com/2013/05/more_from_our_no_sleep_til_ser.php"><font style="font-size: 1.25em;"><b>More from our 'No Sleep Til...' series including nightlife and music in Paris, Mumbai, Seoul, Bogotá and more!</b></font></a><br/></div></div>