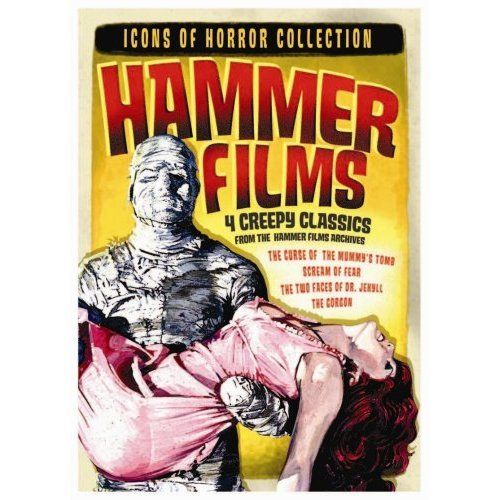 Out this week is a fabulous set, Icons of Horror: Hammer Films, featuring four rare shockers from the vaults of the British movie studio that brought bosoms and blood back into horror. The Curse of the Mummy's Tomb (1964) is about an Egyptian expedition which uncovers a sacred burial chamber, and when they transport the exhibit to London the mummy comes back to life and kills all those who violated the tomb. Sound familiar? Sure, but with Hammer there's great stylish moments -- one in a foggy street wherein actor Fred Clark meets the mummy who tosses him down a stone staircase is eerie and beautiful.
The Two Faces Of Dr. Jekyll (1960) has the crackpot doctor experimenting on himself which turns a bearded scientist into a clean-shaven sadist who goes after his unfaithful wife and her caddish lover (Christopher Lee).
The Gorgon (1964) is one of the studio's best -- a gothic horror tale about a 2,000-year-old myth of a snake-haired woman (Megera) who returns to curse a village by turning her victims into stone when they gaze upon her face. It stars Peter Cushing and Christopher Lee and is beautifully directed by Terence Fisher.
Susan Strasberg proves she's got a great set of lungs in Scream of Fear (1961), in which she plays a wheelchair-bound girl who returns to her family's French chateau and is slowly driven to madness. With a crackling script by Jimmy Sangster, this black and white psychological thriller is just one of the best.