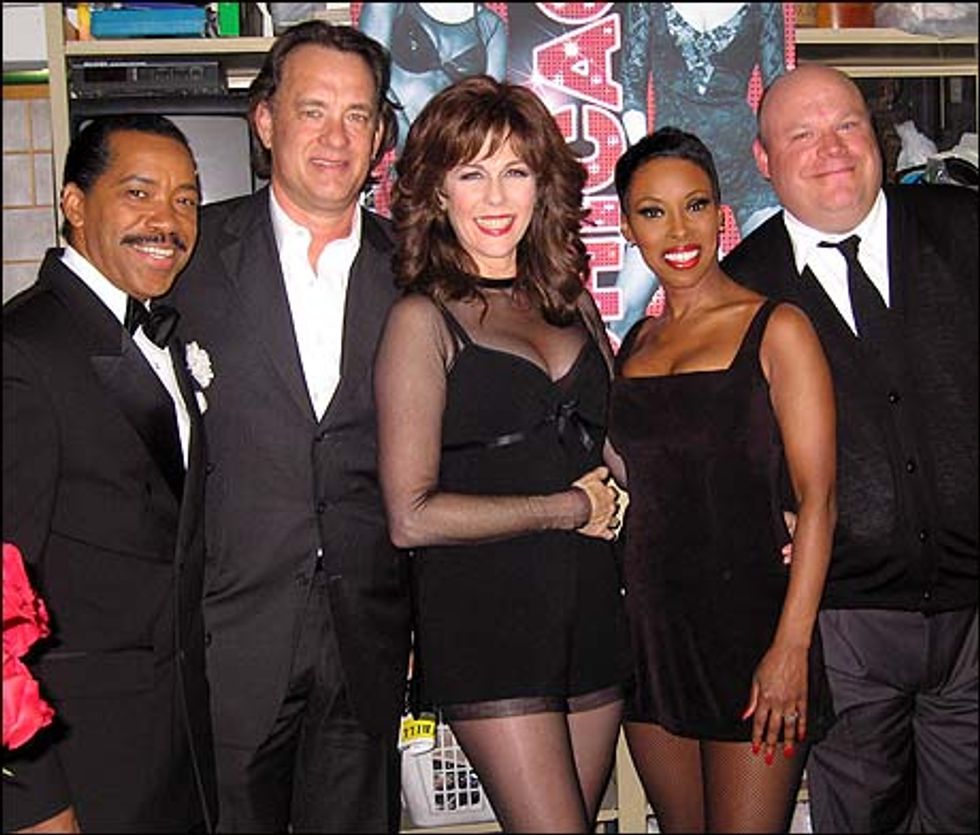 Last week I saw Tom Hanks's wife Rita Wilson in the role of Roxie Hart in Chicago, and it made me think about the sub-in star, style of casting that these big long running shows have made popular, and I had to wonder if it was the actual show that people, namely tourists came to see or if it was Mrs. Tom Hanks they were interested in. If it was the latter they certainly got what they came for, but if it's the show they had their sights set on, they got a poor representation. It's a shame because this so often is the result when mediocre star after star switch in and out of these famous roles, because producers are convinced this is the way to keep ticket sales afloat. But I have to wonder as a dedicated Broadway blogger, are they really doing these wonderful shows justice?  Is it necessary to put in sub-par talent and risk taking away from a show's initial brilliance?  One great example of this is when I saw Cabaret for the first time with Jon Secada as the Master of  Ceremonies.  The Latin lover style pop star tried his best, but it was physically and mentally impossible for him to embody the tall, slender, pale, sleazster the role calls for. I loved the soundtrack and had heard wonderful things about the show, but his performance in the role nearly ruined the whole thing for me -- thank god, I wasn't paying!

But back to Chicago, I'm not going to say I didn't enjoy seeing Mrs. Tom Hanks live on stage, but I couldn't help wondering where her children were or what Tom was doing.  Would she see him after the show, or was he away filming another blockbuster?  I never believed her to be the slutty, and scandalous murdereress Roxie Hart.  I must say though, despite the two rather disappointing leads which included Brenda Braxton as Velma who almost fell during the most famous number "All that Jazz" and much to my surprise stopped singing, the rest of the cast for the most part was sexy and sensual just as Fosse should be.  Thank goodness for boys in mesh that can dance!

And for better or for worse depending upon what you deem important, Rita Wilson is extending her run in Chicago.

Go here for more information.

I've also included a pic of Rita on opening night with her humorous hubby Tom Hanks, and co-stars, Obba Babatunde, Brenda Braxton and Kevin Chamberlin.