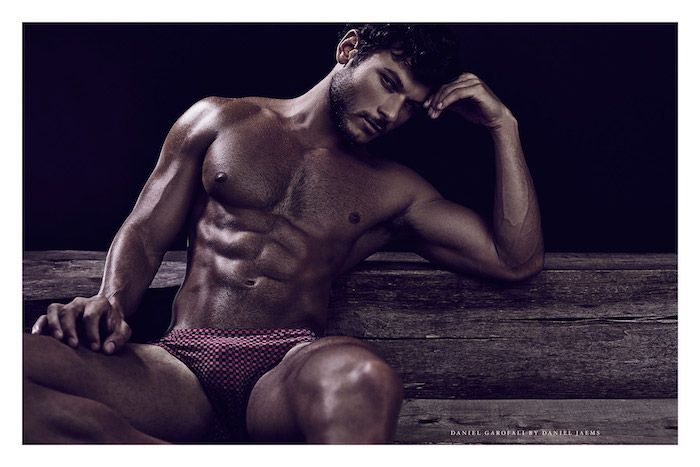 Any fan of sexy men and social media is probably already very familiar with this week's #MCM, Daniel Garofali. The Australia-native -- who you might recognize from when he appeared in our September issue as our
#MCM carrying an MCM backpack
-- is a Facebook and Instagram sensation and a favorite of fashion and fitness photographers worldwide. With smoldering looks, a perfect body and winning smile, we're not surprised. We chatted with the former back-up dancer about posing nude and getting in touch with his inner nerd.
How did you start modeling?
My modeling career began when I was scouted onstage performing as a back-up dancer for artists [like
Kylie Minogue and Duffy
]. I signed with my agency, Chadwick Models, who still represent me in Australia, and booked my first modeling gig that week.
Have you always been in such great shape?
My dad constantly reminds me that I get my body from him...but I have yet to see the photographic evidence. I've always been in shape. As a kid and one of three brothers, I was always active, at the beach, running around and enjoying the sun.
When did you start working out?
Training, of every sort, has always been a part of my life. From an early age I was engaged in competitive sports but it wasn't until I attended a Performing Arts School -- much like the school on
Fame
-- that I began to commit everyday to become a professional dancer. It was an intense program, training and performing everyday for a few years. I didn't start going to the gym until much later in life but, you could say I basically was using female dancers as dumbbells.
Do you remember the first time you posed nude? Were you shy about it?
I remember each time but I don't remember which was the first time. I've never posed full frontal (although there are plenty of photoshopped photos floating around the World Wide Web), but it's never been an issue nor have I been shy to shoot nude. There is a big difference between shooting nude as opposed to naked. If anything, I like to keep on the nude end of the spectrum, although social media has a hard time differentiating between the two.
What do you think is your sexiest asset?
It's my persona as a model. My work explores characters in a fictitious environment but in real-life, I'm more of a nerd. I can't tell you the amounts of time people say "I didn't recognize you with clothes on" or "you're so different to your photos" when describing my personality. The thing is, the internet generally only cares for my work with the least amount of clothes and it definitely doesn't care about my obsession with say...typography!