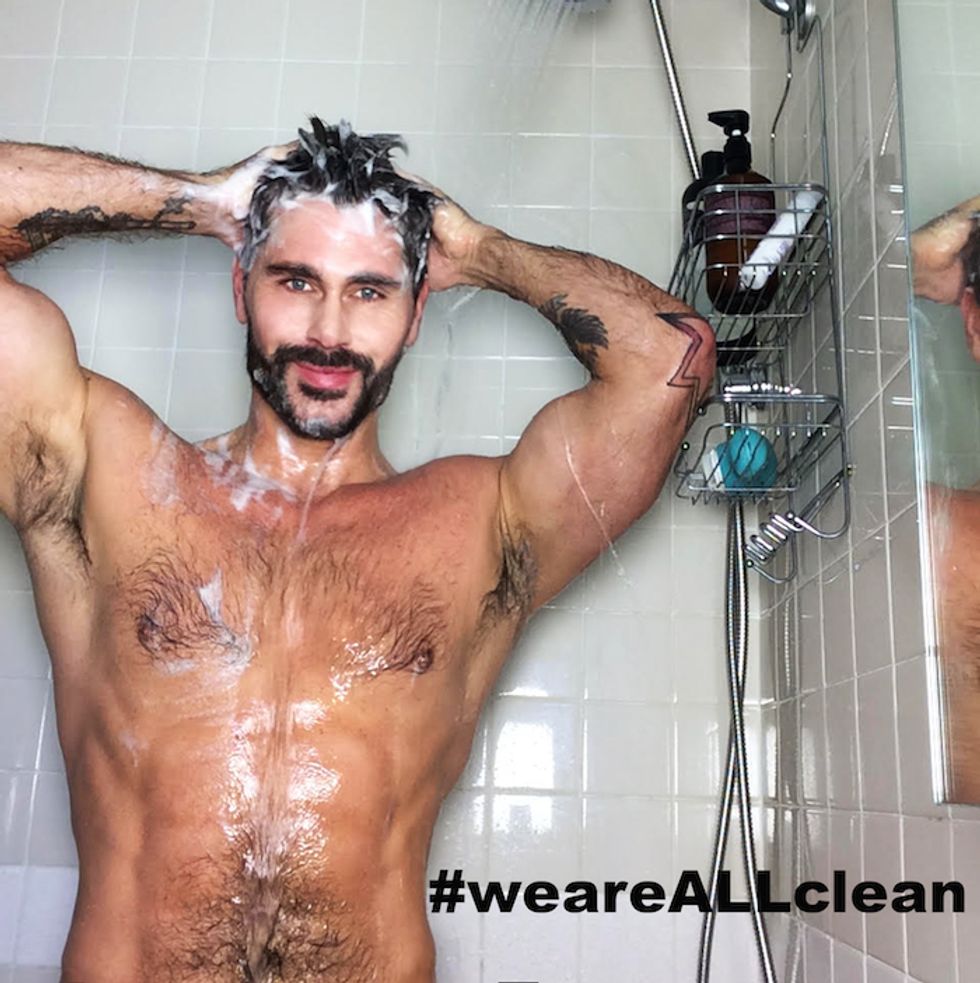 Fashion addicts around the country first became acquainted with muscle-bound designer Jack Mackenroth when he competed on
Project Runway
season 4. While that stint on reality TV  showed America how well-built and adept at sewing Jack was, it was Twitter that showed us what a deliciously demented sense of humor he has. His serious side comes out in his work as an HIV+ activist, a role which has earned him much respect from the gay community. We caught up with Jack to talk about
naked selfies
,
Project Runway
and his dream 3-way.
Your Instagram has a lot of shirtless or semi-nude selfies. Do you consider yourself an exhibitionist?
Surprisingly no. I know there are a ton of my ass pics bubbling around the Internet, some of which I help disseminate, but that is just a branding tactic á la Kim Kardashian. I have become somewhat infamous for the junk in my trunk and I'm not ashamed of that, but in person I am not an exhibitionist at all. I was a legit model for many years and I have been a competitive swimmer since I was 6 so locker room nudity has always been fairly commonplace in my life. I am not uncomfortable being naked or flaunting my (ass)ets but I also do not get off on it, which I think is the true marker of an exhibitionist. 
You've done some nude modeling. What was that like?
Ain't no big thing. I turn 46 this April and I don't think I would ever do it again because my man boobs are starting to sag. I've never actually done full frontal nudity. There are a few photos where my peen is sort of visible and I've seen several shots where someone has photoshopped giant schlongs onto my body and I encourage that! (Photoshop note: please try to match my skin color. Thnx)
You've been very open about being HIV-positive and an advocate for that cause. Do you think we've made progress in terms of peoples' perceptions of those who are positive?
Yes and no. I think we have made a lot of progress within the gay community -- at least in the major metropolitan cities. The advent of PrEP is accelerating that discussion even more by engaging many HIV-negative men who previously may not have directly thought of HIV as "their" issue. I think that within the hetero population HIV and AIDS is pretty much a dead issue (no pun intended). There are very few celebrity fundraisers, it's almost never in the mainstream media and I just spoke at a college lately and they didn't even know there is a new HIV prevention pill. If nothing else that should be GLOBAL news!
For the most part, HIV-positive people have become invisible to the masses. There are very few of us that speak about it openly (I've been positive for 25 years) and usually we are preaching to the choir. When people stopped dying visibly and frequently in the late '90s, the general public lost interest. Unfortunately the HIV virus has not changed and transmission rates are on the rise -- although the widespread use of PrEP will change that very quickly. I imagine it has already.
Looking back do you think it was a good choice to be on Project Runway?
Yes. It changed my life for the better. The show is a sham, the judging is totally fake and they basically decide who they want to eliminate and edit the footage to make the viewer agree. But the work was real and the other designers I met were amazing. I'm still friends with many of them. The best thing I did was talk openly about my HIV status and put a face to the disease on a national level. That was back on season 4 when people still watched the show before Lifetime destroyed it. Oops, I guess I won't be on All-Stars season 32.
From a professional perspective I don't think reality shows in general have much of a positive effect. I have left fashion completely and I now work in HIV advocacy, PR and communications. Everyone expects that with a little TV exposure you can launch your own line and be the next big star -- that's ludicrous. After 16 seasons of
Runway
and 4 or 5 All-Star shows there have been over 200 designers who have competed. I can think of two, Christian Siriano and Michael Costello, who have had some level of national success. Most people just go back to their old careers and continue to struggle. Fashion design is a cutthroat business. Well established designers go bankrupt right and left. And quite honestly the fashion industry frowns on
Project Runway
and doesn't take the designers very seriously.
I knew going into it that that was most likely the case. I just wanted to have a new life experience. It was amazing, excruciating and horrifying all at the same time. I would repeat history but I wouldn't do it again if I was asked now. It's too manipulated by producers and the public interest is just not there any more.
Would you ever do porn?
No. I know quite a few porn stars and I'm friends with Chi Chi La Rue and Michael Lucas and the owners of COLT and Hot House. Now that anyone with an iPhone and an Xtube channel can make porn, there is not much money to be made. I am certainly not judging those who do it. I love porn! I've certainly made homemade videos but my ass promotion similarities with Kim Kardashian end there. Don't expect to see a Jack Mackenroth sex tape any time soon.
If you could do a crazy sex scene with any well know male celebrity, who would it be and what would the scene be?
Hmm. I think I would have a 3-way with Joe Manganiello and Jason Statham. I would be dressed as
Penny Pingleton
[from
Hairspray
] and I would have to be positively punished.
You May Also Like