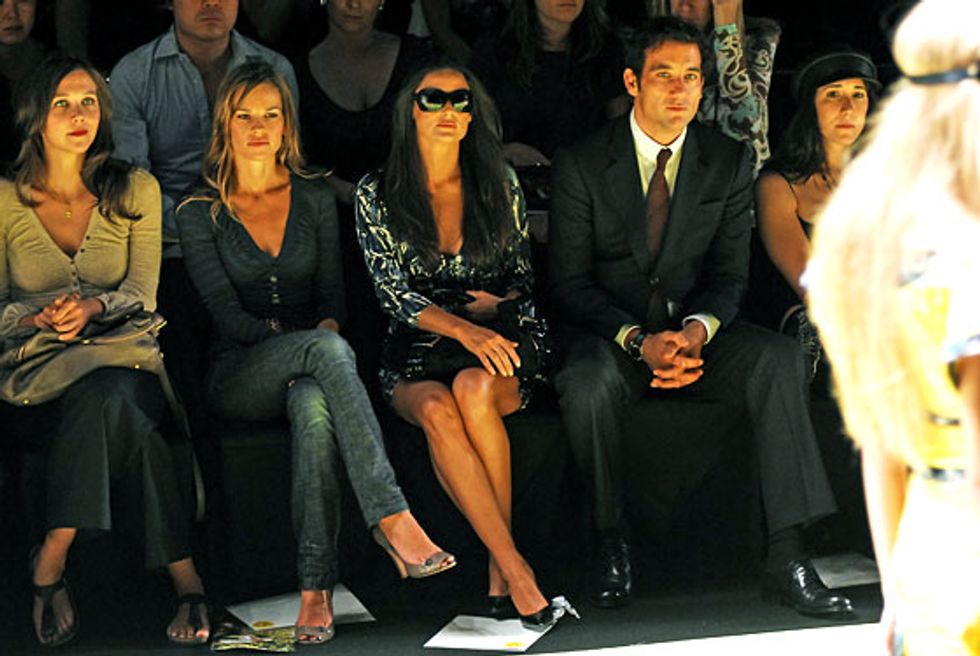 Hello fashion addicts! Mr. Mickey, your Front Row Fashion Week Reporter here (okay. sometimes second row, but that's not alliterative!). Tune in each day for a recap of the hijinks and shenanigans of the shows, presentations and general nincompoopery.
Yesterday was madness! Things started off at Miss Sixty, the Italian company the girls go crazy for. They're known mostly for denim with a '70s flair, but this season, the hunky creative director Wichy Hassan was feeling the '60s, which always hits the spot for MM! Warhol's Chelsea Girls was the inspiration and who can get enough silver and pop art prints? Meanwhile, the front row was a photographer feeding frenzy with celebs Maggie Gyllenhaal, Clive Owen, MM favorite Demi Moore, Hillary Swank and Mischa Barton (another MM favorite after hanging out with her at our Rihanna dinner last month.
Carlos Miele's sparkling-gown-heavy collection was glamour galore. The super stylish audience featured the likes of Zani Gugelman, Alex Kramer and Ms. Ivana Trump!
Peter Som's first Bill Blass collection was an homage to Mr. Blass and shown at the New York Public Library, which makes sense since Bill donated 10 million clams to the institution.
Presentations were also in order for Jenni Kayne, designer of choice for all L.A'.s glamour girls like Nicole, Lindsay and MK. They all wear it. It's fun to see a presentation, says MM, because you get a feeling for the collection as a whole in a way that seeing one look at a time just doesn't provide.
Tse was super arty with a Jil-Sander-type vibe and splashes of bright, bright blue. Designer Tess Gibberson is great.
Thom Browne was his usual genius self, pushing things to a new level of "is it gorgeous or is it totally retarded"? Mr. Mickey is dreaming of getting a tuxedo with scandalously short hot pants! MM was wearing hot pants three years ago! The life a fashion pioneer is lonely!
Stephen Burrows is a legend who just gets better each season. He showed -- what else? -- sexy colorful dresses that made us want to dance the night away.
G Star had a wild show featuring a conveyor belt for the second season in a row. These models were choreographed like a Cirque de Soleil show! It was gorgeous! And how nice for a denim company's fashion show to have some hip denim? It gave MM a flashback to early '90s NYC when tons of London DJs would come visit and always feature a novelty denim!
It was a big night for art also! Yes, man does not live by fashion alone. Thursday had openings from two of MM's favorite photographers, Jessica Craig-Martin (at Greenberg Van Doren Gallery) and Edward Mapplethorpe (at Foley Gallery). Check these shows out for a dose of culture!
Mr. Mickey would love to tell you more but he's got dinners to attend. You'll hear about those very shortly!!!
Photo of Miss Sixty show from Getty Images