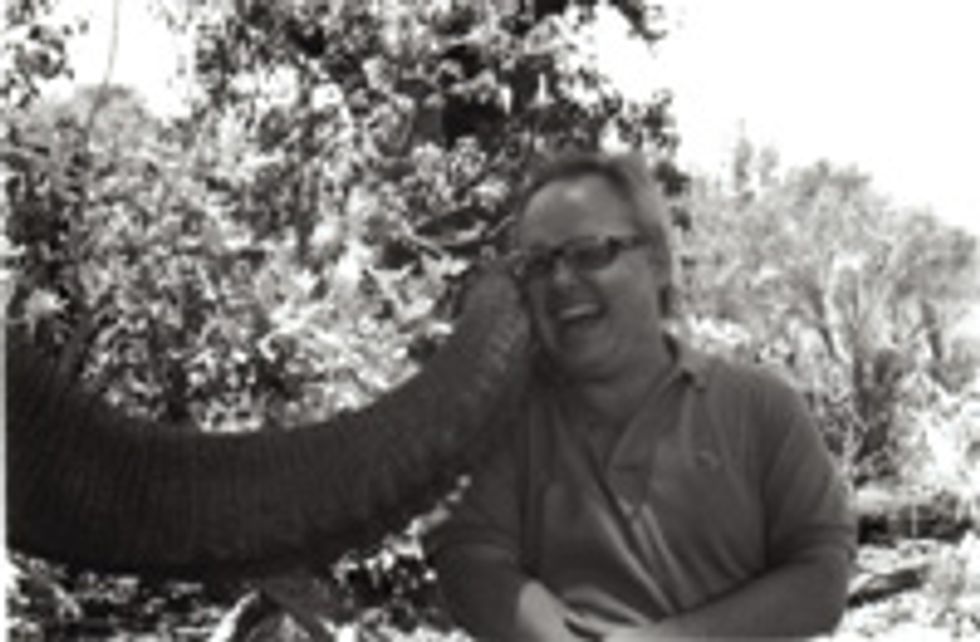 MM is just back from a whirlwind Botswana safari (with bonus jaunts to South Africa and Zimbabwe) and here is an adorable photo of MM getting a smooch from an elephant. At least MM is getting some action!

But don't try this at home kids. Wild elephants will fuck you up! MM and his band of safari buddies spent an afternoon with Doug and Sandi of Grey Matters, who care for three tame elephants: Jabu, Marula and Thembi. You can read more about them and their work (and cough up some dough for them) here. Honestly folks, there's nothing like having the close contact with animals that a safari offers.

MM has recently become a strong proponent of the idea of development through tourism. There was a marvelous editorial in Travel Africa Magazine about just this. The 2002 tourism receipts for Africa were $11.8 billion. In that same year the US aid budget for Africa was $674 million. With responsible tourism, 70% of the cost of a holiday (minus the flight) stays in Africa. Finally a good reason for being a shopaholic on trips!!! But seriously kids, so much attention is given to aid and debt relief when responsible tourism employees local people including WOMEN! and can help to sustain local traditions. The tip that I gave our guide in Zimbabwe will pay her rent and utilities for a month. In South Africa and Botswana, locals realize that they can make money off their parks and animals and so they protect them. It's in countries that tourists don't come that there are problems with poachers.

Whew MM is really on his soap box today! The message is support responsible tourism wherever you can!

Check out some safaris from Abercrombie & Kent. MM did the Wings Over Botswana tour and also did the Wings Over Tanzania tour a few years ago.