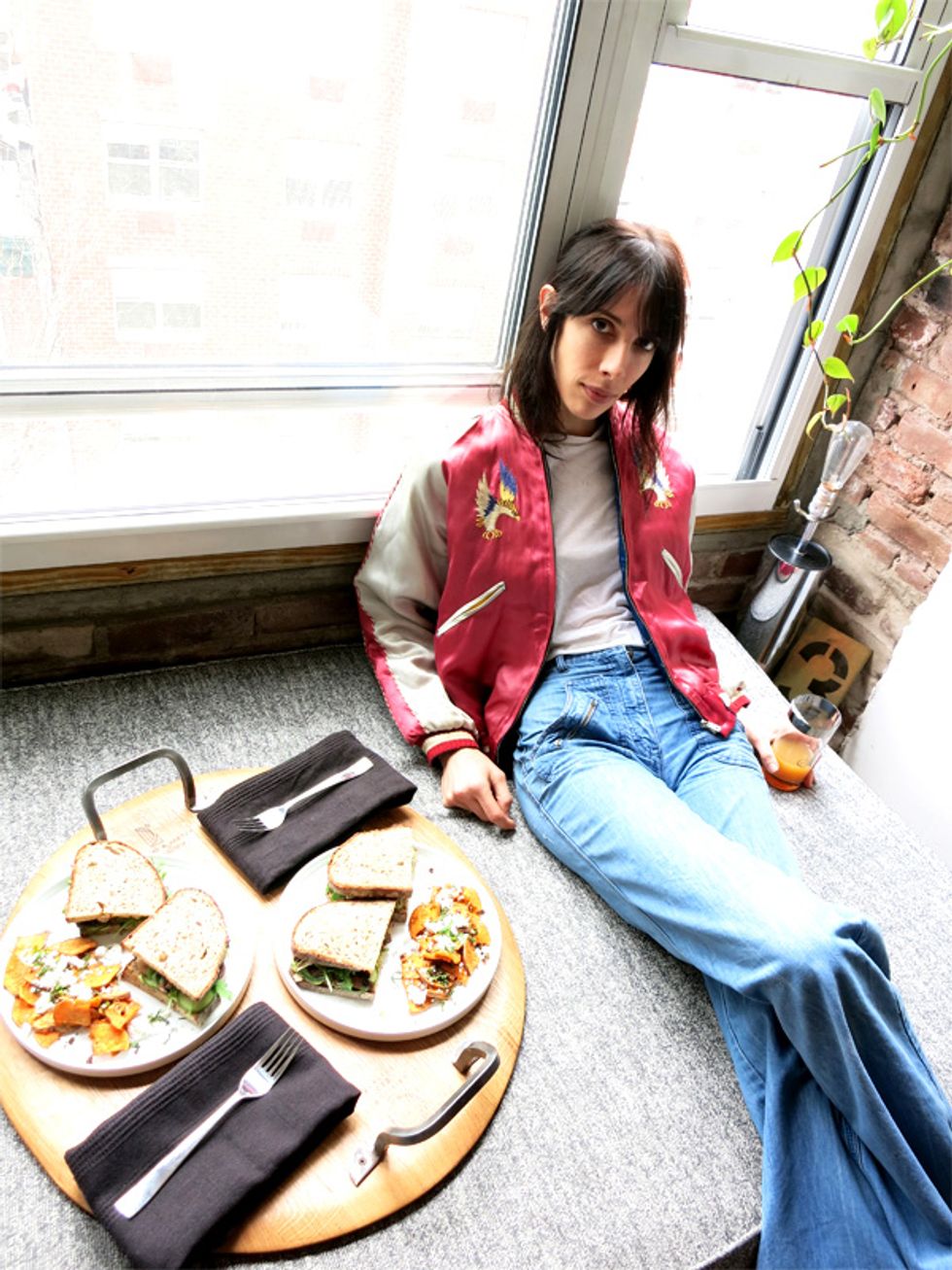 In our new series, Ladies Who Lunch, cook, co-founder of catering company bigLITTLE Get Together and Marc Jacobs' personal chef, Lauren Gerrie, will be whipping up lunch -- and conversation -- with some of our favorite New York City gals.
Don't judge a book by it's cover... or go ahead, either way Jamie Bochert doesn't give a fuck. Her waifish frame, sunken cheekbones, and midnight black hair certainly drew me in, but it's her genuine and carefree spirit that left me wanting to spend the entire afternoon with the musician model extraordinaire. Originally hailing from the Garden State, Jamie lived in LA for six years until she was swept up to New York to embark on a modeling career. She instantly started booking jobs, her first being a campaign with Steven Klein for Furla Handbags. On hiatus for about two years to focus on her music (she is a self-taught guitar, harmonium and piano player), it was an introduction to Marc Jacobs who brought her back into the fashion world. Jamie came over to my Alphabet City apartment and we discussed our mutual love of dance and her obsessions with my Almond Butter Cookies (one of Marc's favorite showroom treats).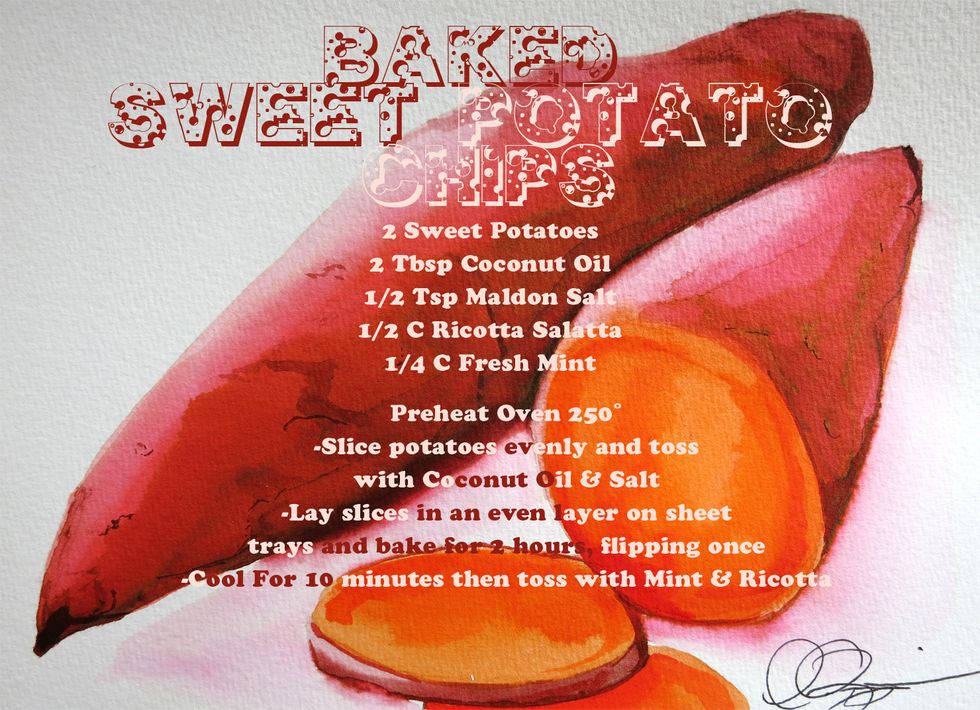 MENU
*
Roasted Crimini Mushroom Sandwich on 7 Grain with Mashed Avocados, Cucumber, Sriracha & Arugula
*
Baked Sweet Potato Chips with Feta, Mint, and Fried Shallot

What's your favorite meal of the day?
Breakfast. I love food and I love cooking and I love eating all the time. Moroccan eggs are my go to -- sauteed onions in argan & olive oil, ras el hanut with cinnamon and paprika, canned diced tomatoes. I make little wholes in the tomato and onion mixture and put the eggs in there. Top it with harissa and cilantro and a side of pita. I eat that almost every day.
When you go out, where do you like to eat?
EN Japanese Brasserie on Hudson & Leroy. In Williamsburge there is Bozu, a Japanese tapas place with really good drinks. Then there is Marlow & Sons, which I'm a big fan of. I lived across the street for a minute and I would always go there. Maison Premiere also has a great vibe with oysters.
Where would you go to eat anywhere in the world?
If I could find a really beautiful beach in Japan where I could eat really fresh fish, that would be amazing. A complete experience and fantasy.
If you could drop everything and escape somewhere right now where would you go?
Jamaica. I think it would open up my world.
Favorite condiment?
Do pickles count? I like eating pickles, my parents always have the bread and butter pickles and I will eat them straight out of the jar. You know who gets the best pickles? Kim Gordon! She gets the pickles from this farmers market in the Hamptons. I also love
Salvatore ricotta
. I had a fantasy, before I started working with Marc, that I would get a house upstate and get some water buffalo and I was gonna make buffalo mozzarella.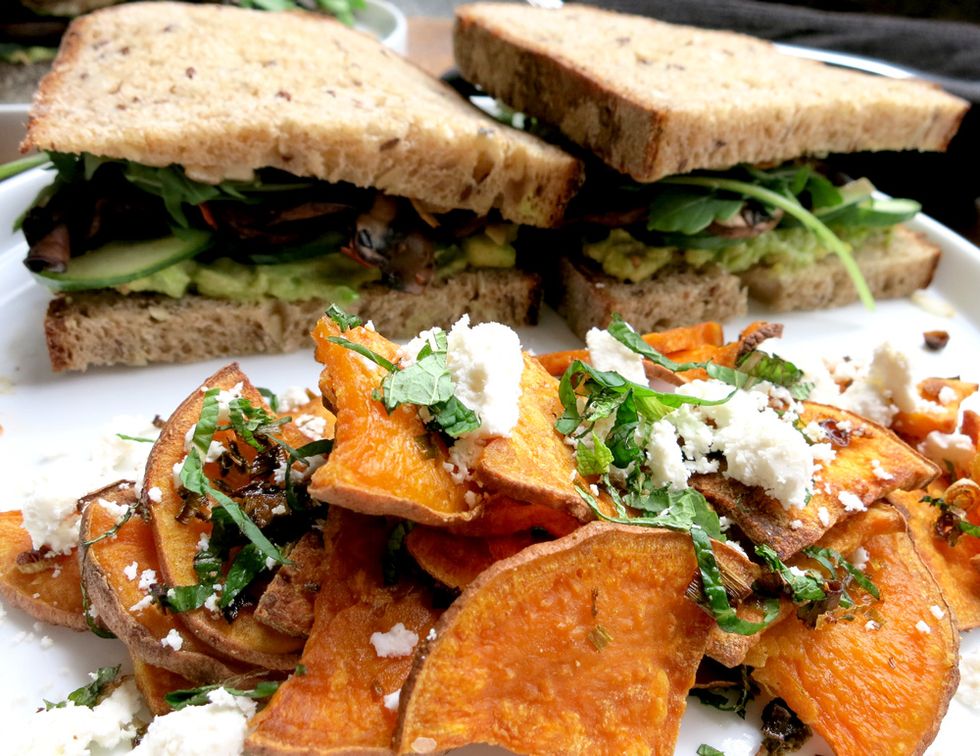 Have you given up your mozzarella fantasy?
I thought it was brilliant, but now if I could do anything I would distill oil from flowers and plants. I always wanted to start a pharmacy with herbalists. I don't like pharmaceuticals.
Biggest misconception of who you are and what you do?
I don't know. These days I don't really think about what people think about me. I really don't give a shit.
As a model, though, have you ever gotten frustrated when people on the Internet make mean comments about your look or your weight?
I hate it when people make comments that I'm too skinny or anorexic. I am always trying to put on weight, but I am naturally thin. People are really really mean. It's fucked up. When I first started working with Marc, he asked me to open his show, which launched my re-entry to modeling. At the time the Internet was really taking off and on fashion forums people would write the most cruel things. "Is she a man?" "She is anorexic" blah blah blah. It was so hurtful. I can't imagine what it is like for kids in high school these days!
If you could be anything other than a model/musician what would you be?
I would run a daycare for animals. If I could work every day with cats and dogs I would love it. Actually any kind of animals. I'm not good with coming up with names, but it would eventually come to me.
If you could have anything created specifically for you -- and money was no object -- what would it be?
A tree house mansion on a private island and only I had the boat to go back and forth. That would be my dream.
If you could have lunch with any other woman, who would it be?
I keep thinking of men, like Victor Hugo. PJ Harvey, we would have to go out because I would be too nervous to cook. I love her. She is amazing and super cool. Authentic and honest. I've seen her at the Beacon and Terminal Five.