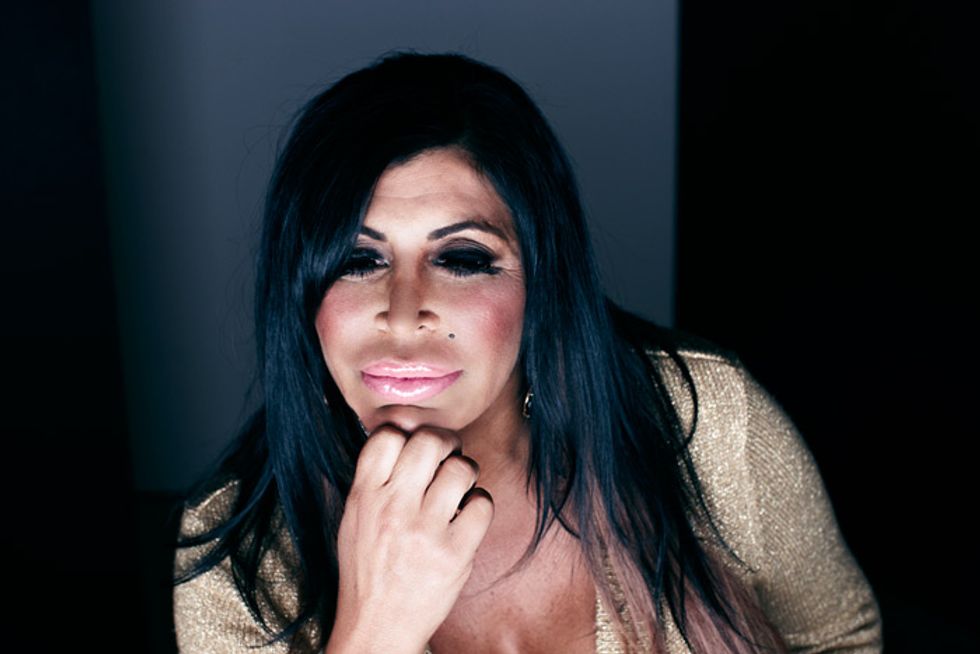 "My whole life, people have told me, 'You should be on TV,'" says Big Ang, biting into a chicken marsala grinder at her now famous Staten Island bar, the Drunken Monkey. "But it wasn't until a little over two years ago that the 52-year-old -- who has been working in bars since she was 16 -- was approached by Jennifer Graziano, the creator of VH1's Mob Wives (and cast member Renee Graziano's sister). She wanted the Staten Island doyenne to appear on six episodes of the hit reality show that resembles Bravo's Real Housewives franchise except that all of the ladies have ties to la famiglia. (Big Ang, née Angela Raiola, is the niece of Salvatore "Sally Dogs" Lombardi, a deceased captain of the Genovese crime family.) But in the blink of a false eyelash, six episodes turned into a whole season, followed by her own spin-off, Big Ang. And then there were the murals. Massive, massive paintings of Big Ang flanked by her favorite things (her Pomeranian Lil' Louis, a colossal diamond and a martini glass) could be seen everywhere from Williamsburg, Brooklyn to the near-west side of Chicago.

What's even more remarkable is that reality TV producers didn't come calling on Big Ang sooner: She has a physique anchored by enormous surgically-enhanced breasts and lips, a distinctive smoker's rasp that makes her sound like Harvey Fierstein's long-lost sister, and, above all, a warmth and generosity toward her family and friends. It's these qualities, plus her uninhibited love of "wiseguys," that have attracted high-profile fans like Nicki Minaj and Diddy. And whatever the next few years -- or seasons -- bring (like her big screen debut in
Scary Movie 5
), you can bet that she'll be calling (and drinking) the shots. "Nobody tells me what to do or how to act," says Big Ang, as she inspects a mysterious, cinnamon-smelling liquor before taking a sip. "I've been doing whatever I want since I was twelve."
***
Big Ang answers our TV survey:

Do you watch your show when it airs?
Yes I do, every Sunday night at the Drunken Monkey.
Do people come up to you to talk about your show? What do they say?
Yes, they tell me that they love me because I am the peacemaker, they call me "No Drama Mama."
What's your "guilty pleasure" TV show?
SnappedTop by Michael Kors and earrings by Kendra Scott.

More Of Our Favorite TV Stars