This article is a sponsored collaboration between KFC, CROCS and PAPER
"Nothing's good or bad. It's all art." This is the motto of MLMA, whose freaky fashions, supernatural beauty looks and priceless Instagram stunts have propelled her to viral fame. The Seoul-born artist, who mysteriously refuses to reveal her age and goes in person simply by M (her moniker stands for Me Love Me a Lot), is a 360 degree creative: a make-up artist, special effects pro, fashion designer at apparel brand Skoot, rapper, model and internet humorist.
"I never thought of my stuff as grotesque or creepy," she says. "People would be like 'This is really creepy. I was like, 'Is it? I just thought it was cool.'"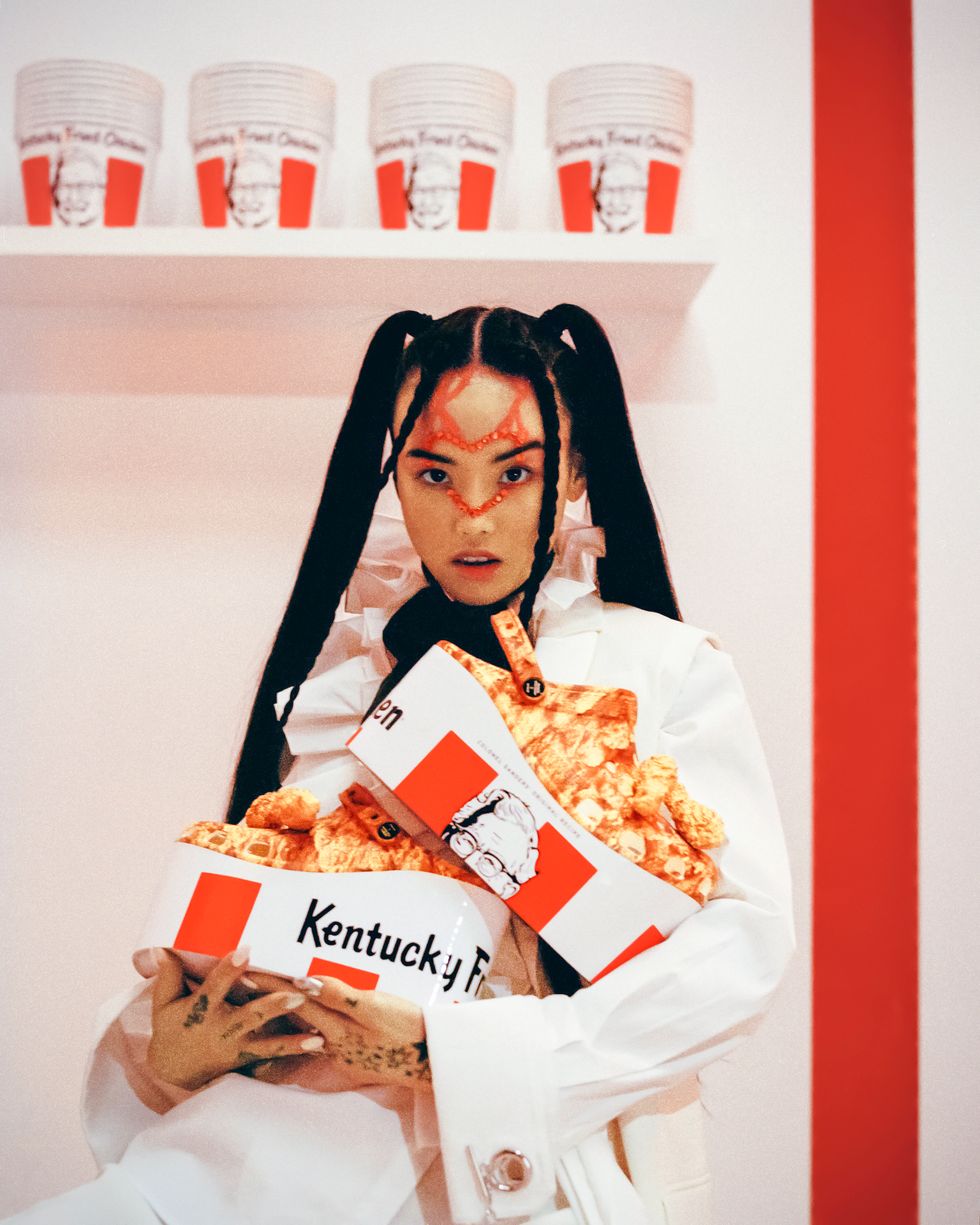 Some of her posts are adorable — like one of her sprinkled with moon-and-star freckles cuddling a photoshopped purple cat. But a satirical edit of her in an influencer ensemble including a comically photoshopped ass and subtly edited-in chunky sneaker-clad extra leg — might be counted among the internet phenomenon of cursed images: visuals that logically shouldn't exist, but which are simultaneously disturbing and alluring. The spookier side of MLMA's work has earned her a place in the world of high fashion: she walked a Paris Fashion Week 2018 show, holding a replica of her own head.
As our feeds have become distressingly homogenous, MLMA's aesthetic is jarringly distinct. She feels like an either an alien who crash-landed onto Instagram, or a Frankenstein of the platform's subcultures. Goth, horror, fantasy, animé, hypebeast style, influencer culture and absurdist comedy are all key ingredients of her aesthetic.
MLMA developed an original style out of necessity. Growing up working-class in Seoul, her first fashion projects were altering her mother's suits and making her own papier-mâché dolls out of toilet paper. Unable to afford art or fashion school tuition, she worked in retail and design before finding her niche on Instagram.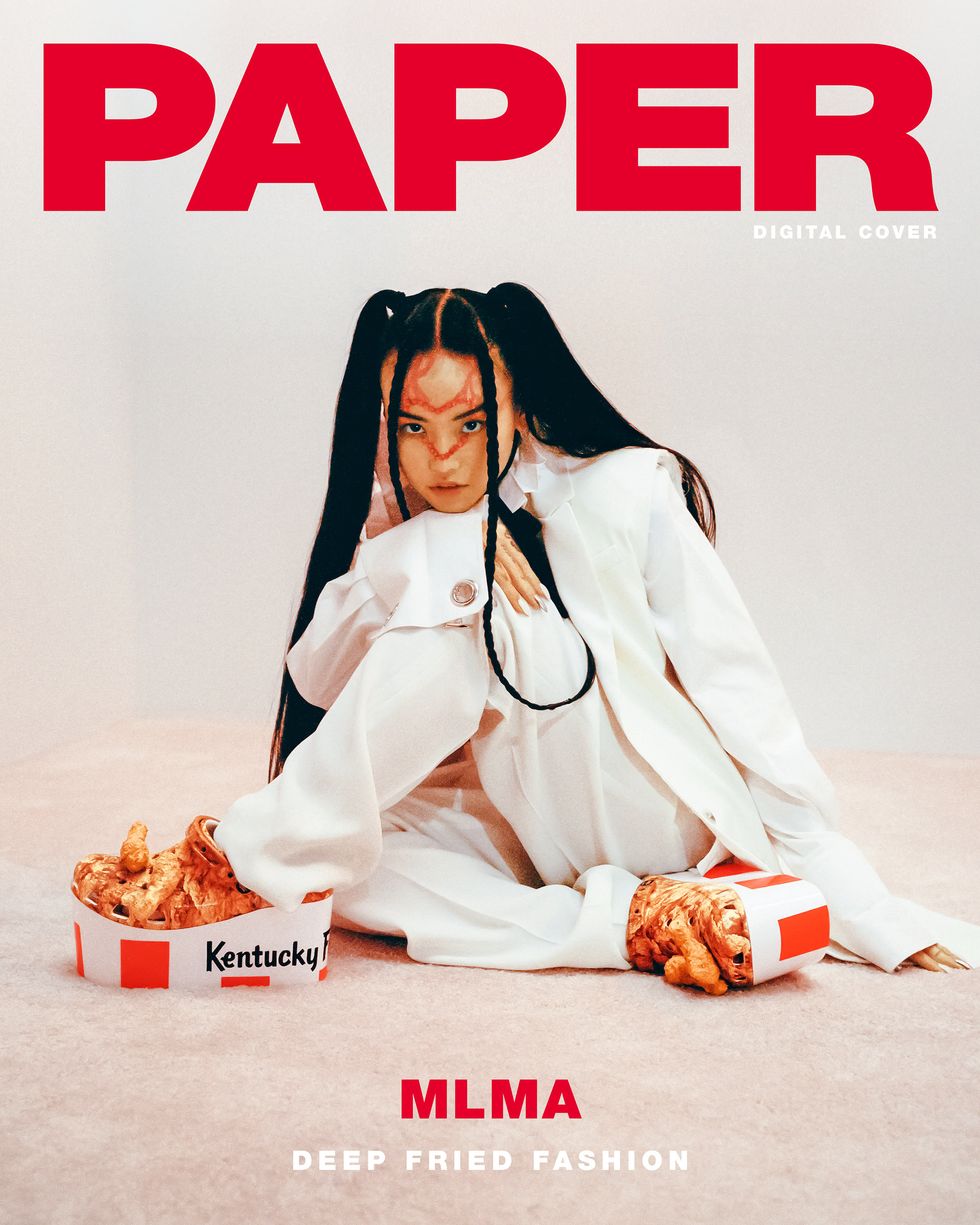 "Social media is kind of like… just hanging out with a bunch of internet friends? You know what I mean?" she says. "They're a bunch of kids like me just doing makeup."
While she loves the internet, MLMA insists ideas come to her offline: "My biggest inspirations are my feelings. When I'm sad, it's just like 'I'm so sad right now, I want to do some creepy makeup to make me feel better."
MLMA simply describes her aesthetic as "M Gang style," but she always seeks to surprise and make people laugh. "I like weird stuff. I just like, have fun. You know?" she explains. "I want people to feel something. To look at my stuff, and think 'This is something I never thought about it.' To challenge their brains."
It makes perfect sense then, that MLMA has been tapped as the face of KFC and Crocs' bewildering new collaboration, Crocs™ x Kentucky Fried Chicken®. "When I heard about the opportunity, I thought my manager was joking" she recalls. "That's what I love about it."
What does a collaboration between Crocs and KFC look like? The limited-edition shoes are inspired by the iconic KFC bucket, with red-and-white-striped platforms and a crispy fried chicken print, topped with removable, chicken-scented Jibbitz™ charms. Essentially, they look like you're wearing buckets of fried chicken on your feet.
MLMA debuted the shoes this week at Christian Cowan's Fashion Week presentation. If Crocs or fast food merchandise seem like strange outfit choices for a New York City runway show, where everyone is there to be seen, then your definition of high fashion is different than MLMA's.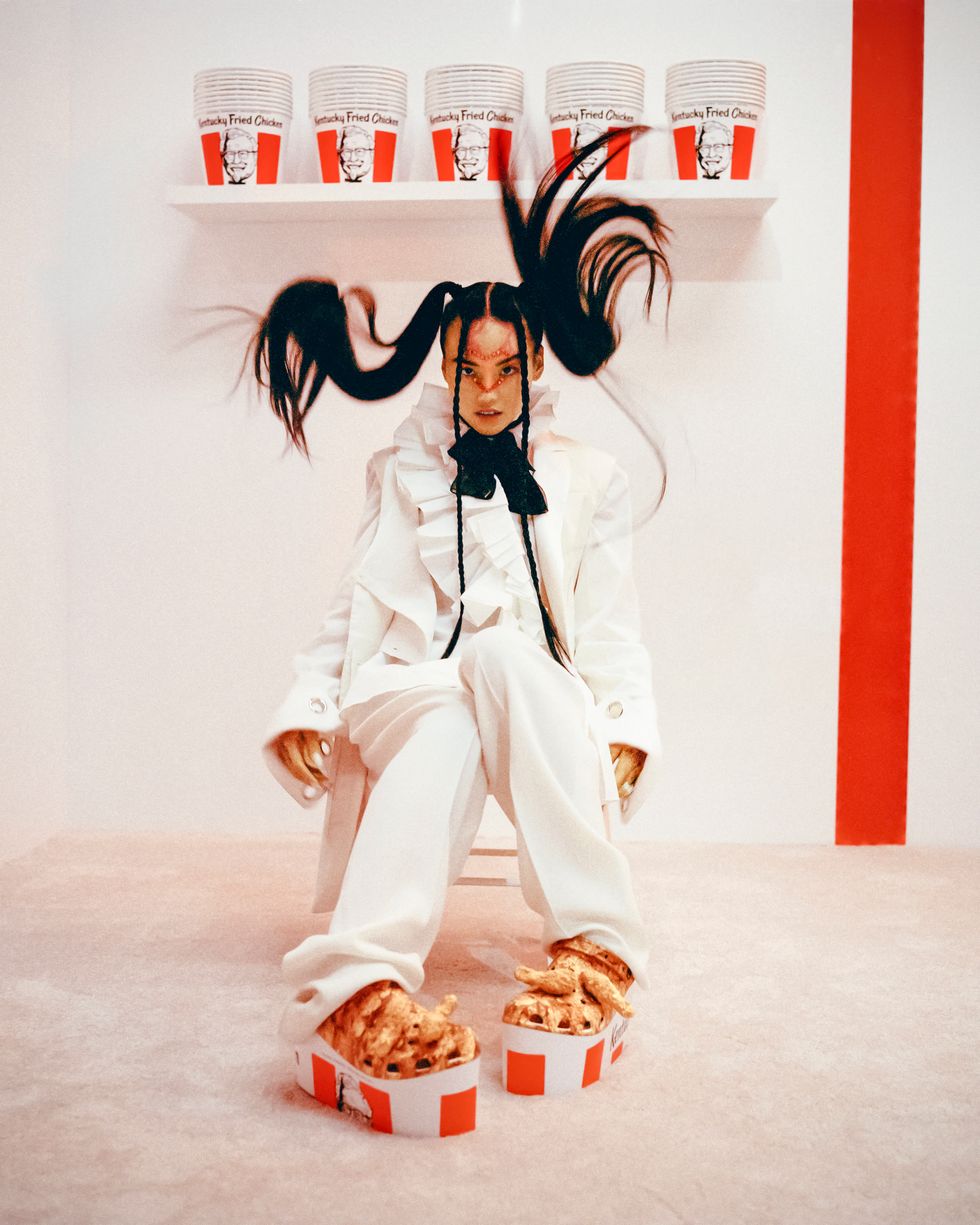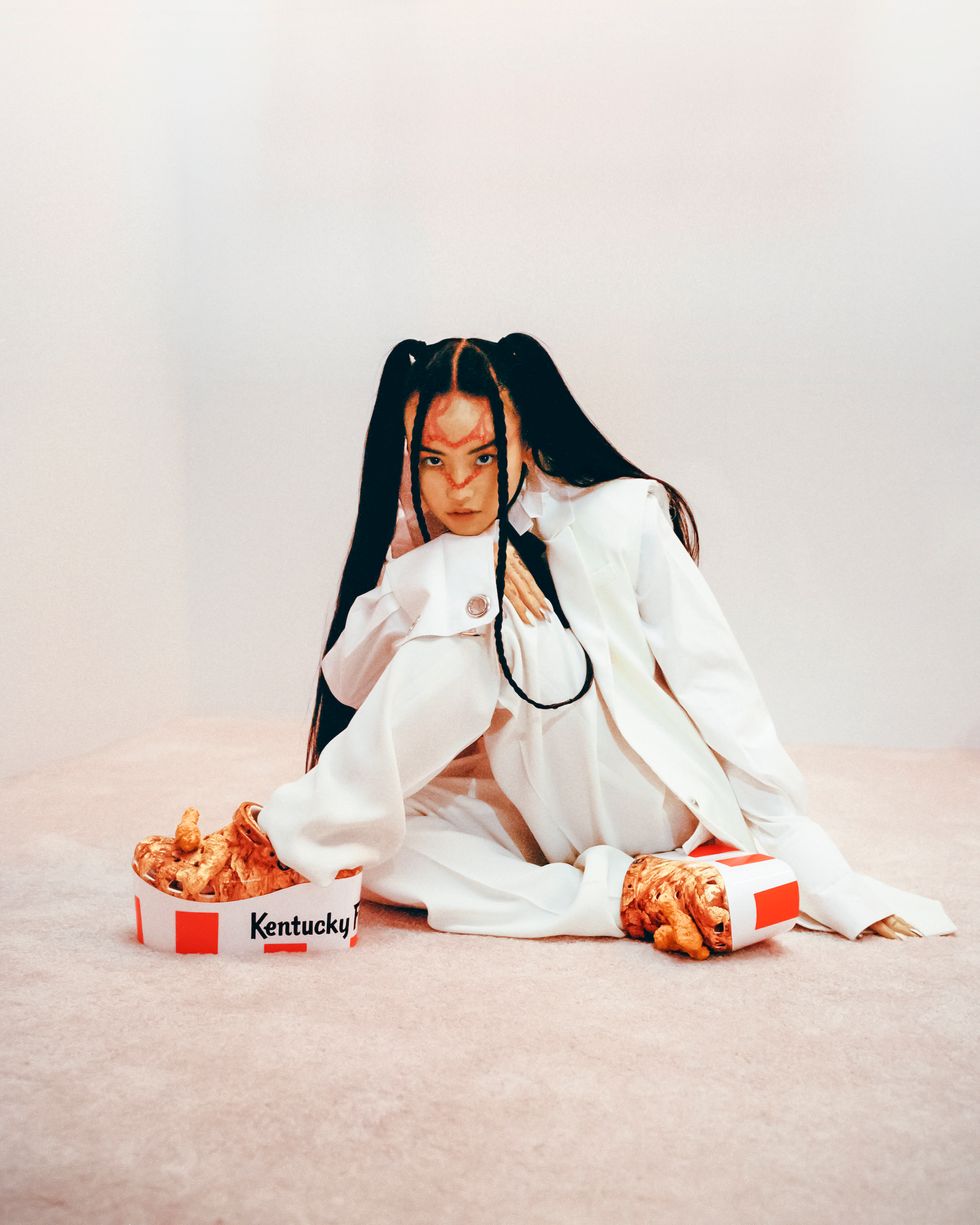 "Crocs and KFC's collaboration feels high fashion to me," MLMA says. "Because they are doing something different that's fun and creative. To me, it's the same aesthetic as Skoot: no rules or boundaries, there's nothing you can't do." An expert of virality, MLMA says the only secret is authenticity. "When you have fun, and do something no one else would try, that's when you go viral."
For MLMA, anything that bucks expectation, including an aggressively comfortable shoe brand, a Southern-themed fast food company, and an avant-garde Instagram artist teaming up, is a win.
Should a fried Croc exist? Should it be worn front row at fashion week by a Korean Instagram artist? Should you get a bucket of chicken for lunch? "Like, why not?" asks MLMA.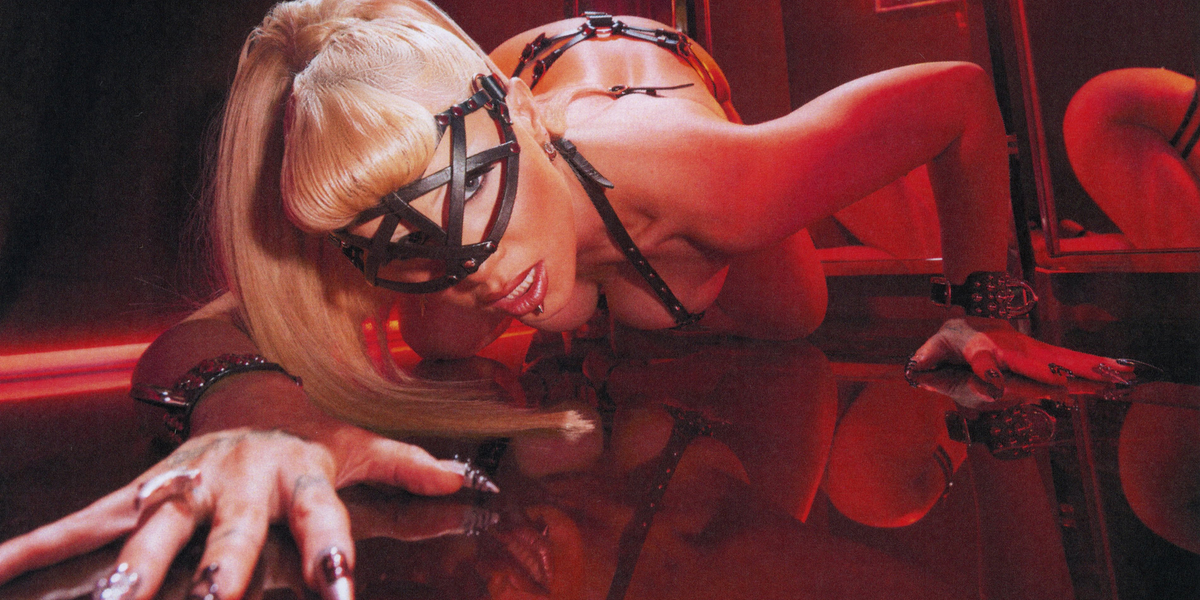 Music
Story by Ivan Guzman / Photgraphy by Breakfast For Dinner / Styling by Malcolm Baron Smith
Story by Ivan Guzman / Photgraphy by Breakfast For Dinner / Styling by Malcolm Baron Smith
10 November