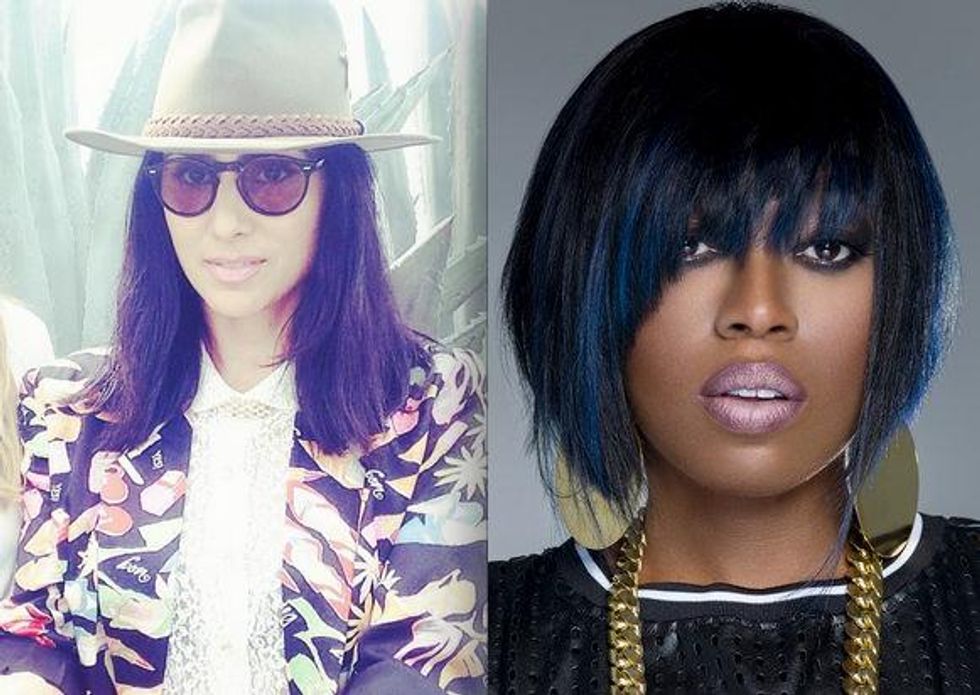 Gloria Elias-Foeillet and Missy Eliott. [Photo of Gloria via Instagram; photo of Missy by Derek Blanks via]

We owe Gloria Elias-Foeillet a lot of beauty cred: the makeup artist might not be a household name, but her work certainly is. Gloria, also known as GloGlo, is the long-time beauty collaborator Missy Elliott trusts to help create the iconic beauty looks in her music videos and campaigns for beauty giants like the MAC Viva Glam collection -- and she's behind the beauty look in the new video for "WTF (Where They From)," too. You'll recognize her craftswomanship in "Work It," as well as Destiny's Child's "With Me" and other music video moments for A Tribe Called Quest, LL Cool J, and more. She's worked with pretty much every icon from the '90s music scene so it's no surprise that her reunion with Missy was a meeting of the minds sorely overdue. The new music video is just as full of iconic looks as her past bangers, showing Missy flying through verses in pop art bejeweled makeup in one frame and emerging from an alleyway with her crew of dancers in silver streetwear and matching silver lips in another. She might have been gone for more than a minute but she's flown back on the scene as cool and talented as ever with makeup on point to boot. In honor and celebration of Missy's latest music release, we reached out to the beauty magician that helped make some of Missy's iconic looks so incredibly memorable.
First off: how did you meet Missy?

I actually met Missy through another artist...Trina...Da Baddest Bitch. I was working with her at the time and since Trina and Missy are old friends (and she trusted her advice) she knew Missy needed a makeup artist, so she referred me.
What's it like collaborating with Missy? Does she come to you with a full plan or let you run the show?

It's definitely a fun process collaborating on makeup ideas with Missy. Usually I get the treatment if it's a music video, boards if it's a commercial, or mood boards it it's a still shoot....after looking at that I get together with wardrobe and hair to see what they're doing (sometimes wardrobe and hair dictates what I can and can not do) then I start looking for concepts. I come from a fashion/art background so I tend to go there for inspiration. After I have some references together I send them to Missy....then she will say yay or nay to specific colors, styles, textures etc. I have a guideline of what to do and from there and then I have creative license. We always have a general idea of what we are going to do but things never exactly turn out as we plan. That's a good thing. I always see every look as a piece of artwork.
Okay, please tell me literally everything about the makeup looks in the new video -- the lips! The pop art!
The blue lips in the dance sequence in the alley scene is a lip line called Cailyn Pure Luxe Lipsticks ($19 each). They come in really pigmented interesting colors. The female dancers have the same color on in that scene too. The pop art makeup I had been wanting to do for a long time. We were originally going to do it for a still shoot but later decided to do it for the video. I had done makeup tests on it so I had an idea what to expect when it came down to doing it. Nothing ever turns out exactly as you plan but I think it turned out quite good considering we did that scene really fast. And then I had to clean it off and do the other look for the 2-faced Missy within minutes. MAC Cosmetics and Monique Boyer [Director of Artist Relations at MAC] have always been super artist-friendly and they supported our tour this summer and gave me great products for the video, too. I used their Acrylic Paints to paint the pop art Missy and the flip side Missy....we were calling them "Fun" Missy vs. "Hood" Missy.
This video has been in the works all year really. It took months of work just on the marionettes alone. Missy had me speak directly with the marionette maker for makeup references. I ended up sending him a sketch of Missy with all the exact makeup/lashes I use on her so he had an idea for skin tone etc. And on the video shoot I ended up touching up the puppet with my makeup as well. The makeup on this project has been a collaboration between Missy and I from the beginning to end. She is very hands on... down to all the dancers, cameos, and extras that were in the video...everything had to be perfect and highly stylized. I was heading the makeup department so I was responsible for making sure everyone looked good. I organized a team of makeup to help me create this vision and I couldn't have done it without them!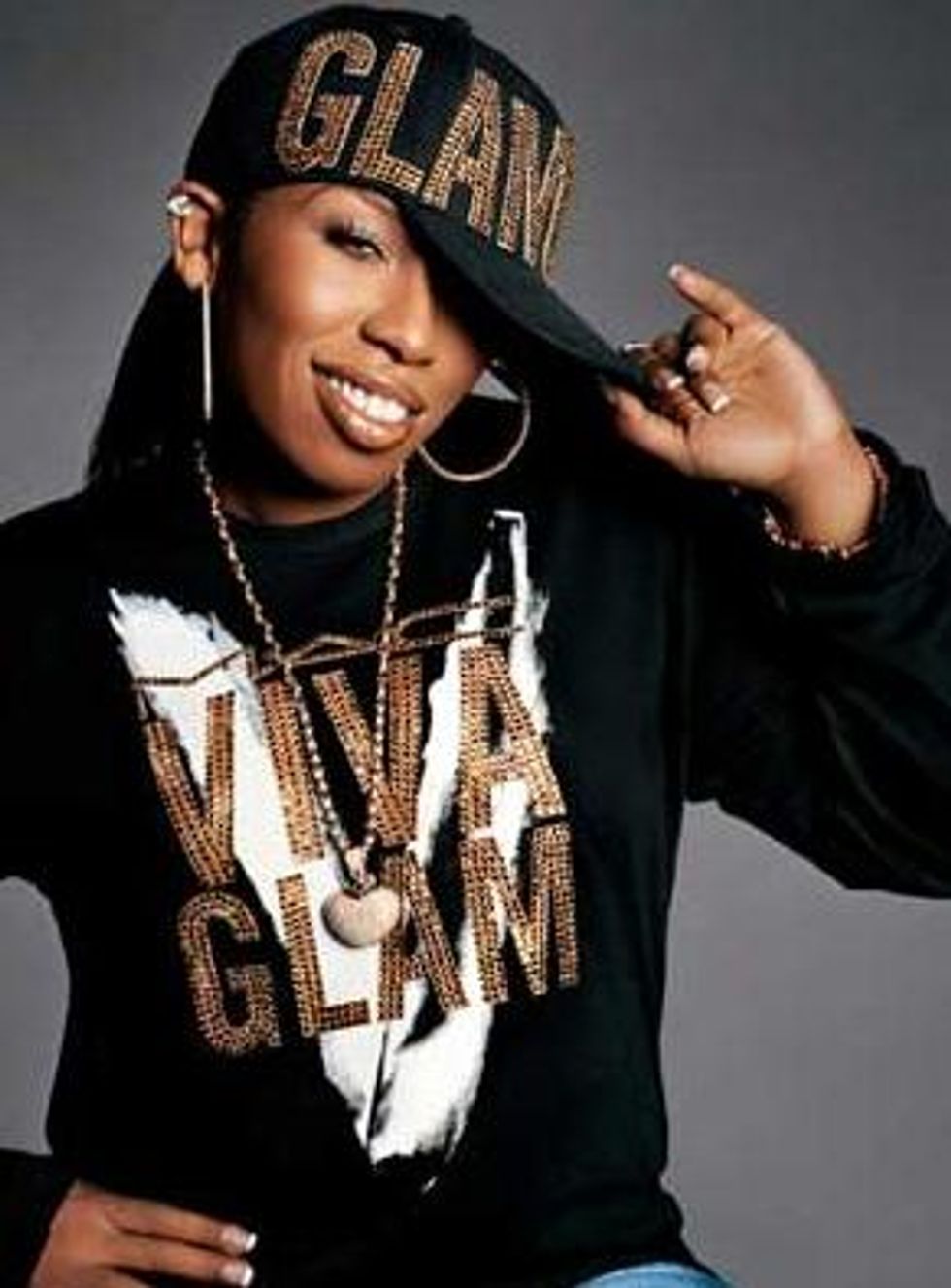 So in the scheme of things -- what's your favorite look you've done for Missy?

One of my favorite looks I've done on Missy was for the MAC Cosmetics Viva Glam V Campaign....it was really glamorous. I think I like the Viva Glam because it was so natural and fresh. Before that her makeup had always been so done, so it was nice to see her stripped down.
And throwback: how did the look for "Work It" come to be?
The look for "Work It" evolved after doing Missy's Under Construction album cover. Missy wanted to do a throwback to an old hip-hop vibe so we were inspired from that and I took it from there and just made her a little more flashy and dramatic, sculpting out her face and adding contrast. That look was definitely Missy's brainchild. She is a genius at video making and storytelling. All the different vignettes were her ideas and I just followed her lead.
What would you say is her signature look?
She's BEAT...no matter the look. Missy has years of experience being a perfectionist and a creative force and she has things exactly the way she wants them. There are no mistakes. I think this has created her look which is just always SUPA FLY.
That being said, she is definitely known for her eyelashes...that is her element. We've done every kind of lash you can think of and more. And she is also very particular about her lips. You will never see her in a bright pink, orange, or red. She only likes more neutral light lips or very dark...even black. I think my element are her eyebrows. I'm obsessed with eyebrows so I spend a lot of time making hers perfect. And we've done many different colors but always a pretty classic shape. Missy always jokes with hair people when they accidentally touch her eyebrows after I've done them. [She says that] "Glo is gonna kill you if you mess with dem brows." I definitely think a strong brow makes the face. Another element of mine would be the contouring I do for Missy. You really need to sculpt a face and give it dimension, however strong or subtle.
I was always impressed with how perfect her base makeup was in these videos, especially since there aren't a lot of foundation colors to choose from for darker skin. How'd you work with those limitations?
You are right...back in the days there were not a lot of colors to choose from. So I always made up my own colors and my own foundations. At the base, it's all the same stuff anyway. I would blend up whatever color I needed from pigments. But today there are so many lines for women of color. I love Kevyn Aucoin, Make Up For Ever, Mac, Stila, Iman, Make Beauty, Antonym, Koh Gen Do, Nars, Becca, Era, Josie Maran, Colorescience, Anastasia and the list goes on.
You May Also Like