Feather and frills and falsies, oh my! Earlier today, the 55th Annual Miss International pageant happened in Tokyo with 70 countries taking part. And while there were enough sequins, string bikinis and slinky things to last a lifetime, the best part of the night was undoubtedly the weird AF "national dress" round, in which each contestant walked the runway in an outfit that, um, best represented the culture of their country. Needless to say, when left that open to interpretation, the results ranged from outrageously elaborate to atrociously bad (SMH, Miss USA). But of course, all we care about the are the just plain weird ones -- check out a few of the wackiest ones below.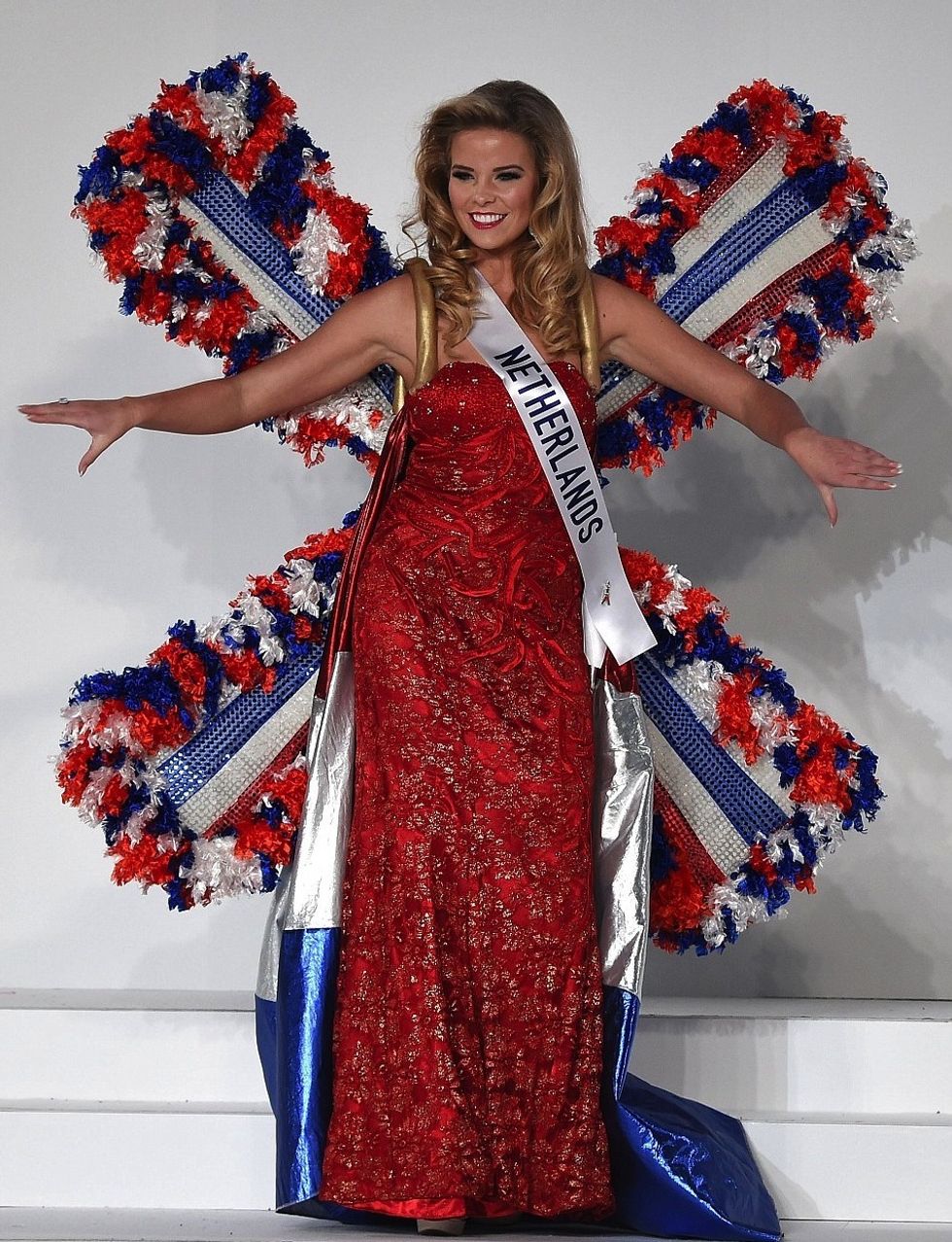 Christopher Jue / Getty
Miss Netherlands
The windmill-shaped backpack is definitely a risky look, especially when the glamour factor isn't exactly helped by the material, which looks like some craft store bargain bin amalgamation. Can you imagine shlepping this to the club? I'm already pretty good at whacking people in the face on accident, but this would make black eye incidents way too easy.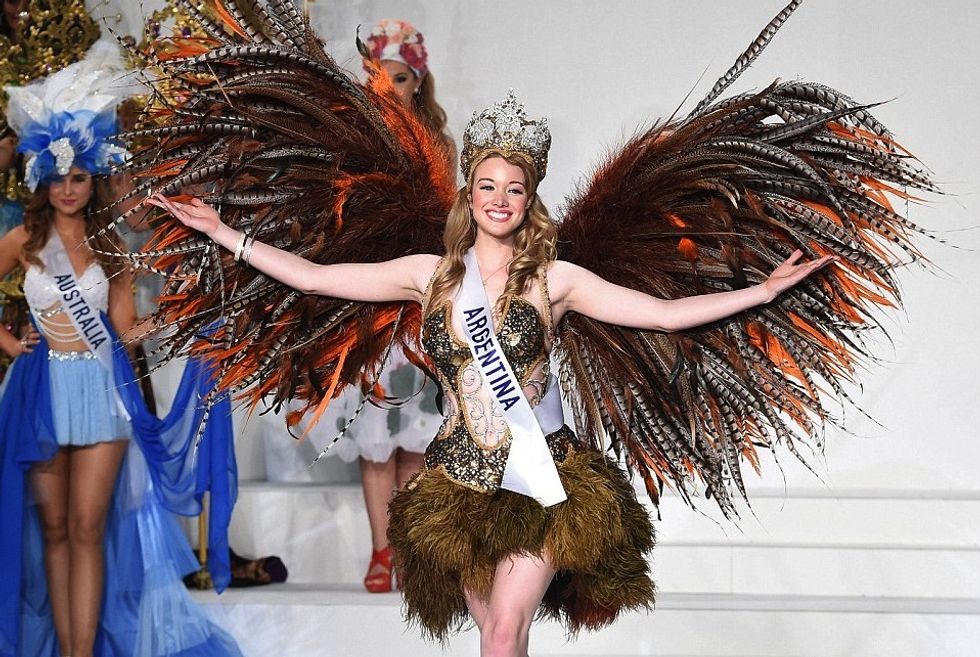 Christopher Jue / Getty
Miss Argentina
Half ice-skater costume, half bird of prey, this look is cool -- even if it looks slightly allergy-inducing. Glad there is some glam-factor here though. After all, who doesn't love a good glittery metal corset that looks like a bannister by Claire's Accessories?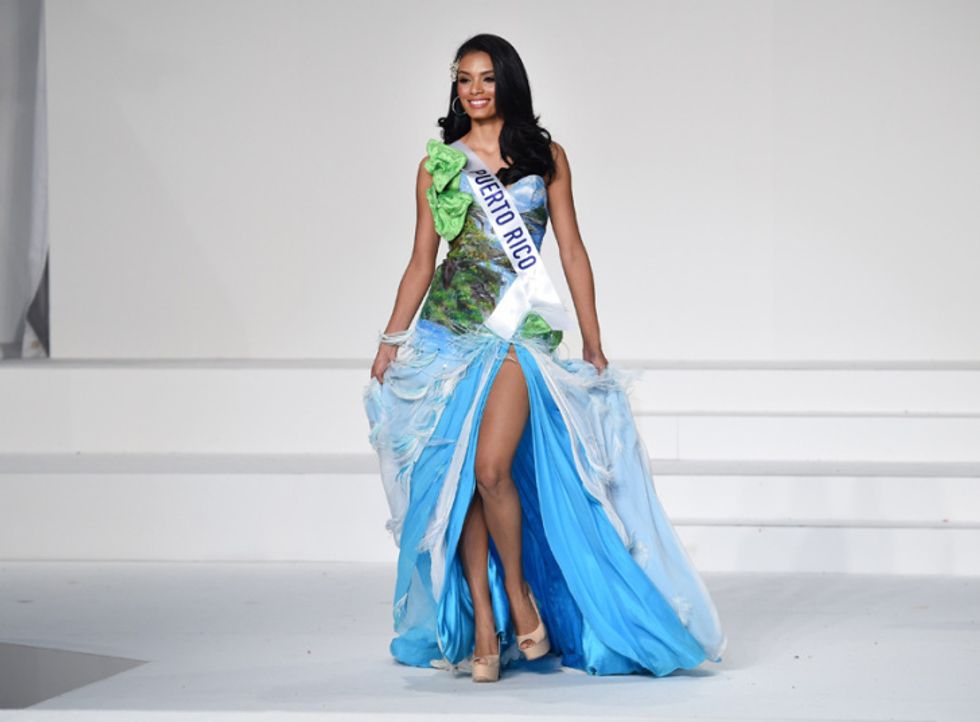 Christopher Jue / Getty
Miss Puerto Rico
I love this riff on Puerto Rico's natural beauty, with the river-esque skirt and cute glitter flower hairclip. Not to mention the Land Before Time-looking landscape print on the dress bodice. I definitely have an ironic nature shirt with a similar print from my 2012 Mac DeMarco stan phase.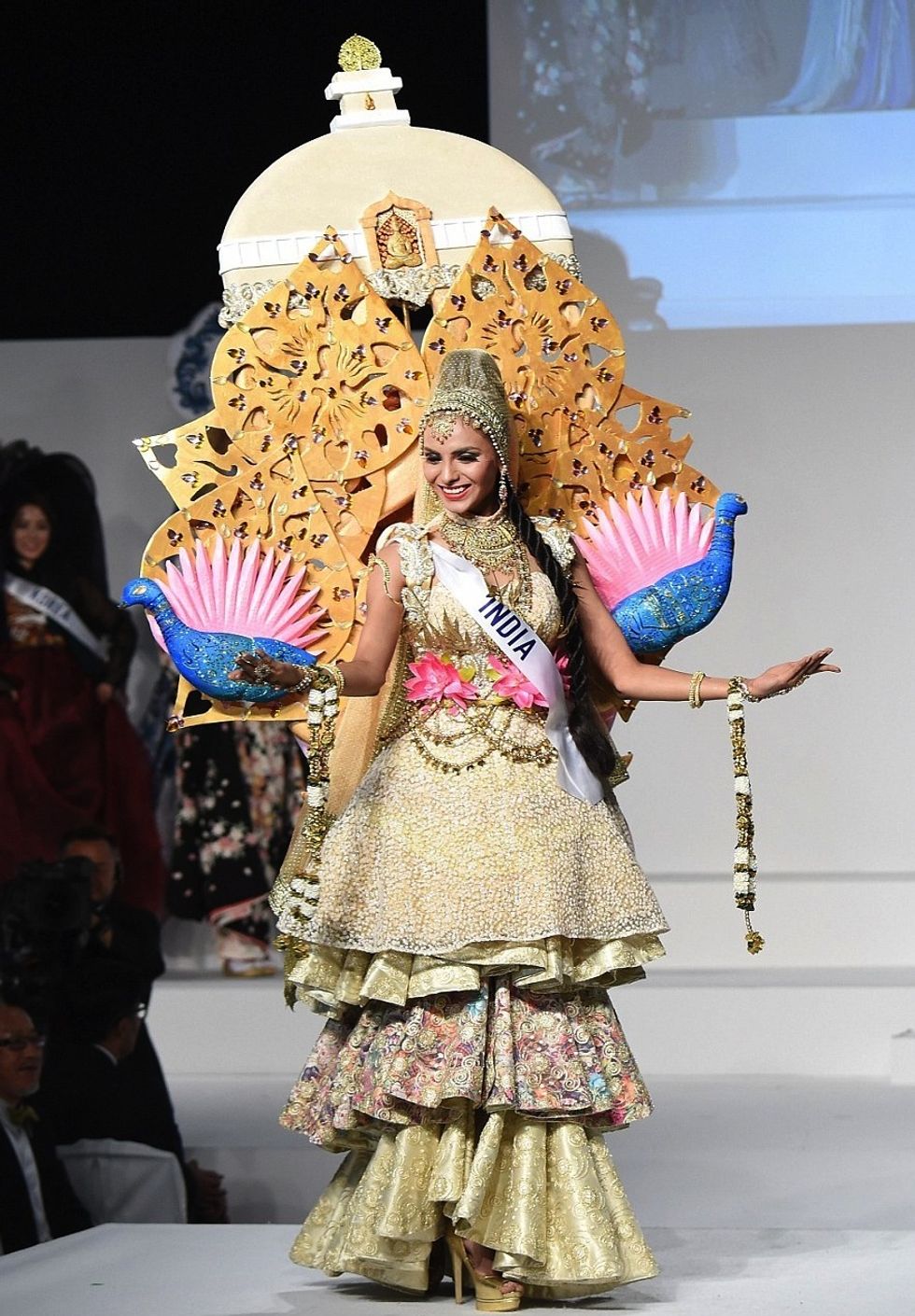 Christopher Jue / Getty
Miss India
Holy balls. While the Taj Mahal-inspired outfit (famed peacocks and all!) is beyond impressive/gorgeous, all I can think about is how fucked my posture would be after wearing that. In heels too, oy.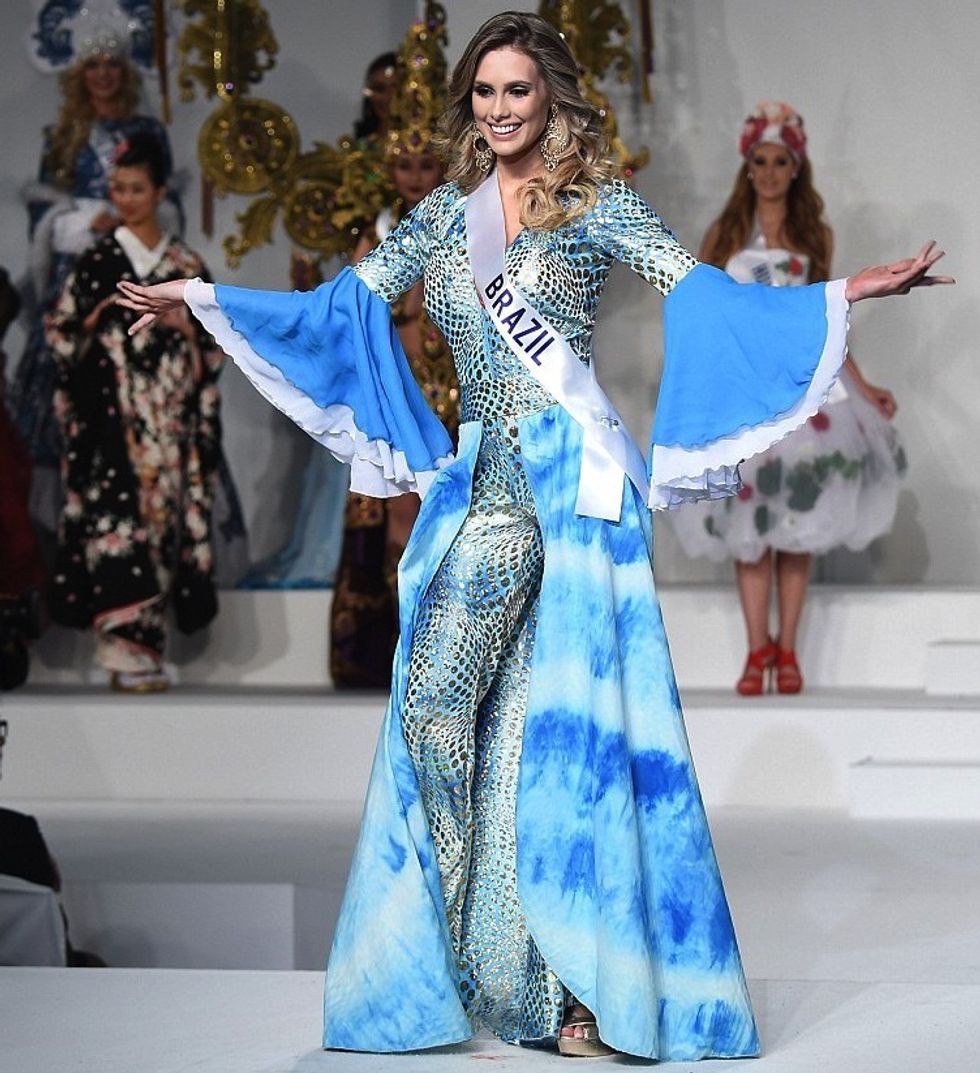 Christopher Jue / Getty
Miss Brazil
This 70s, snakeskin, discopant-meets-flamenco outfit is the bomb dot com. And even though I'm a little confused as to how it relates to Brazilian culture, it looks bad AF. 10/10 would attempt to wear out one weekend.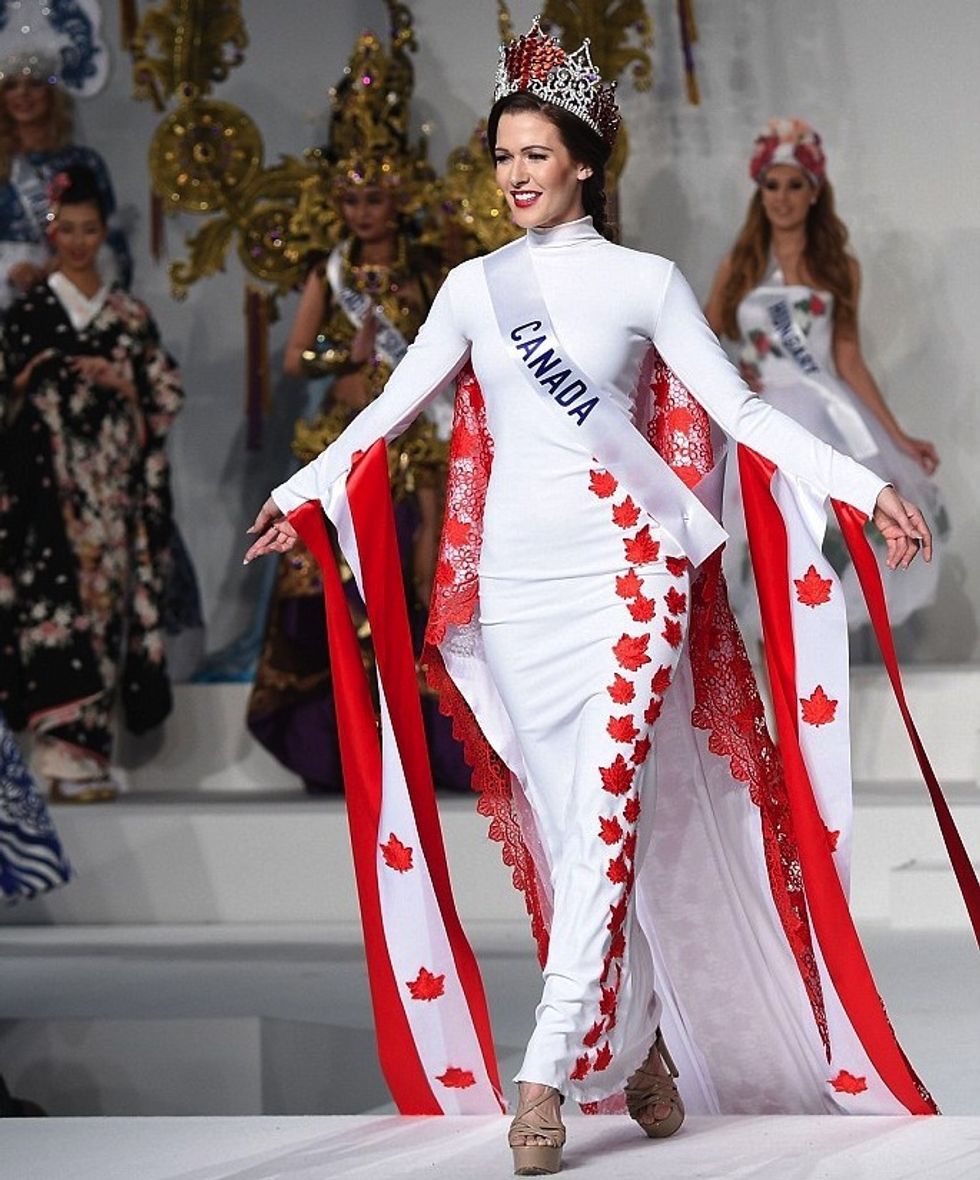 Christopher Jue / Getty
Miss Canada
O Canada, O no, no, no, no.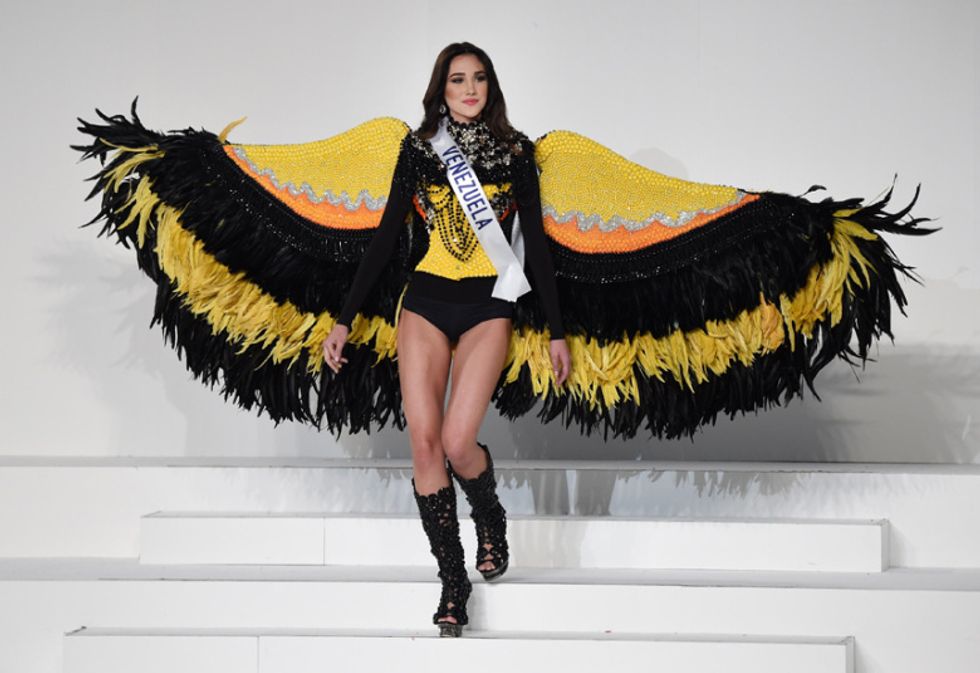 Christopher Jue / Getty
Miss Venezuela
Crowned the winner of this year's pageant, Miss Venezuela rocked the runway like the most badass secret Victoria's Secret model she is. Give us a dark bumblebee with the coolest boots in the room over a whitebread underwear Angel anyday.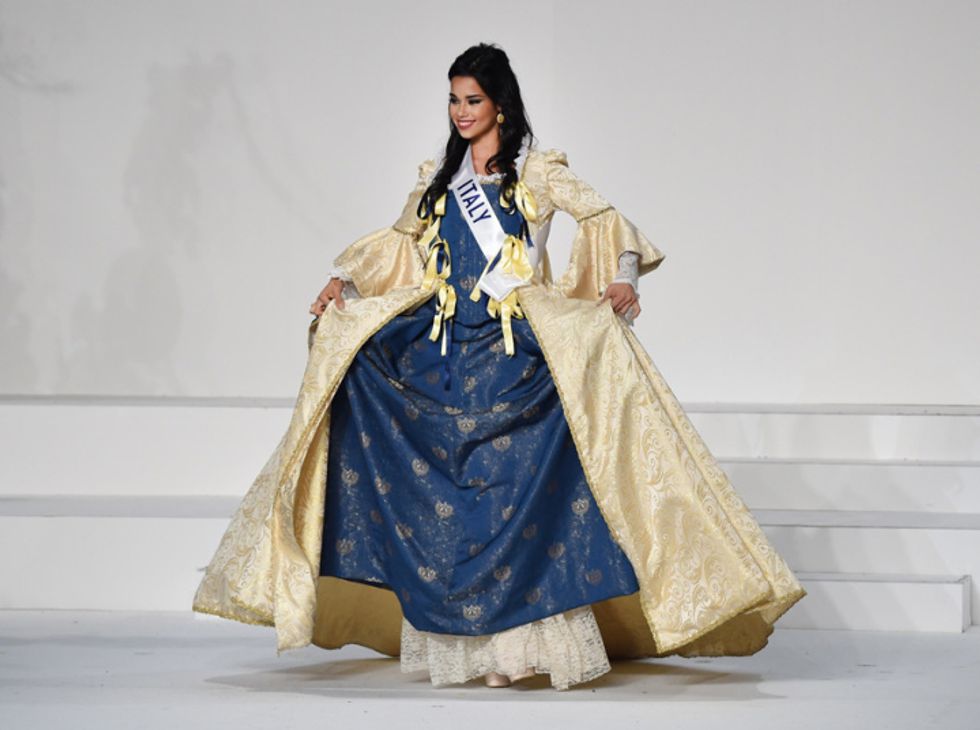 Christopher Jue / Getty
Miss Italy
Renaissance looks are definitely an unexpected twist of events. Italy, after all, is one of the holy seats of European fashion...so why the antiquated Venetian ruffle ballgown? IDGI.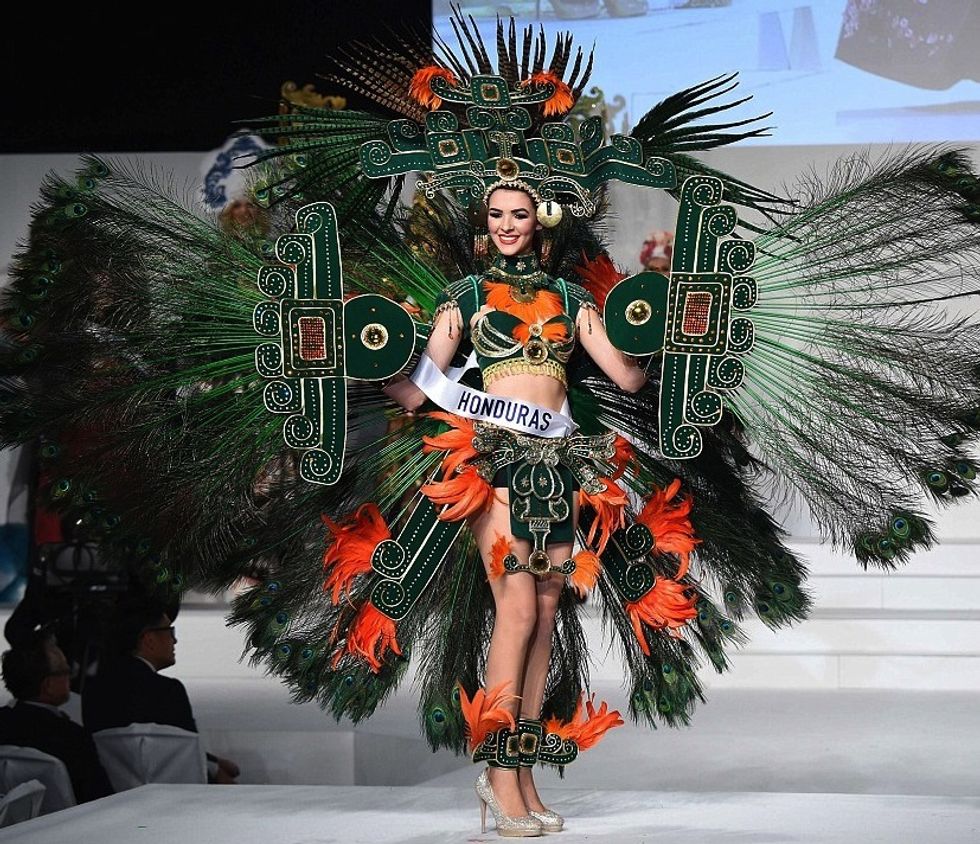 Christopher Jue / Getty
Miss Honduras
This is fucking amazing and probably the best use of feathers by any one country. I mean look at how all-encompassing they are...it's like a deep jade halo of Honduran hotness up in here. Also, very into the matching headdress/bracelets/puss shields.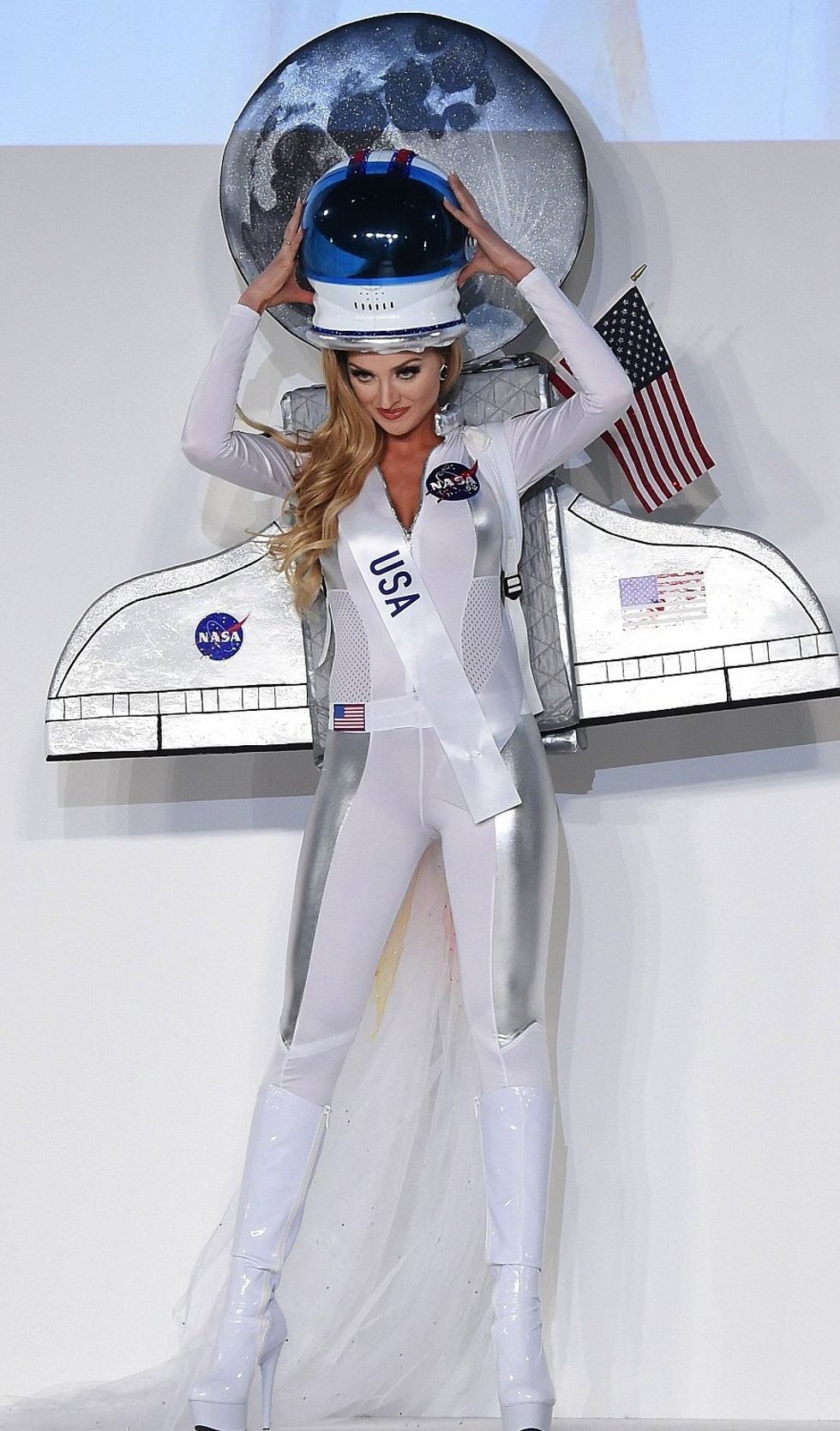 Christopher Jue / Getty
Miss USA
God Bless, the US of A and our indelible need to still wank off about something that happened 5+ decades ago. At least we got Russia's costume beat, eh?