Miranda July is just fine.

"I feel there's this blurring, where people start to think I'm as sad as a character I play, or as incompetent, and I have fans sort of wanting to take care of me," July tells me when I meet her for lunch at a coffee shop not far from her Silverlake office. "And I want to say, 'Actually, I've got it pretty together. I made a whole movie!'"

In her work and, particularly, in the unsettled characters she plays onscreen, July projects vulnerability. And in person, she's exceedingly nice, open and easy to talk to. She has the same strikingly blue eyes that make such an impression on a movie screen, and the distinctive nimbus of brown curls and lean frame. But she's composed, assured and has none of the lost quality of her heroines.

Even so, I sort of feel like I already know her. It's not unusual to feel like we know celebrities, but Miranda July may elicit this feeling more than most -- largely because she's not a normal celebrity; rather, she's an amazingly talented regular person who does all the things you wish you could do. And that, of course, is a lot. July has stated that she hasn't worked a regular job since she was 23, when she was an unlikely car door unlocker for an auto company called Pop-a-Lock. Since her days as a performance artist in Portland, with an art career that's seen her work exhibited everywhere from the Venice Biennale to Union Square Park, from the bestselling story collection No One Belongs Here More Than You to writing, directing and starring in two feature films, July has made a place for herself on the cultural landscape as that rarest of creatures: a sincere person. Her work, intensely personal and almost invariably accessible, is polarizing: sincerity is easy to mock, and working across media, by the artist's own admission, makes her an easy target.

But she's philosophical about criticism. And even does something unthinkable to many of us: reads her Internet haters, which she admits horrifies her husband, filmmaker Mike Mills. "I actually have a pretty high tolerance," she says. "I mean, I'm not bulletproof, but I have been known to laugh at a mean Twitter comment and think they have a good point... Everything I've made has some major flaw, in my mind, and you're just praying that no one will notice the thing that you think is wrong. If they think things are wrong that you don't think are wrong, it doesn't matter, because they're idiots! But if they notice the real flaw...then you're busted. You try to minimize the damage, you tell yourself, 'It's only one person, the odds are still in my favor.' You do that quick math. But I kind of get out of that more addictive space because ultimately you have to, to make the next thing."

This inherent creative confidence may be rooted in her upbringing. July grew up Miranda Grossinger in Berkeley, California. Her parents ran their own publishing company and she says they "taught us that our thoughts were interesting. I mean, they weren't like parents today -- they didn't coddle us. They had their own lives."

And there's one thing I have to know. "Are you related to Grossinger's in the Catskills?" I ask eagerly. One of my earliest and happiest memories centers around a family vacation at the legendary Catskills Borscht Belt resort, and I've always wondered. "I'm sorry," I apologize, "I'm sure people ask you that all the time."

"No one really asks me that," she says, "And, yeah." Indeed, she reveals that she and her family spent every summer until she was 12 at the family resort where, she says, as "the California hippie cousins," she felt like a strange combination of princess and outsider. "There was also a Grossinger's bakery in the city, where we could eat for free," she adds. "My dad was such a cheapskate; he loved it."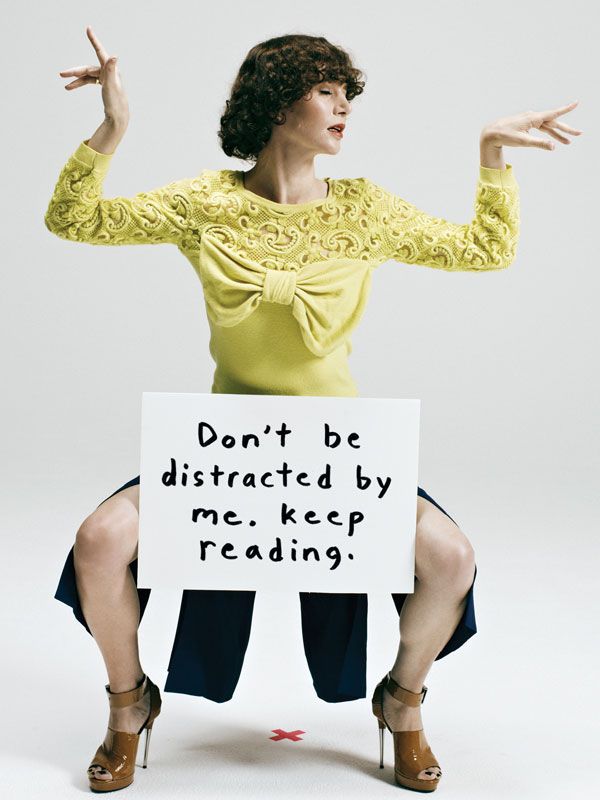 Character quirks like this clearly appeal to July, who in her work has frequently made a study of human peculiarities, for which she never seems to convey judgment. In addition, July has an affinity for outsiders, loners, people seeking connection -- "people on their own," as she puts it. In July's second film, out this past summer, The Future, a couple tries to salvage their relationship and adopt a cat -- with a little alteration of the space-time continuum and a feline monologue along the way. It's a film about time -- but, like much of July's work, it's about loneliness. Whereas 2005's Me and You and Everyone We Know reveled in its characters' interconnectivity, here they remain stubbornly, and tragically, unable to truly meet. Her latest book dovetails with the film: in It Chooses You, out this month from McSweeney's, she embarks on a quest, contacting people who advertise items for sale in the PennySaver and interviewing anyone willing to answer her questions. The results are sometimes funny, occasionally creepy, and often heartbreaking as July uncovers portraits of profound solitude and quotidian happiness. In the process, she meets octogenarian Joe Putterlik, a warmhearted man who ends up playing himself in The Future. But she explains that her compulsion to document the quest was larger, and more complicated than merely telling the story of this unlikely casting process, or of what she gained by dropping into these peoples' lives. "This project can't just be, 'I got Joe out of it!'" she says, "There were all these totally contradictory things that came up, and they didn't all fit neatly into the movie, or into my career. But I had this compulsion, because... the world is not just yours to take from in this way. I had to make a place for the whole story, even if it was going to be this awkward book that didn't fit neatly into the larger project."

July's career trajectory might be defined by this attitude. As a teenager in Berkeley, she founded a fanzine, Snarla, with best friend Johanna Fateman (she of Le Tigre fame). "We weren't fans of anything, we wrote only about ourselves," she says. "It was very conceptual and avant-garde, although I think that was accidental, since we were so in our own world." In pieces like "Interview with my Confidence," and "Interview with the Towel my Rabbit Died In," July, as she says now, "was learning how to make characters out of my feelings" in a way that presages her adult work. Later, July became a part of the Portland art scene, launching her career with performance pieces and short films at the height of the contemporary Riot Grrrl movement, with its combination of innovative music, political activism and emphasis on female empowerment.

The films that July made during this time led directly, she says, to the development of her first full-length script, Me and You and Everyone We Know, which would go on to win devoted fans and festival accolades. This, in turn, helped her to sell her 2007 story collection, No One Belongs Here More Than You. "Book people think movies are glamorous, and in Hollywood, if you write a book, they think you're smart," she laughs, but acknowledges that bridging so many media outlets has maybe been detrimental to a more conventional career path. "I'm always aware of the fact that if I was just a writer, or just a filmmaker or just an artist, I'd probably have a little more of a real 'career' in a way," she says. "You can't totally be taken seriously within each medium when you do multiple things... but it seems like not a bad price to pay for getting to live this life that's more interesting to me."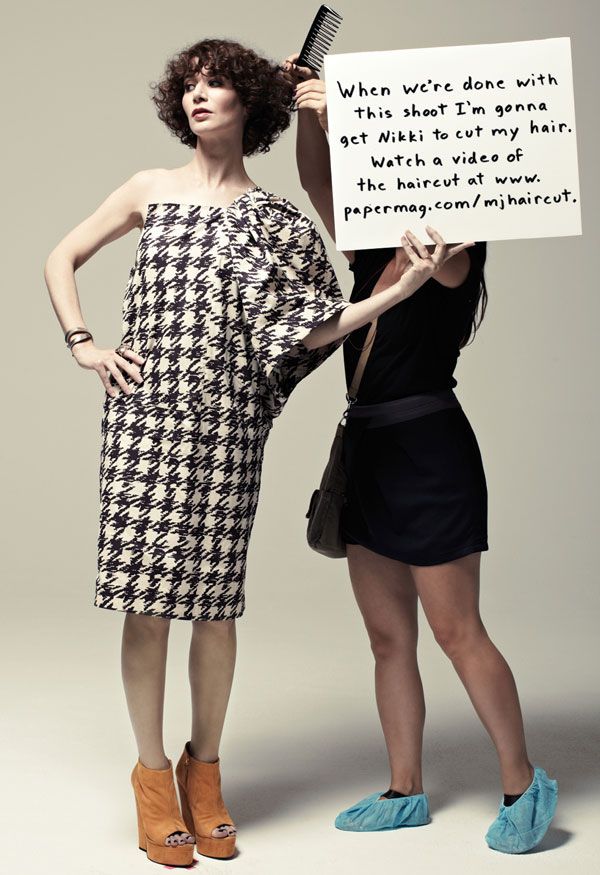 She also says that her avoidance of the "art scene" flies in the face of conventional career wisdom. "A friend who's an artist in New York was just saying to me, 'You know, if you lived here, you'd be invited to all these things, and then...things would happen. That's how it works.' I can see that." That said, she exhibits regularly -- her "Learning to Love You More" project just exhibited at the Pace, and the Noho gallery and store Partners & Spade will host an event for It Chooses You this month.

But she doesn't distinguish between the different media -- the films, the books, pieces like the current "Eleven Heavy Things" interactive sculpture installation, originally created for the Venice Biennale and currently on view at L.A.'s Pacific Design Center -- and sees them all as "art," without arbitrary distinctions. Certainly, there are unifying themes -- of seeking, of introspection and, always, of the viewer's experience. "From the beginning, I was always aware of the audience," she says of her work. "I didn't assume that they should be interested, just because I was doing something. I felt that if I didn't invite them in and involve them in something that was relevant beyond just me, that it would just be narcissistic. From the outside, it may seem like I was just trying to get an audience, but it was more like, why should anyone care? My personal idea of what's 'good,' has always included some nod to the audience, some tacit agreement, even if it's not logical. In fact, that's my favorite, where someone might think, I don't know why I feel this, but I do."

I'm curious about her own reactions to current media -- specifically, I'm eager to hear her opinion of the '90s revival and, specifically, a new generation's discovery of the Riot Grrrl movement. "I've experienced it mostly through reading Tavi [Gevinson]'s blog, Rookie, which is a very satisfying way to view the era," she says. "I guess she could be my daughter, technically, but in one's fantasy of one's daughter, it's just like that: that she'd take the best of your rebellions, but take it much further, and much more quickly." She recalls the Rookie launch, during Fashion Week: "I was like, 'Whoa -- this is going to be the party; who doesn't Tavi know?' And then I got there, and it was just Tavi, her dad and her sister in someone's apartment with the great staff, and a few teenage contributors. That's it! And her dad explained, 'This is what she wanted.' And I thought, 'Wow, she really knows that this is cooler.' And it was. I must have cried like four different times in the night; girls read their stories aloud, we made toasts, girls sang a song -- I was like, 'where am I, in heaven?' It was so thoughtful and heartfelt." Two words that might well apply to July's own art.

"I'm probably kindest to myself in my work," she says. "It's how I practice self-love. I'm cripplingly critical of myself in every other area, not permissive, not letting myself be free, and feeling like I'm doing every single thing wrong all the time. But in this one area I tell myself: 'You can do no wrong. Let's just try this. It's OK.' Like a really wonderfful teacher or something." Referring back to the title of her first book: "I'm saying, 'no one belongs here more than you,' to myself -- because I totally don't belong." ★

As Miranda said, you can see her haircut video at papermag.com/mjhaircut. We've also embedded it below.
 

Styled by Lauren Tafuri
Hair: Nikki Providence for Jed Root Inc.
Makeup: Sandy Ganzer for Make Up For Ever
Stylist assistant: Katie Casey
Top photo: Cardigan by Sonia Rykiel, vintage bracelet and ring by Joseph Mimi. 
Middle photo: Top, skirt and shoes by Sonia Rykiel and ring by Tito Pendrini.
Bottom photo: Dress by A Détacher, shoes by Giuseppe Zanotti, vintage bracelet and ring by Susana Speidel.