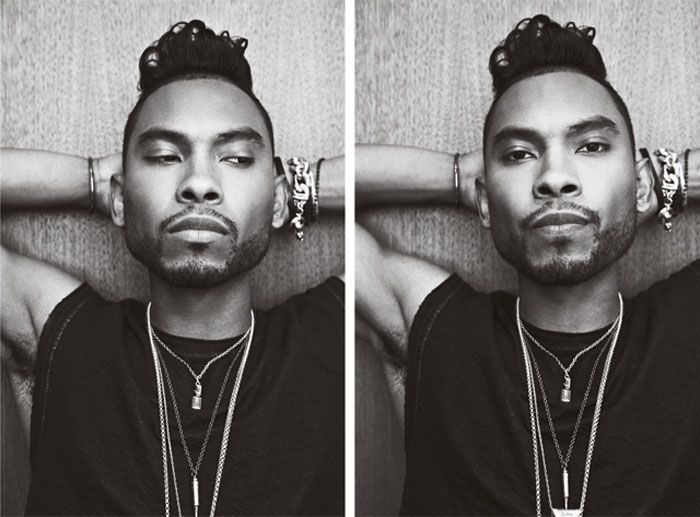 Shirt by Alexander Wang, bracelets by The Great Frog and Shayan Afshar. (Click to Enlarge)
Last year at this time, Miguel was a relative unknown. The 26-year-old singer was working on his second album,
Kaleidoscope Dream
, when his studio partner, Pharrell Williams, attended the celeb-studded Met Gala in New York. "I was like, damn," Miguel recalls, "wouldn't it be crazy if I were there next year?" And there he was this May at the Met's
Punk: Chaos to Couture
opening, wearing a head-to-toe Lanvin suit complete with lapel buttons and studded creepers, alongside Wintour-approved pop stars like Nicki Minaj, Beyoncé and Kanye West. "To be honest with you, the majority of the people there didn't know who the fuck I was," Miguel says, even though he won a Grammy for his hit single "Adorn" in February, and his music has been topping
Billboard
's R&B charts for most of this year. "So my look was perfectly like, 'I belong here, but I'm not trying to shout it out.'"
The mononymous, pompadoured singer -- who regularly shops at Opening Ceremony and loves Alexander Wang T-shirts -- is making it very chic to be an R&B star. The same slick sexiness and subtle flair that shapes his wardrobe -- which on the day we meet at a Venice beach wine bar consists of a black leather zipper-neck Saint Laurent shirt and loads of silver rings and bracelets from U.K. rock 'n' roll jeweler the Great Frog ("I'm into silver. It has a more understated way about it.") -- also defines his sound. Miguel, whose swagger rivals Prince's and D'Angelo's, is one of the few artists on the pop charts keeping slowed-down, slow-dancing R&B alive in a music-scape where rap and club bangers are easier for labels to make into quick hits. Drawing on crunchy rock 'n' roll riffs, shimmering pop hooks, hip-hop beats and ambient synths, his music -- a decidedly cool, modern take on the sort of
smooth
FM sound that conjures soft-focused candlelit love scenes -- is expansive enough to reach indie fans, and catchy enough to explode into Top 40 radio. "I really wanted to stretch musically on this song, not only sonically but structurally, and just kind of remind people that R&B has no boundary," he says on the track commentary for
Kaleidoscope Dream
. "There's no rulebook to how R&B is supposed to sound." His voice can flip seamlessly from a cool falsetto to yearning soul belts, winning him frequent comparisons to Marvin Gaye, while his lyrics evoke an emotional complexity rarely heard in his home genre. "What I'm trying to say with my music is, 'You don't have to pretend,'" he explains. "'Say what you mean.'"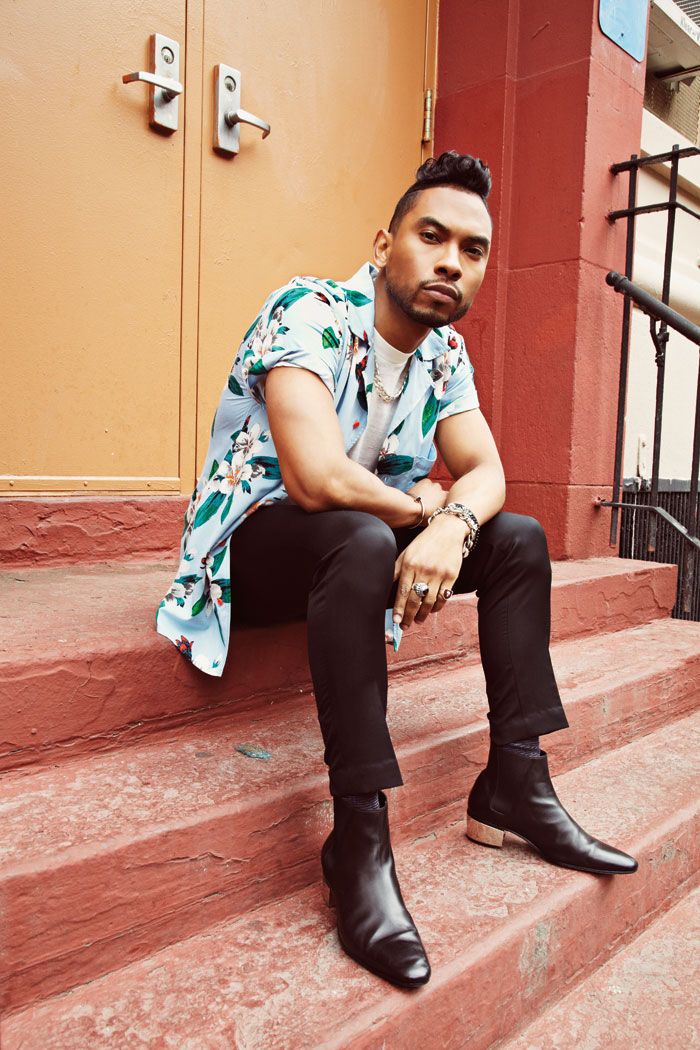 Shirt by Marc by Marc Jacobs, T-shirt by The Quality Mending Co., pants by Alexander McQueen, shoes by Saint Laurent with customized silver heels, bracelets by The Great Frog and Shayan Afshar.
In person, he's all charm -- rejecting my handshake for a double kiss ("Pleasure," he says to each cheek, "
pleasure
."), offering a convincing apology for being 20 minutes late and giving me one of his Cartier bracelets to wear for the duration of our interview as a kind of friendship bracelet. It's this charisma that helps him pull off the raunchier singles on
Kaleidoscope Dream
. In "How Many Drinks?" he's the alpha male, wondering how much cash and booze will equal sexual conquest. "Frustration / Watching you dance," he sings on the first verse. "Invitation / To get in them pants." "Pussy is Mine" -- a stripped-down, smoldering meditation on jealousy -- is essentially an exercise in sexual egotism, but in the hands of Miguel it feels more like a love ballad. And then there's the nicer guy who comes out on songs like his smash hit "Adorn," which spent more than 20 weeks atop the R&B/Hip-Hop Airplay chart, and is more about love and intimacy than, well, fucking.
"I wanted to reconnect to my peers, the people that I hang out with, the ones that go to the same bars, listen to the same music, look at the same blogs, will be at that art gallery, will be at that show. Those people, the ones that I wasn't touching before, I had their attention."
At this point in his life, Miguel is leaning more toward the tender side he showed on "Adorn," which he wrote for his long-term model/actress girlfriend Nazanin Mandi. Still, expressing his emotions isn't as easy for him in person. "As comfortable as I am dealing with it in my music, it's so much harder to do for real. I'm not even going to pretend." Back in 2007 Mandi temporarily called off their relationship. "I was mad young, just wildin' out," he recalls, "and she was smart enough to leave, like she should have." He was also struggling with a go-nowhere deal with Black Ice, an independent label that had cartoonishly styled him as an "urban" artist in oversized sportswear and chains. He says he couldn't handle being alone, and crashed on a friend's sofa for a while, getting up every morning with a backache at 4:30 a.m. to get to his day job selling car warranties. "I was good at it, but it was so bad," he recalls. "Imagine you're lonely, you're missing someone, you're like, 'I fucked up,' and you have the worst job in the world."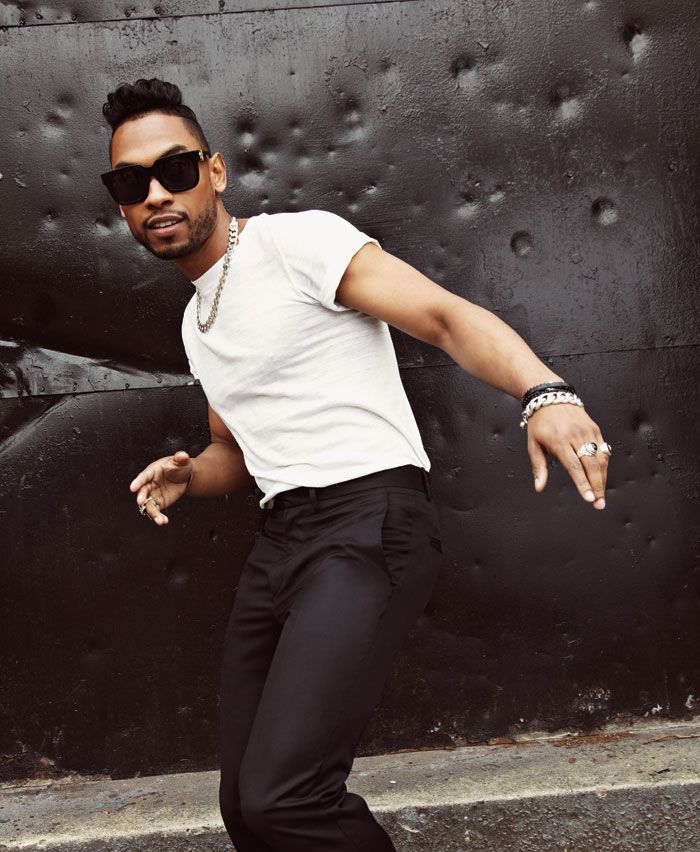 T-shirt by The Quality Mending Co., pants by Alexander McQueen, sunglasses by Versace, bracelets by The Great Frog and Shayan Afshar.
This low point inspired "Sure Thing," the song that got Miguel signed to By Storm Entertainment/Jive Records and became the second single off his 2010 debut album
All I Want Is You
. After a protracted legal battle with Black Ice, the album moved 11,000 copies in its first week and continued to sell steadily as he toured furiously, honing his stage skills opening for artists like Usher and Mary J. Blige. (These skills were recently immortalized in GIF form when he jumped over his audience at the Billboard Music Awards and accidentally landed crotch-first in a female fan's face. The constant professional, Miguel kept singing, never missing a beat.) Though the album recently went gold, Miguel wasn't totally happy with the way things were going. His label had again positioned him for success in the urban market, a delineation that saddled his soulful, beat-centric music with an image he felt limited him creatively. "I will never do that again," he says, so misunderstood did he feel wearing hoodies and baseball caps.
Born Miguel Jontel Pimentel to an African-American mother and a Mexican father in the Southern California harbor town of San Pedro, he says reading the book
The Four Agreements
, by spiritualist Mexican author don Miguel Ruiz, was a turning point. Ruiz's theory is that most of our emotional struggles come from beliefs about ourselves that were assigned to us by our parents, our peers or society. Miguel says the book made it easier for him to question what he "should" sound like or look like, even if it confounded record label marketing execs. "The book was super pivotal for me," Miguel says. "It's so simple that it's profound."
He decided to go grass roots. Taking cues from hip-hop mixtape culture and the indie DIY tradition, he self-released a three-EP series called
Art Dealer Chic
, unveiling some of the music that would later be featured on
Kaleidoscope Dream
, including "Adorn," which he recorded in his bedroom. "If you look at art dealers historically, they were kind of in control of what was making an impact culturally," he says about the project. "This was my own anti-establishment way of saying, 'Fuck you, I am my own business. I decide what is good and what is not,'" he says. "I wanted to reconnect to my peers, the people that I hang out with, the ones that go to the same bars, listen to the same music, look at the same blogs, will be at that art gallery, will be at that show. Those people, the ones that I wasn't touching before, finally I had their attention." The EP series, the second batch of which will start coming out in July, did help him connect with the indie set, who were, lucky for him, high on other avant-R&B artists like Frank Ocean and The Weeknd at the time.
Art Dealer Chic
also scored Miguel the brass ring of the indie industry -- a positive review on
Pitchfork
. "It's like a love-hate relationship," he says of the music journalists who have both exalted him and dismissed him as R&B schlock. "It's like they're kind of fucking with me, but kind of not." (
Pitchfork
's review of
Kaleidoscope Dream
coolly called Miguel's lyrics "the stuff of unbearable rom-com montages," though the album scored a rating of 8.4 out of 10.)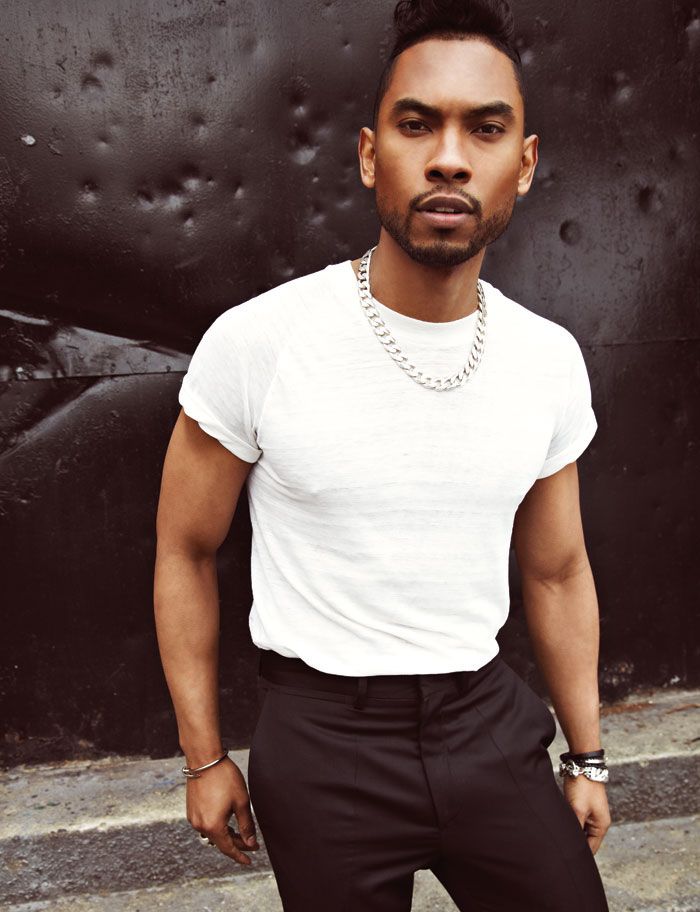 T-shirt by The Quality Mending Co., pants by Alexander McQueen, bracelets by The Great Frog and Shayan Afshar.
By the time
Kaleidoscope Dream
arrived in the fall of 2012, Miguel had completely refashioned his image -- becoming an artist's artist along the way, working on collaborations with established crossover figures like Kendrick Lamar (the buzzy, cerebral rapper who is featured on a remix and in the video for "How Many Drinks?") and pop stars like Usher and Mariah Carey, whose single "#Beautiful" with Miguel is a strong contender for the song of summer. Their duet, a classic pop track steeped in retro-Motown production, is Miguel's most impressive mainstream coup to date, but "#Beautiful" was actually the very first song he wrote for
Kaleidoscope Dream
. He scrapped it at the time because it felt like it was missing something. Almost two years later, the track is bolstering Mimi's latest comeback and has its own ultra-sultry video in which Carey straddles the back of Miguel's motorcycle clad in black leather hot pants. Miguel says working with Carey brought back a few boyhood fantasies. "The moment she dove into that pool and came out of the water...oooh," he recalls of Carey's 1997 "Honey" video, released when Miguel was just barely pubescent. "When she first walked into our session I was like, 'I had such a crush on you, bitch!'" Asked if those were his exact words, he grins. "Nah, I had to keep it cool."
Styled by Jasmine Benjamin / Grooming by Jessica Smalls (at The Thompson LES)

Photographer's assistant: Brandon Pavan 
Digital Tech: Jonathan Fasulo 
Stylist's assistant: Nai Vasha Thomas
Interns: Kristyn Ortiz, Alana Peters, Nova Bajamonti and Josephine Viemeister.

Photographed at the Thompson LES