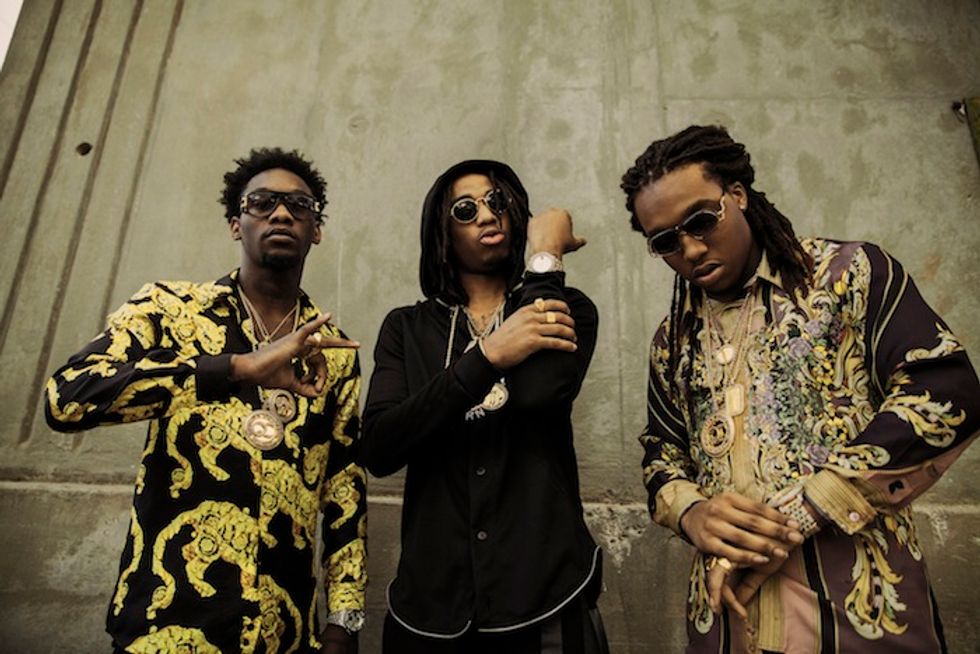 photo by Diwang Valdez
Migos's Quavo and Takeoff are playing coy when we ask them about wilding out since making it big with hits like "Versace" and "Hannah Montana." "If we tell you, then we won't be able to get it no more," Quavo smiles as he rolls a blunt. As we chat about their debut commercial release,
Yung Rich Nation
, out now, the two are taking sips of iced tea and finishing each other's sentences. In the end, the "juiciest" bit Quavo will cop to is that he "got my
IO Hawk
-- I got that off of fame."  
But there's obviously more to the story -- since we last
spoke to them back in March
, the group was
arrested back in April
on drug and gun possession charges and their third member, Offset, is still in jail. And so, temporarily a man down, Quavo and Takeoff gradually open up and talk to us about family sparring, revamping their album and what's up with their new West Coast spin.
I've always been curious what the family dynamic is like in the studio. Does the fact that you guys are family affect the recording process at all, like do you fight about dumb shit a lot? 
Takeoff: Nah, we're too player. We are family and we do fight, but we stay cool. We say look, let's just go record a song, but we never let it get too out of hand. My momma's gotta call sometimes and be like, "What are y'all doin' over there?" But nah, we handle our business.
Quavo: Yeah, but it is kind of tough, because we go so strong on each song and everybody records on their own time and then everybody will record together -- so we might have some differences about what songs should be on what and stuff like that. But at the end of the day, it's everyone's [collective] decision -- that's final. My decision, is for him [points at Takeoff]. Us. My decision affects everyone, you know? We gotta help each other. 
I just know that at my family reunions, it can get heated...and you guys are just stuck in this little closet of a recording studio, you know?
Quavo: Yeah, it is not a whole lot of space. Sometimes we gotta take it outside. A good 30 [minutes], a good spar.
<div><b><br/></b></div><div><b>So whose idea was the <a href="http://www.rap-up.com/2015/07/21/migos-performs-with-a-symphony/">Trap Symphony</a>? </b></div><div><br/></div><div><b>Quavo</b>: I don't know -- whose idea was that? </div><div><br/></div><div><b>Takeoff</b>: It was Audiomack. Shoutout to Audiomack. </div><div><br/></div><div><b>Quavo: </b>Yeah, we give credit when credit is due to the right people. </div><div><br/></div><div><b>Do you guys listen to much classical music?</b></div><div><br/></div><div><b>Quavo: </b>No Beethoven, nah. We listen to [Migos-affiliated producer] Zaytoven. </div><div><br/></div><div><b>So Quavo, you were named <a href="http://www.complex.com/music/2014/03/quavo-is-the-most-influential-rapper-of-2014">the most influential rapper last year</a> by <i>Complex</i>. So what's it like to be the guy with the most imitated flow in the game. Is it annoying? Or is it flattering? </b></div><div><br/></div><div><b>Quavo: </b>Or what does it feel like for all three of us to have the imitated flow? I guess they're just not used to having groups, so they put me. But all of us [together] are the most influential rappers, and we change the game and you can hear it right now. It's just a blessing to see how far we came and the impact it's had on these other artists -- these artists who have been in the game longer than us and these artists who are just coming in. It's good, but we tend to get overshadowed by some people that have been in the game longer -- they get more glory songs than our song. But it's all good, it'll all take time. It's our time, we'll be aight. </div><div><br/></div><div><b>Can you talk about why the <a href="www.hotnewhiphop.com/migos-push-yrn-tha-album-back-to-july-31-news.15504.html">album was pushed back</a> and why the design and name were changed? <br/></b></div><div><br/></div><div><b>Quavo: </b>[It was mostly] just reconstructing. We didn't like the blueprint. You look at a house, you might like it at first, but then there are some things you might need to put in to [better] suit you and your squad. We just had to go back to the drawing board and put something else together. </div><div><br/></div><div><b>Takeoff:</b> [<i>rapping</i>] Every move is a chess move, gotta make a power move. </div><div><br/></div><div><b>Quavo:</b> But when it's crunch time, we're in there pushing out more music and more songs. Like "Pipe it up" came in the last 30 days of turning in the album, because Offset's not on it. Offset was locked up when we made that song. Also "Spray Champagne" and "Gangsta Rap" are on the album, those are like three songs that were crunch-time songs.</div><div><br/></div><div><b>Takeoff:</b> And "Cocaina" [featuring Young Thug].</div><div><br/></div><div><b>Quavo:</b> Yeah, that's four tracks. Yeah, we crack down when it's crunch time.</div><div><br/></div><div><iframe scrolling="no" src="https://w.soundcloud.com/player/?url=https%3A//api.soundcloud.com/tracks/213667121&color=ff5500&auto_play=false&hide_related=false&show_comments=true&show_user=true&show_reposts=false" frameborder="no" height="166" width="100%"/></div><div><br/></div><div><b>So speaking of "Gangsta Rap," this album's way more West Coast than anything you've ever done before. Why? </b></div><div><br/></div><div><b>Quavo: </b>That's just what we grew up listening to. That's just what we like. We grew up listening to Southern music and West Coast [rap]. So when we first came out, we were all South, South, South...and now we're just changing lanes all the time. The next album may be all East Coast, you never know. You gotta hit every angle.</div>
You May Also Like