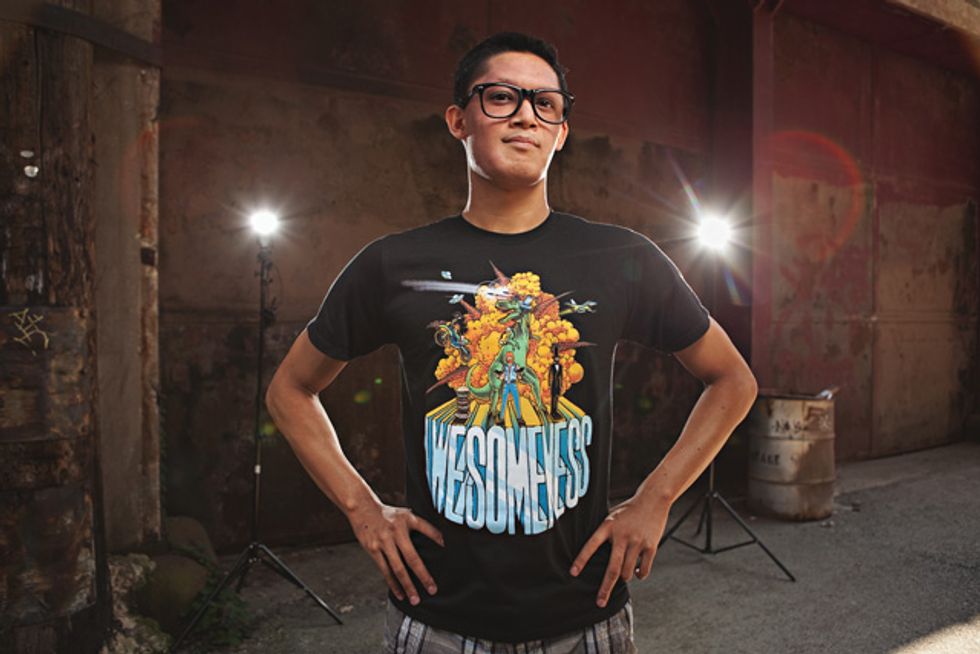 As the interactive designer at t-shirt line
Threadless
, an adjunct instructor at The Chicago Portfolio School and a social media liaison for AIGA,
Mig Reyes
has proven himself as an important player in the design community. And he's not just in it for himself. Reyes is refreshingly focus on using his influence and relationships in the design community to help other young designers get their starts. I recently caught up with Mig to get more perspective on his background, his work and his commitment to the Threadless philosophy of "doing it with friends."
How did you get your start as a designer?
I actually fell into design a bit backwards. After graduating high school, my college ambitions were going to take me to state schools for computer science or software engineering -- anything but design. Even after picking The Art Institute as my school of choice, I had toyed with the idea of animation, web design, game design -- again, anything but graphic design. Graphic design felt broad enough, it seemed applicable to any creative field. So I pulled the trigger on studying graphic design, and quite thankful that I did.
How would you describe your approach to your design work?
I'm making it up as I go along. And to a large degree, I think we all are. We all glean bits of aesthetic influences here and there. I'm still trying to figure out what the hell it is that I'm doing.
Perhaps one of my favorite bits of advice I've received is by [Chicago design guru] Jim Coudal, where he suggests you "Rip something off." I think young designers should all be doing that, and finding your voice throughout the process.
How did you get hooked up with the team at Threadless?
I was working as an interactive designer at an agency in downtown Chicago, when one of the freelancers recommended I reach out to his best friend. I was that kid that was always wearing Threadless shirts, and the freelancer's best friend happened to be the creative director of Threadless. It made sense, so I jumped on that opportunity right away. Threadless interviewing tip: don't wear a Threadless tee to the interview. It's like wearing the band shirt to the concert.
Can you explain the "Do It With Friends" philosophy that Threadless has adopted?
Everything we do, think, say and make all have a common goal in mind: will our friends be into this? We think of our 'users' and 'customers' as friends. Simply put, you wouldn't treat your friends like shit.
As a teacher, you also help other young designers explore the craft and connect with the local design community. What's one of the most important lessons or pieces of advice you give your students?
I'm not here to tell the students what I know. And they're not there to ask for my permission to do things. I'm there to help facilitate their own exploration, and to help them find working habits that jive best for them through each new assigned project. It's hard to 'teach' someone how to have passion and tenacity, so I'm there to give them problems to solve and encourage them to do it in the best way possible.
What's one lesson or aspect of your work that you're still trying to figure out yourself as a designer?
As a maker, I'm all too fascinated with other mediums of art and design. Print, web, motion, typography, 3D modeling -- there's so much to try and learn. I struggle with experimenting with all of them, and risking stretching myself too thin.
In your opinion, how has the web changed the design world and how has it changed your own opportunities and work as a designer
?
We're always connected. We've become acclimated to consuming content in real time. The challenge is keeping up with the fast pace, and adapting your work and your process with how the web is constantly evolving.
What's the best thing about being a designer in Chicago?
The community here is tight-knit and everyone is supportive of each other. We have nothing to prove -- only great work to make. It's smaller than you think. (So don't be a jerk.) What keeps me here is that I feel like I have a voice in the community. I feel like anyone can express themselves and be heard, and that's what's great about living and working in such a tight-knit city. 
Leave us with some links. Who are some of your favorite young designers at the moment?
Luke Williams
from Chicago is killing it. So are the ladies of
Quite Strong
.